Milia
October 14th 2017
I follow many blogs, some of them are my favorite, yet there is no time to read them every day.
I follow many blogs. Some of them are my favorites, yet there is no time to read them every day. Rather late I stumbled over a loved one - " The Foodie Corner" (www.thefoodiecorner.gr ), and I saw something that made me very excited. The blogger Eleni Vonisakou was organizing a food photography and food styling workshop!! The date was perfect, right after Easter April 21-24, and the location was Milia, Chania, Crete!!! Amazing!! I didn't waste any time; I immediately sent my request. In just a few hours I received an answer "so sorry fully booked".
My intention to follow such a workshop has always been on my mind as I often see many of them taking place abroad. Now it was here, in Greece. It was in front of me, and I would miss it!! My disappointment was huge. I was put on the waiting list, and I couldn't do anything more but to wait and see. Having lost my hope just two weeks before the workshop started, I received the unexpected... there was a cancellation! I was so excited!!!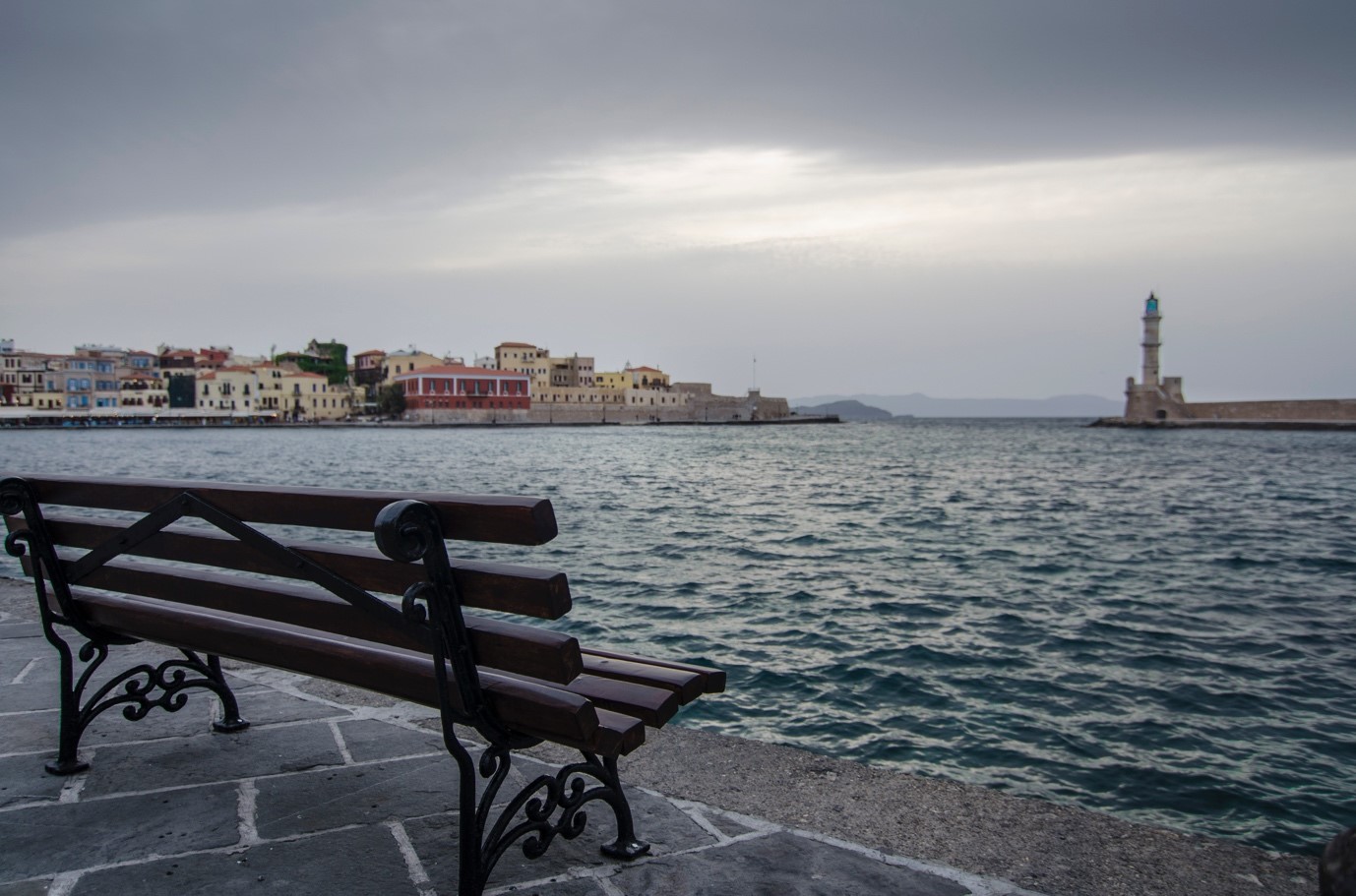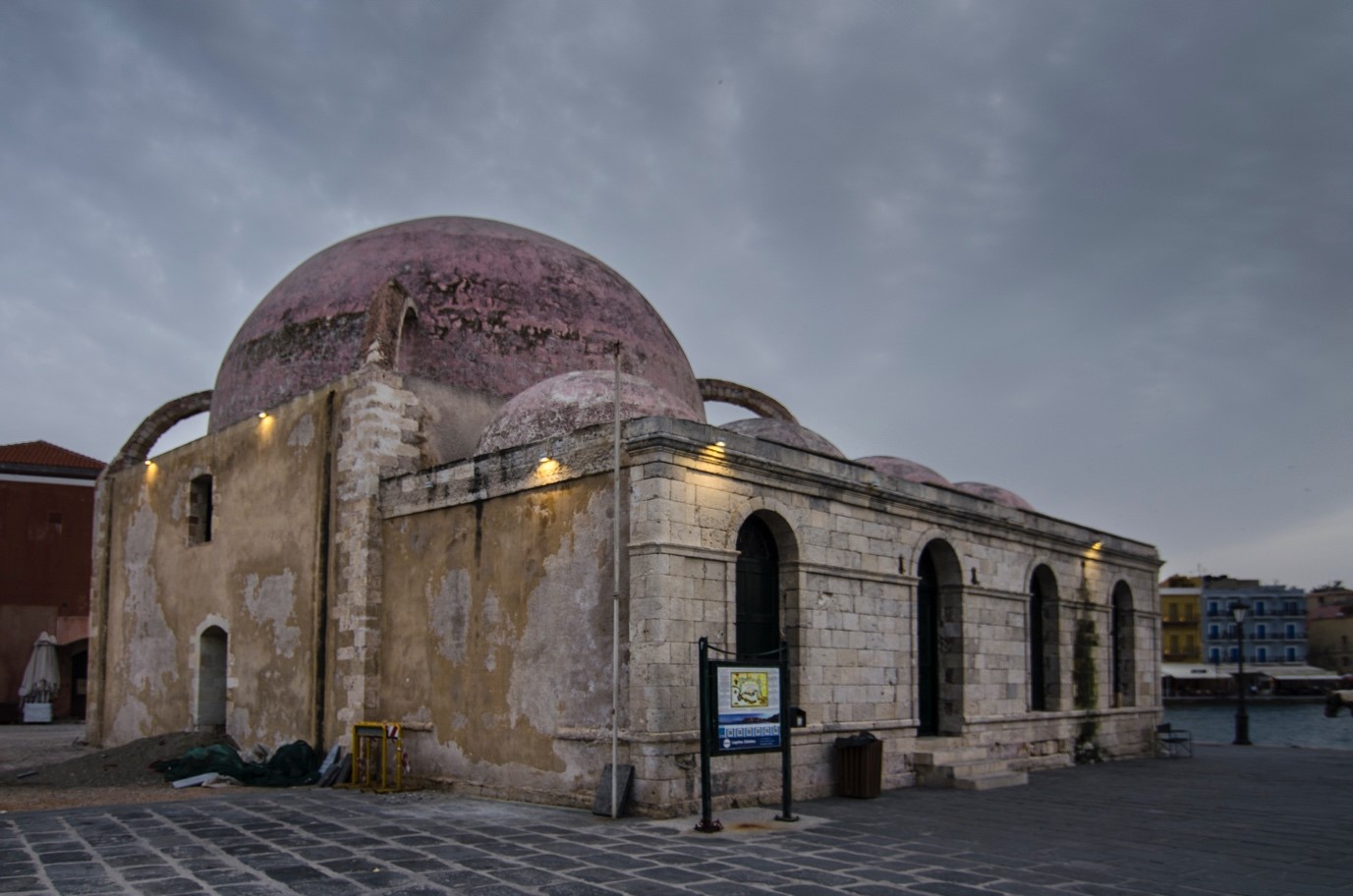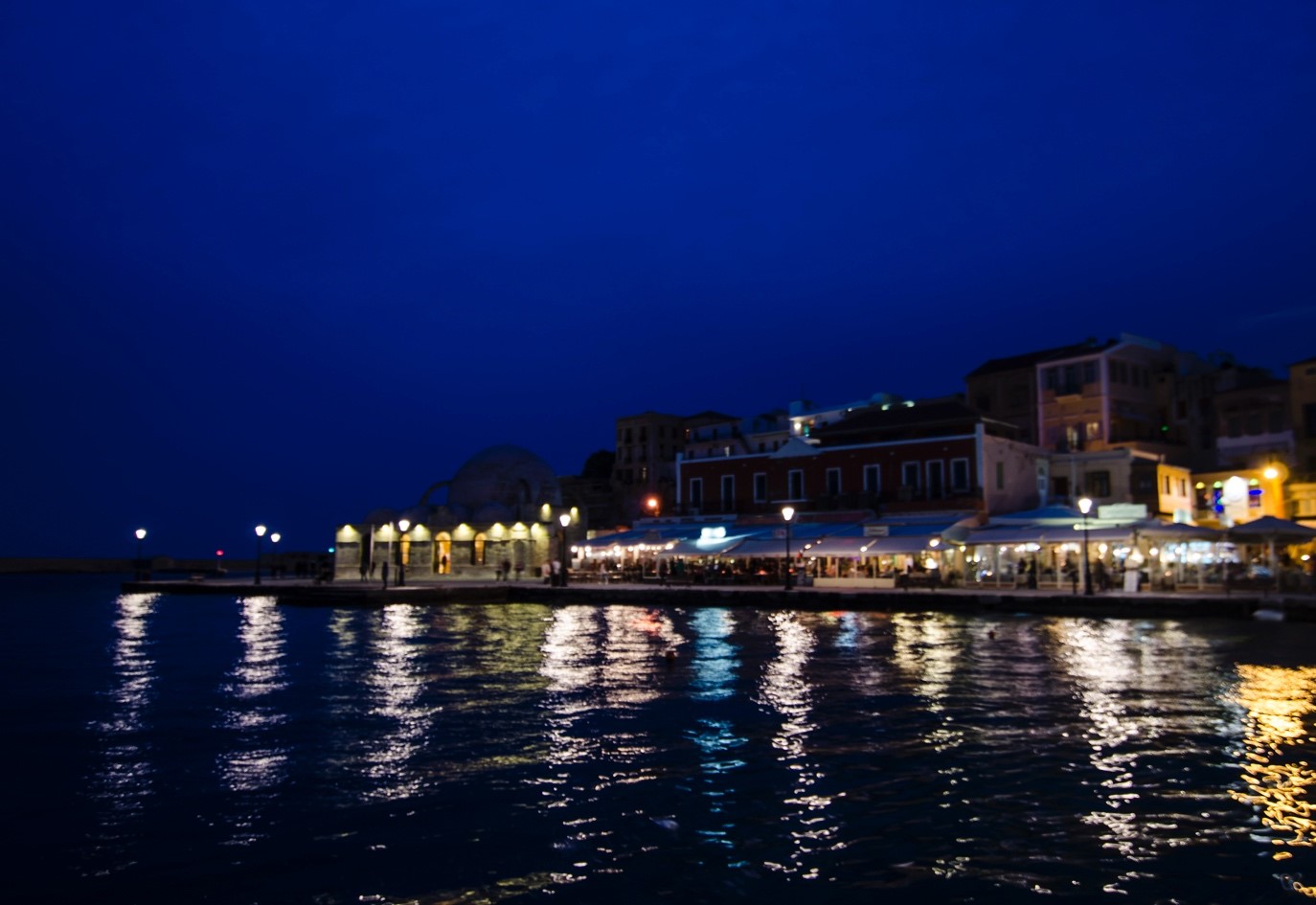 First of all, I would see Chania again. I even arrived one day earlier just to stay and savor this beautiful city, strolling around and capturing these beautiful scenes. I walked the coastline back and forth so many times!! Such a magnificent sunset with all the city lights shimmering down on the sea!! Stunning!!
The next day we all had an appointment with the rest of the participants to start our route to Milia. For some reason, I thought that I would meet only Greek people there. It was a great surprise for me when I realized that the majority of people were coming from very far... Canada, United States, Finland, England, Switzerland... I was impressed!
That is how the three beautiful days started with the most interesting and talented people. Of course, I knew Chania, but I didn't know Milia which was the big revelation. Following quite a difficult road with many curves, I must admit for about 90 minutes, we arrived almost at the top of the mountain, at Milia ( www.milia.gr). A complex of small stone houses, built in the 17th century!! Amazing!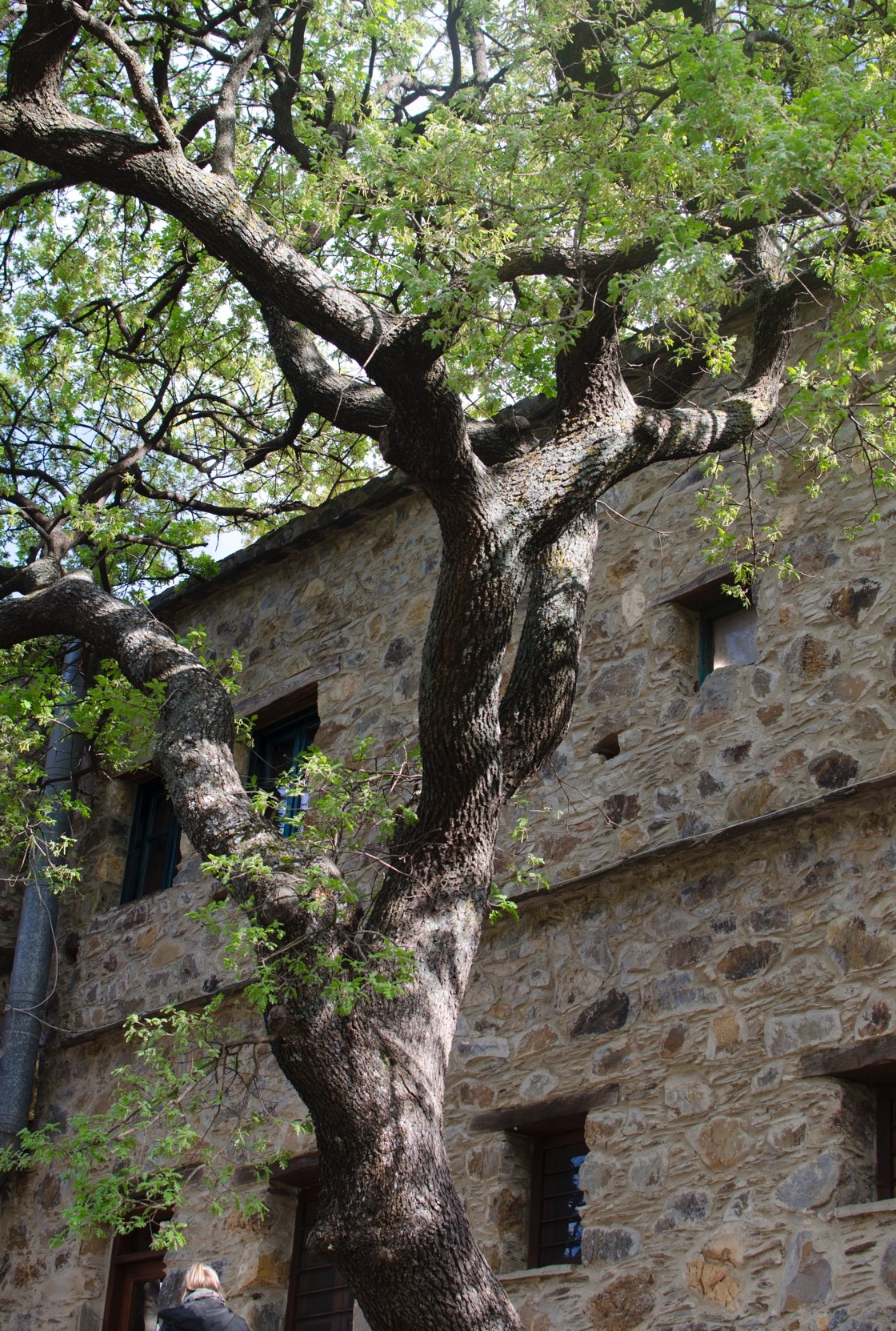 The small stone houses were inhabited by people who lived there and cultivated the land back in time, three centuries ago! Over the years, they have been abandoned. Today those houses are a uniquely renovated resort, hidden among the plane trees, the chestnuts, and the sky. Restored with great love and respect by its current owners, keeping its previous philosophy "back to basics."
Solar energy, hot water by wood-fired heating, a wood oven for cooking and baking, homemade products, traditional bread, limited access to the internet - only in the hotel lobby! Some things that make you feel uncomfortable at first, but when you get used to them they leave you a sense of peace and freedom, a return to nature with the absolutely necessary but valuable things.
At last, I met Eleni, our hostess, but also two wonderful ladies Artemis, WonderFoodLand, ( www.wonderfoodland.gr ), and Constantina, Sabor (www.sabor-cooking.gr ), who together made all the preparations to welcome us. These three ladies surprised us with their hospitality. We all admired the amazing organization and the effort that they made to make everything so perfect. Nothing was left to chance. Apart from being great hostesses, I felt that I met three new beautiful friends!
At this point, I should introduce our teachers, Betty Liu ( www.betysliu.com ) from New York, talented and famous food photographer, food styler and blogger, nominated for the Best Food Photography and Styling 2016 by Savor magazine. A young woman with calm energy and a beautiful kind smile, ready to offer knowledge and to respond to every our question. Jenny, (www.hellomydumplings.com )) an excellent photographer and food blogger as well. She taught us so much!! Two ladies, an extraordinary team which I would follow again and again! The days passed so quickly. Time was our biggest enemy. We had to learn and do so many things in so little time.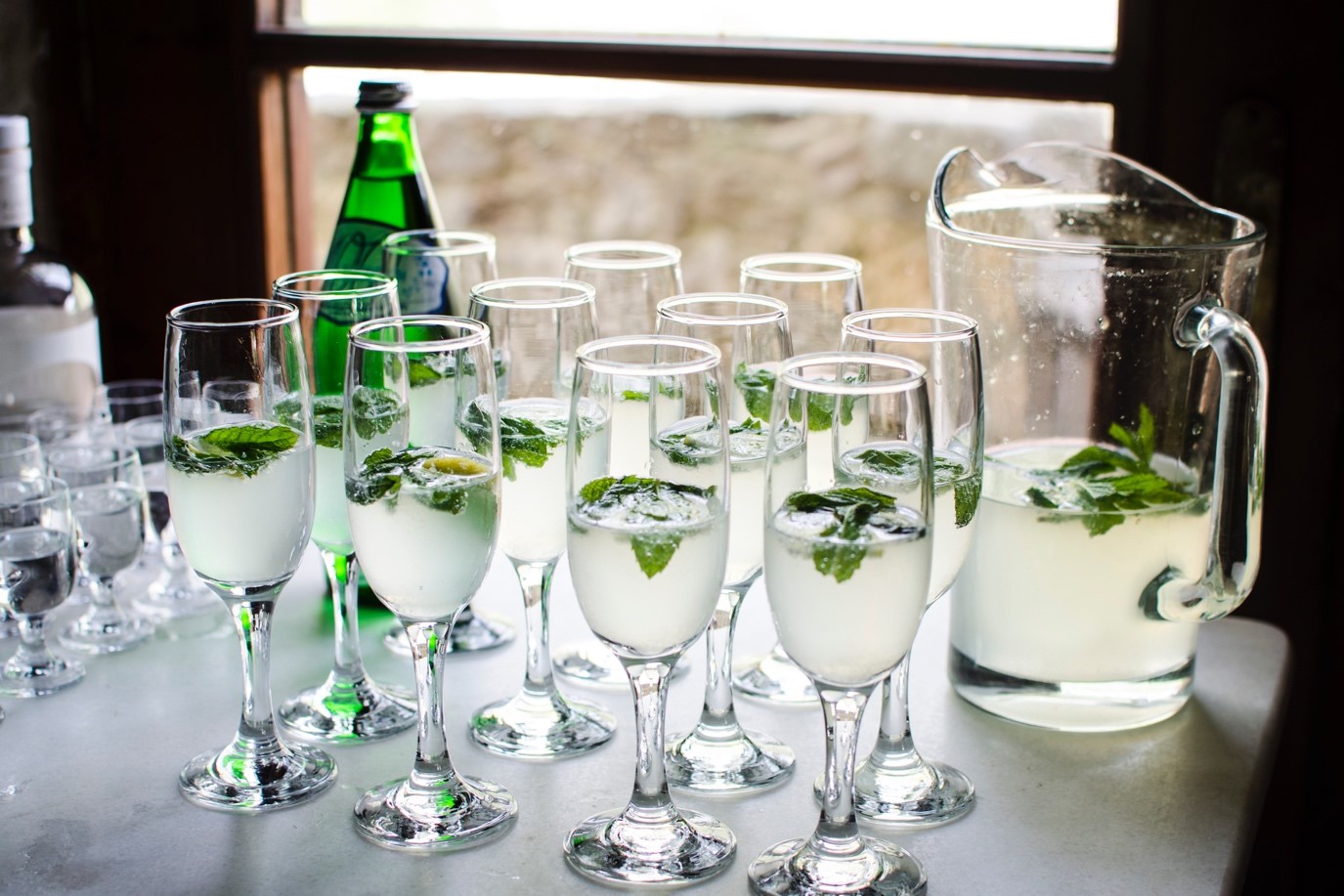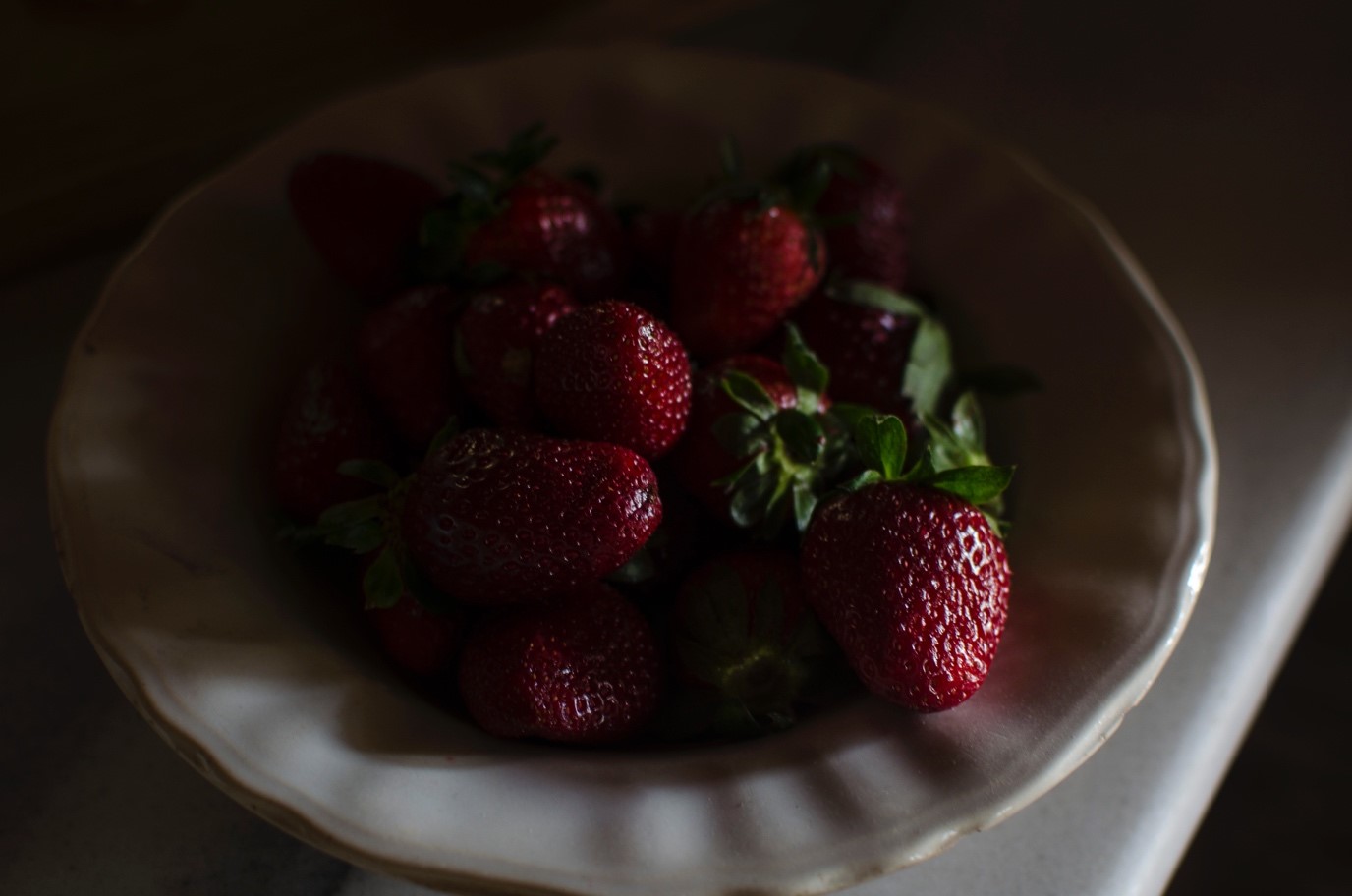 We started off with a warm welcome from Eleni and the girls. Bites with local products, glasses filled with wine and getting to know each other. But we didn't have time to say enough. Tasos, the proprietor, welcomed us as well and invited us to take a tour around. We followed him through the path which led us to the top of the mountain, leaving the small stone houses behind us.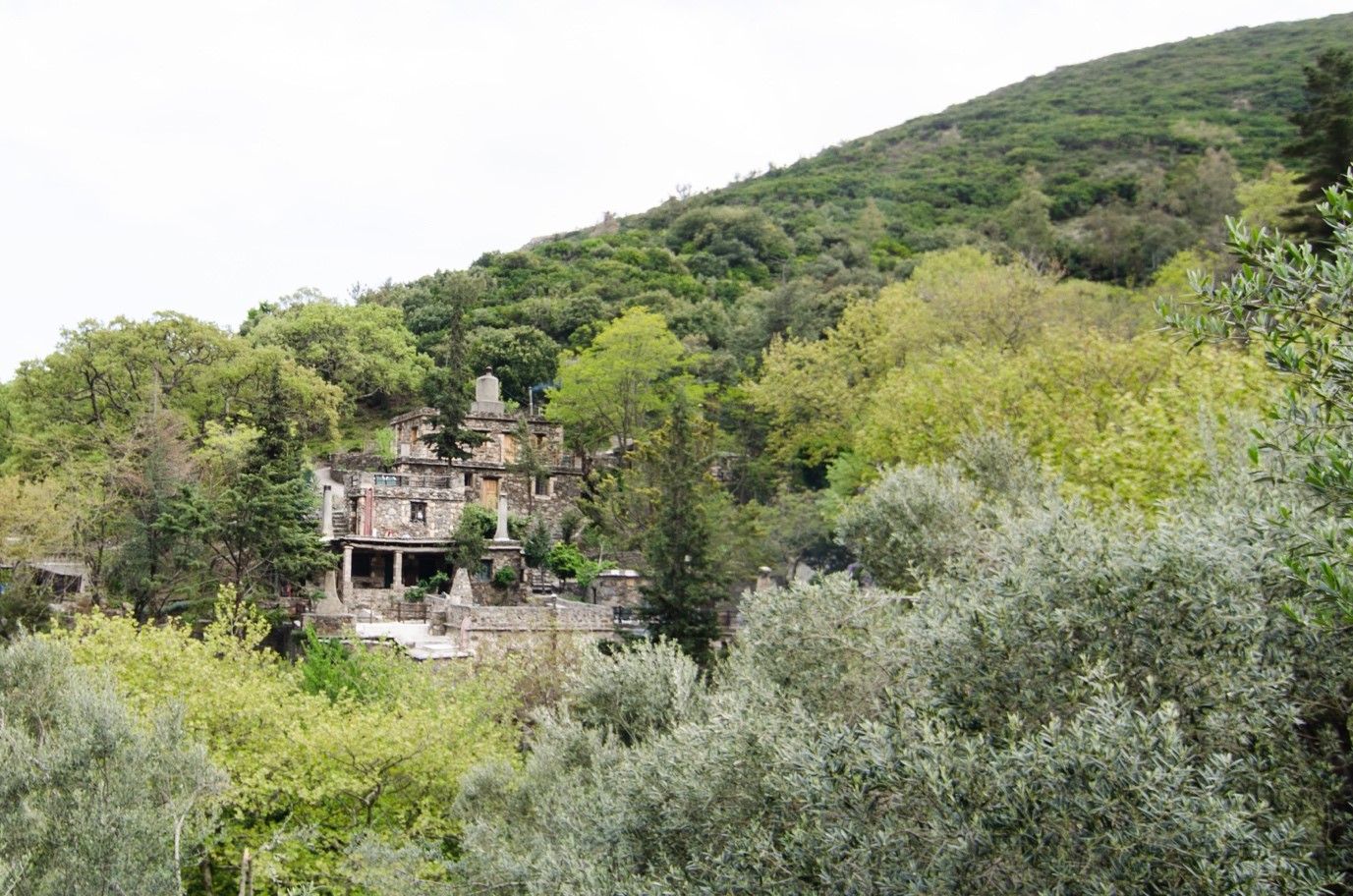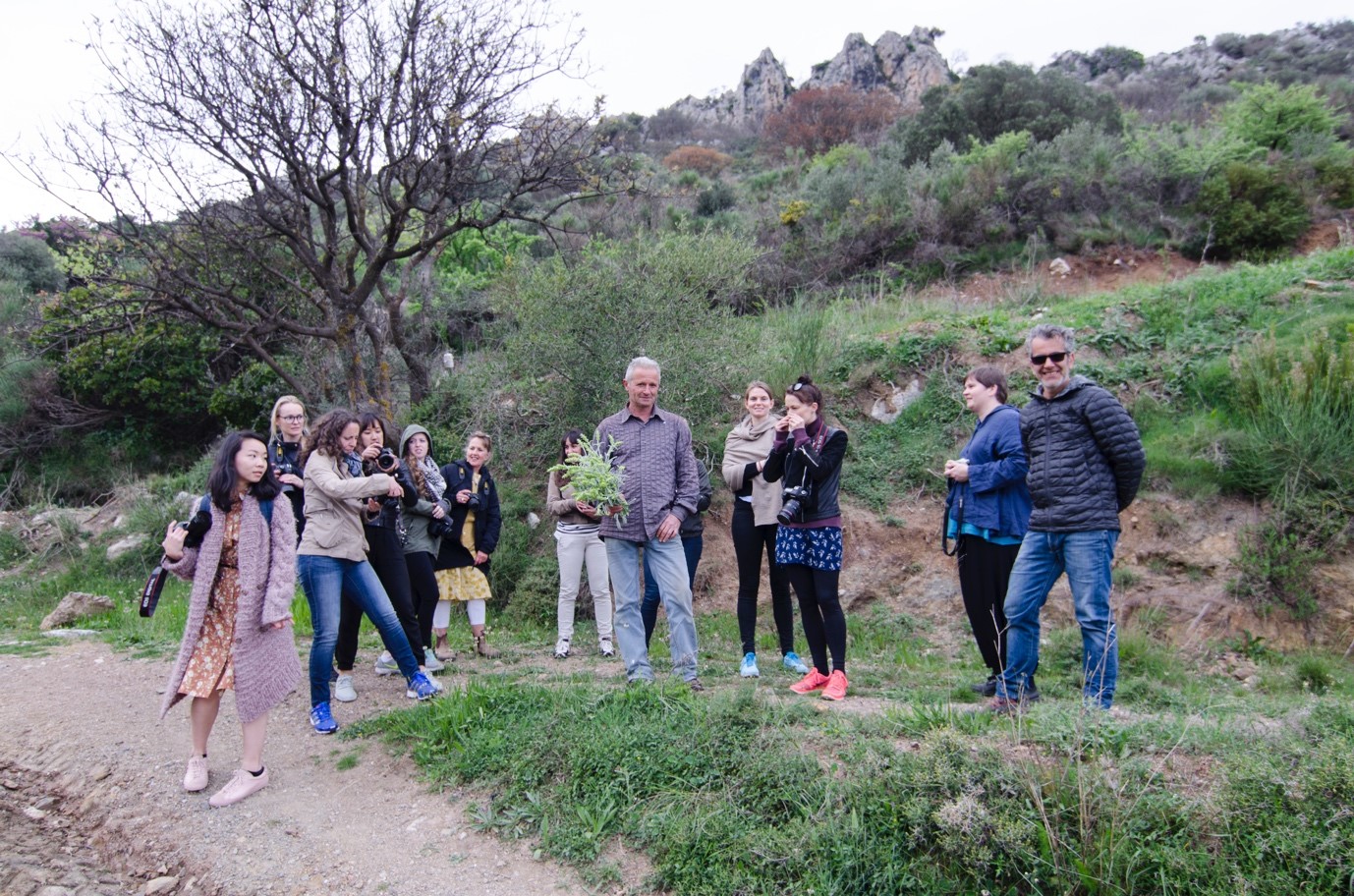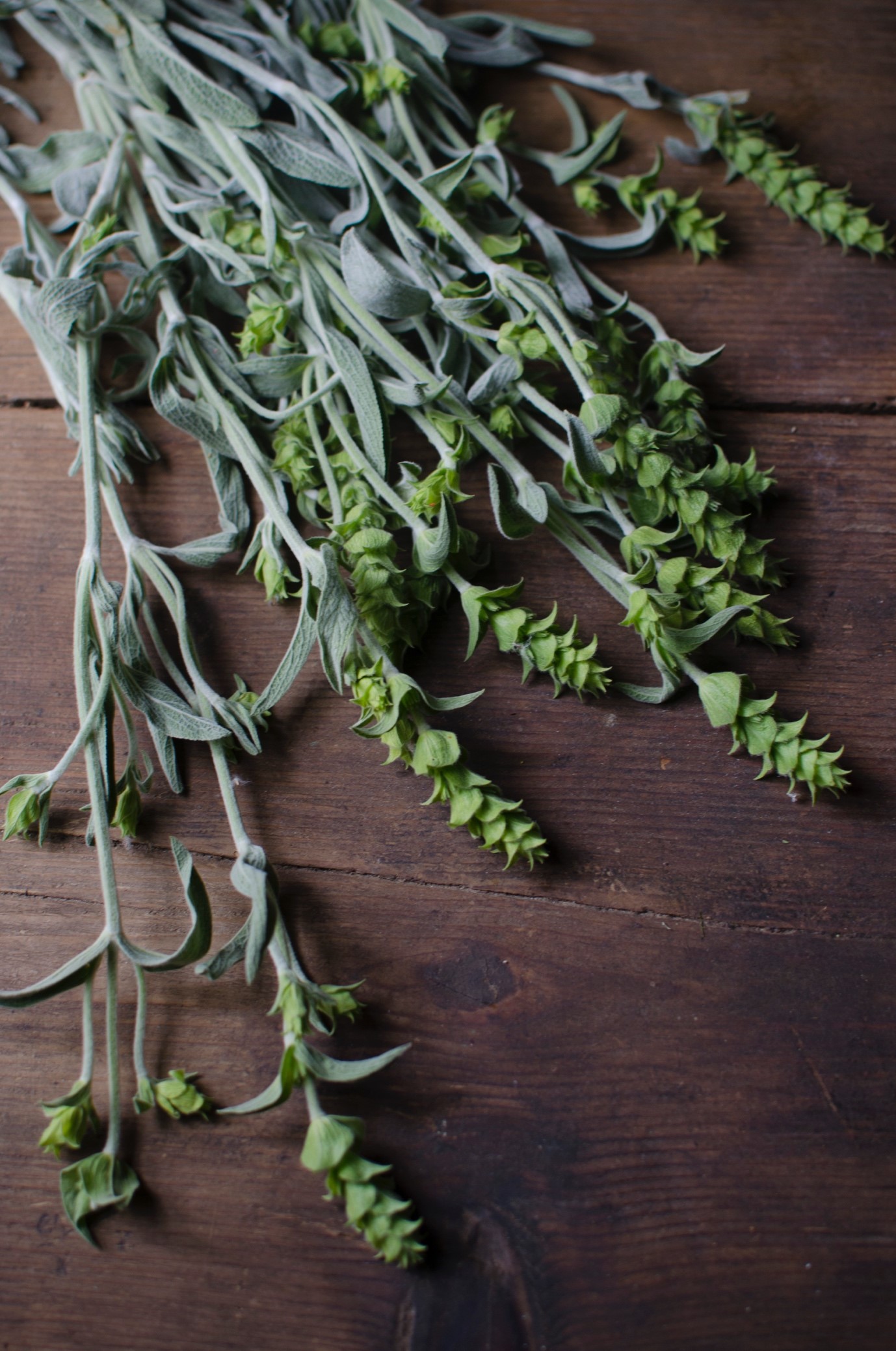 The route and stories that Tasos shared with us about the history of Milia and the life of the people through three centuries, since the settlement was first established were magical. We learned a lot, admired the nature, gathered delicious mountain tea, malotyra, unique wild greens and, of course, we did not stop capturing!! Later on, in the evening, a delicious dinner was awaiting us, with the impressively decorated table, unique local recipes, splendid wine, beautiful people... who could ask for anything more?
My first impression, just magical! As I was walking back to my room, I felt both tired and full of amazing images at the same time. The day felt endless. As I entered my room, I realized that I didn't have time just to sit back and enjoy my private place. Decorated with old wooden objects, so minimal, with only the necessary !! I was impressed with the old wooden windows which made me feel that I was in another century. On the bed, there was a present waiting for me - a beautiful fabric bag filled with local goodies and objects!! I was impressed by a cement plate, (www.itsrhoncus.com), which was carefully wrapped. The kind gesture and the work that Eleni had done left me speechless. Those must have been my last thoughts before I closed my eyes.
The next day started with an early wake-up call. The weather was quite chilly for that time of year and for Crete. Most of the participants had come from northern countries with suitcases that were in a summer mood. My bad habit, to always carry with me a lot of useless items just in case, came in handy this time. I was able to lend sweaters and scarves to my new friends who were cold.
We started off the day on a large terrace in a fairytale setting. Tasos and his assistant would show us the procedure of kneading homemade bread as it has been done for centuries now. In that foggy atmosphere with the perfect dimmed light, we followed the scene through our lenses.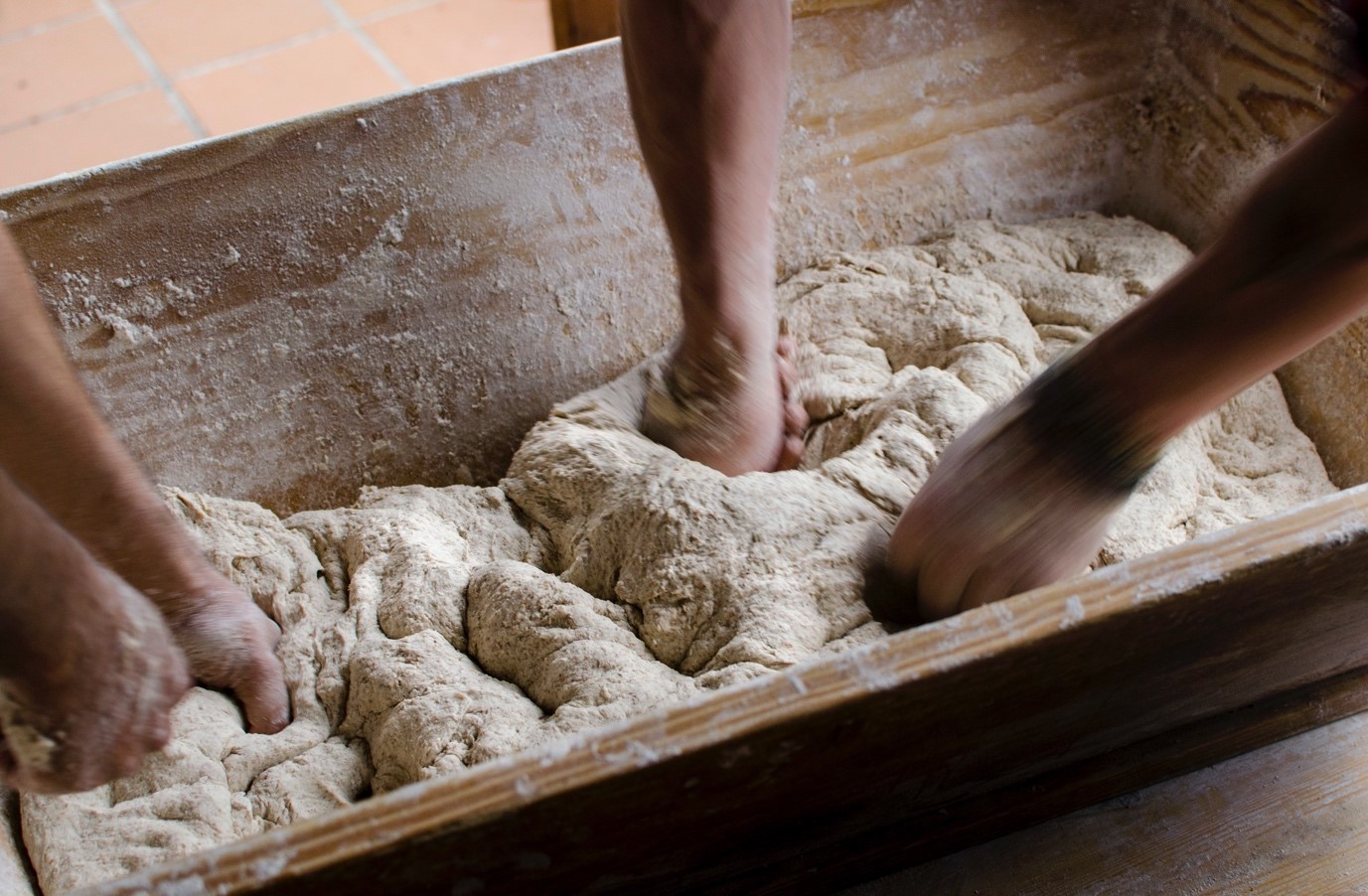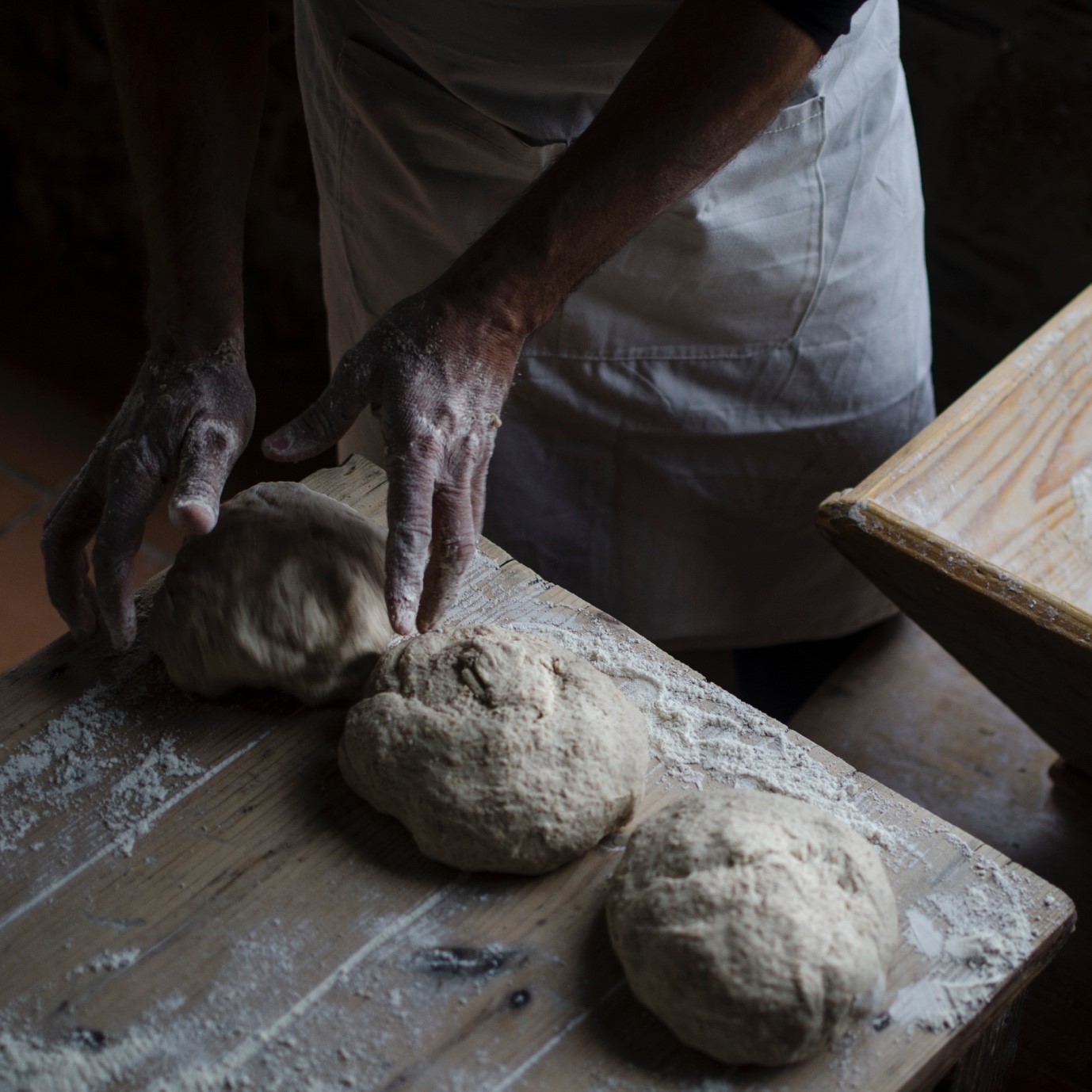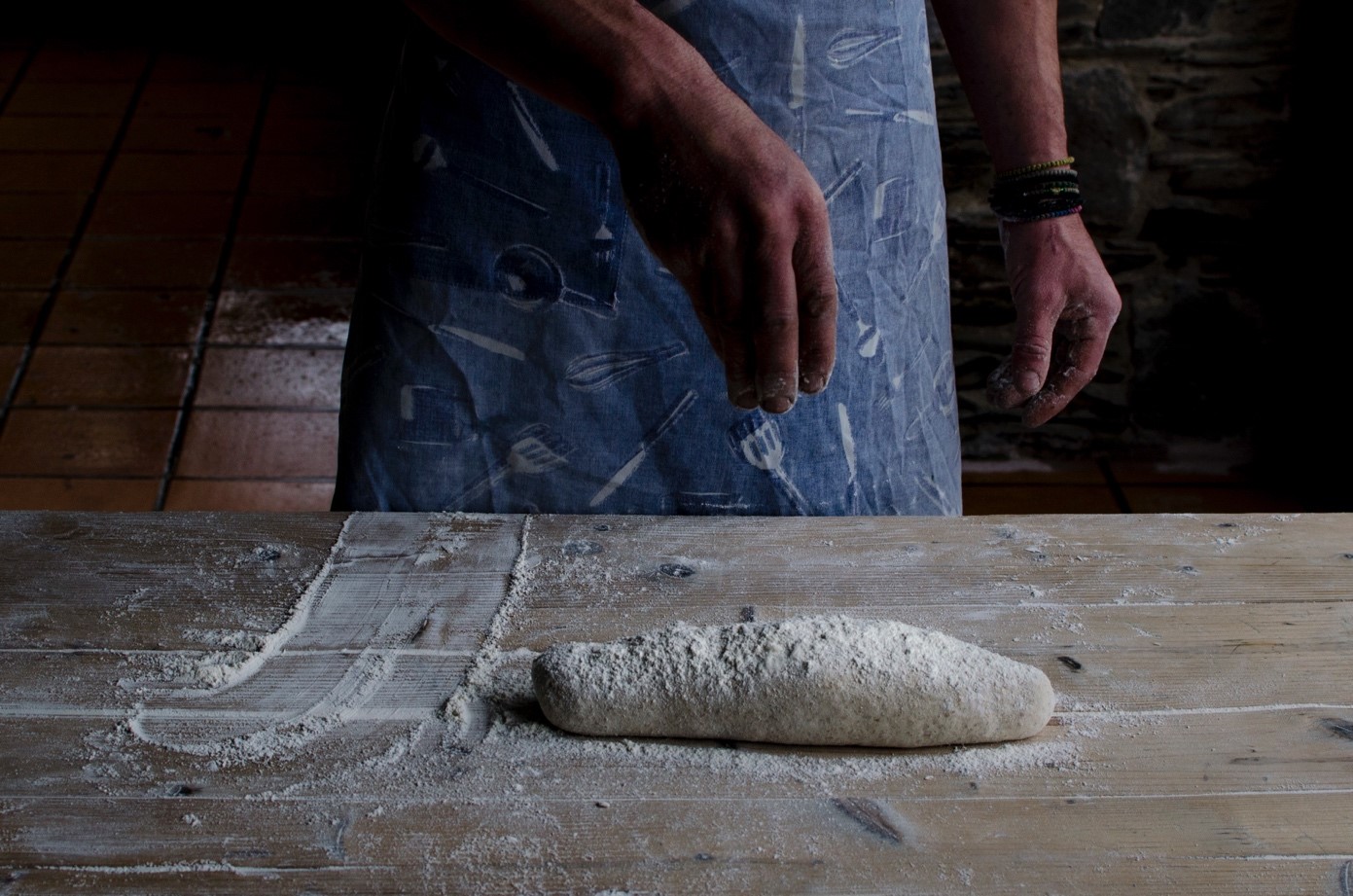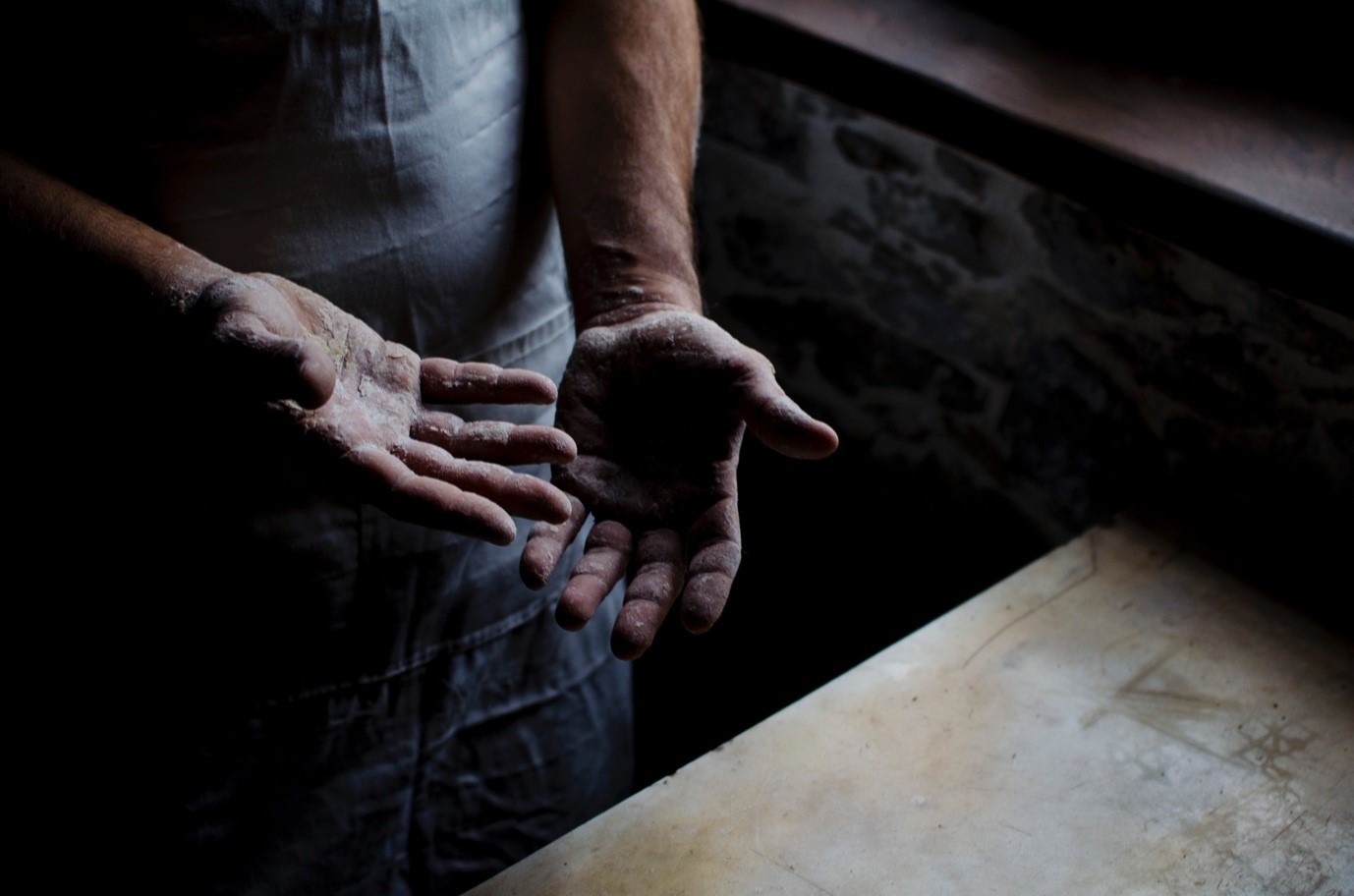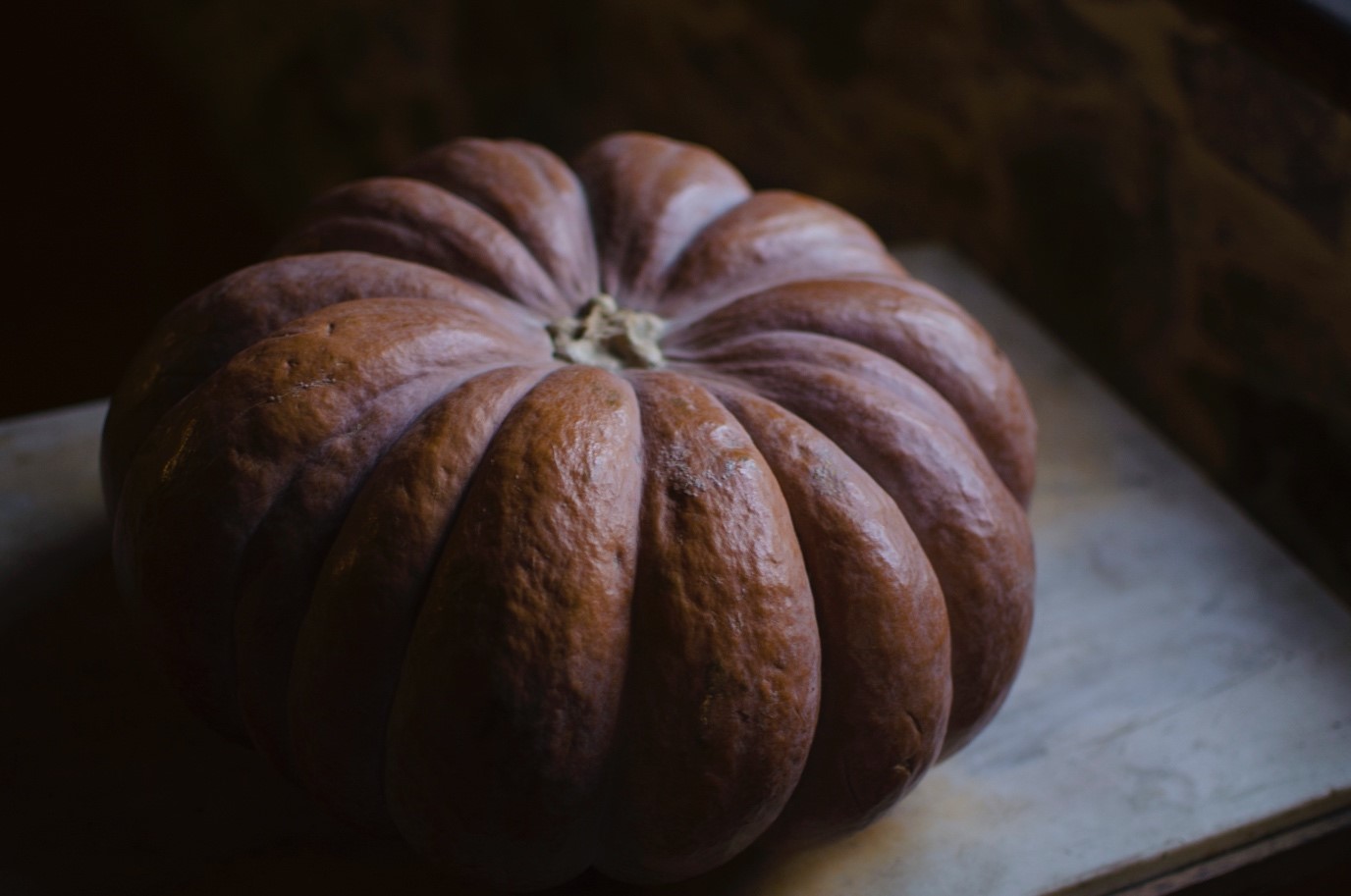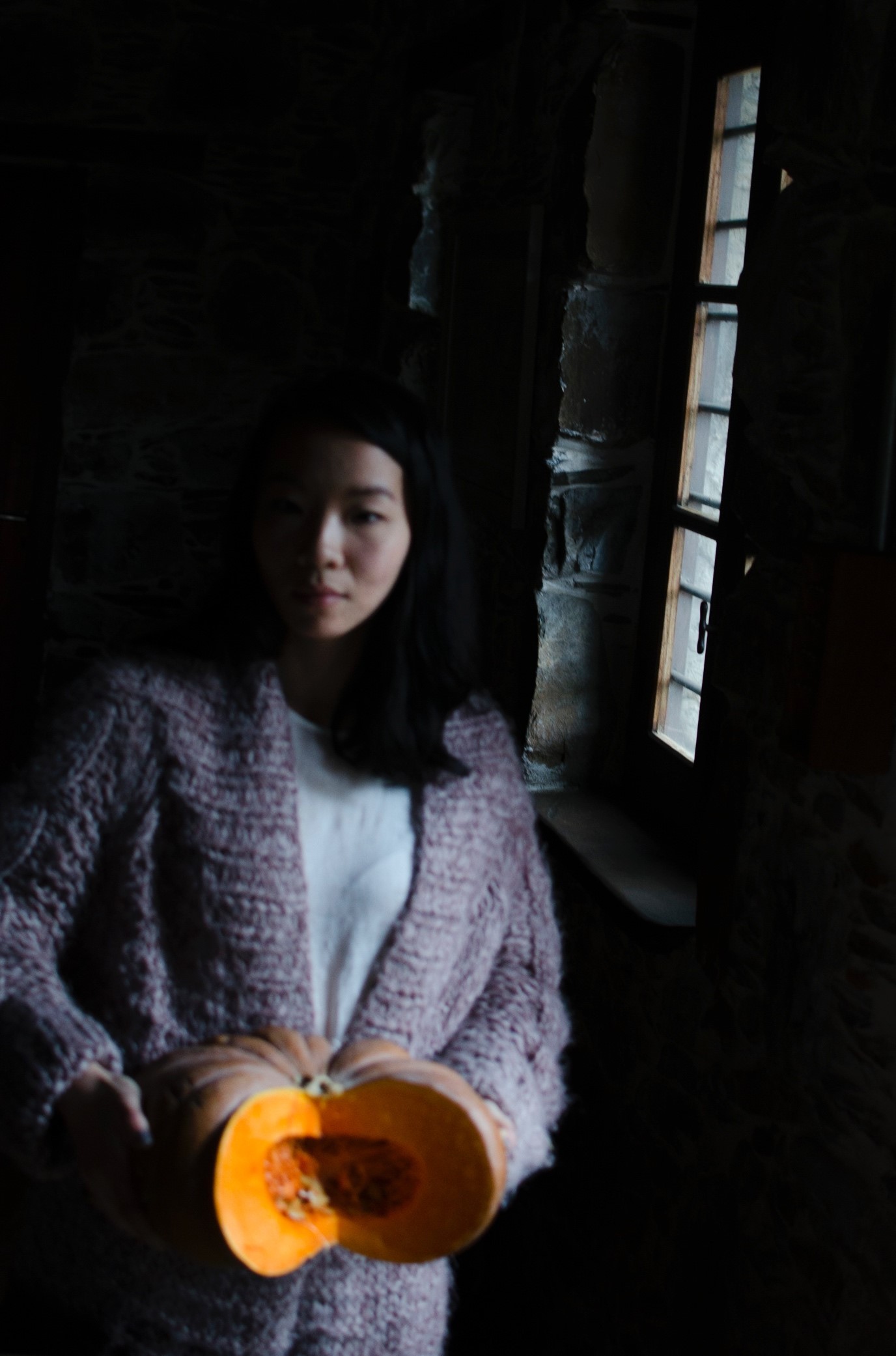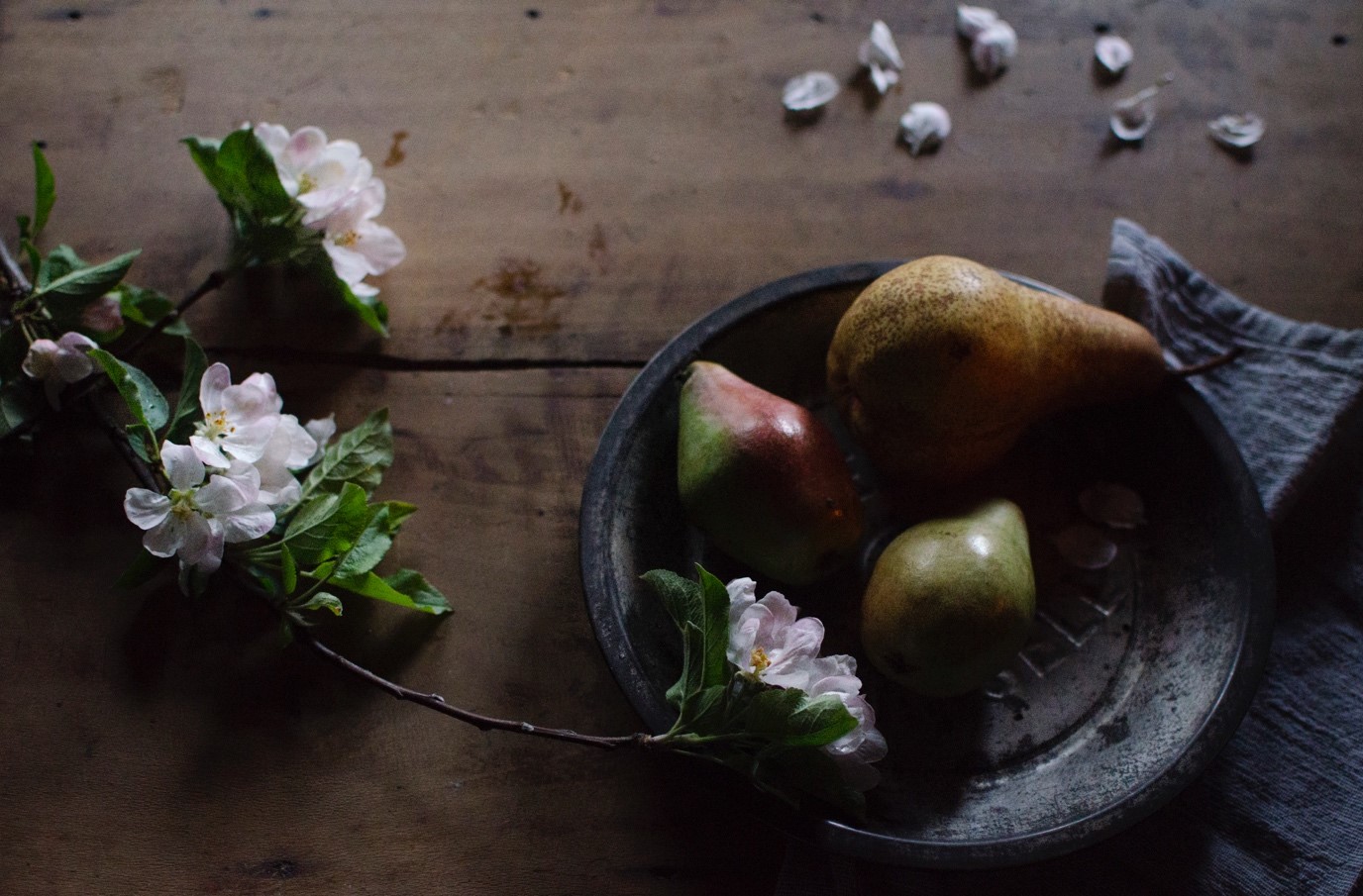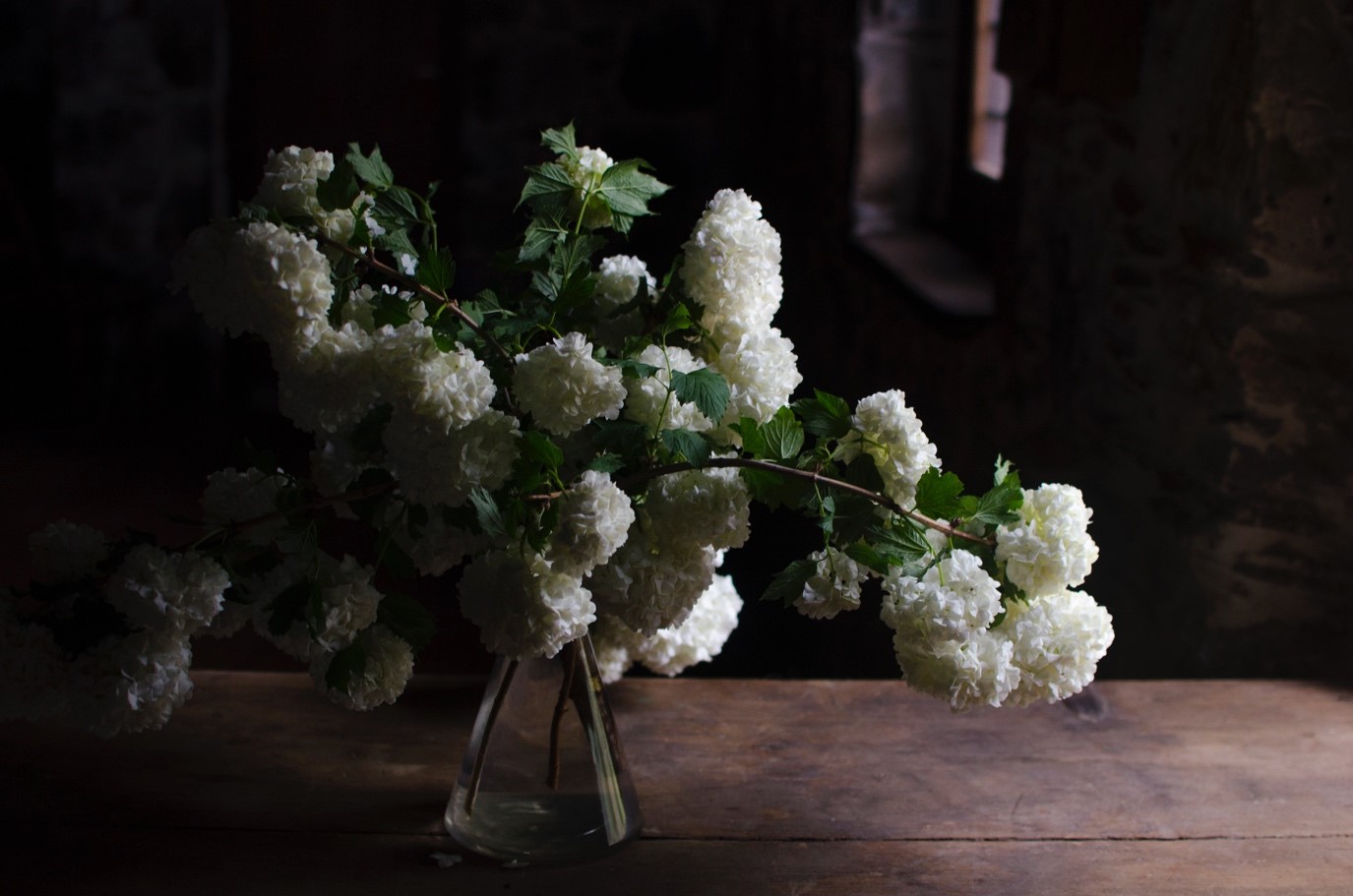 All this time Betty and Jenny were constantly giving us helpful tips about the natural light, composition and the story that we want to capture, techniques for the perfect shot. The bread was kneaded and put in the wooden oven. Tasos and his assistant were so patient, and they continued to be our models for a while. The rain was getting stronger, and the heavy, dark clouds were moving in. The need to be around the fireplace with the warm cup of "malotyra" was becoming a necessity but only for a while, a planned visit to the famous " Elafonisi Beach" was about to start.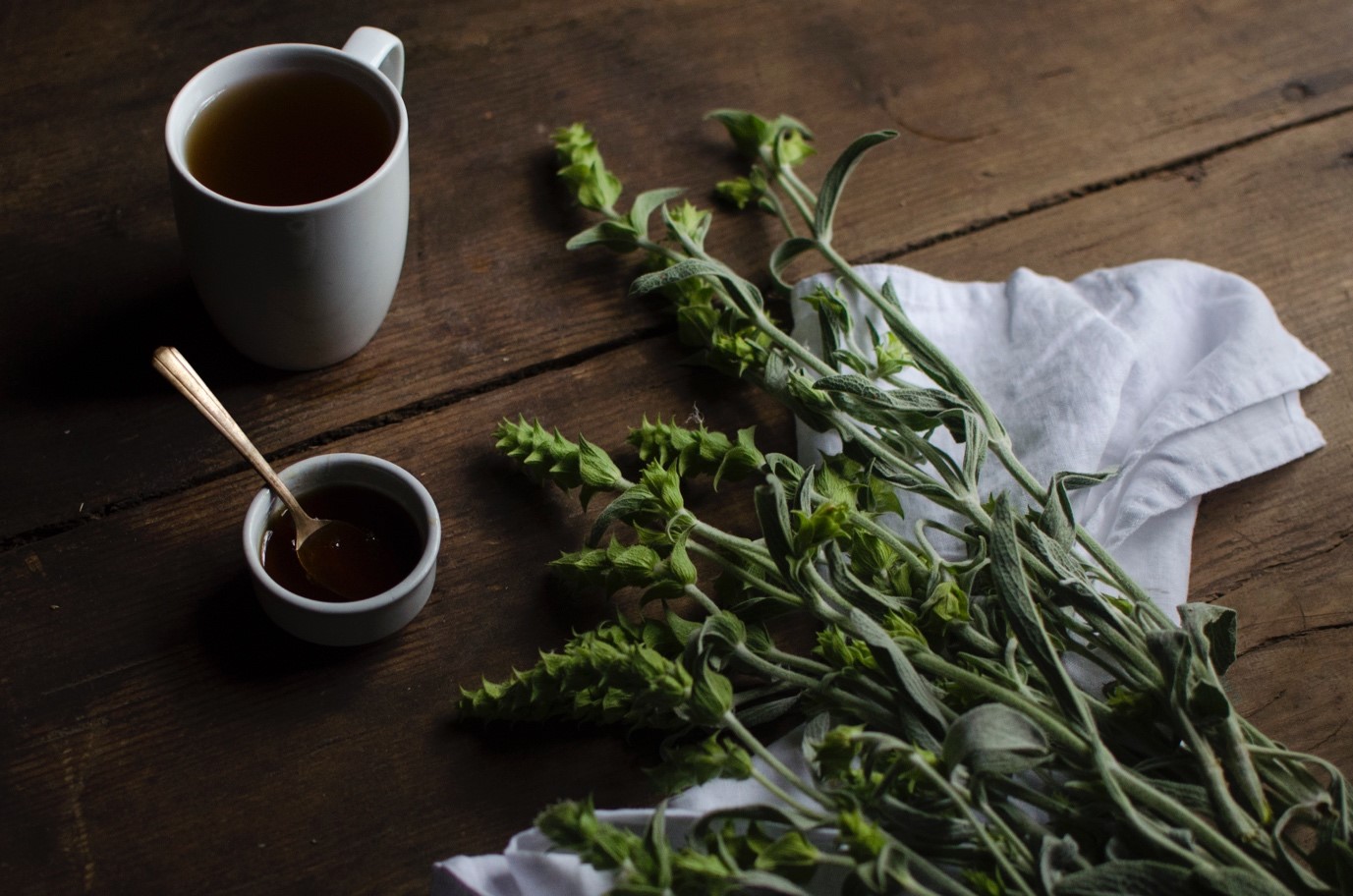 The cloudy scenery gave a unique and dramatic image of the "pink" sand beach. You could only hear the sound of waves and the thousands of " clicks" of those who had their camera batteries charged. Unfortunately, I was not one of those. I borrowed the image below so that my post would depict this beautiful scene. We returned to our nest with a high dose of adrenalin.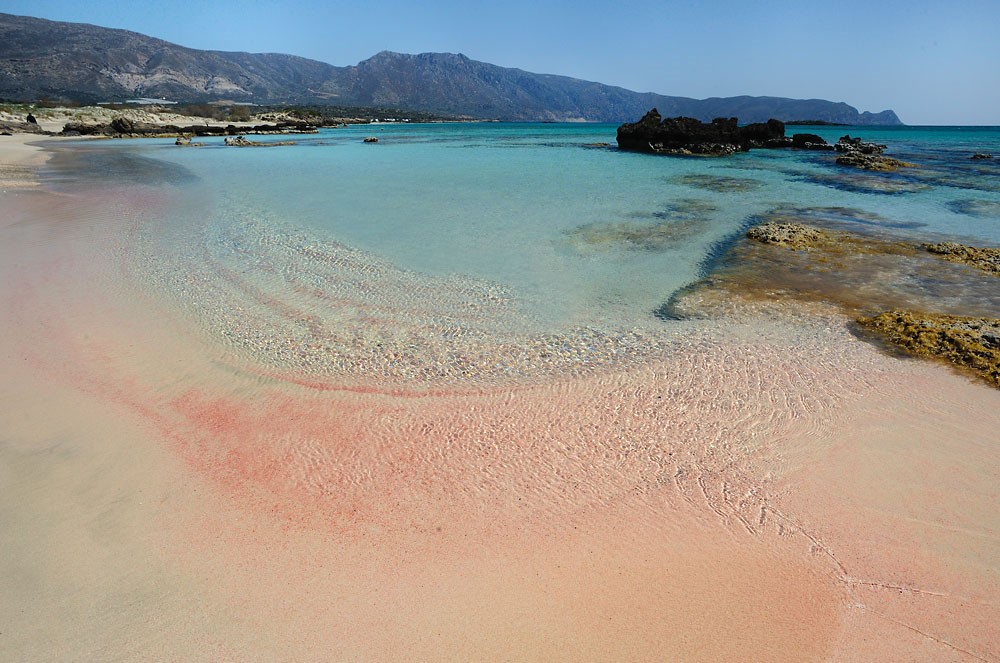 A beautiful sit-down dinner was set to take place in the evening hosted by the Chef of the hotel Panagiotis Borgiatzidis. A young guy who left us speechless with his talent. Using only the finest local products he made unbelievable gourmet dishes!! I feel that Panagiotis will have a bright future as a Chef.At this point, I would like to say that a big part of the Milia success story were the people that worked at the resort. Warm, willing and friendly, they made us feel as if we were at home. We all sat together around the table, shared stories, cheered "stin igia mas"(to our health) with our wine glasses.
On our third and last day, we had a very early morning wake up call and a planned visit to a local apiculture. I tried so hard, but at the end, something just kept me back. It has nothing to do with the bees and the honey, which I adore. I just felt the need to stay in my bed, in my room to enjoy the silence and the peace of the beautiful morning. I knew it was the only free time that I would have with myself and I needed it so much! I didn't regret it. It was quality time that I offered to myself.... me in paradise! The only thing I heard was the wind whispering through the leaves and the birds singing ...the most perfect place for meditation. I don't know for how long I just stayed in this peace. Later, I decided to leave my room and take a stroll. The sun, finally, had come through the clouds, everything was shining, fresh and alive... of course, it was the end of April!! I enjoyed every single moment of my stay in Milia and I know that I will be back soon.
The team arrived at noon and brought me back to reality. Our next project was about to start - the presentation of making the traditional " phyllo pie with wild greens and cheese"!! My favorite!!!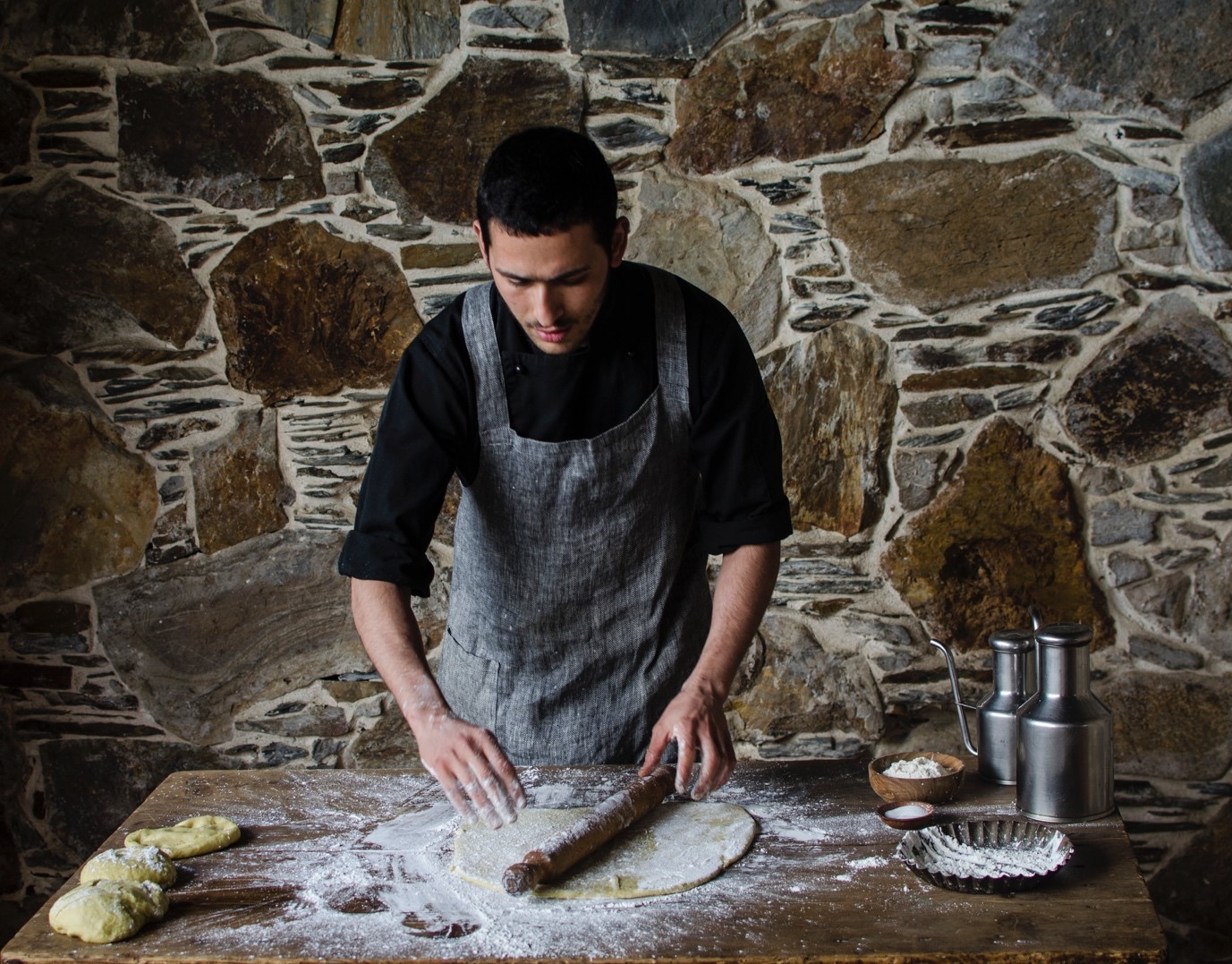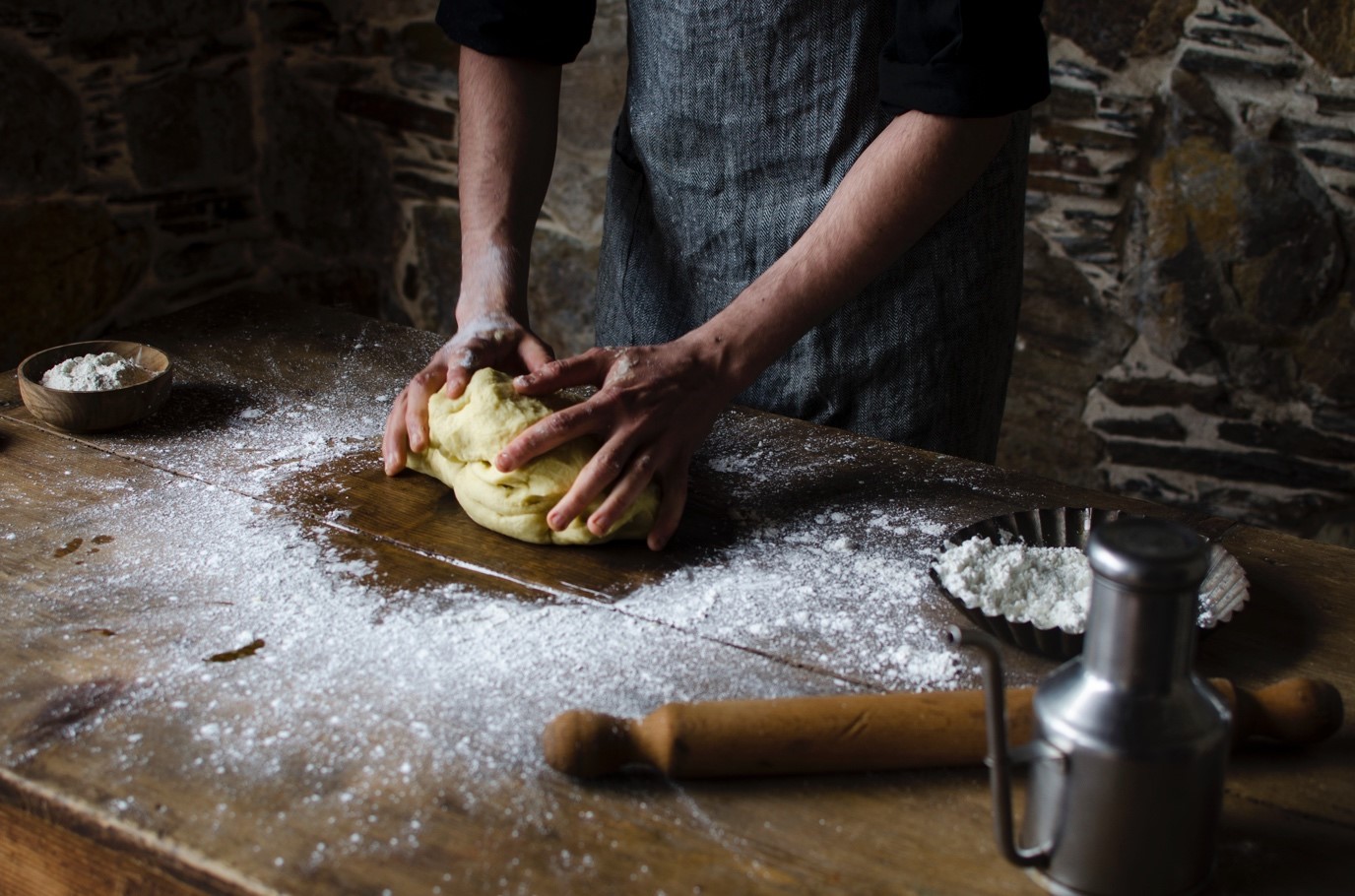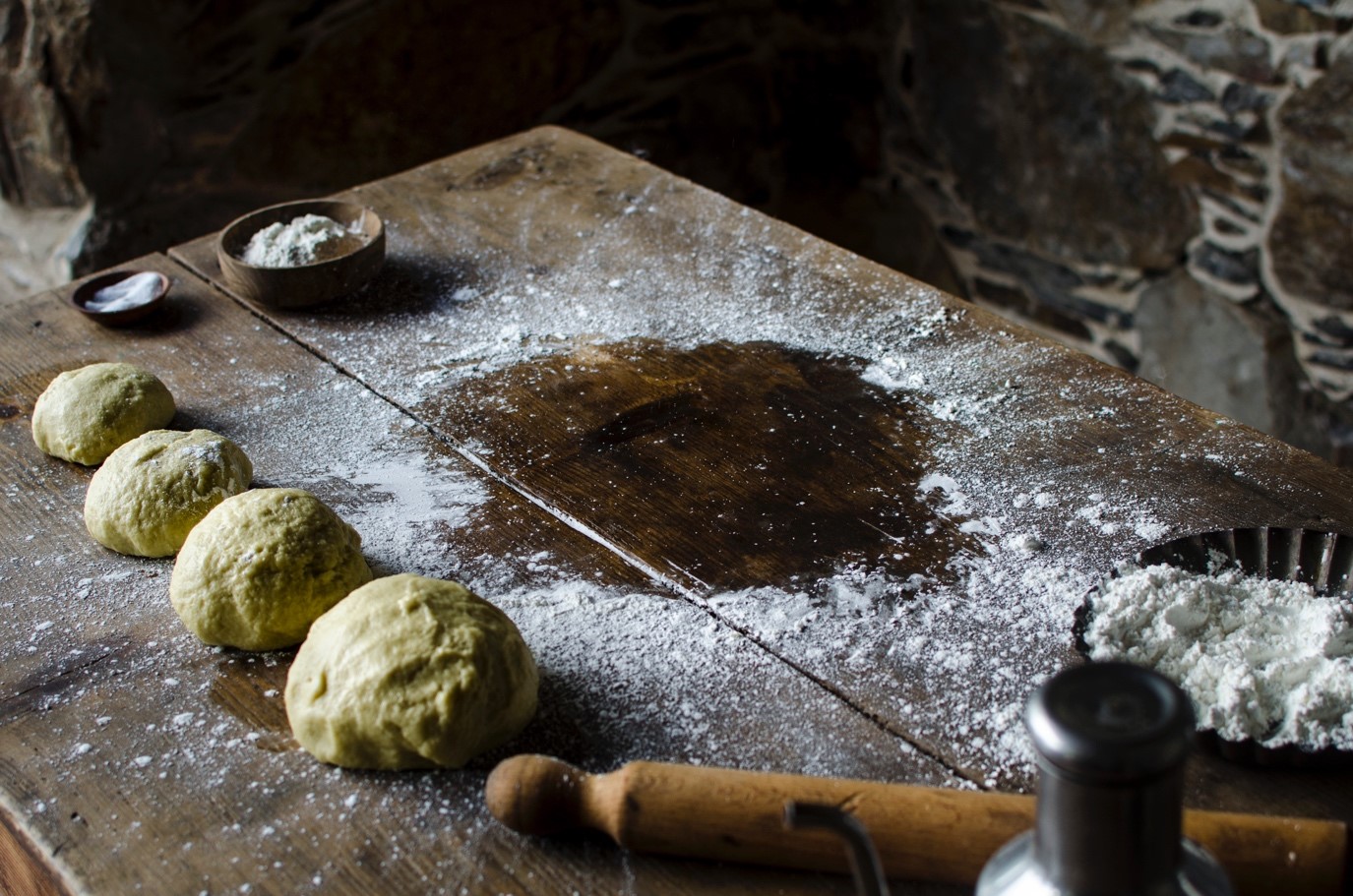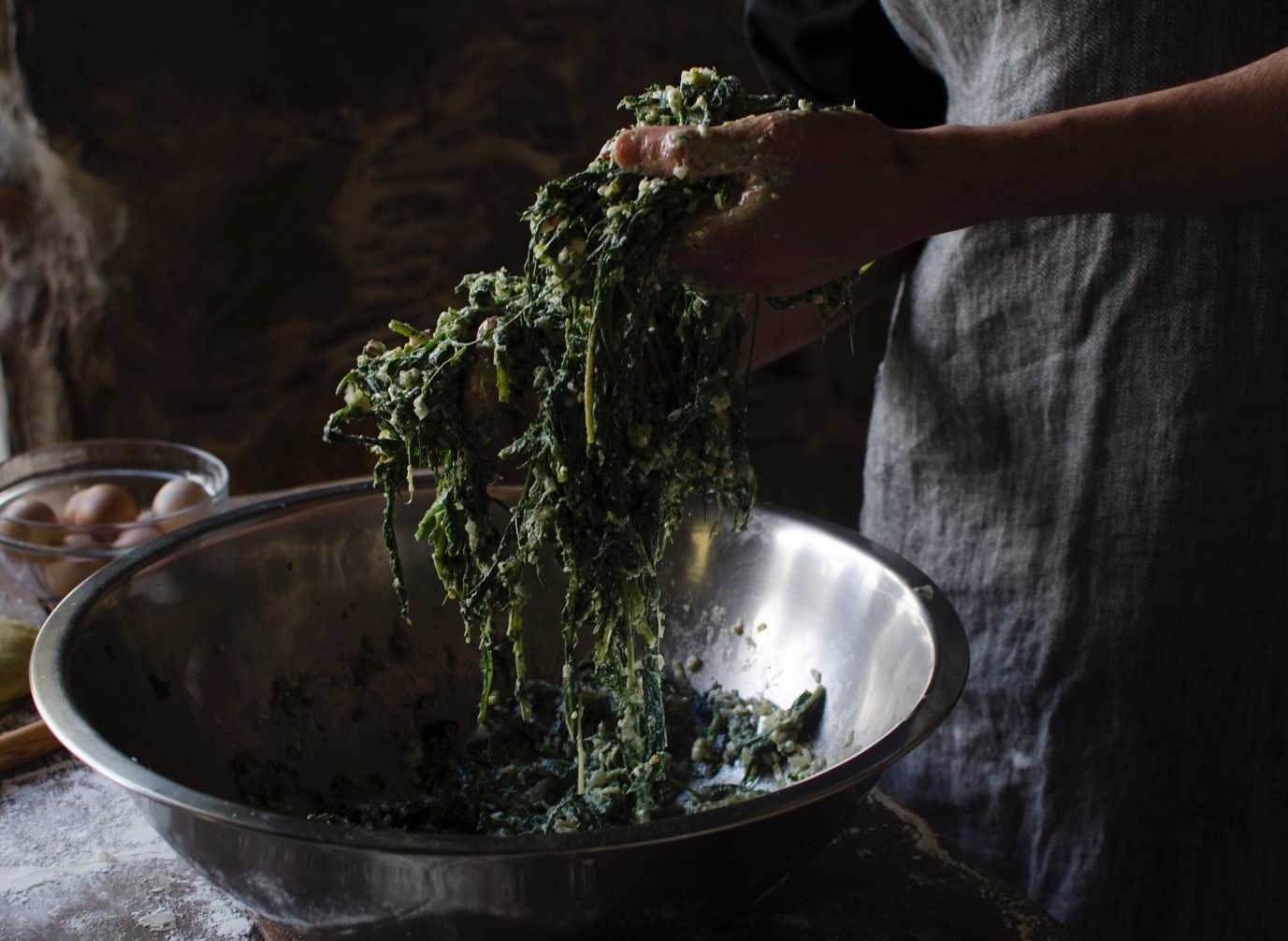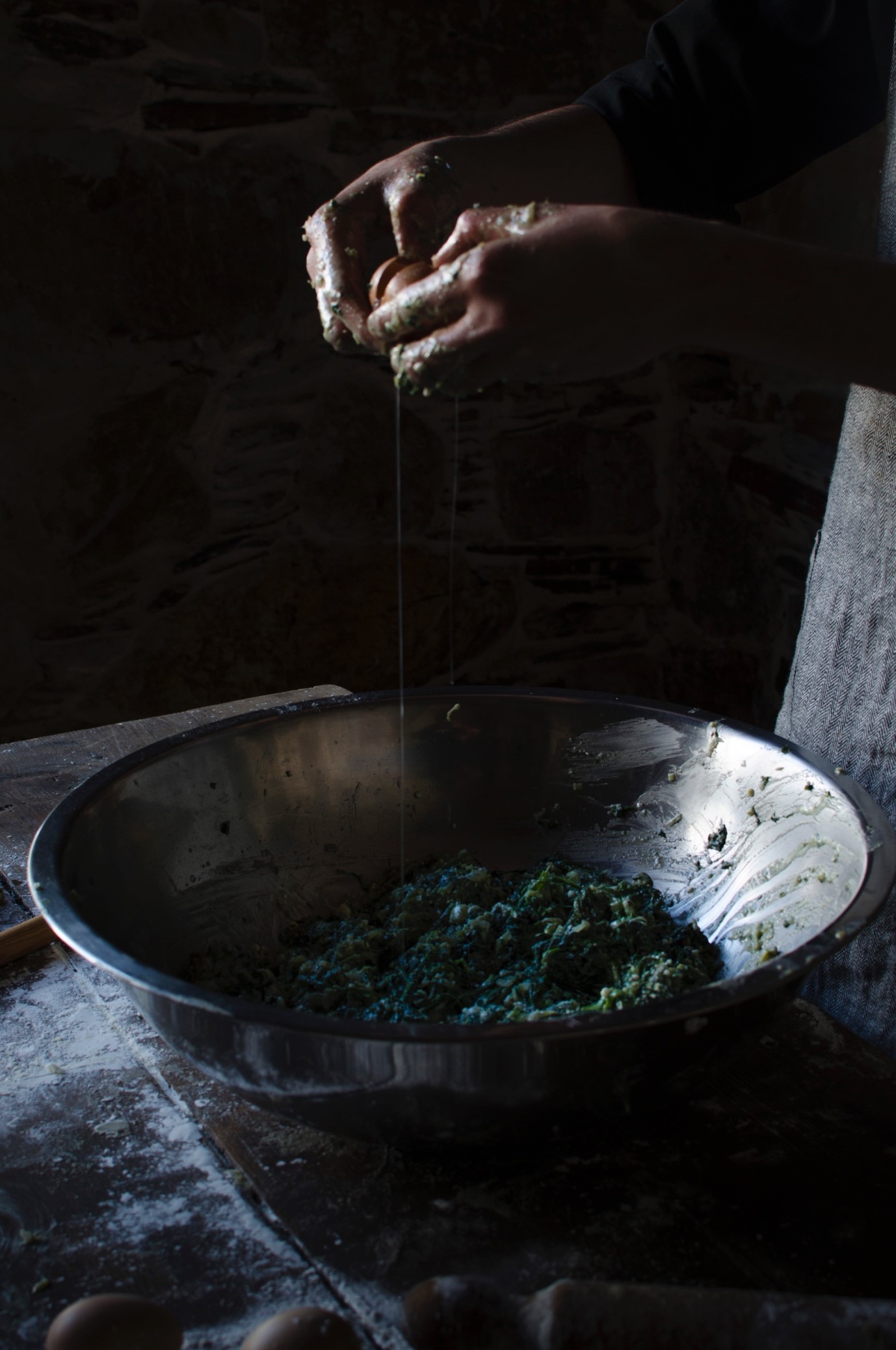 As I adore pies, I dove into the process. The pie and the chef ( Panagiotis) were our models. I believe that it was the most photographed pie in the world! The pie was baked in the wooden oven and as soon as it was ready, it disappeared in a minute!! After the pie project, we continued to capture, to set props and to use every possible minute of daylight to our advantage.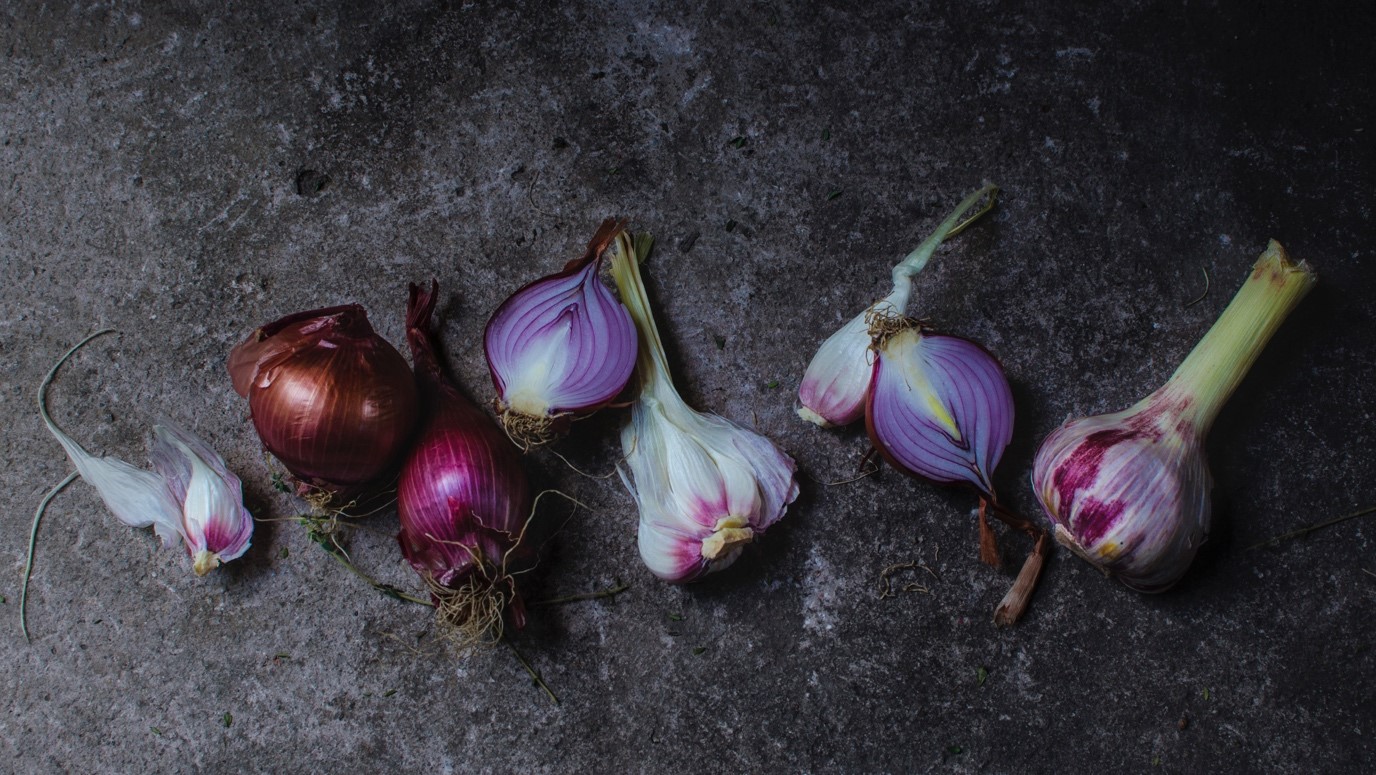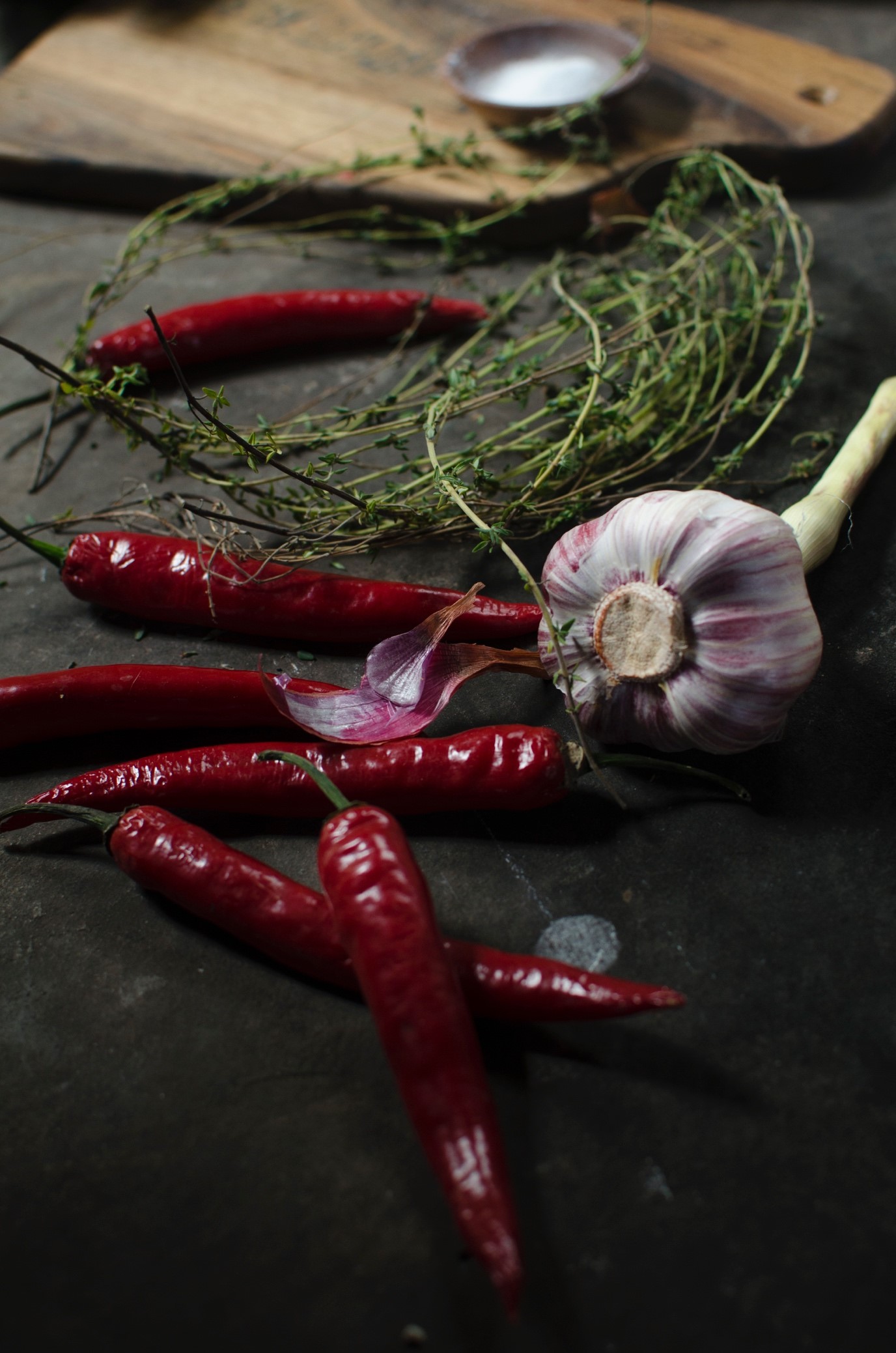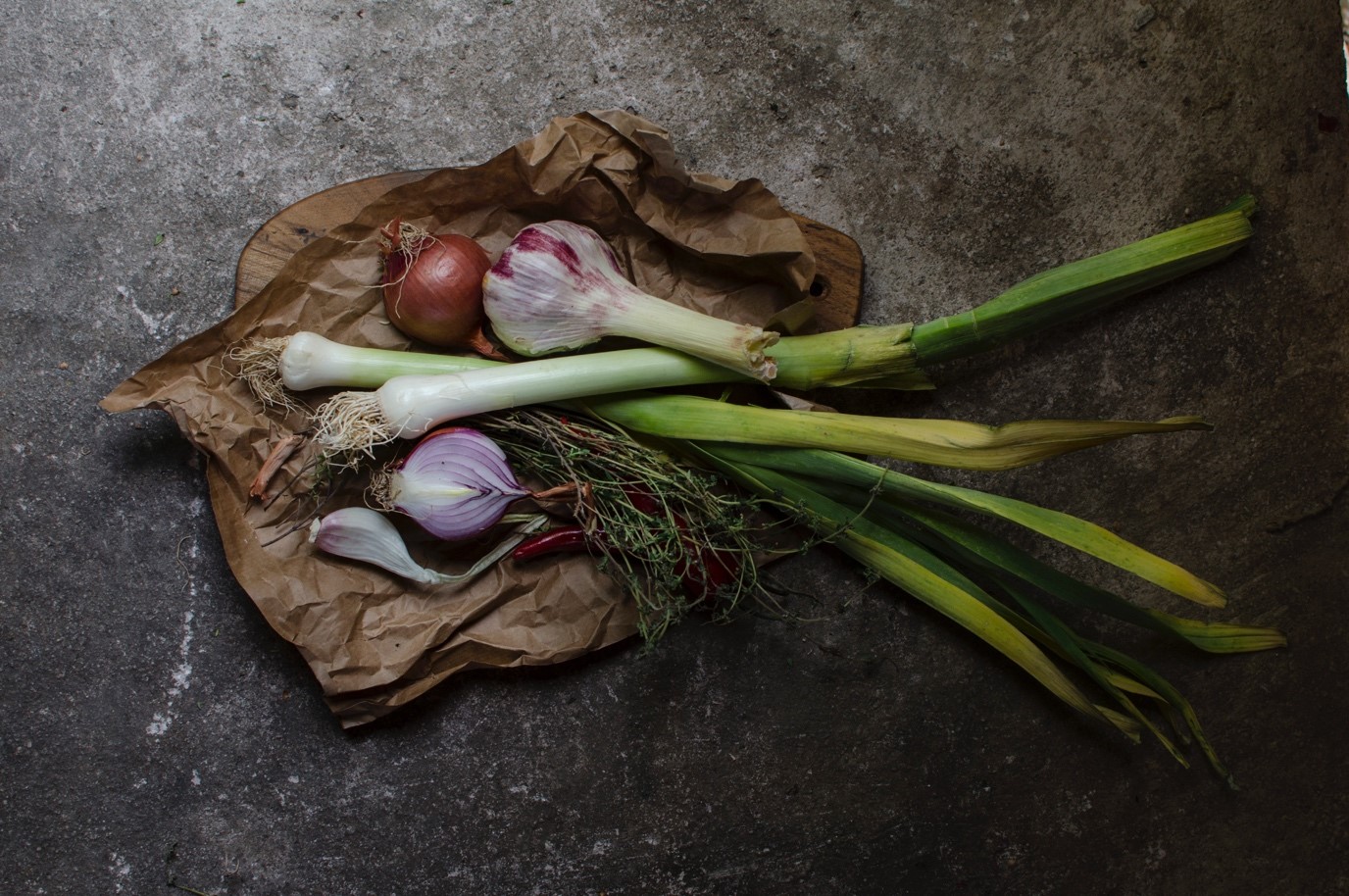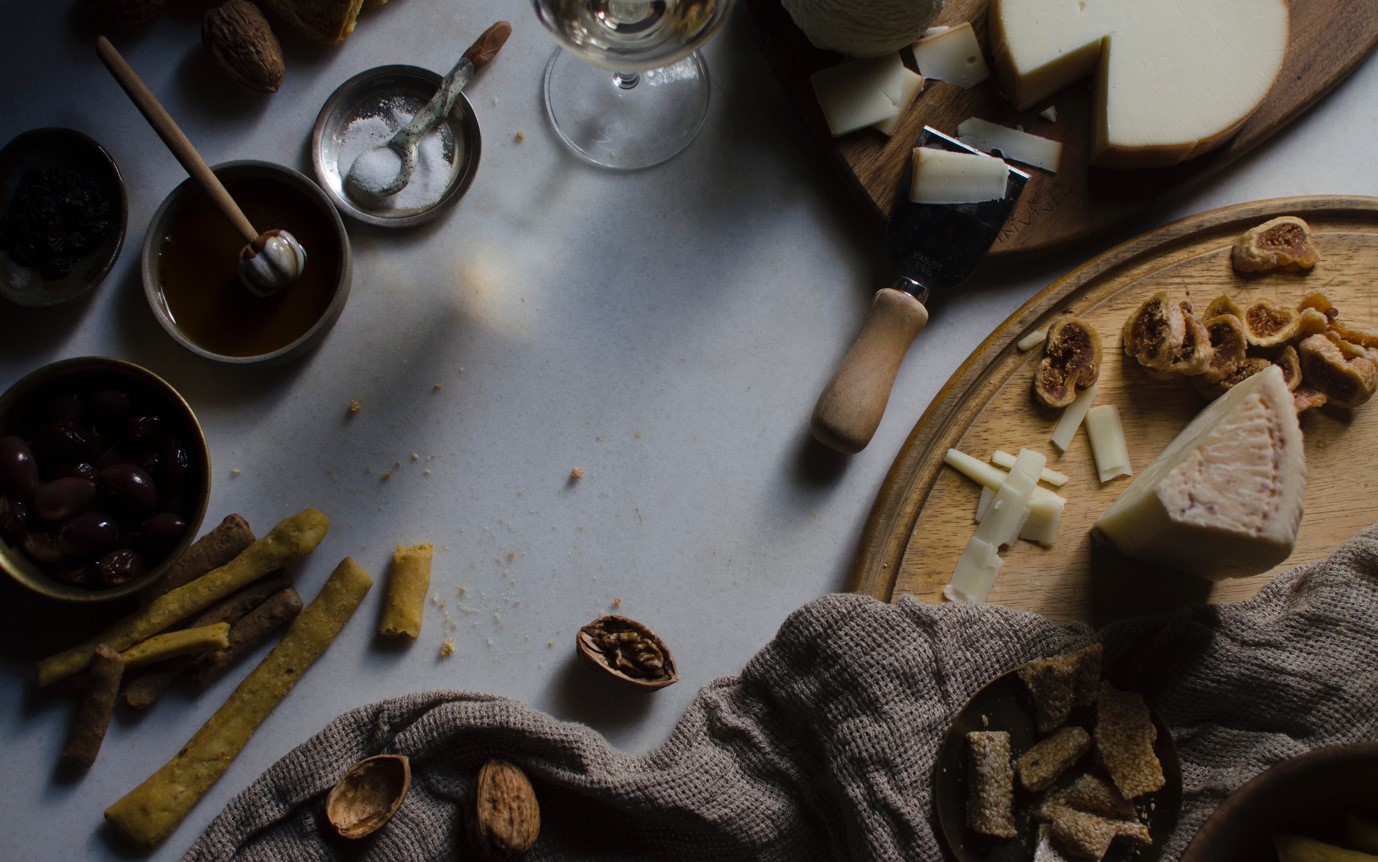 Ιt was our last night and an extraordinary dinner was set, very festive and inspired. Happy, satisfied faces were shining with a feeling of familiarity between each other and a bittersweet taste that something so beautiful was coming to an end.
I am writing this article months after the Milia project, and I feel that I went back in time. I remembered those special moments and the faces one by one. Once again, I have to say that I feel so lucky that through " creative cooking," that I love so much, I have the opportunity to do such wonderful things and meet such amazing people. I learned a lot and came back home so inspired. Cooking, styling, capturing, setting beautiful tables and sharing all this with friends !!!! It brings me such great joy!!
I hold on to the knowledge that makes me better, the joy of creativity and the amazing, talented people, friends, that I met. So happy that technology works for us and help us to communicate, daily posting what we love most through wonderful images. Just one "click" and one "like" and you know that your message is sent and seen on the other side of the world!