Artichoke And Sausage Omelette - Tinos Food Paths
May 17th 2019
The Artichoke Festival that has been held on the second week of May for years, has now evolved into something greater and bigger. It has evolved into a celebration that showcases local products and promotes the island's rich culinary culture.
Every year, at the beginning of May, the Artichoke Festival takes place in Tinos, celebrating the famous local artichoke. I had somehow never managed to be there in time for the festival and my desire remained unsatisfied. This year, after realizing that it's a year dedicated to artichokes for me, I did my best to overcome any difficulties and obstacles and just be there. I had decided that I would definitely go to Tinos to cook and take pictures of this magnificent flower.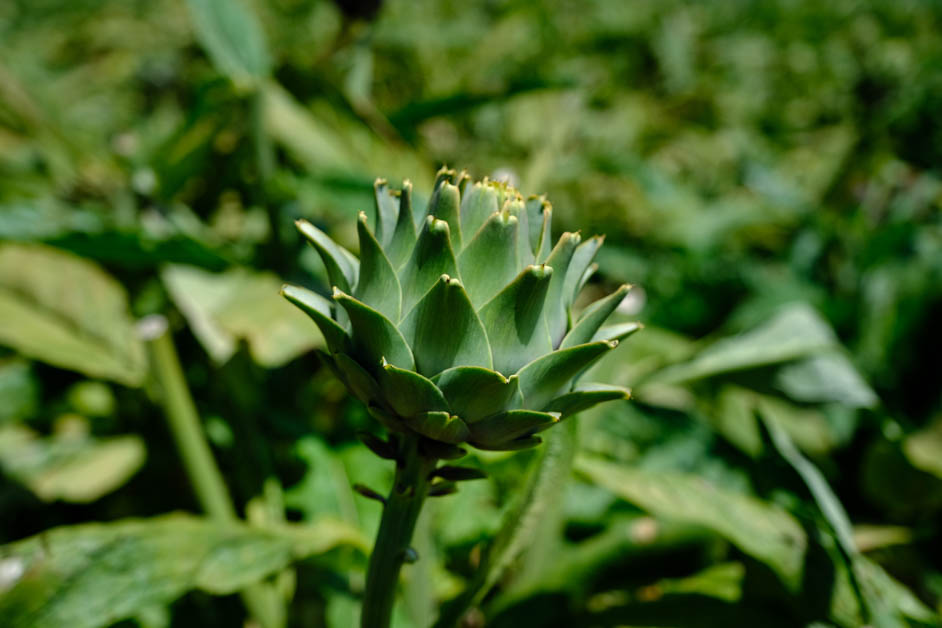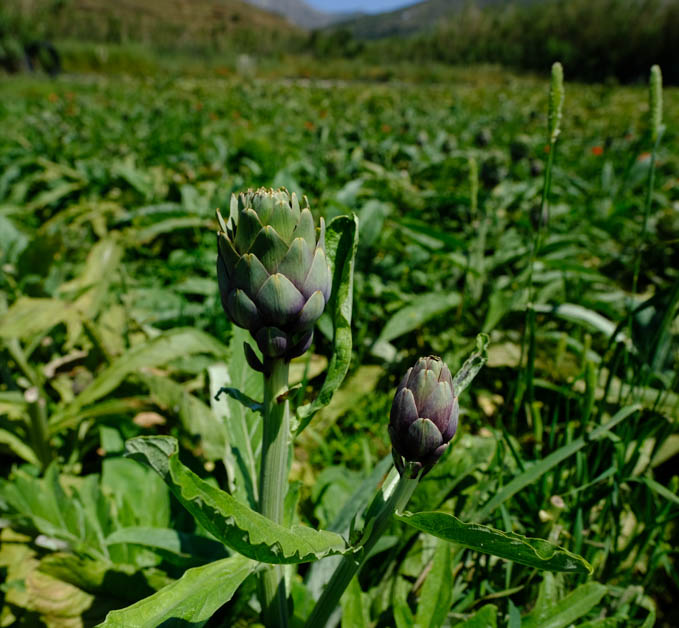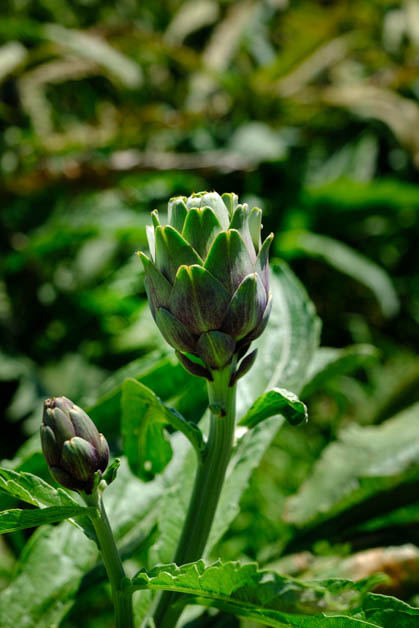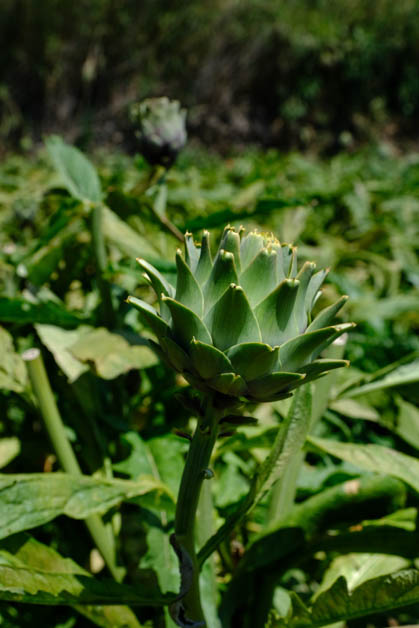 Tinos is undoubtedly one of the most beautiful Cycladic islands, rich in history, culture and tradition. An island with a variety of different types of scenery, from outstanding mountains and rocky sights to fields and beaches. Imposing villages emerging from the mountains like little white clouds, rocky sights that resemble lunar landscapes, hundreds of churches and small chapels that shine at nights with their bright crosses, beautiful hiking trails and impressive beaches.. And lovely local products offered generously by lovely people. But that's only a small taste of all the great things a visitor will have the chance to enjoy in Tinos!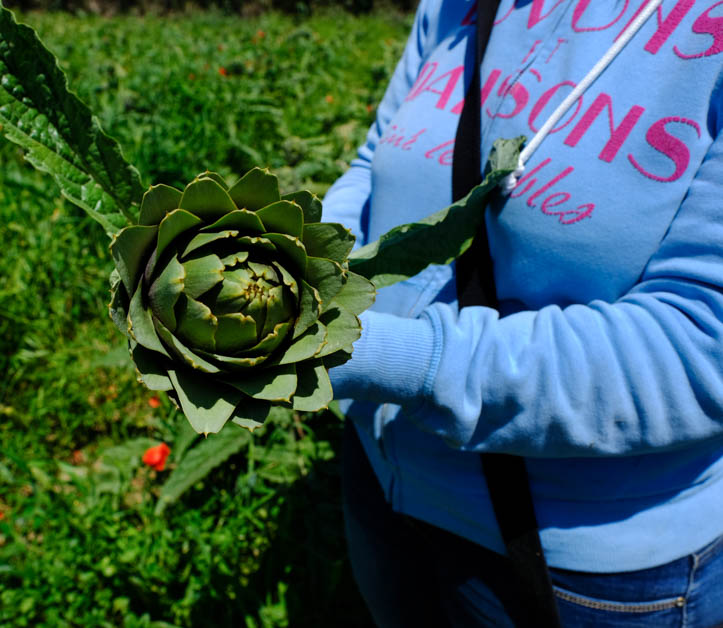 The Artichoke Festival that has been held on the second week of May for years, has now evolved into something greater and bigger. It has evolved into a celebration that showcases local products and promotes the island's rich culinary culture. A truly brilliant idea! It's important to mention that this level of admiration and respect towards local cuisine is a rare sighting in Greece, I must confess I've seen it more abroad. Through this week of celebrations, the goal is to give prominence to delicious local products and recipes and share them with a wider audience as well as with tourists who have already started arriving at the island during this season. A truly impressive event, especially for Greece's standards. Being respectful to our roots and tradition signifies an important cultural background. Nothing is incidental or random.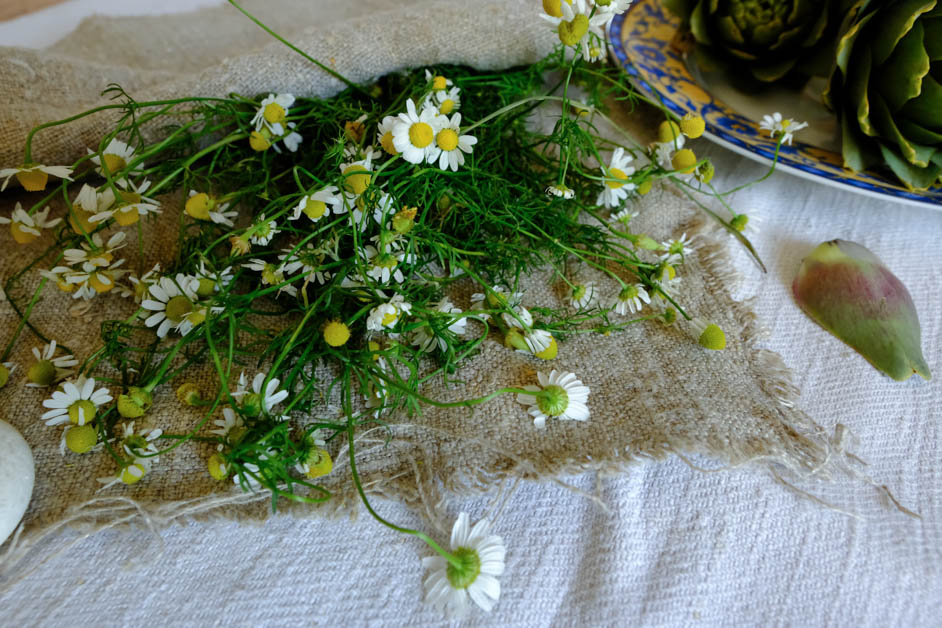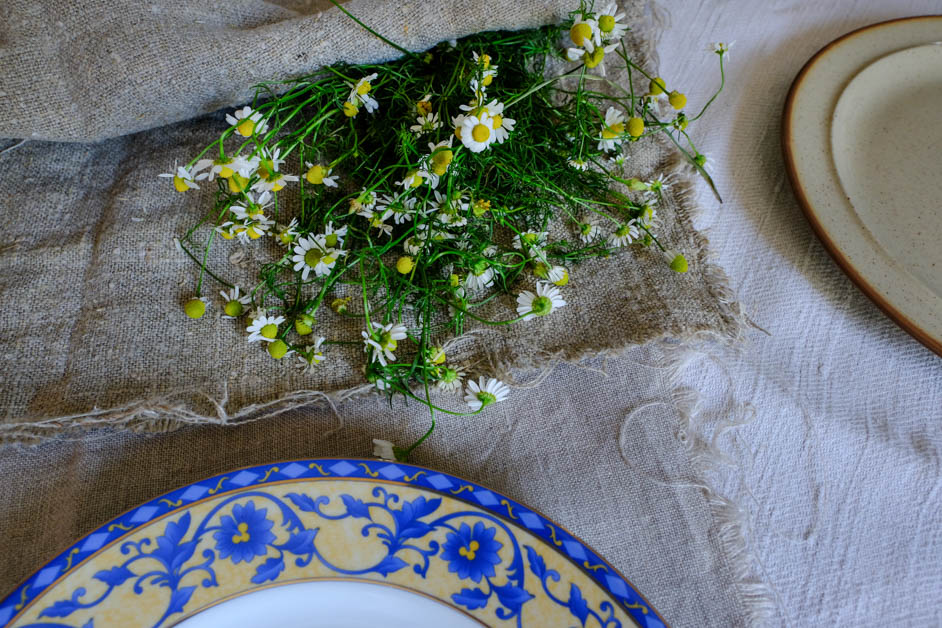 When it comes to Tinian local products, nothing beats their top quality and taste! Besides artichoke, the list of wonderful local products is long. Tinos is famous for its dairy products and cheese dairies, so we are going to visit one of them. Nature has been generous with the island, giving its fruits and vegetables a unique taste which also explains why its products are always in demand even on the nearby islands. Tinian caper is one of the most delicious I've ever tasted and no one leaves the island without some jars of local jams and sauces made by the incredible Tinian cooks. The presence of wineries promotes the island's grape varieties and local breweries are starting to become widely known. The list is long indeed!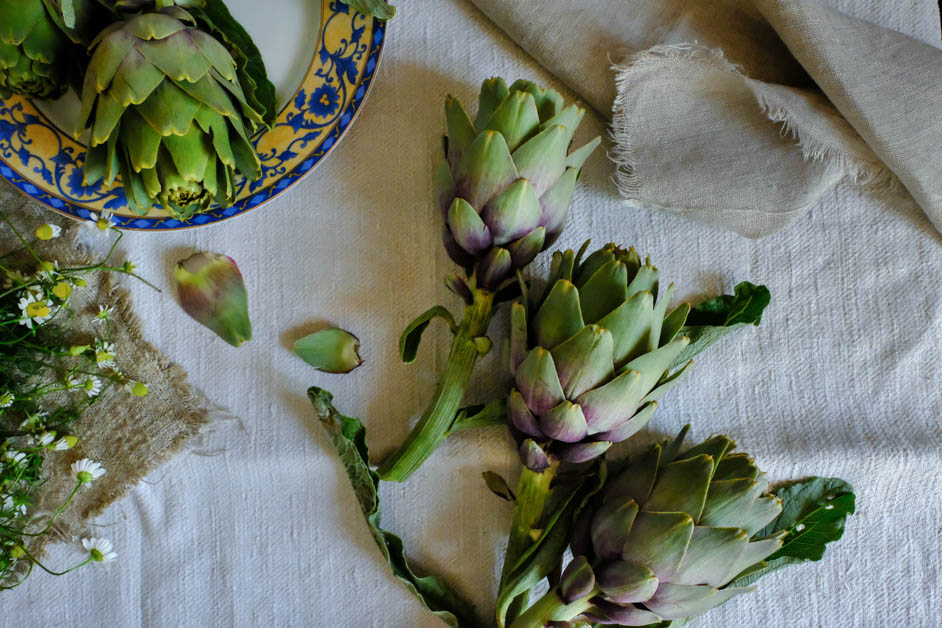 Thus, Not Guilty Food's journey to explore Tinos' culinary treasures began, with the greatest company I could have ever asked for, my daughter. We're both no strangers to the island's delicacies as this wasn't our first visit here. We'd start off with the beautiful artichoke flower. I've planted my own artichoke plants –in a much more northern part of the country- so I wanted to gain as much knowledge as possible from the best source; Komi village. Our lovely host was Maria Denekaria, a young woman who welcomed us in a heartwarming way, despite her busy schedule. The love for what she does and her island couldn't be more obvious. Maria comes from a family of artichoke growers so we started our day with visiting their fields. We'd take pictures and gather the artichokes we'd cook later on.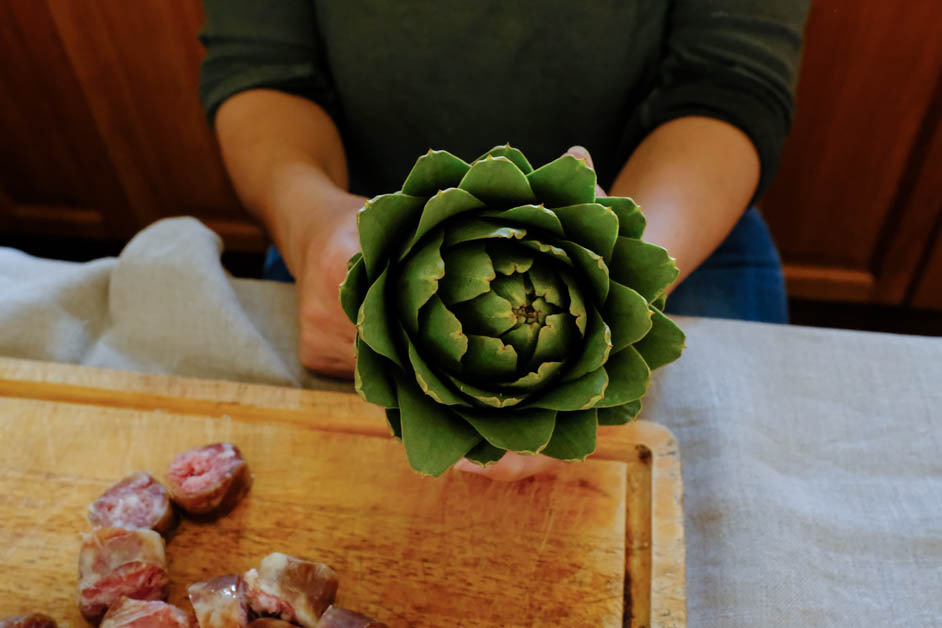 Komi is located at the northeastern side of the island, near the famous Kolimpithra beach. It's a land filled with reeds -which offer protection from the strong winds- and citrus fruits. As we're taking pictures and picking flowers Maria is imparting important information to us. It seems that the climate and the soil here are ideal for the multiannual artichoke plant. And it seems that Komi has as much water as needed since artichoke doesn't need an abundance of it. After a particularly rainy season –like this year's winter- the artichoke production may be reduced significantly.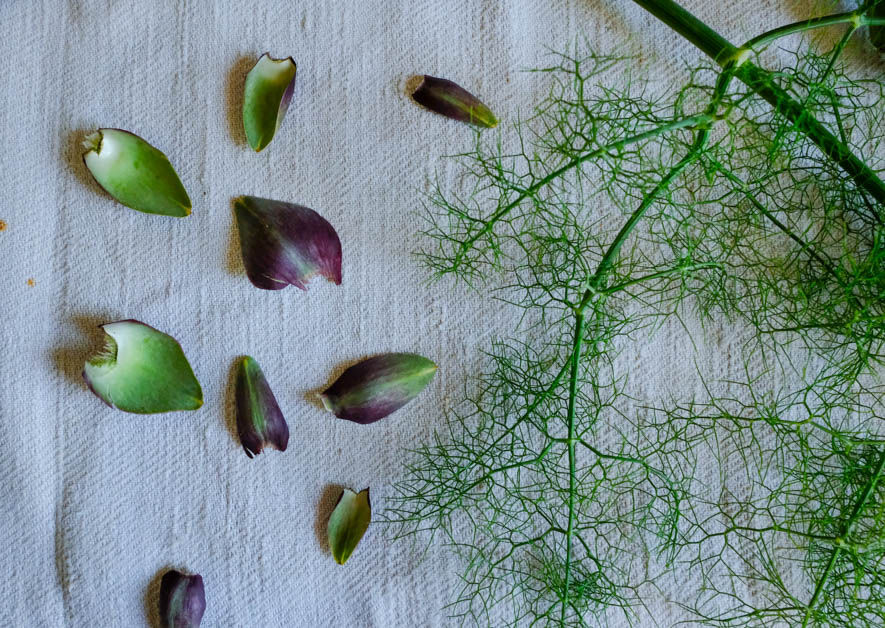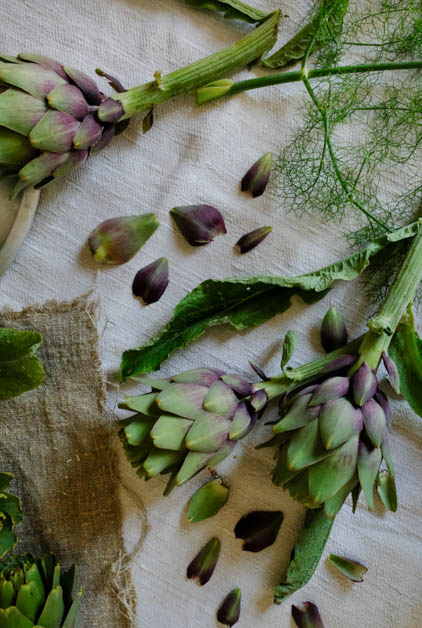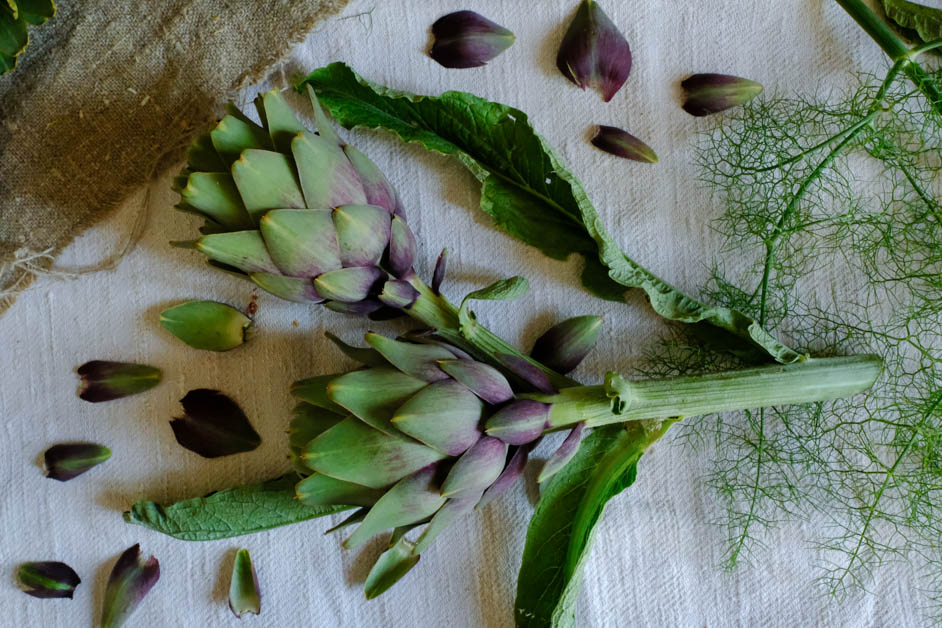 The artichoke plant may live up to 10 years! After blossoming, the plant starts to wither only to be reborn at the beginning of autumn, in September. Harvesting season begins in March and lasts until May. The plant grows into a quite big bush and in its roots you can find sprouts that you can plant and give life to a new artichoke plant!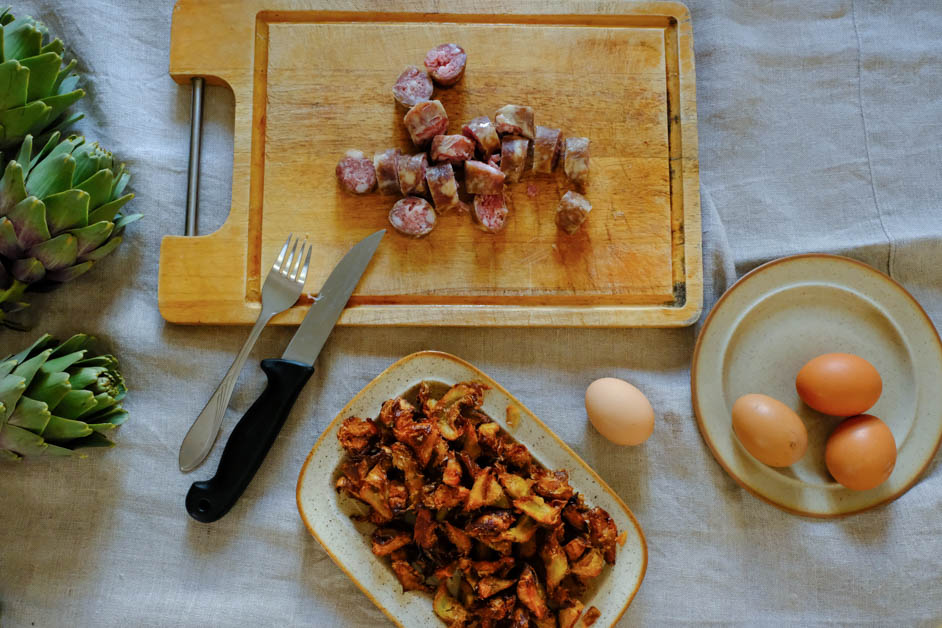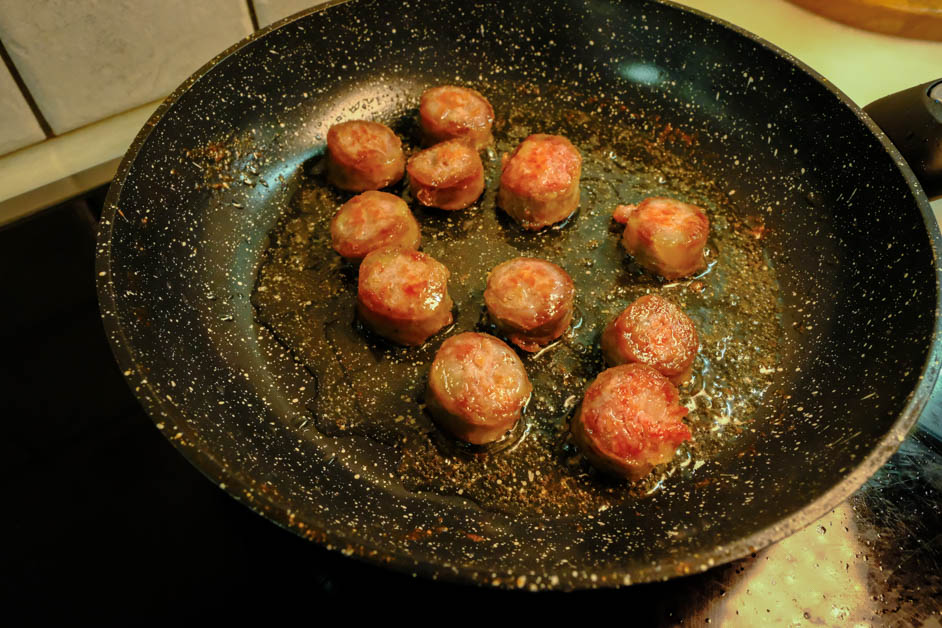 Artichokes don't have many enemies –besides water- so they're luckily not sprayed for protection against diseases and parasites. The climate is also an important factor; strong northerly winds do not allow fungi and weeds to grow. Maria's knowledge is vast and so is her patience. She's trying to find the most good-looking artichokes for us to take pictures of! We're leaving the fields with a big bag full of artichokes. Our next stop is at Maria's house where we're going to cook them. On our way there, we're picking beautiful flowers and fresh chamomile..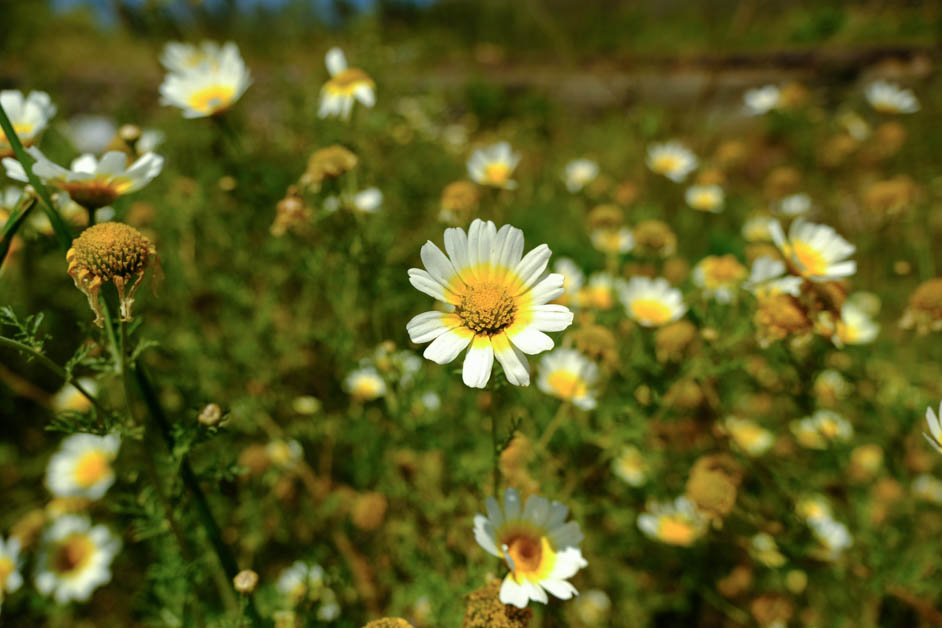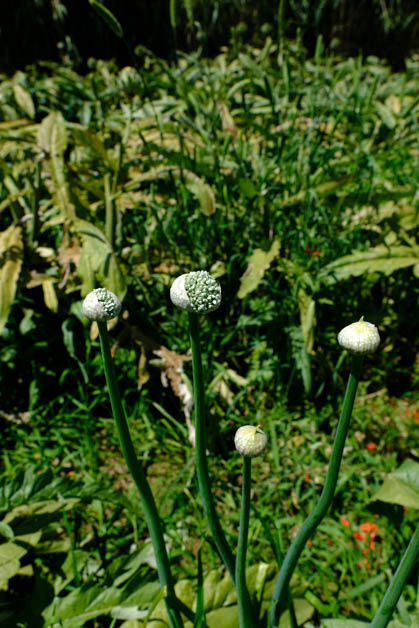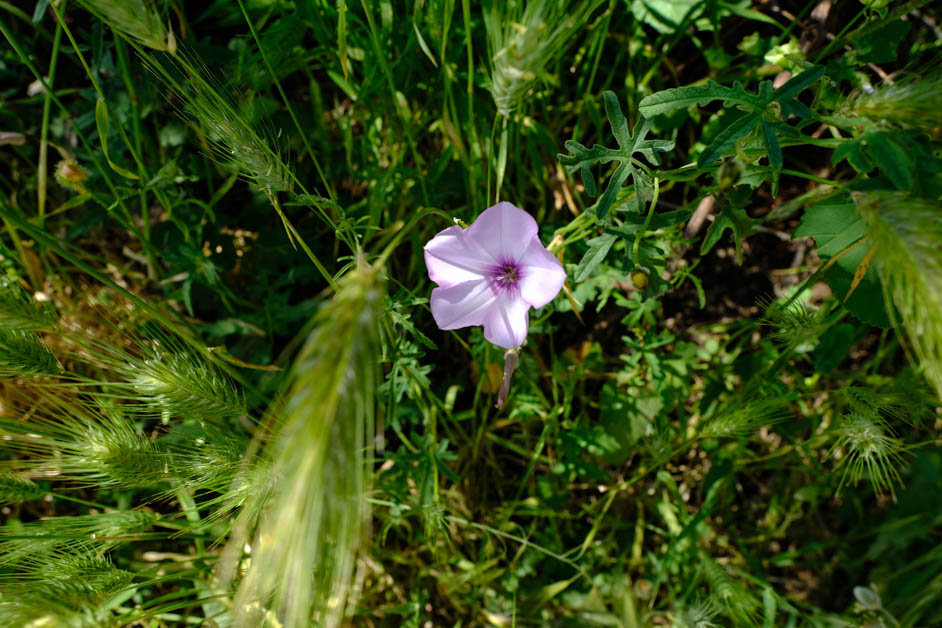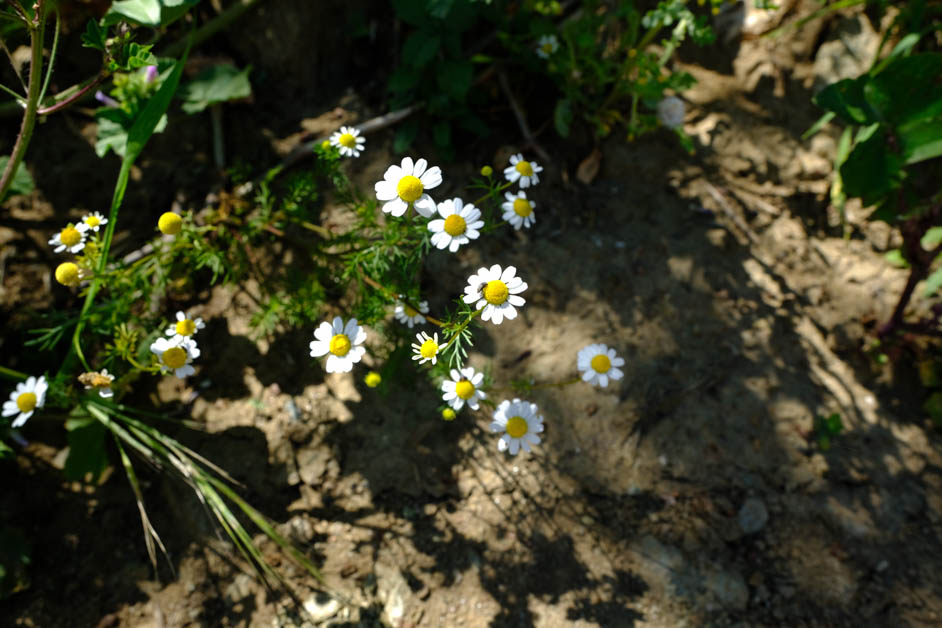 She was very welcoming and kind enough to open her house for us. We obviously had our camera gear with us! Her daughter, Anna-Maria was also helping. Our chemistry was so intense as if we had known each other for years! We started setting our background and preparing the recipe. We're making an artichoke omelette with local pork sausage and Tinian Graviera cheese! But first, we're going to learn how to clean the artichoke flower properly! It's not the easiest thing in the world but Maria's advice helped me improve my technique significantly!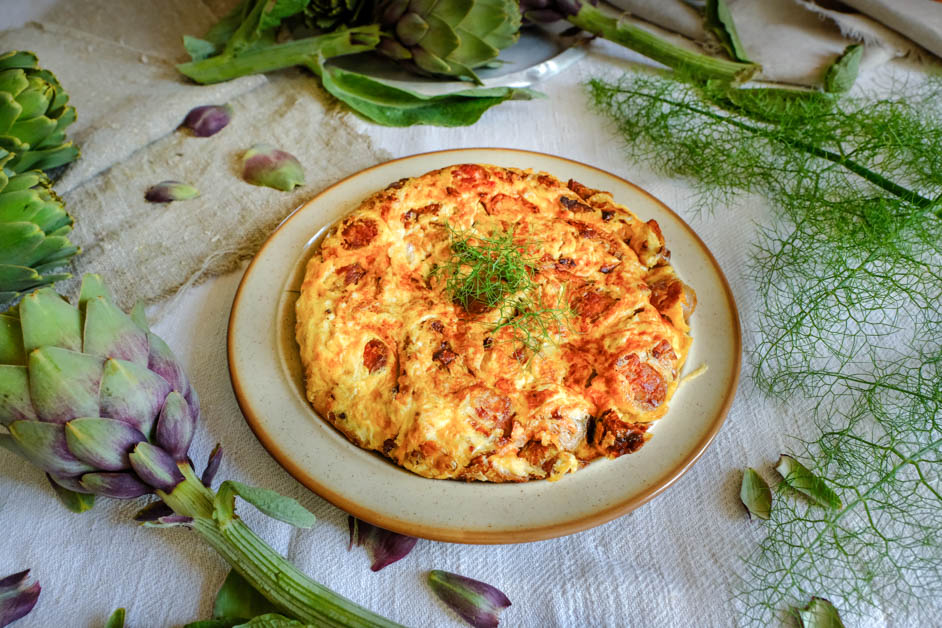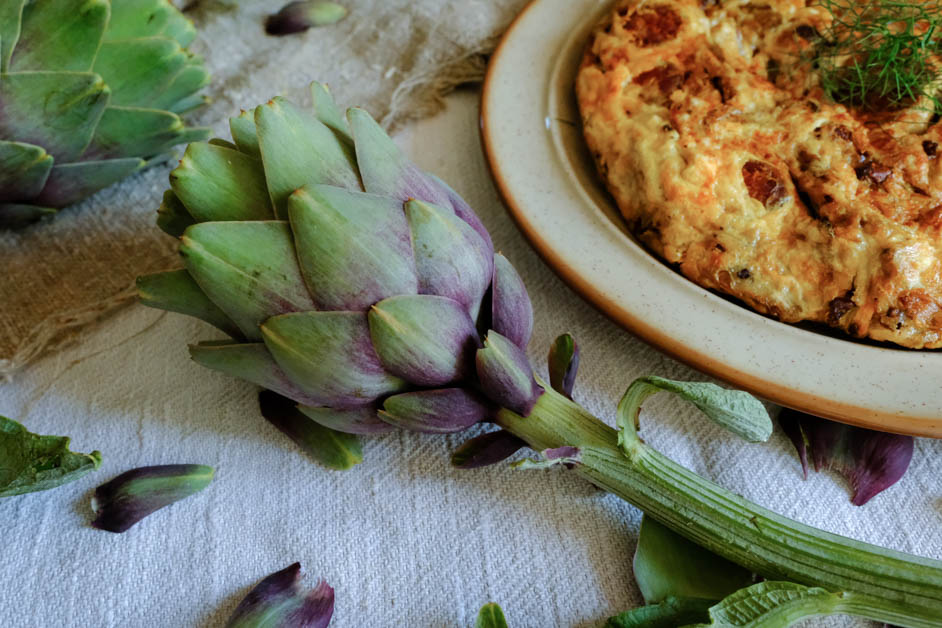 As we were cooking and taking pictures, our new friends seemed to enjoy it as much as we did and they did their best to help us get the results we wanted. Their geniality and sincere interest were impressive, and their hospitality was truly unique. The island is blessed to have people that treat it with so much love and respect!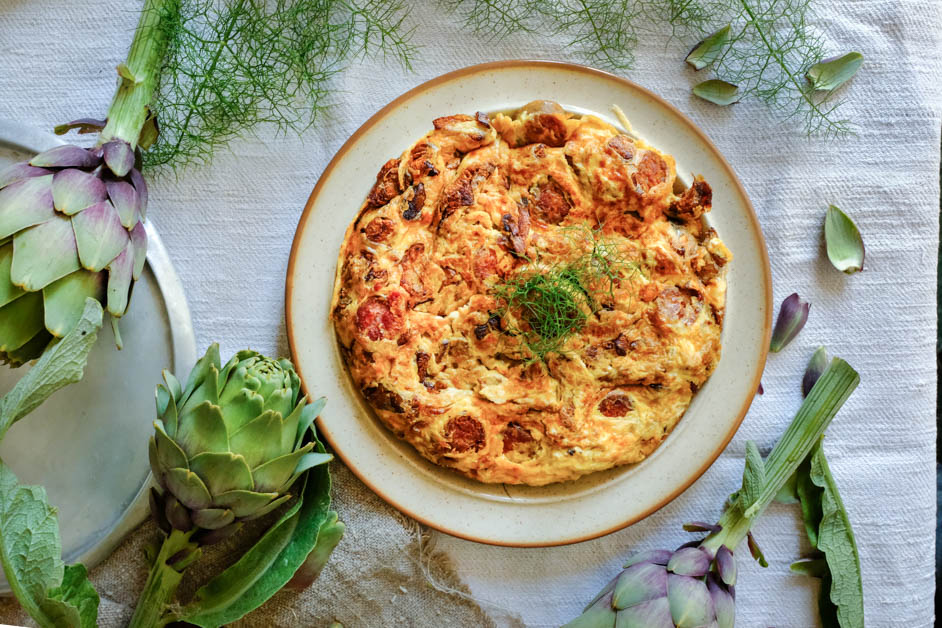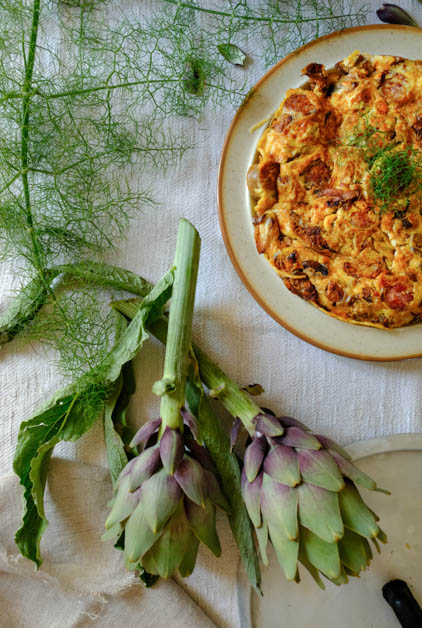 After taking all the necessary pictures of our omelette, we dived into it! It was delicious! A local recipe that is traditionally included in a classic Tinian menu. We also left with bags filled with presents, the artichokes that we didn't manage to cook –and they were plenty- and the traditional Tinian artichoke jars! We even got the recipe so that we can share it with you! Thank you Maria!
6 big farmhouse eggs
2-3 tbsp milk
5 artichokes, cleaned
5-6 lemons
150g pork sausage, cut in slices
1 small cup grated Tinian Kefalotiri
Salt, pepper
1 small cup olive oil for the artichoke frying plus some for the omelette
2-3 fennel branches
Method
1. Clean the artichokes and drizzle lemon over them. Leave them in a bowl with water where you've also added lemon juice from 4 lemons. When you're ready, strain the artichokes and cut them in 4. Add a bit of salt.
2. Heat a large quantity of olive oil in a pan and fry the artichokes until golden. Remove them from the pan and leave them on kitchen paper.
3. Add a tiny bit of olive oil in another pan and then add the sausage slices. Cook until they're brown-golden and their fats have been released -which you can remove if you want your omelette to be lighter. Add the fried artichokes and stir until all scents are blended.
4. Whisk the eggs in a bowl with a bit of salt and pepper. Add 2-3tbsp milk. Pour the mixture in the pan with the rest of the ingredients and grated cheese. Cook this side of the omelette for a few minutes and then flip it and proceed with cooking the other side. When the omelette is ready, place it in a platter and decorate it with fennel leaves.