Shellfish soup
December 20th 2019
The weather is getting quite chilly, at last, so I played around with the ingredients a little bit and made my soup a bit spicier.
I always like to take a break from continuously eating meat in the winter and especially during holiday season and replace it with seafood every once in a while. It's true though that cold weather usually makes us crave more filling and nourishing food that is high in calories, energy boosting and satisfying. This kind of dishes is also the obvious choice when hosting a festive feast.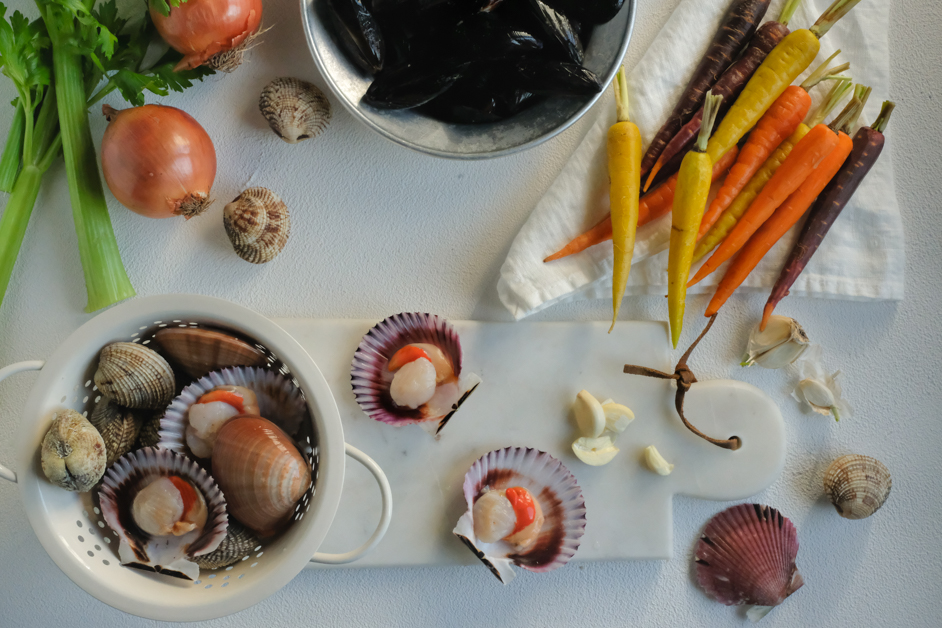 At the same time, many seafood dishes -besides being refreshingly light- can be very impressive and inviting, therefore perfect for a festive Christmas feast. Shrimps, smoked salmon, scallops, fish.. There are so many options that can add a little twist and a more refined character to our festive menus. They're also undeniably delicious!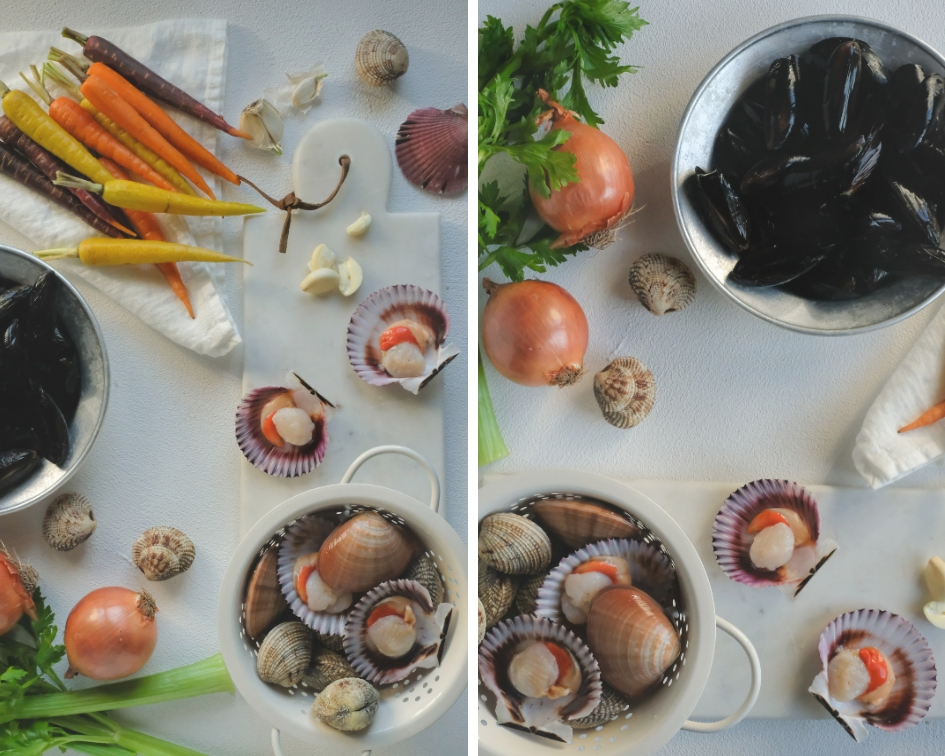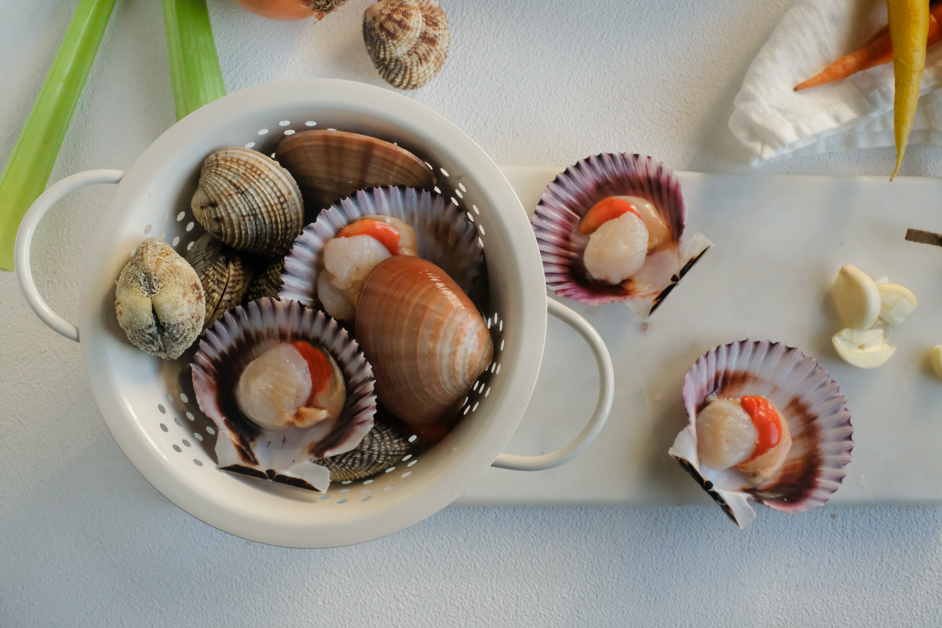 Almost all festive feasts in our home begin with a seafood dish that is served as a starter. Thus, our meal is served in two different stages. Those somewhat formal dinners may last for hours, so starting with some slightly lighter appetisers is a very good idea and honestly, it's really easy to find so many amazing recipes for any occasion. There are endless options to choose from!
Although I love soups in my daily life, I have to admit I'm not that big of a fan when it comes to festive menus. Perhaps it's because they're too hot, I don't really know what I don't like about them exactly but I do tend to avoid them even though I'm perfectly aware of their benefits, especially when we're about to dive into a rich and long-lasting meal. The last few years, I started flirting with the idea of incorporating soups into my festive menus and after trying some very tasty and attractive ones, I suddenly reconsidered, which is, of course, what usually happens as we grow older. I once made a soup for our New Year's Eve dinner and it was a massive success. After a while, I eventually found the perfect one!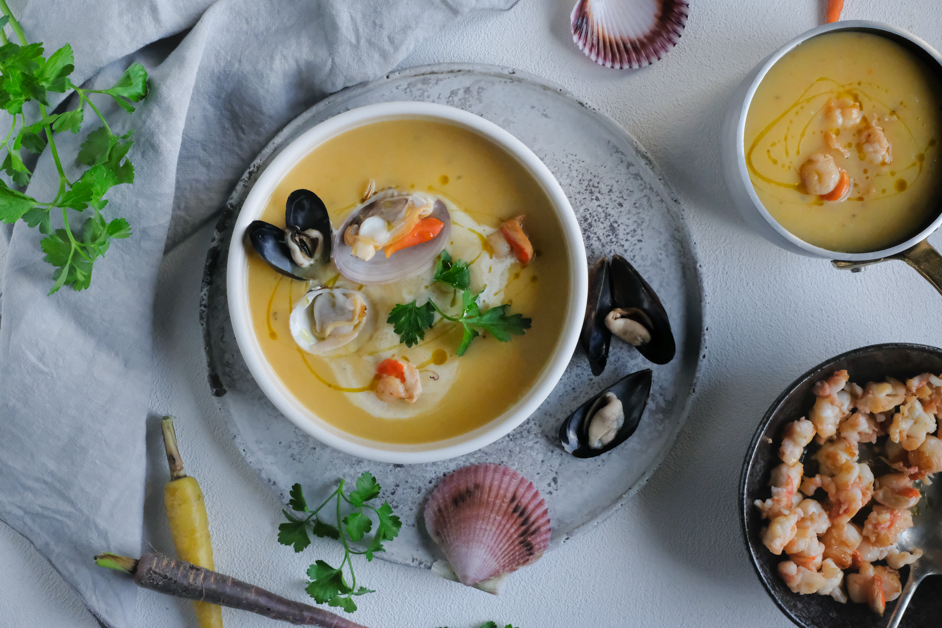 A long time ago, I kept a recipe that I stumbled upon while flipping through Olive magazine –as I usually do with so many recipes I find here and there- which somehow spoke to me. It looked incredible, yet I wasn't that sure I'd like the taste as well. One day I realised I had all the ingredients needed for this recipe and decided to give it a try, despite my doubts. A shellfish soup that became our favourite soup ever since!
So velvety, delicious, elegant and festive! This soup always finds its way to our table whenever we're lucky enough to find fresh shellfish. You can use any type of shellfish you can find, as long as they're fresh and bought from a fishmonger that you trust. I also sometimes like to add shrimp or crayfish, if I find any at our local fishmonger's. They truly add to the flavour of the dish.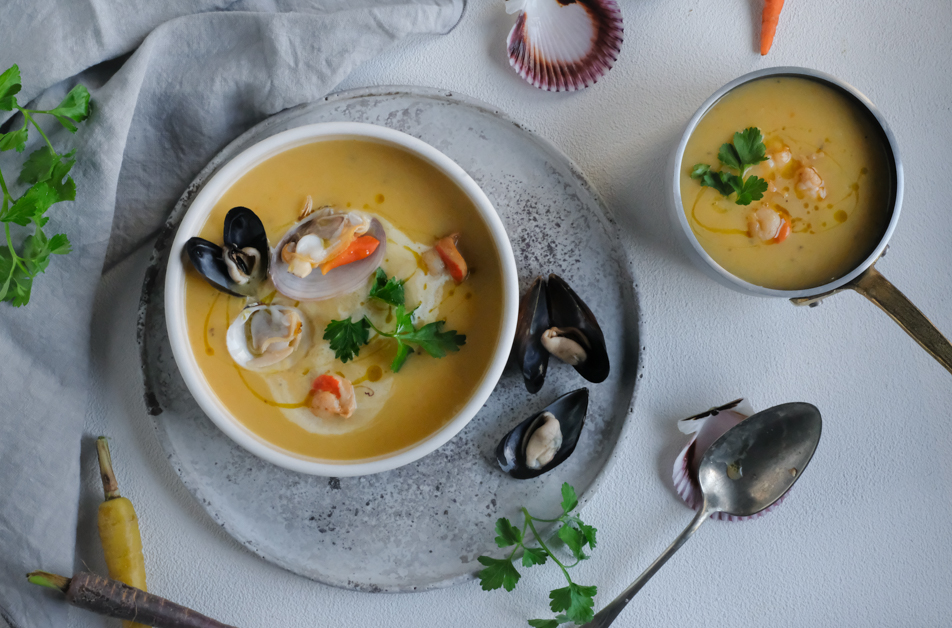 As mentioned earlier, it's important to make sure that you buy fresh shellfish, but that's quite difficult during winter. If you don't manage to find any, you can always choose to buy frozen shellfish that I've seen in big supermarkets. This might not be the perfect option but can work just fine in this case.
I'm lucky enough to have some super fresh shellfish in my kitchen today. We're having a seafood-themed dinner tonight, starting off with a lovely shellfish soup. The weather is getting quite chilly, at last, so I played around with the ingredients a little bit and made my soup a bit spicier. For a richer flavour, I added a few sautéed shrimp pieces right before serving. If you love seafood as much as I do and you happen to find fresh shellfish, give this recipe a try and I bet it'll become one of your favourites.
1kg cockles
1kg unopened mussels
20 sea scallops
20 hard clams
10 cleaned shrimps
1 minced onion
2 garlic cloves
½ chili pepper, chopped
2 celery sticks, chopped
2 medium carrots, cut in slices
3 medium potatoes, cut in cubes
6tbsp heavy cream, added right before serving
½ bunch of parsley
2tbsp white wine vinegar
5tbsp olive oil
5 glasses of water
Salt, pepper
Method
1. Clean the shellfish. Add all the shellfish (especially cockles) to a bowl with water. Keep them in the water for 1 hour (even more than 1 hour if you have the time) and change the water multiple times to remove all traces of sand. Clean the mussels carefully by scraping the shell clean with a wire sponge and remove their beard. Wash the hard clams and sea scallops thoroughly.
2. Use a quite deep pan and add all the shellfish one by one. Cover the pan and let them open and release their liquids for a few minutes. Once they've opened, remove them from the pan with a slotted spoon and set aside. Keep the shellfish stock in a glass. Repeat the same process with the rest of the shellfish. You must now have 1 glass (more or less) of shellfish stock. Remove the shellfish from their shells and keep some as they are to decorate your dish with in the end.
3. Clean the shrimps and discard their shells. If they're big enough, cut them to two or three pieces. Season with salt and pepper and sautée them lightly. Set aside.
4. Use a deep pan and add olive oil, onion, garlic, celery, carrots, potatoes and chili pepper. Season with salt and pepper. Sautée for 5 minutes until all ingredients and aromas are blended. Simmer in shellfish stock which you've previously strained with a cheesecloth and add 5 extra glasses of warm water. Cover the pan and let it boil for around 30 minutes. When the potatoes and carrots get softer, remove the pan from heat and mash the ingredients up with a blender. Taste and adjust salt and pepper as needed. Add the shellfish to take one boil and remove from heat immediately. Add the sautéed shrimps and vinegar. Lastly, add chopped parsley.
5. Serve the soup. Add one tablespoon of heavy cream to each plate and stir gently so that it blends with the soup lightly. Decorate with the shellfish that you've kept and a bit of olive oil. Served hot.