Calamari Risotto with Green Peppers
April 19th 2019
Today's dish is a steady option in our home all year long and even more so during this season. Calamari risotto with green peppers it is!
Tender, delicious, healthy and very nutritious, especially when they're fresh!! Squids and all kinds of molluscs are highly appreciated during this season. They're the only food of animal origin that is allowed to be consumed during Lent. Recipes with amazing seafood are in abundance in our country and the Mediterranean in general, and they're all super tasty and creative as well!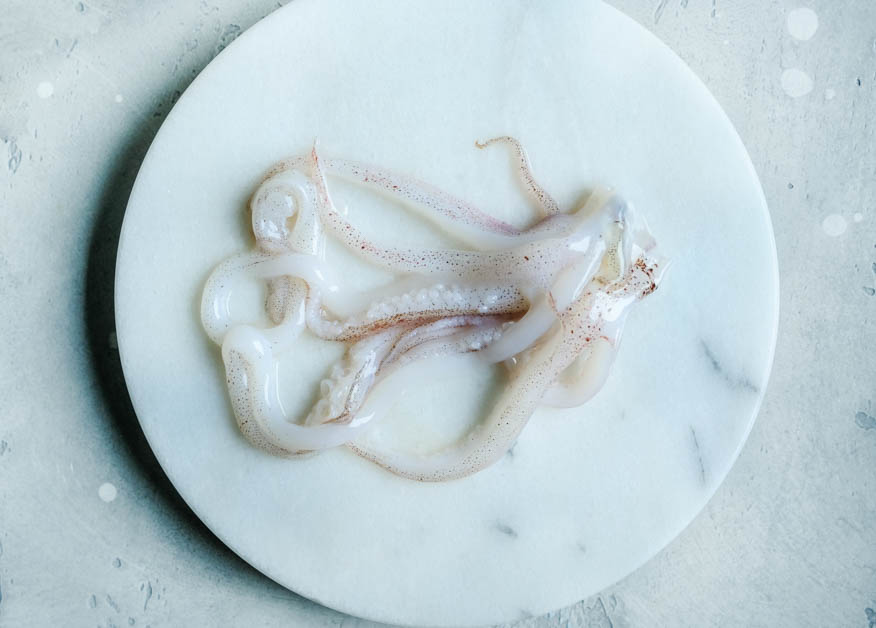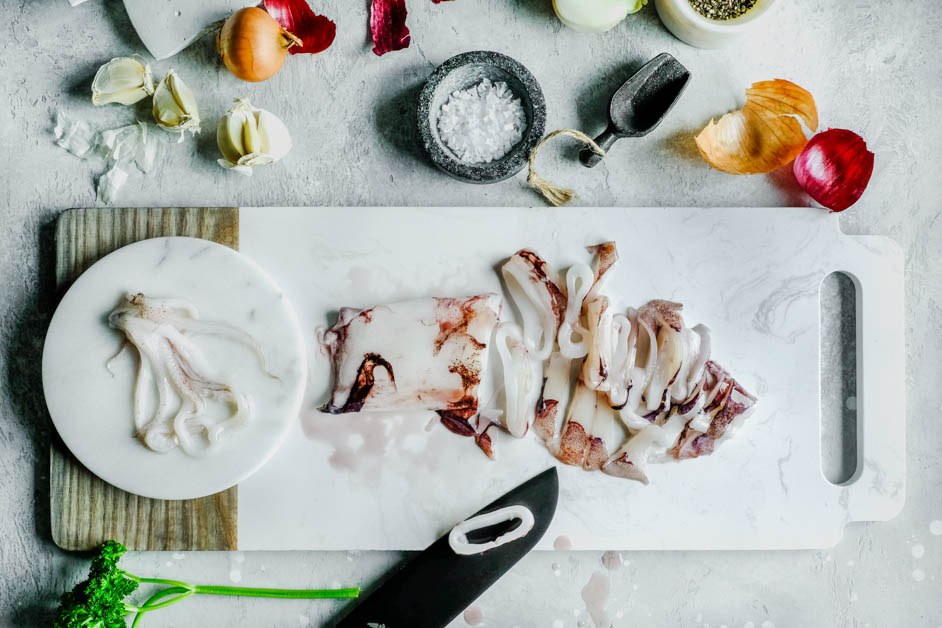 But molluscs aren't just perfect as a Lenten dish, they're also a great option for a more low-calorie diet for those of us who want to get rid of those extra pounds that we gained during winter and get back in shape. Molluscs are very nutritious as they're high in protein and have fairly low calories. Thus, they're an excellent choice for anyone who wants to start a healthy, low-calorie diet plan. I believe they're perfect for all of us! Literally! The only downside I'm aware of –which is also pointed out by doctors and nutritionists- is that molluscs are high in cholesterol and that's why their consumption needs to be quite moderate.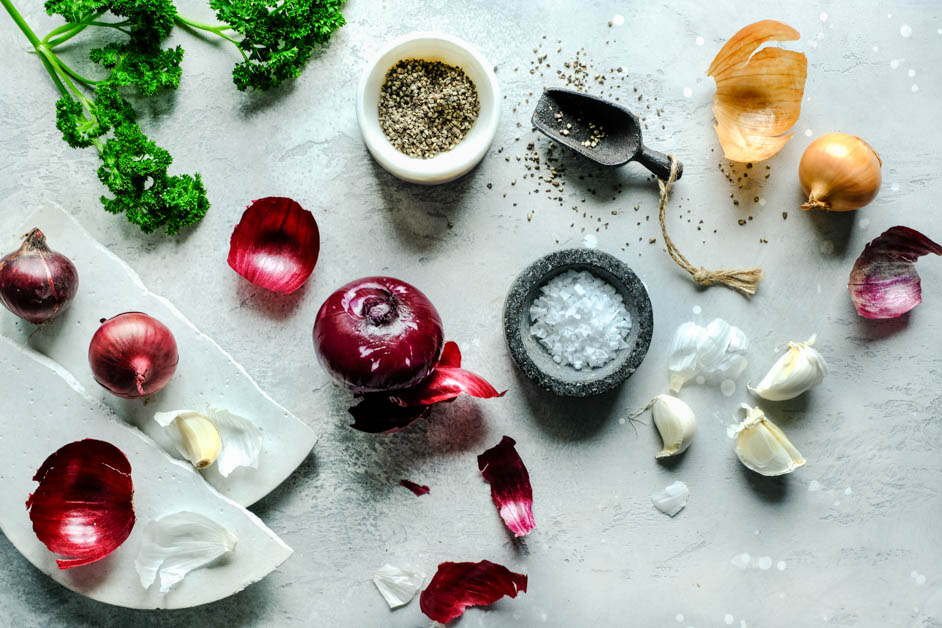 It's true, though, that sometimes it's the method of cooking molluscs that has to be held accountable. If you prefer your calamari fried, well then it will obviously be more fattening and less nutritious.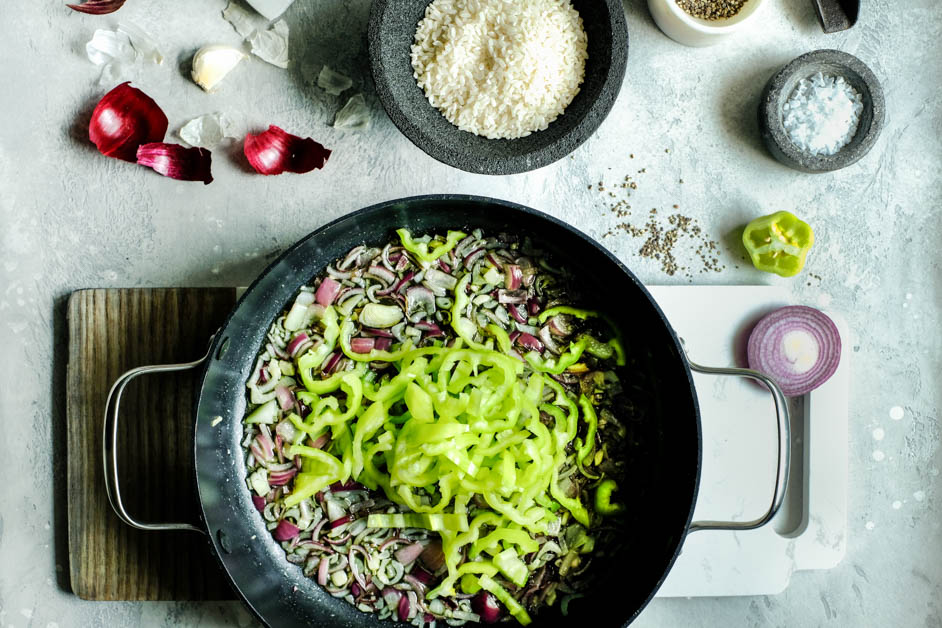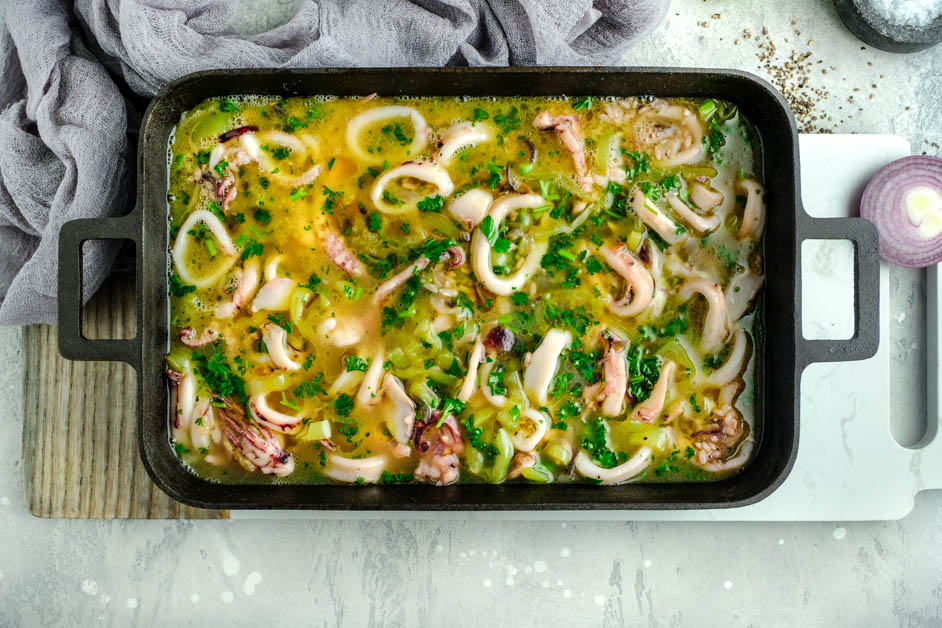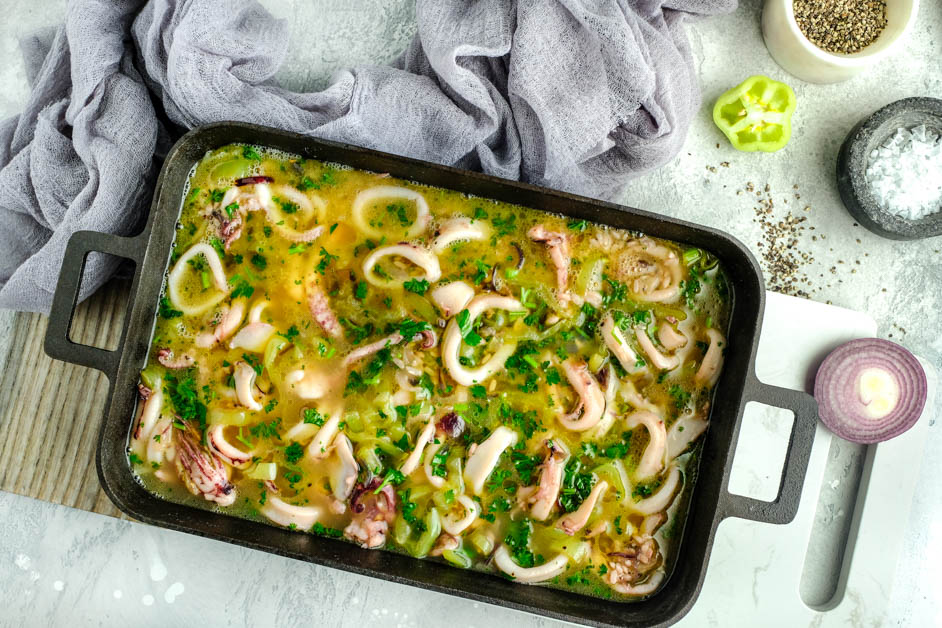 Luckily, this country is blessed with an abundance of sea treasures. Super fresh, delicious seafood.. And an endless list of recipes! Today's dish is a steady option in our home all year long and even more so during this season. Besides being a great Lenten dish, it also reminds us of summer, sea and ouzo, and everyone's just looking forward to summer days, right? Calamari risotto with green peppers it is!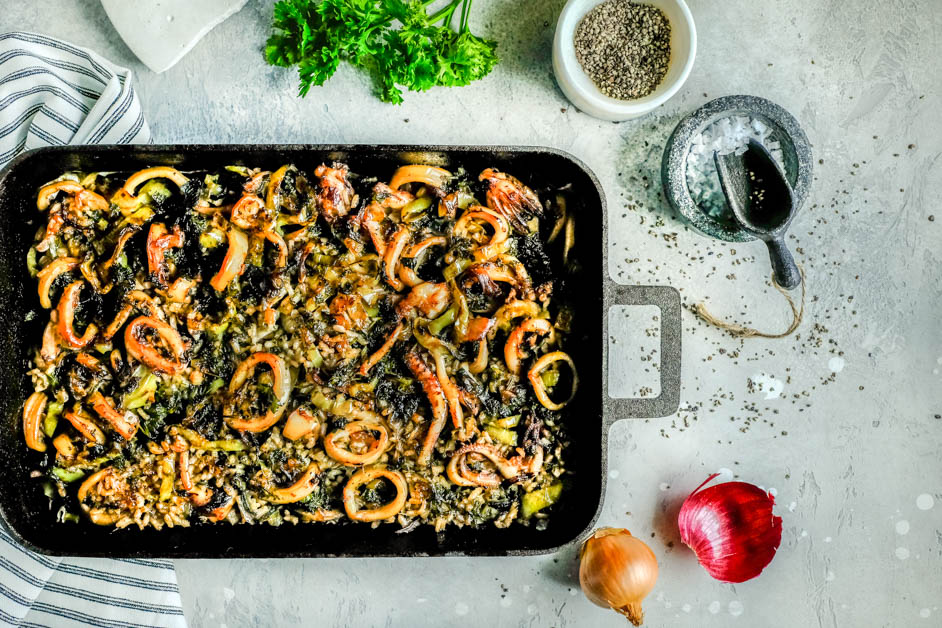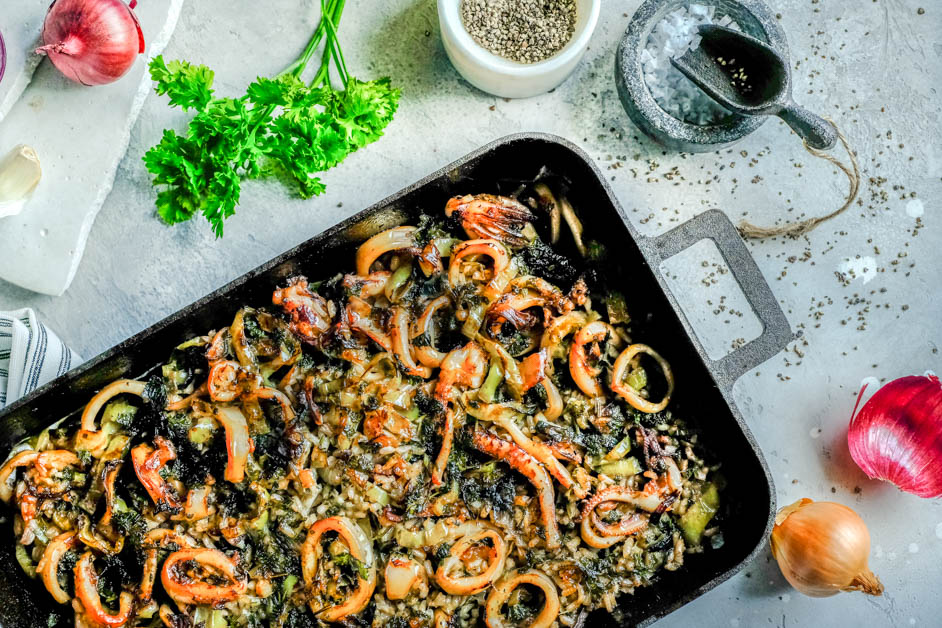 Every time this aromatic, juicy and delicious dish makes its appearance on our table, it just vanishes in no time! All the ingredients are super healthy and make such a perfect combination that it's just impossible to resist. Rice turns this dish into a full meal so you can serve it as a main dish throughout the week or in a beautiful casserole on your Sunday table.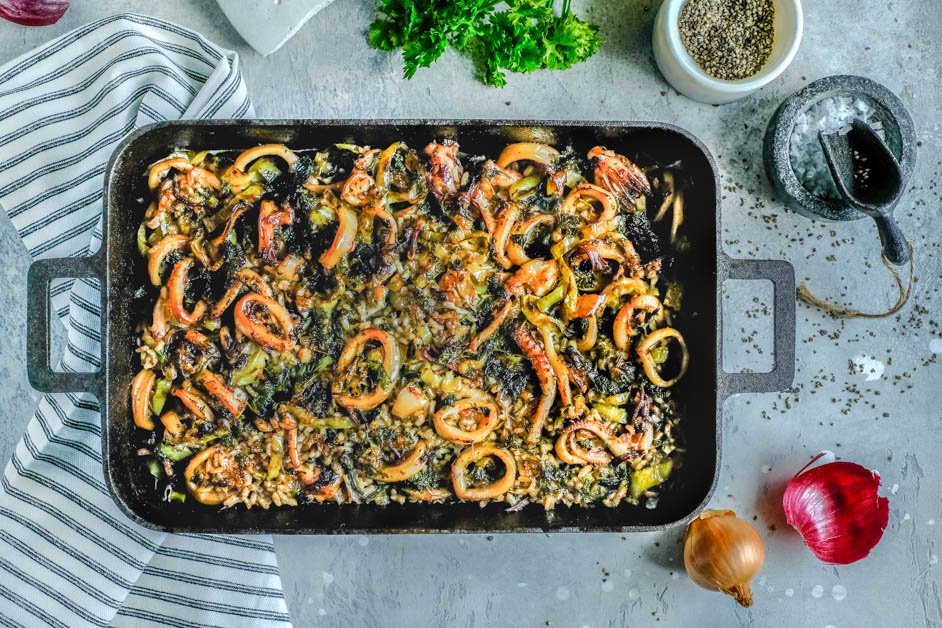 Sometimes I choose to combine many kinds of seafood in this recipe. You can add mussels, octopus, shrimps, shellfish or some extra vegetables. But at times, the simplest option can also be the greatest one.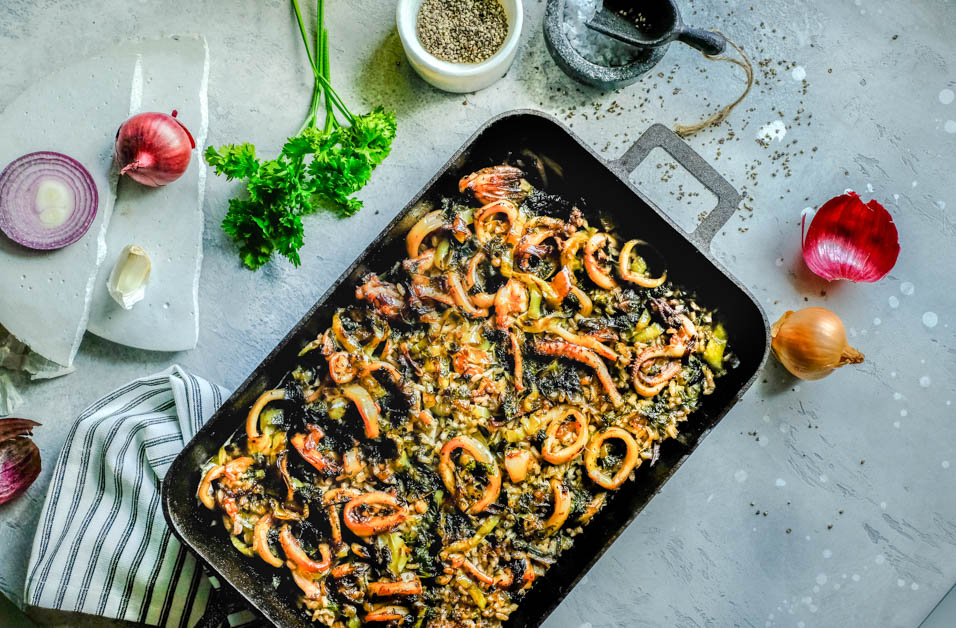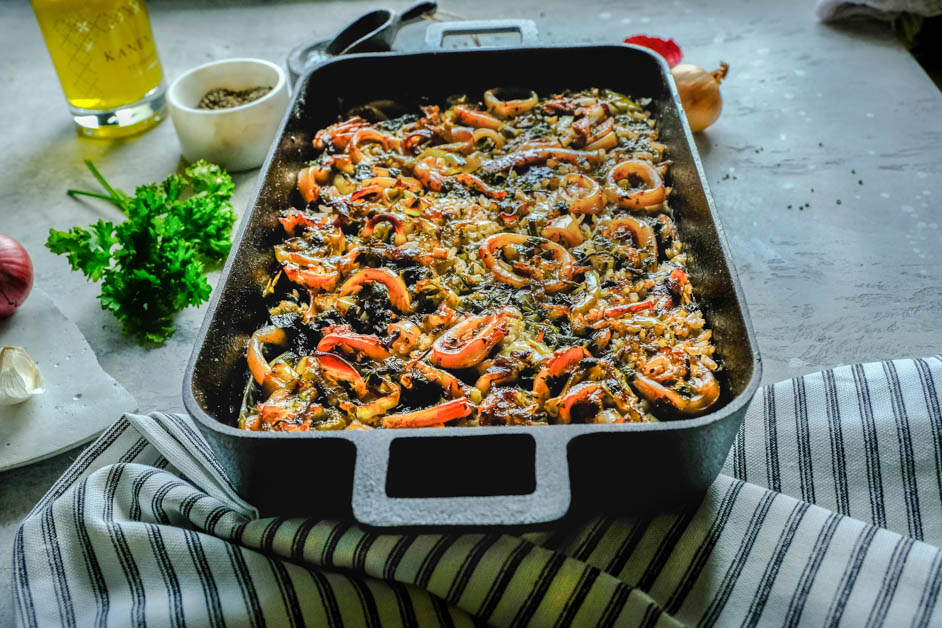 1kg fresh medium sized calamari
1 medium onion, chopped
2-3 garlic cloves
3 green peppers cut in medium sized parts
1 cup rice (around 160-180g)
3 cups warm water (around 400ml)
6 tbsp olive oil
Salt, pepper
Juice from one lemon
6 tbsp chopped parsley
Method
1. Preheat the oven to 180C. Clean and wash the calamari. Strain them and dry them up with kitchen paper. Slice them.
2. Heat the olive oil in a big and low pan. Sauté the onion, garlic and peppers, then add the calamari and keep sautéing. Add salt and pepper. Then, add the rice and parsley and cook until they're blended well with the rest of the ingredients. Pour lemon juice.
3. Transfer the food into a casserole, add warm water and stir well. Put the casserole in the oven and cook for about 45 minutes until golden.