Buffalo milk trahana with shellfish
January 8th 2021
If you happen to come across these wonderful ingredients, don't hesitate to try this recipe!
It seems that time is all we have lately! Two weeks ago, I remember myself wishing for more time to do all sorts of different things I never manage to do in my daily life. Oddly enough, now that I do have all the time in the world, I feel a bit numb, like I don't know what to do with it. I guess it's hard to come to terms with what's happening, it often feels like a never-ending surreal dream!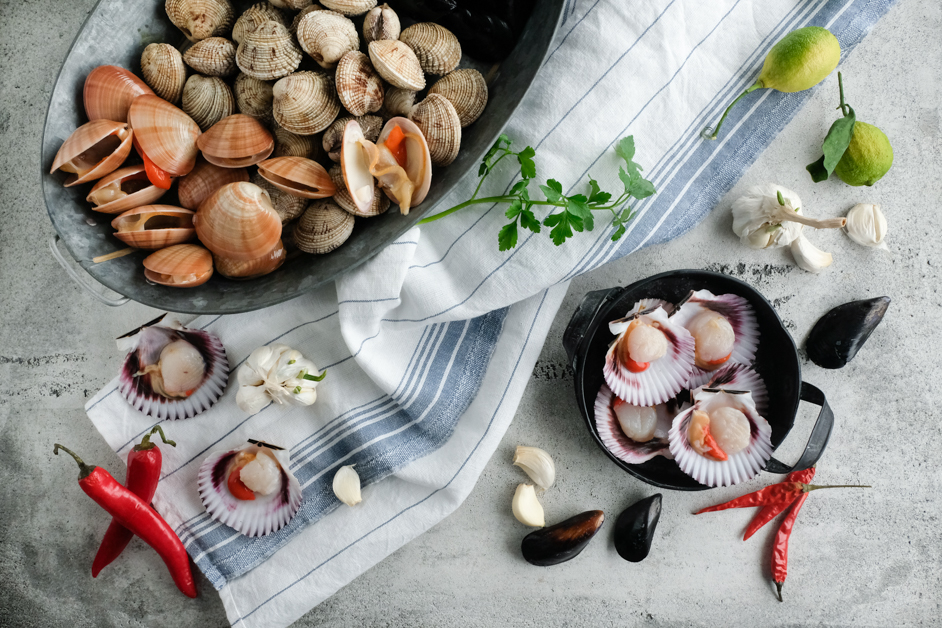 It's only been a week since the lockdown but it seems like we've already had enough of it. With a bit of help from the cold and rainy weather, we locked ourselves into our homes, got some rest, cleaned and polished everything.. I've personally turned the house upside down, reorganized bookcases and decluttered our wardrobe. All in an effort to make the most of the time that was so unexpectedly given to us. And now what? What's next? We probably still have a long way to go!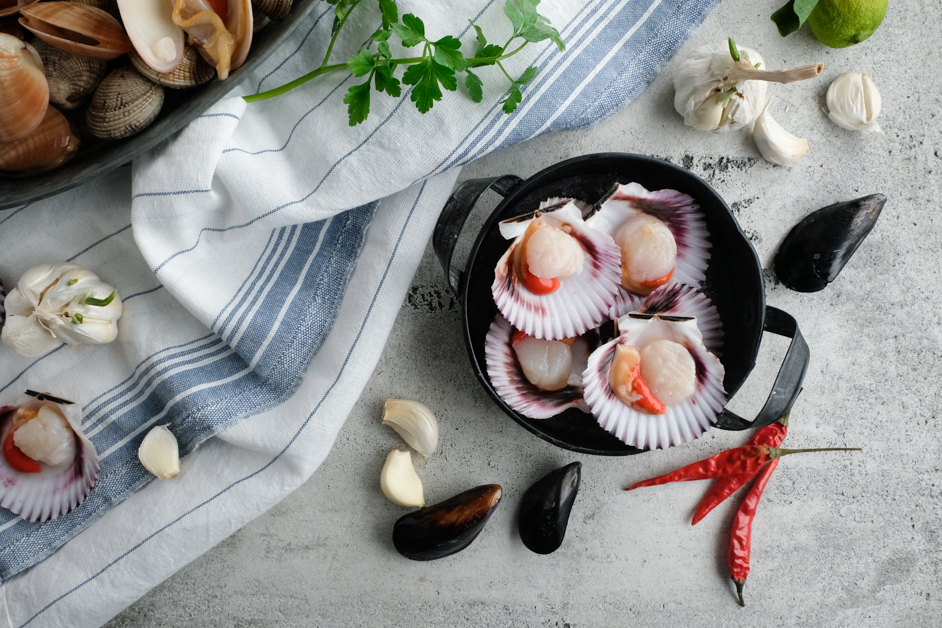 Greeks are having a hard time staying inside, I guess they just don't really have it in their DNA. And it's somewhat understandable. Warm spring days and the bright sunlight make going outside simply irresistible! With the first glimpse of sunshine, all parks and beaches get suddenly –and sadly- overcrowded, despite the lockdown. It might feel natural for someone to do that but it's really terrifying at the same time. The situation doesn't allow us to be that reckless. We all need to comply with the rules of our new reality and #stayathome.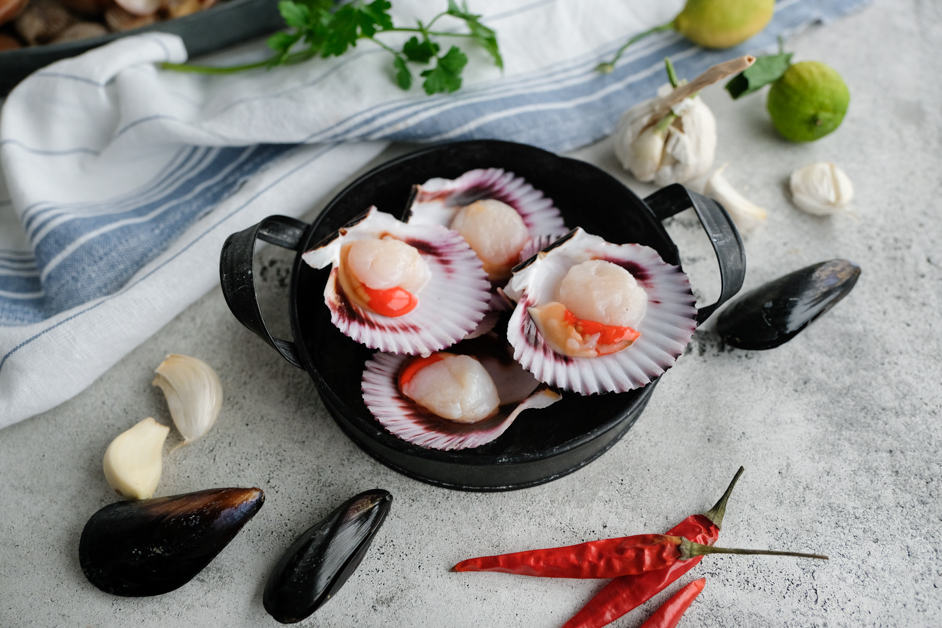 Staying at home means cooking non-stop! It's the only thing we talk about with all of my friends these days; how much we cook and therefore eat! Even those who didn't cook much in the past have now started playing around with more complicated and gourmet dishes. It seems that all of them have come to realise that cooking is indeed very therapeutic! Besides, our only completely free daily commute amid lockdown consists of going to the kitchen and raiding the refrigerator. No signed application or sms needed for that.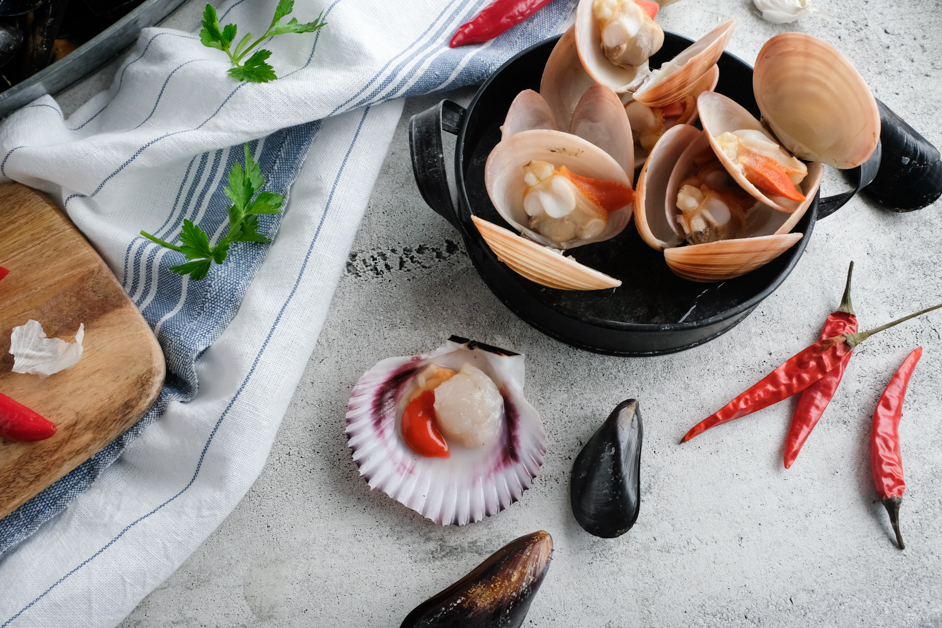 We received a mini foam cooler with fresh shellfish at home yesterday, a gift from a friend and fisherman. What an unexpected and wonderful surprise, since we absolutely love all kinds of shellfish. They're also perfect for Lent. Besides the fact that they can be consumed raw -easily, no muss, no fuss-, they can also be cooked in so many different ways. As I was searching through our cupboard for pasta, I saw one last package of a product that gave me a quite interesting idea. I remembered a dish I had tried a long time ago and always thought of how much I wanted to make it myself. Shellfish with trahana. But not just any type of trahana, buffalo milk trahana. For those who are only fasting from meat, this dish is perfect for you. You can always make an orzo version of the recipe in case you abstain from all animal products.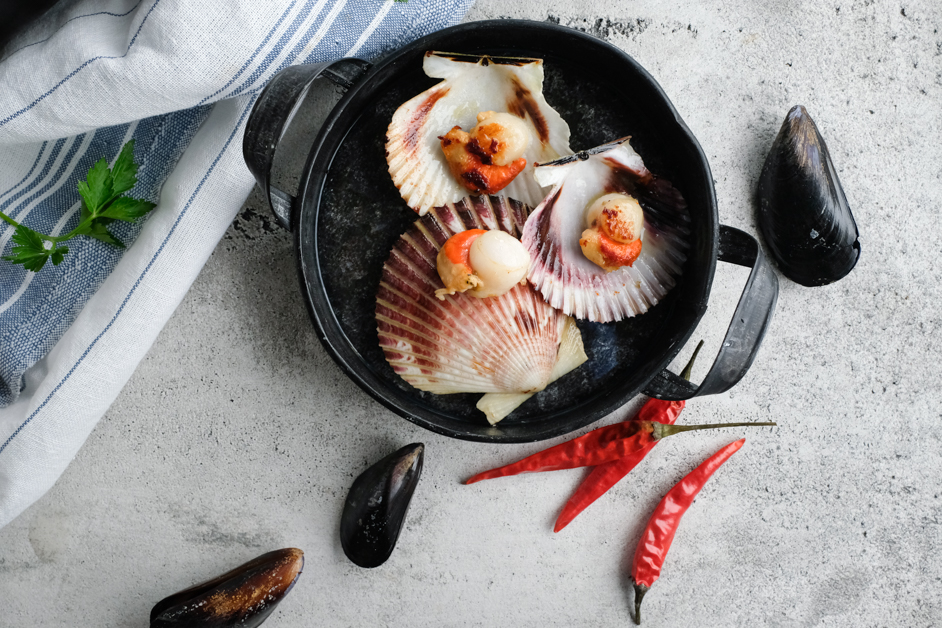 In my mind, trahana is synonymous with comfort food, a dish so nutritious, yet very comforting and intimate. I don't know how or why but I had never tried buffalo milk trahana in the past and the first time I did, it felt like I was being introduced to a whole new world of flavours. That's how amazing it was! It had such a rich taste with a strong and unique buffalo milk aftertaste. We obviously loved it and started looking for it, which wasn't exactly an easy task, as this isn't a product commonly found in stores.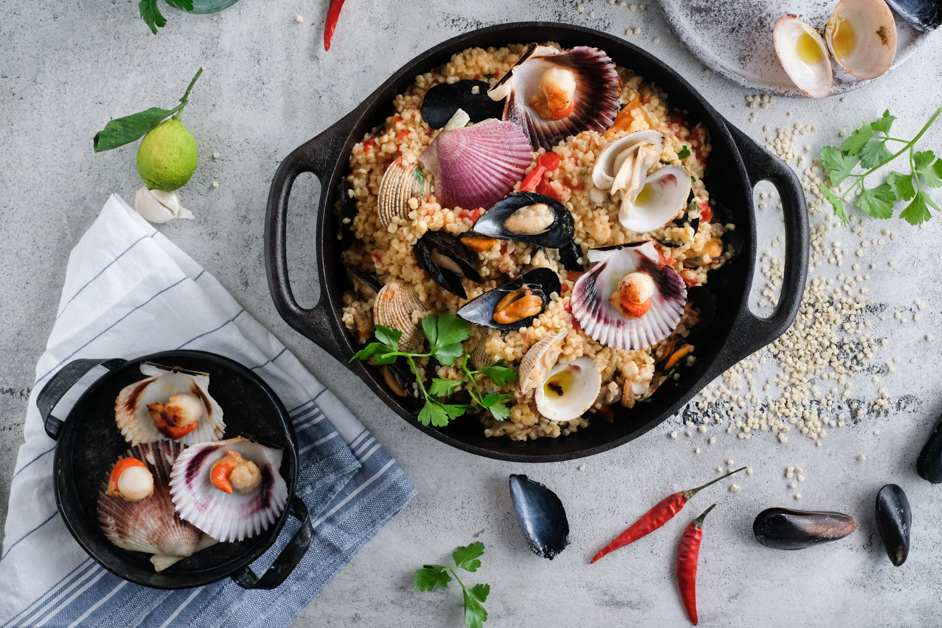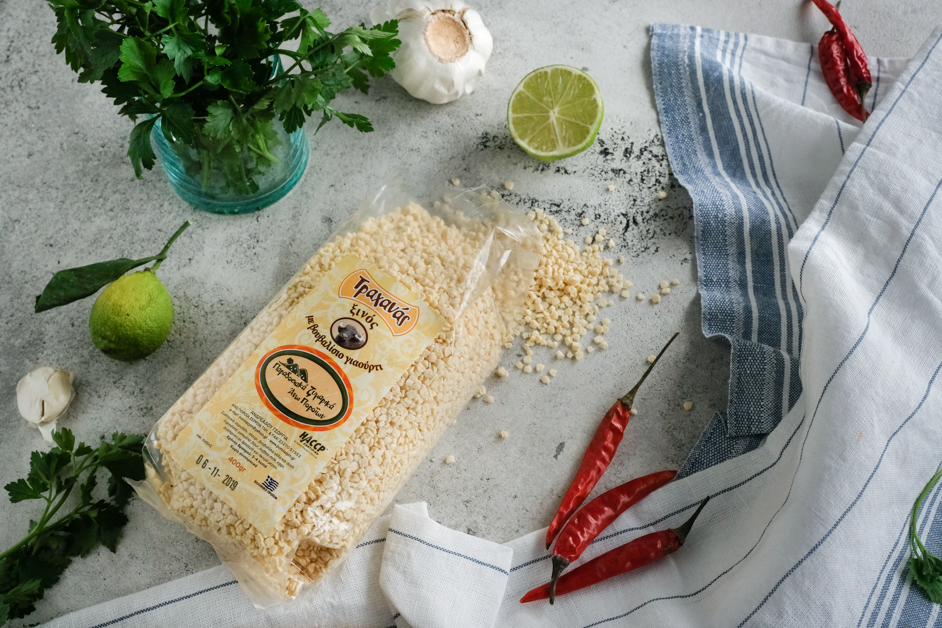 But those who seek shall find! With a little effort and persistence, I found a buffalo milk pasta heaven on earth! All locally produced and free of any artificial additives; couscous, hilopites, macaroni and trahana of any type and taste.. Unique and incredibly delicious.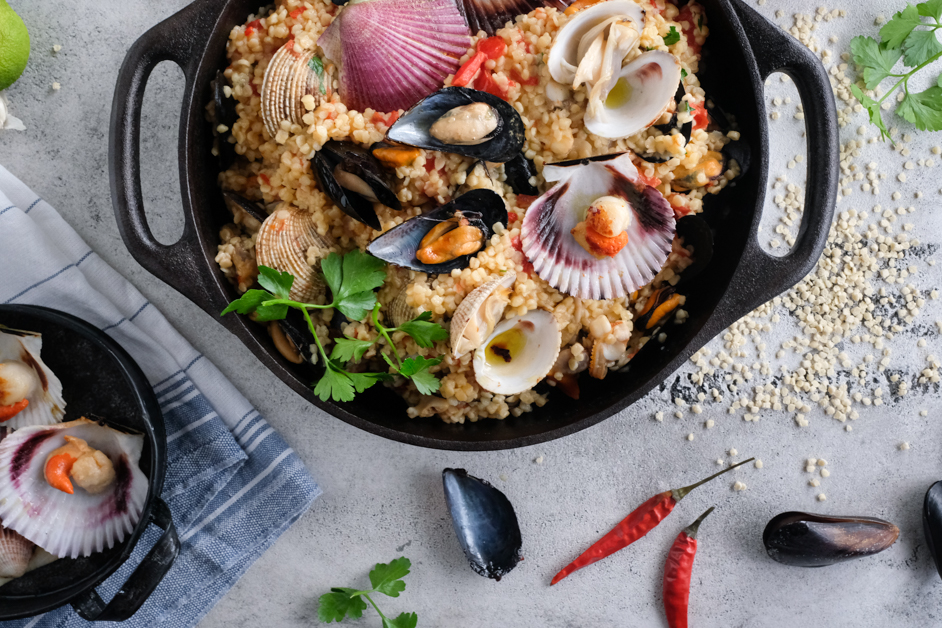 Buffalo milk is considered highly nutritious and has many antioxidant properties. Buffalos are fed with grass and clover in a place of free grazing instead of animal feed and antibiotics. Buffalo milk is richer in calcium and protein but has less cholesterol and is a great source of iron, phosphorus, trace elements and vitamins.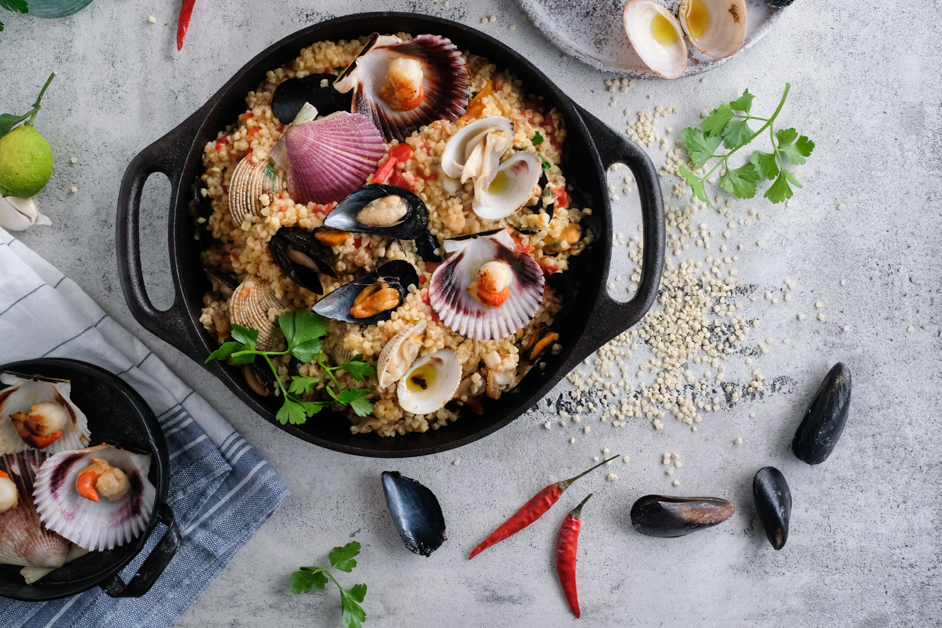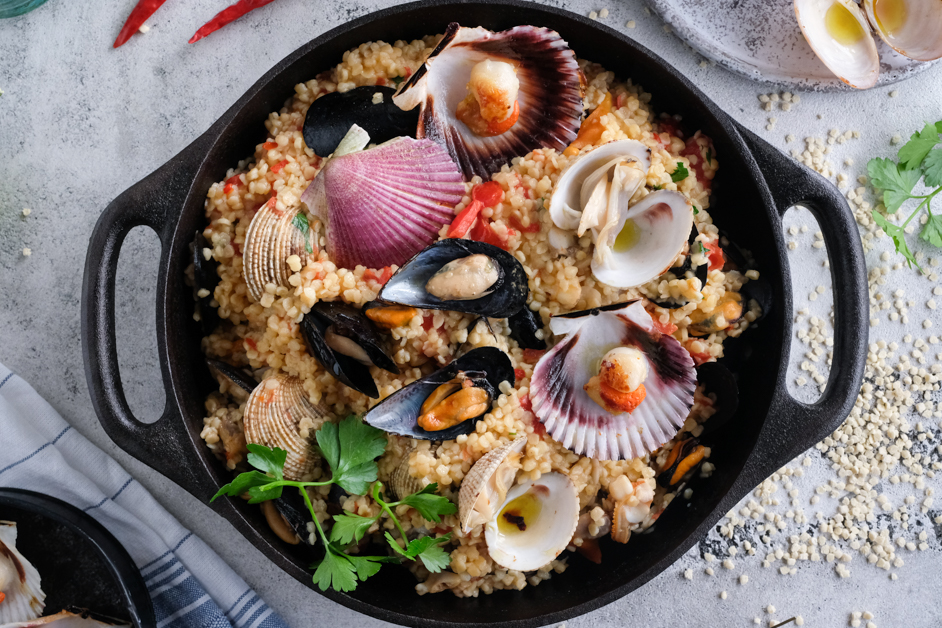 It might look like paella but, trust me, this dish is even tastier. All the ingredients have blended so well and complement one another perfectly. These days are a bit strange and distressing for everyone, so shouldn't we all try to make the most of our time with things that cheer us up and warm our hearts? If you happen to come across these wonderful ingredients, don't hesitate to try this recipe!
½ kg black mussels
½ kg cockles
½ kg clams
20 scallops
½ cup olive oil
2-3 garlic cloves
1 chopped chili pepper
Salt, pepper
1 lemon zest
1 lemon juice
½ bunch parsley, chopped
2 cups buffalo milk trahana
1 glass fish stock (half water, half dry white wine)
Method
1. Shellfish preparation. It's really important to clean your shellfish properly.
Cockles. Cockles are the hardest ones to clean, as they need more time and many changes of water until all sand is removed. Wash them thoroughly and rub them well with a wire sponge externally to remove the sand. Leave them in cold water that you change every 1 hour, 3-4 times. When the water is clean, strain them and leave them in the strainer. Clams, Scallops. Wash them thoroughly and leave them in the strainer too. Black mussels. Clean their shells thoroughly using a wire sponge. Remove the "beard" by pulling it outwards with a sharp move. Strain them.
2. Add all the shellfish to a big pot, cover the pot and boil them for a few minutes until they open. We only keep the ones that have opened. We also keep some of the shellfish water (about half a glass). Remove all shellfish from their shells except a few that you can keep and use to decorate your dish.
3. In a big pot, heat the olive oil. Sauté the garlic, chili pepper, mussels, trahana and lemon zest. Season with salt –carefully because shellfish water is salty as well- and pepper. Let the ingredients simmer in fish stock and lemon juice. Add chopped parsley. Serve warm.