Cheesy potato & sausage galette
March 12th 2021
Thinly sliced mini sausages in between potato layers will add a beautiful smoky flavour to this recipe.
When someone says "Potatoes!", it's not just children that get excited. When it comes to potatoes, we're all children again! Potato is the ultimate curvy queen of stem vegetables and I really don't think there's anyone who'd claim the opposite. Her reign is indisputable!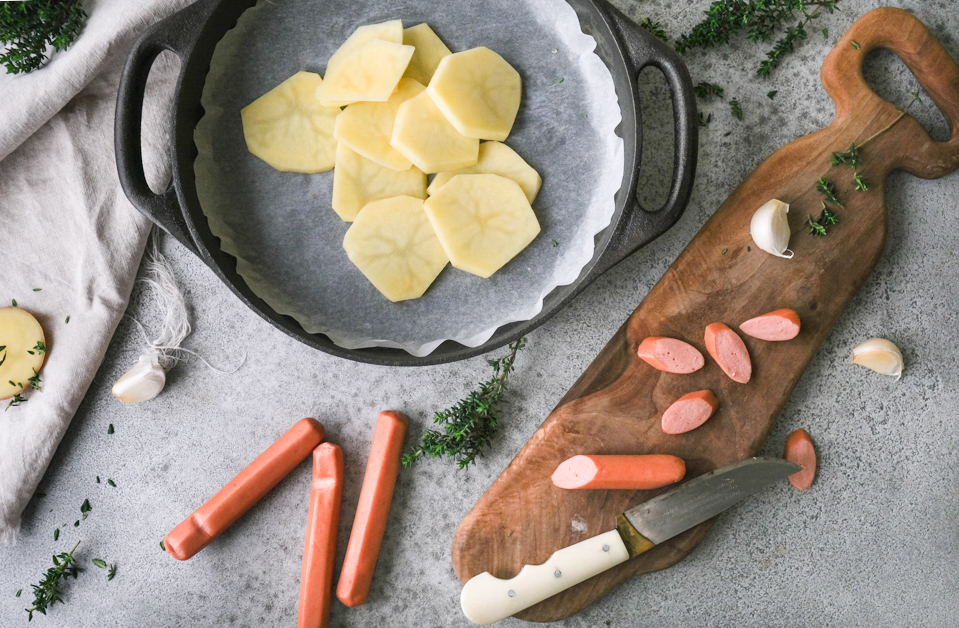 There are thousands of potato recipes one can think of but nothing compares to French fries, I think we can all agree on that. They're basically a religion! Aside from French fries though, there are so, so many other potato recipes to choose from for all tastes and occasions.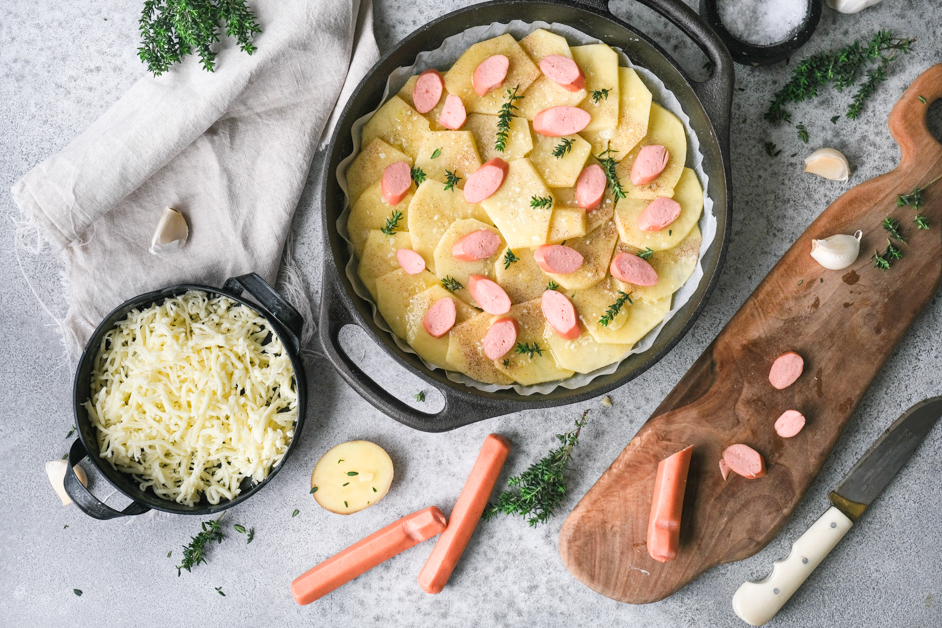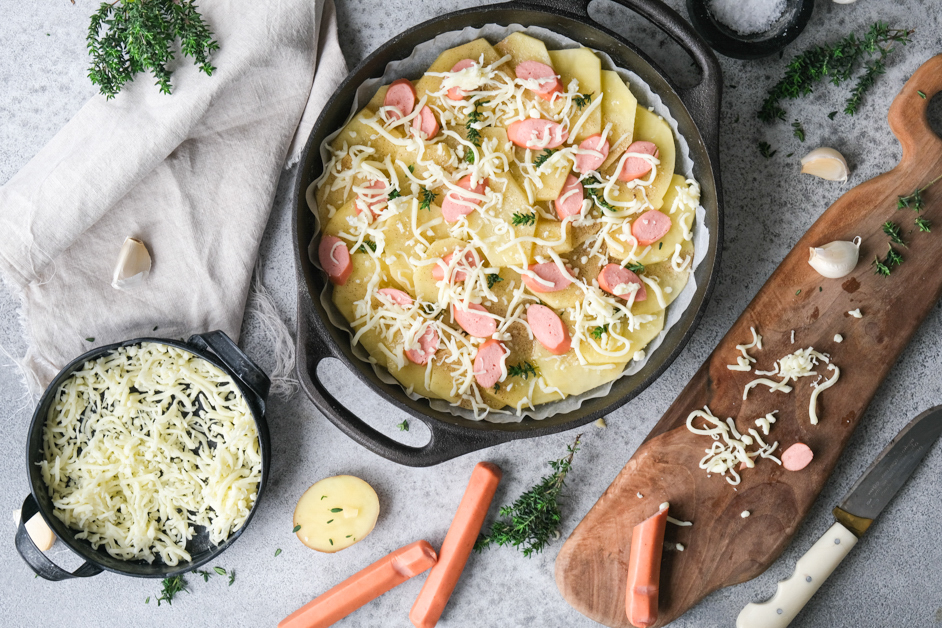 Now, let's be honest here, potatoes alone are bland and a bit boring. It's the way they're cooked and the ingredients they're combined with that make them special. Potato rule number one: potatoes can't live without butter or olive oil. Only these two ingredients and a pinch of salt can make them impossible to say no to!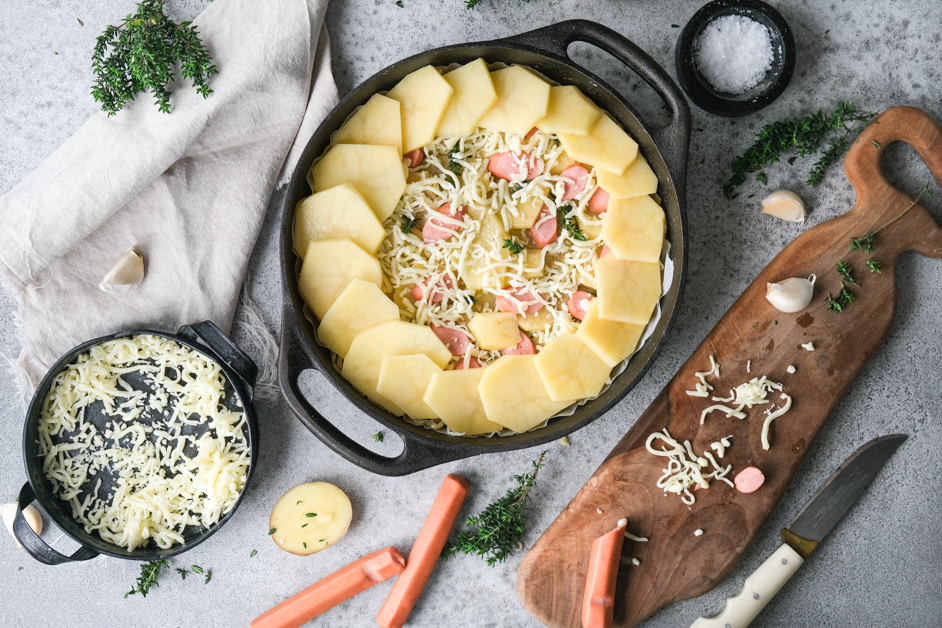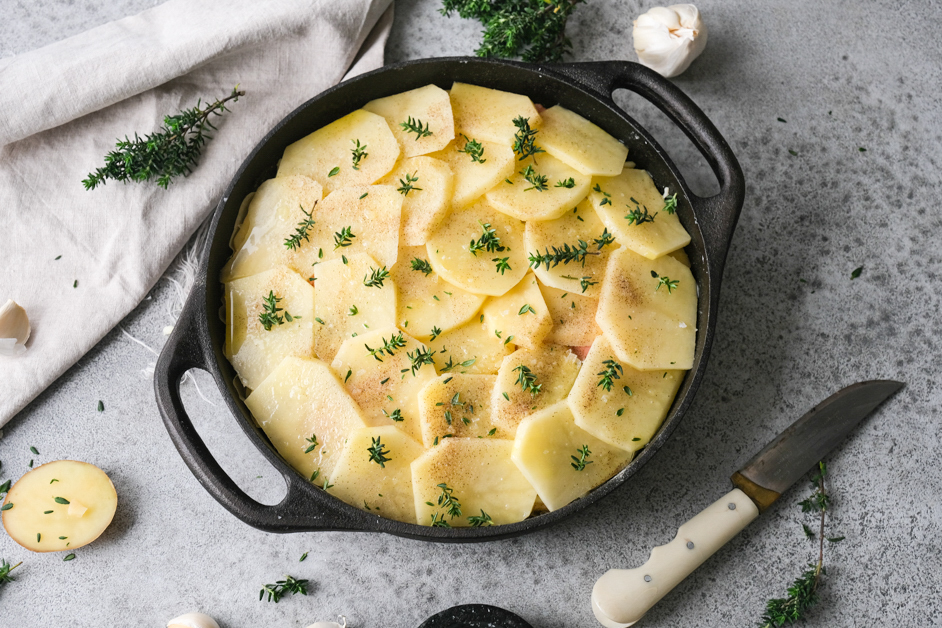 There are many secrets and universal truths about potatoes, like the fact that a crispy and perfectly golden potato is too delicious to resist and no one can ever stop at just one! Leftover potatoes are definitely not a very common sight (at least not in this household)!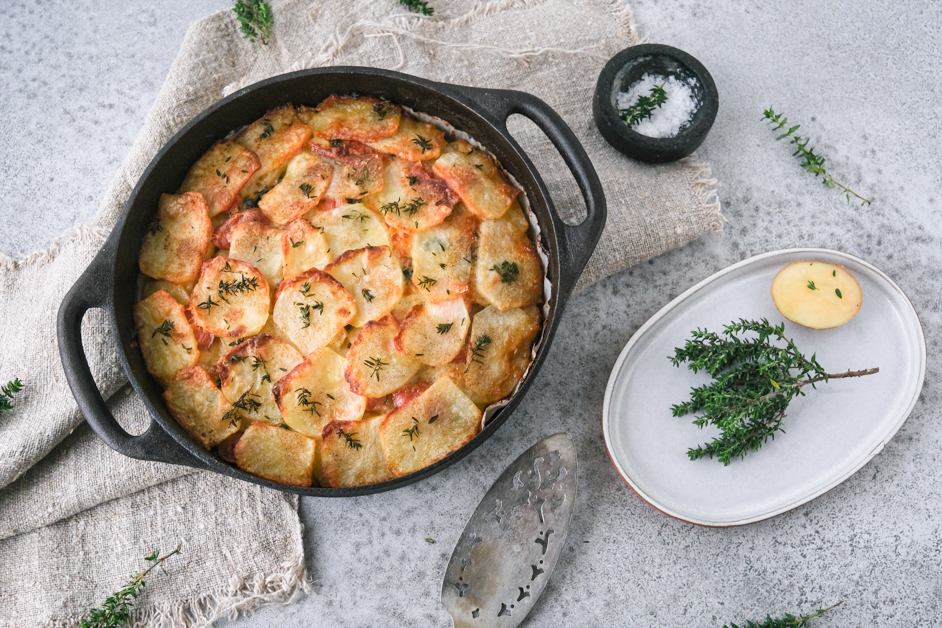 Besides butter and olive oil, there are so many ingredients we can add to adjust a potato recipe to our personal taste but one thing is for sure; a few herbs will only add to the flavour of any potato recipe. Potatoes go perfectly with sage, thyme, rosemary and more.
This is one of my all-time favourite potato recipes that I usually make with any ingredients I might have available at home and it simply works every time, that's how versatile potatoes are! It's a cheesy potato galette or "cake", an absolutely amazing recipe with thinly sliced potatoes beautifully arranged in overlapping circles.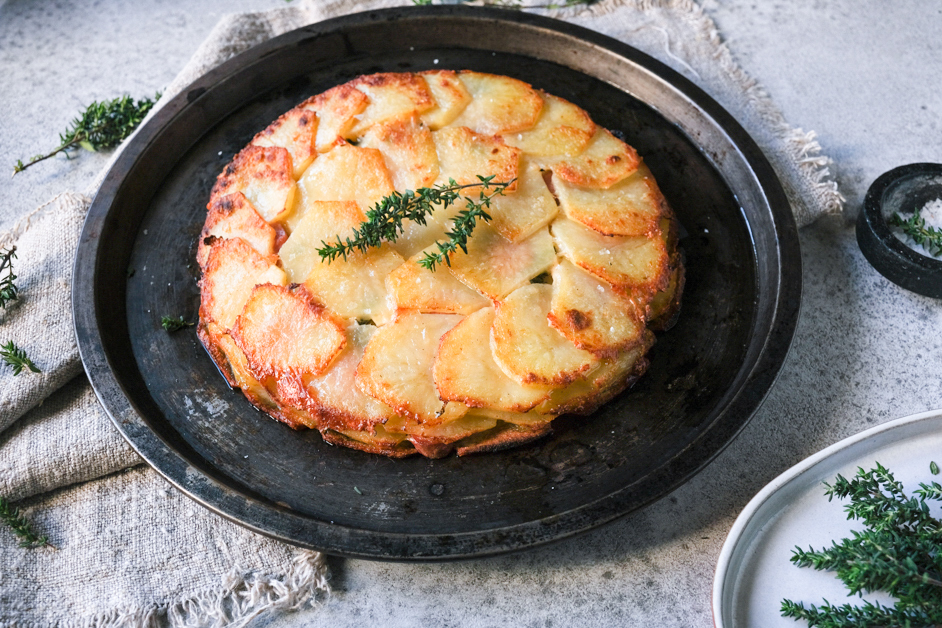 This might be a simple, humble potato galette that the whole family will absolutely love but, with a few changes, it has the potential to turn into a beautiful, more gourmet-like side dish for a more special dinner. It's a safe choice and ultimately, the one that always steals the show.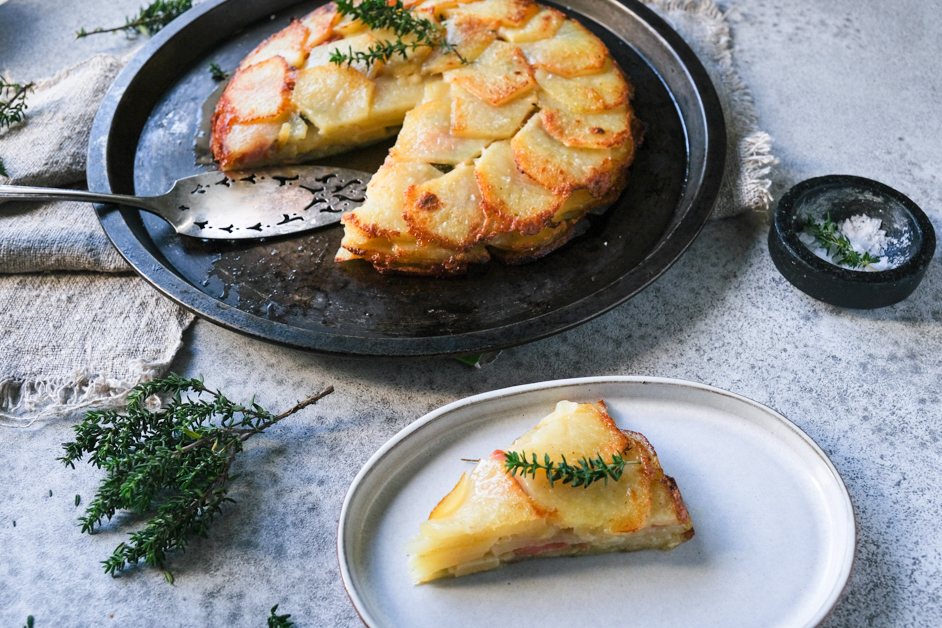 This time I made a more kid-friendly version of this recipe, just to spice things up a little bit. We all know how much children (of all ages) love mini sausages. It's not something we consume on a regular basis but it's ok to treat ourselves and our children every once in a while. Thinly sliced mini sausages in between potato layers will add a beautiful smoky flavour to this recipe.
1kg thinly sliced potatoes
2 garlic cloves (optionally)
4tbsp butter
4tbsp olive oil
½ bunch of fresh thyme
Salt, pepper
6-8 mini smoked Frankfurters
½ cup grated Mozzarella
Method
1. Preheat the oven to 190C. Thinly slice the potatoes. In a small pot, melt butter. Add thyme and garlic and cook for 20 minutes to release their aroma. Add olive oil. Season the potatoes with salt and pepper. Thinly slice the sausages.
2. Line a round and deep baking tray with parchment paper. Arrange the first layer of potatoes in a circle. Cover the whole surface. Scatter a few thyme sprigs and half of the sausages, and add a layer of grated cheese. Continue with the second layer of potatoes and so on. Finish with the last potato layer. Brush the potatoes with the melted butter mixture and pour the rest of it over them. With a plate flipped upside down, press down the potatoes. Bake for 20 minutes. Press down the potatoes again and bake for another 15 minutes.