The perfect Wiener Schnitzel
January 11th 2019
We just came back from our New Year's short trip to Vienna.
We just came back from our New Year's short trip to Vienna. I had been in the city's airport before during layovers between flights but I had never actually stayed there. So, it was like an unfulfilled dream of mine until now. I believe I always had high expectations of this city, probably because of its rich history, its culture, its background in music or because of the fact that I was always picturing me in dreamy concerts and opera houses. The bar was raised very high!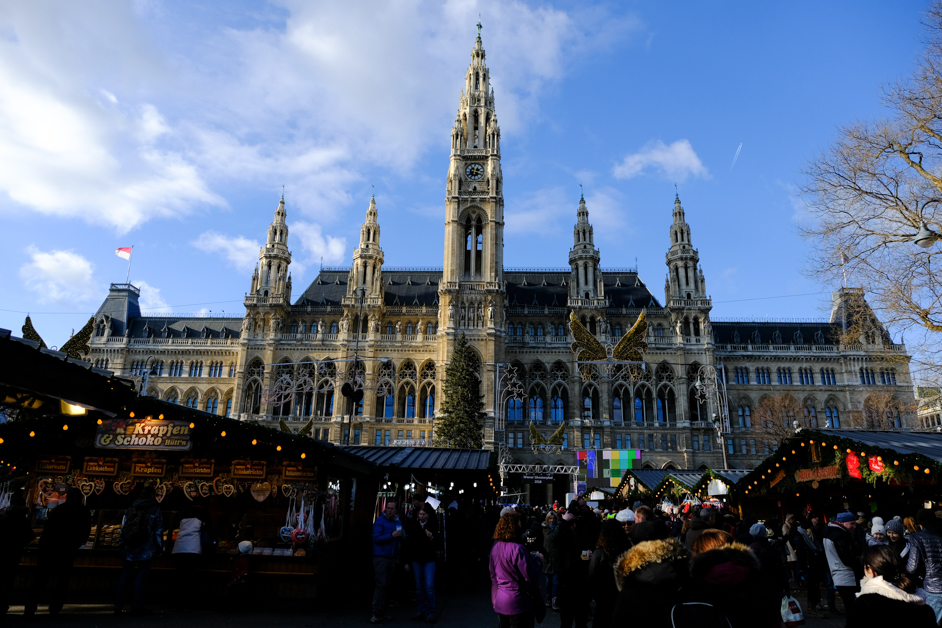 Most of my hopes came true; we visited the city during such a festive season and we had a lovely time even though we didn't have the time to tick off everything I had on my list this time. No concerts and operas.. We enjoyed a wonderful, festive atmosphere though, the New Year Celebration! It's not surprising at all that Vienna was so overcrowded, the city is so impressive, especially during Christmas, with all those lights and beautiful decorations! The idea of spending New Year's Eve there was indeed brilliant. I'm definitely planning on going back during a less touristic season to explore more of the city and find its hidden gems.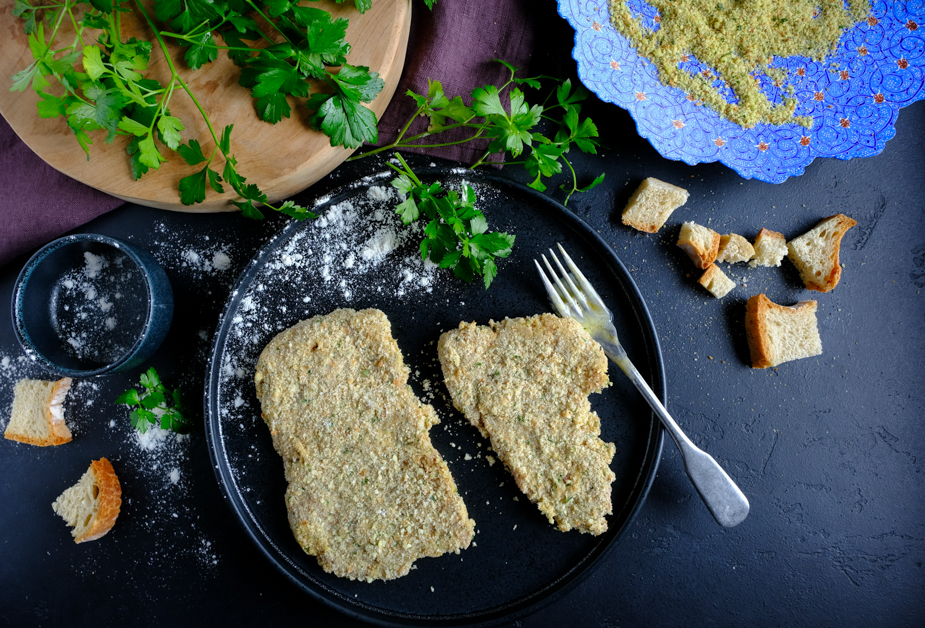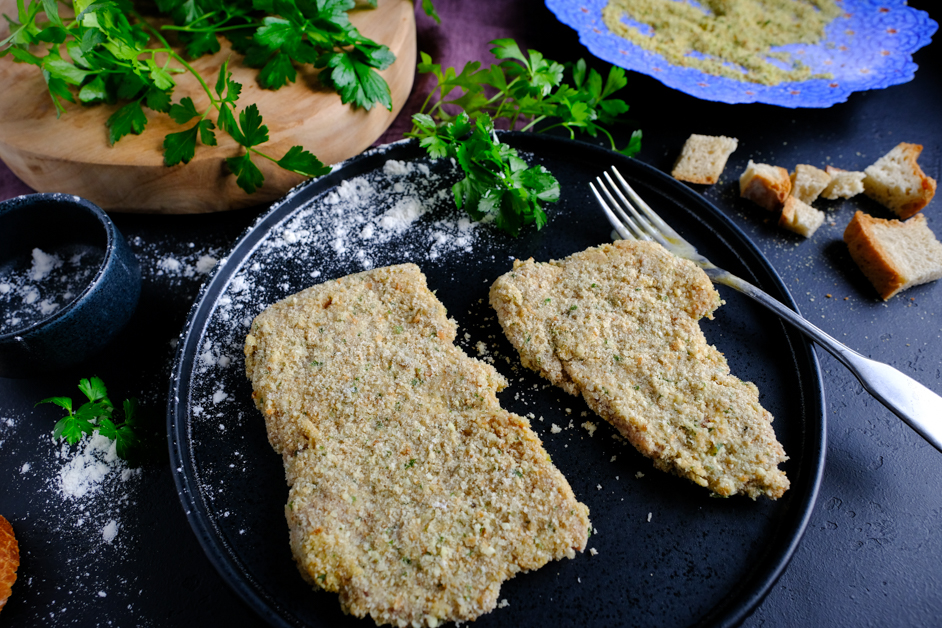 As a proud and passionate foodie, I couldn't help but have high expectations on food as well. Obviously, it wouldn't be easy to satisfy my needs during such a hectic period. Vienna was undeniably overcrowded, which was of course very pleasant –given the days' festive mood- but could also be quite stressful at times. Walking around the streets wasn't an easy task, especially on New Year's Eve! Access to a hot cup of coffee or chocolate was quite difficult and queues of people waiting outside of –mostly famous and popular- shops and restaurants were a very frequent sight. This doesn't come as a surprise, of course, since Vienna's beautifully decorated centre was very very inviting.
One of Vienna's most traditional and famous dishes is Wiener Schnitzel or Escalope Viennoise. I honestly don't think I could find anyone who doesn't like this dish. There's something about this crispy, fried thing that drives us all crazy! So, it was definitely one of our must haves while being in Vienna and since this dish is no stranger to our kitchen (and mainly my mom's), I had some serious knowledge on the matter. We tried quite a few versions of it, some of them were exquisite and some a bit mediocre, but I came to the conclusion that my mother makes one of the most amazing schnitzels I have ever tasted, and that's our recipe for the day.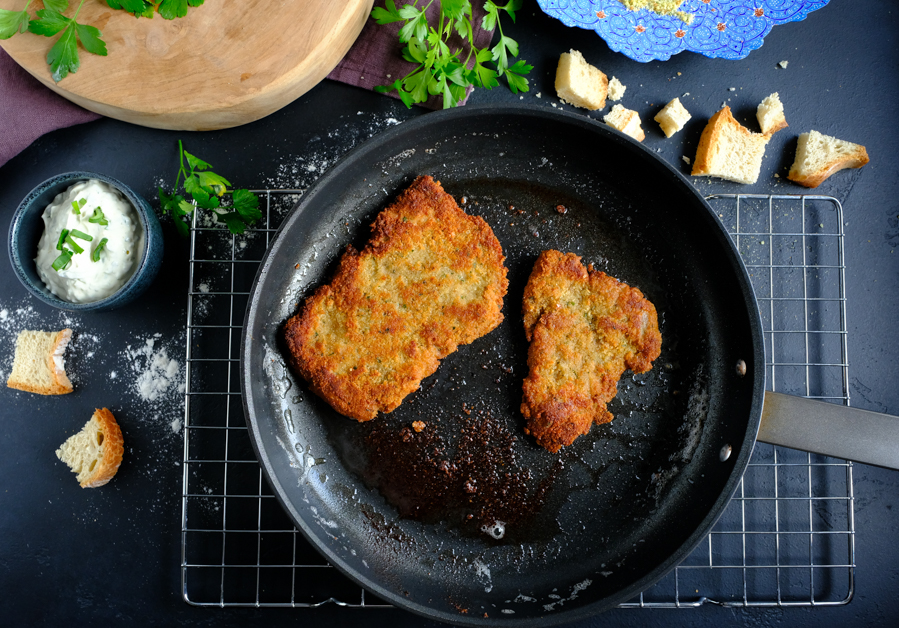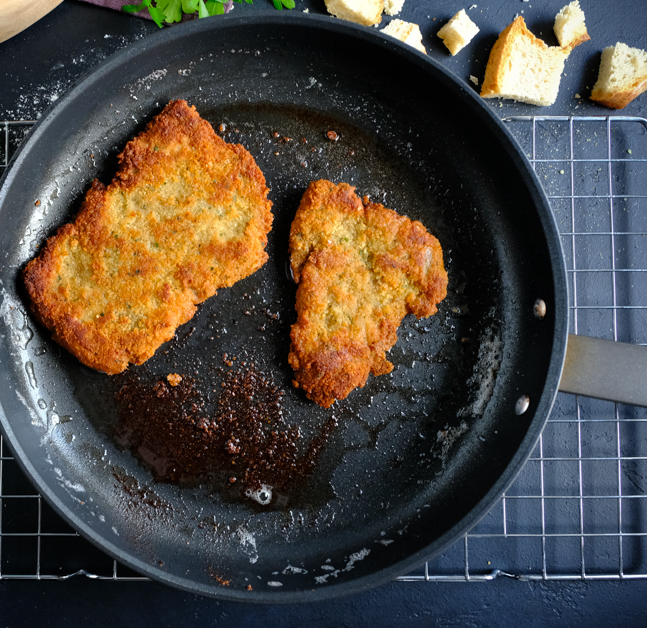 The original, traditional Wiener Schnitzel is made with beef and an equally tasty but more affordable version of it is made with pork. If you're going for something lighter, there's always the option of chicken. This dish reminds me of homemade comfort food since my mom used to make it quite often and it is obviously one of the most popular recipes for kids. The delicious and succulent pork schnitzel is beloved by most children, my daughter included, who used to crave it very often when she was a kid.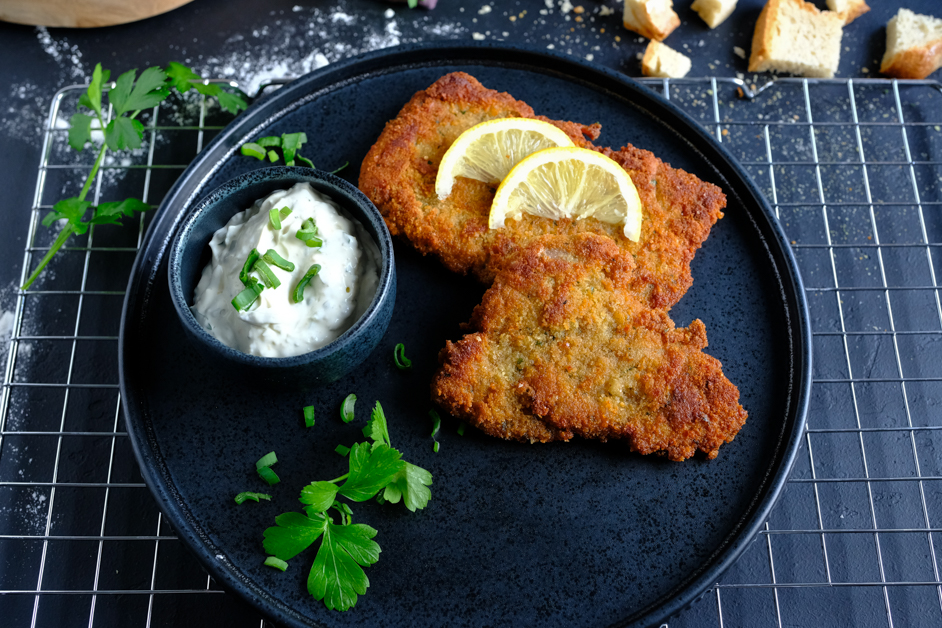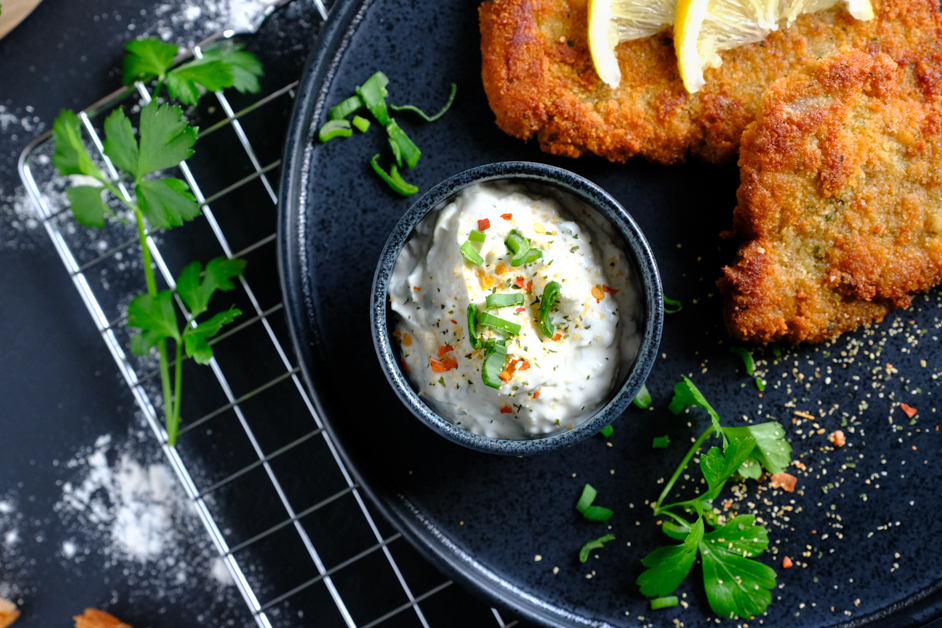 When it comes to beef schnitzels, it seems that opinions vary on which cut of meat is more suitable for the success of this recipe. Some Chefs in Viennese restaurants like to use classic escalopes while others seem to prefer more tender cuts – loin of beef. Regardless of the cut of meat you will choose, all experts agree on one thing: You'll have to beat it as thin as possible with 3mm being the ideal figure!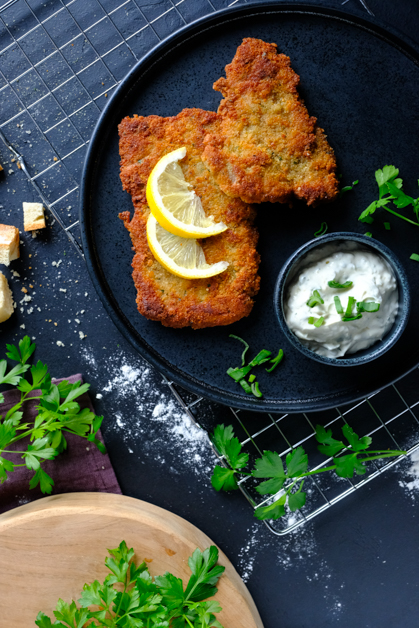 After having chosen the kind of meat that we like, we're ready for the next step which is quite simple. Breadcrumbs for our crust. The best thing to do (according to my mom) is to dry out breadcrumbs (ideally from day-old bread) in the oven for about an hour and then use your blender to grind them. Here's when I like to add some chopped parsley and a bit of shredded parmesan for an even more flavorful and crispier result. If you don't have enough time, you can also use toast bread. Besides breadcrumbs, some people (my mom included) also use flour to help the coating stick better alongside the beaten egg. Another secret to success is to mix a tiny bit of heavy cream with the beaten egg. It adds extra flavor, especially in beef schnitzels that are usually drier.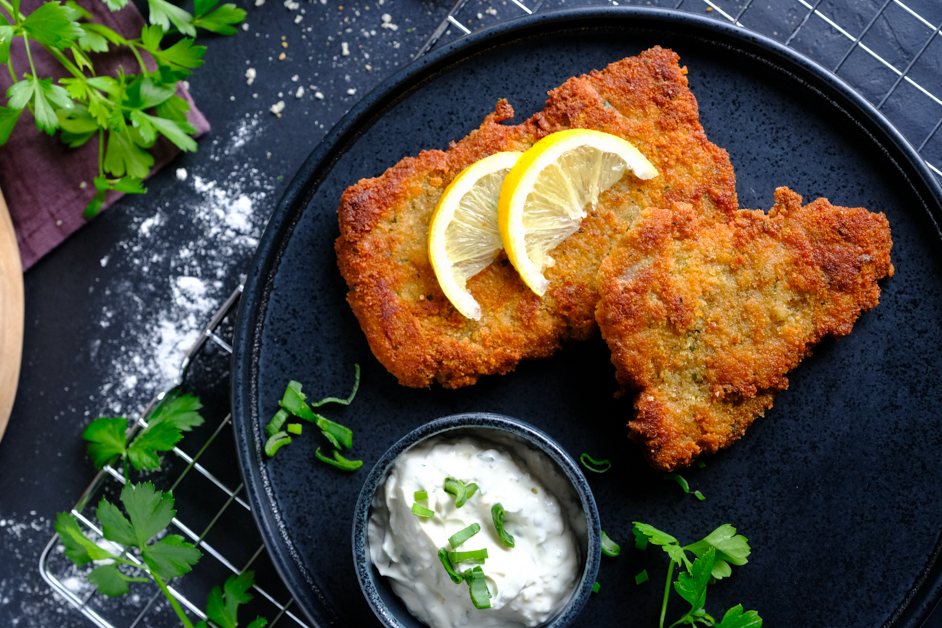 A medium fry of just a few minutes in vegetable oil is enough and our schnitzel is ready to be served. The classic way of serving it is with a piece of butter on top of the hot, crispy surface and a slice of lemon but we've also seen it in more interesting outfits such as jam, caper, olives, anchovies, boiled eggs. As simple as that. I think this is the part where my mother made the difference! Even though the sight of melting butter is very tempting, my mother replaced that with a gorgeous sauce with mayonnaise and yogurt (quite similar to tartar sauce). This sauce would be the finishing touch that turned this dish into a real delicacy. Of course, Wiener Schnitzel is always accompanied by boiled potatoes or ideally by Bratkartoffeln!
No matter how you choose to make it, it's definitely a delicious dish beloved by everyone, regardless of age!
For the schnitzels
4 escalopes of beef or pork
Salt, pepper
3 eggs
2 tbsp heavy cream
1 cup flour
100gr breadcrumbs or ground toast bread
2-3 tbsp chopped parsley
3 tbsp shredded parmesan
Frying oil
For the sauce
5 tbsp mayonnaise
2 tbsp strained yogurt
2 medium big pickled cucumbers
½ tsp garlic powder
Salt, pepper
Chopped parsley
2 tbsp chopped chives or the green part of fresh onion, chopped
Method
1. Beat the meat on a wooden surface until it becomes very thin. Add salt and pepper.
2. In a bowl, mix the breadcrumbs with the parmesan and chopped parsley.
3. Beat the eggs with the cream. Spread flour on one plate and on another one spread the breadcrumbs.
4. Heat vegetable oil in a deep frying pan. First cover your meat with flour, then with the egg and then with the breadcrumbs. Make sure you've covered all of it.
5. Fry until both sides are golden-brown. Do not overfry it, just wait until it gets a golden-brown colour. Once the schnitzel is ready, place it on some absorbent kitchen paper for a few minutes and serve right away with the sauce