Spicy scallop, lime & chives bruschetta
April 9th 2021
Spicy scallops with garlic, lime, coriander and chives (a personal favourite) make for an absolutely delicious bruschetta topping.
April brought the first bright and sunny days, a clear sign of spring that we all desperately needed. Perhaps it was also the seasonal change of time that made me feel like I just woke up from hibernation.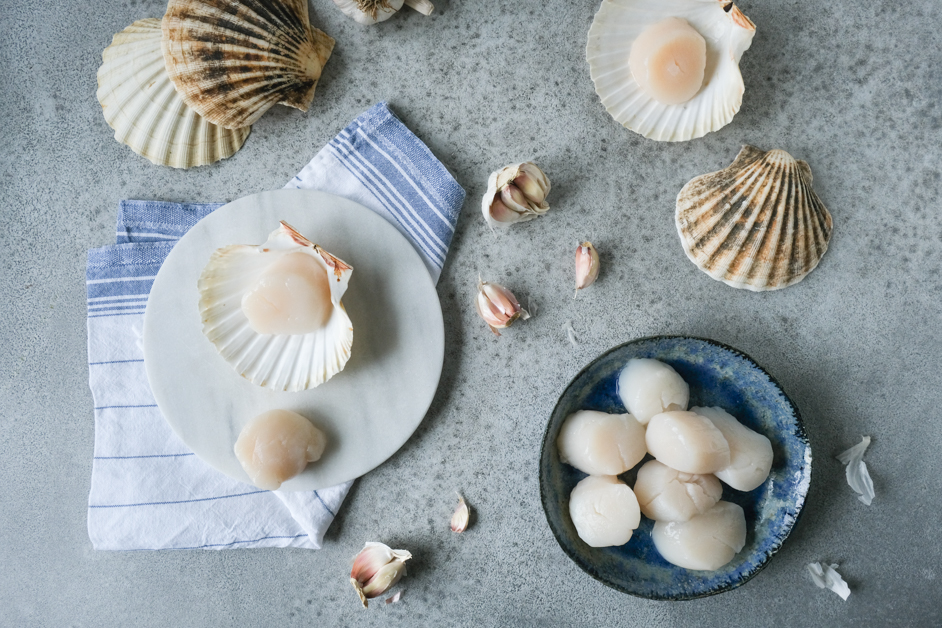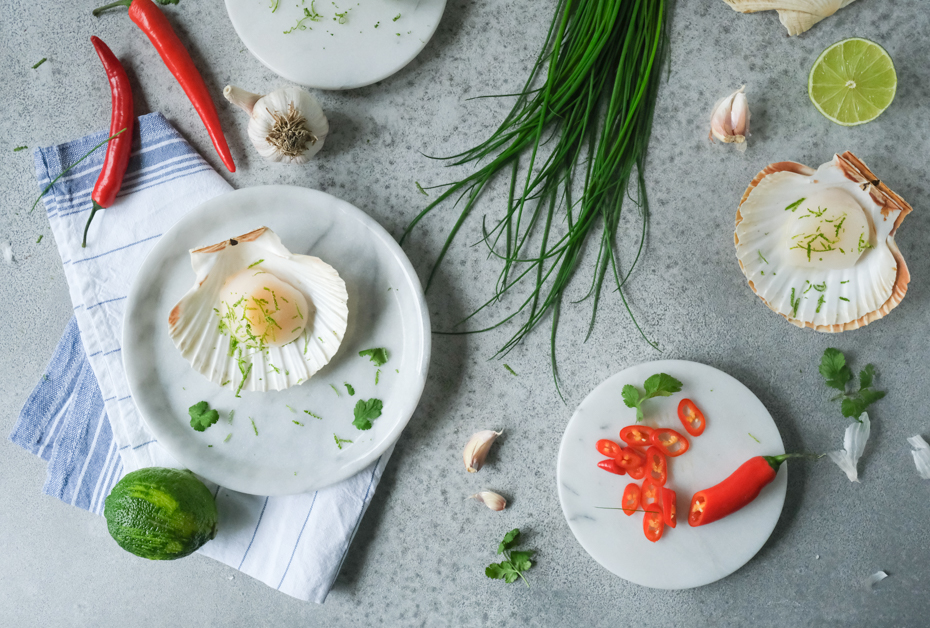 While our log holder next to the fireplace is still full, I somehow felt the need to open the windows and doors wide and let all the light and fresh spring air in, fill my pots with beautiful spring flowers, remove any traces of winter from our closet and give room to all my light-coloured and pink spring clothing for a change! The first days of spring are always a serious mood booster!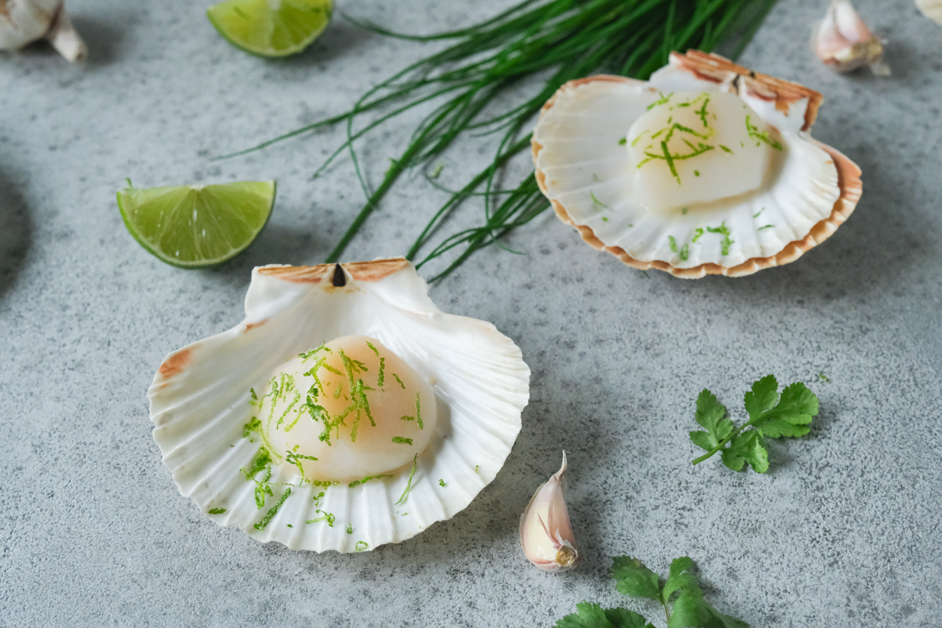 I've always loved this time of the year. Springtime and the wait for Easter (when everyone starts to realise summer is around the corner) has always been a time of great expectations, filled with hope and anticipation of beautiful days to come. I used to enjoy the season of Lent so much, and still do, as it's intertwined with strong memories of moments and people I love, days of sunshine and the earthy scent after a spring rain. I remember there was a sense of reverence in the air that I couldn't necessarily associate with religion at the time, but felt like a deep connection with my roots and the traditions that had already become part of me, without any buts or whys.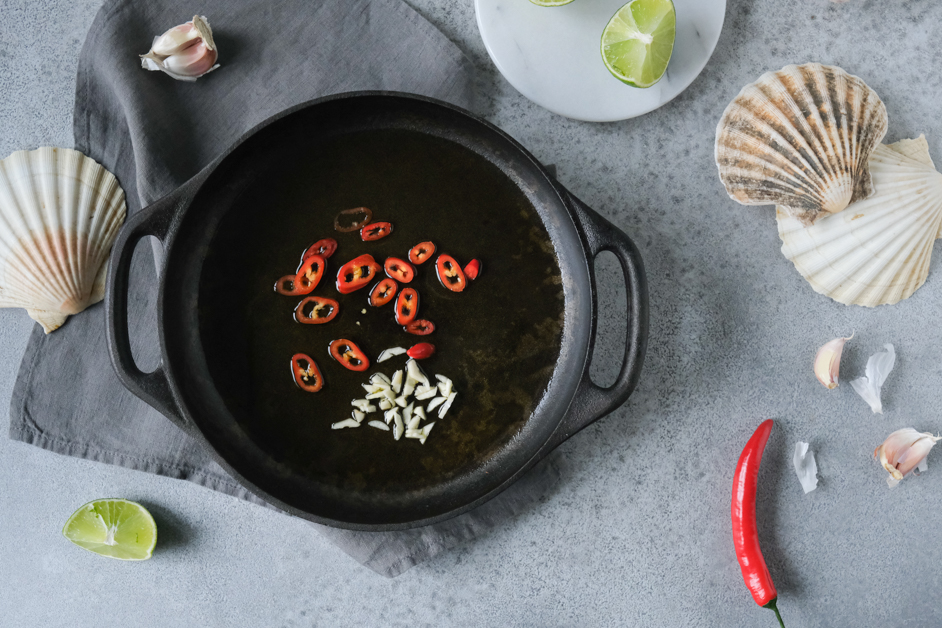 The warm sunny days of spring come with some much anticipated changes. One of my priorities as a child was to get rid of any heavy winter clothing as fast as possible, take my socks off and run around barefoot. Doing that meant summer was getting closer and closer, which usually became almost official, at least as far as I remember, on my grandpa's name day in May, when I'd finally put on my new Easter shoes sock-free! It's incredible how simple things like that can bring so much joy. To this day, I still feel unbelievably happy every time I wear my havaianas for the first time each year.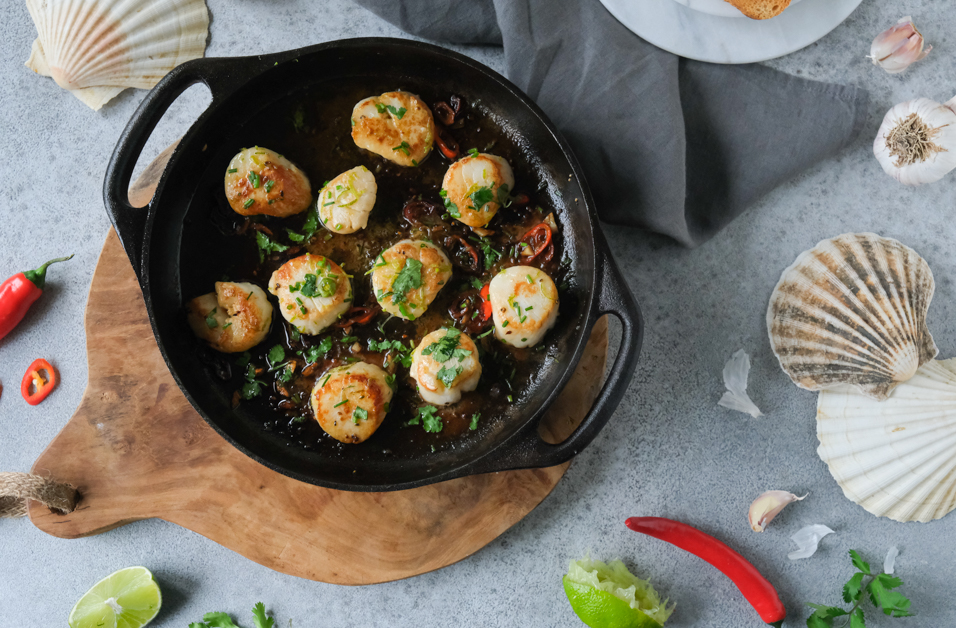 This amazing wave of positive energy that came with April put me in an incredibly fun and creative mood. It's almost the weekend, the perfect time to go a bit over the top with something special and more gourmet-like, which is exactly what I have in mind for today.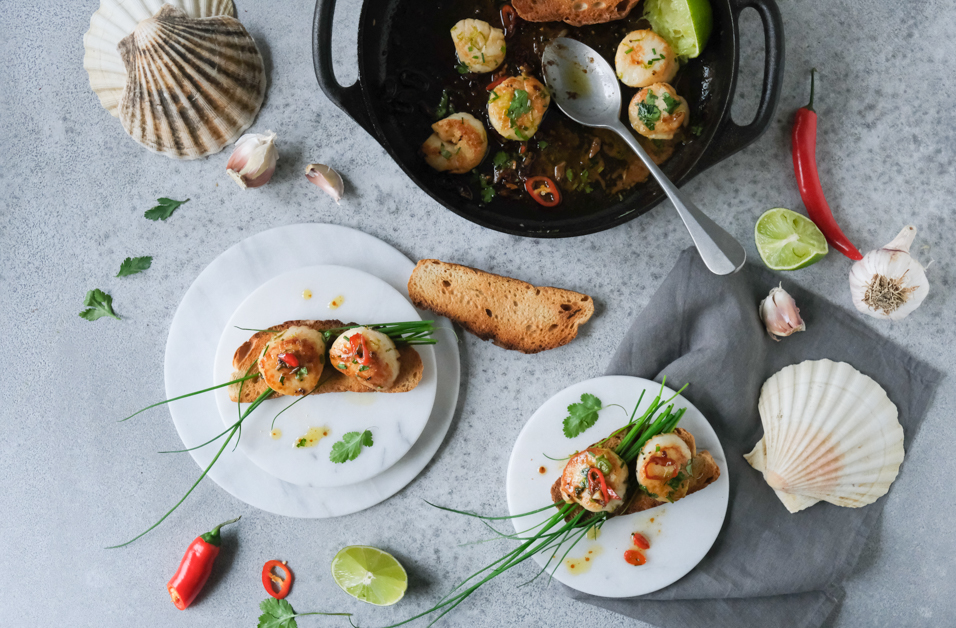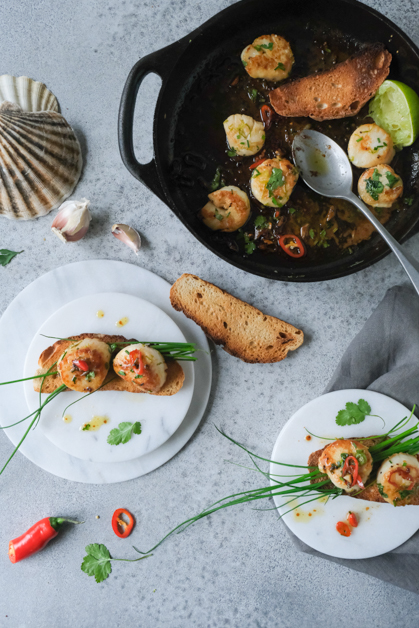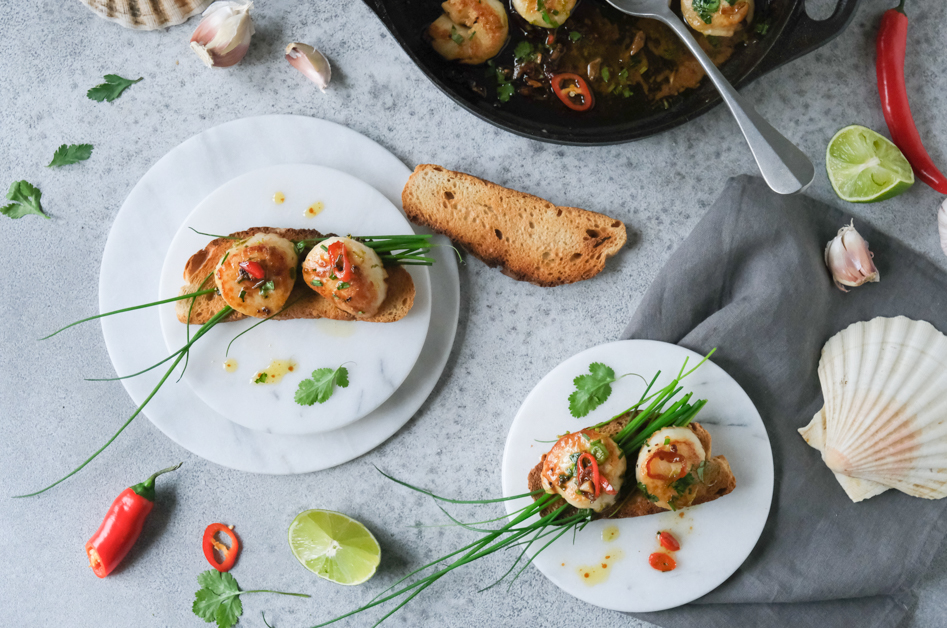 Scallops are definitely a great love of mine, just like any other type of shellfish to be honest, even those that are not widely popular among most people. I'm a huge seafood person in general and can hardly think of a dish in that category I would ever say no to. That being said, scallops seem to have a special place in my heart for their distinct but delicate flavour and daintiness.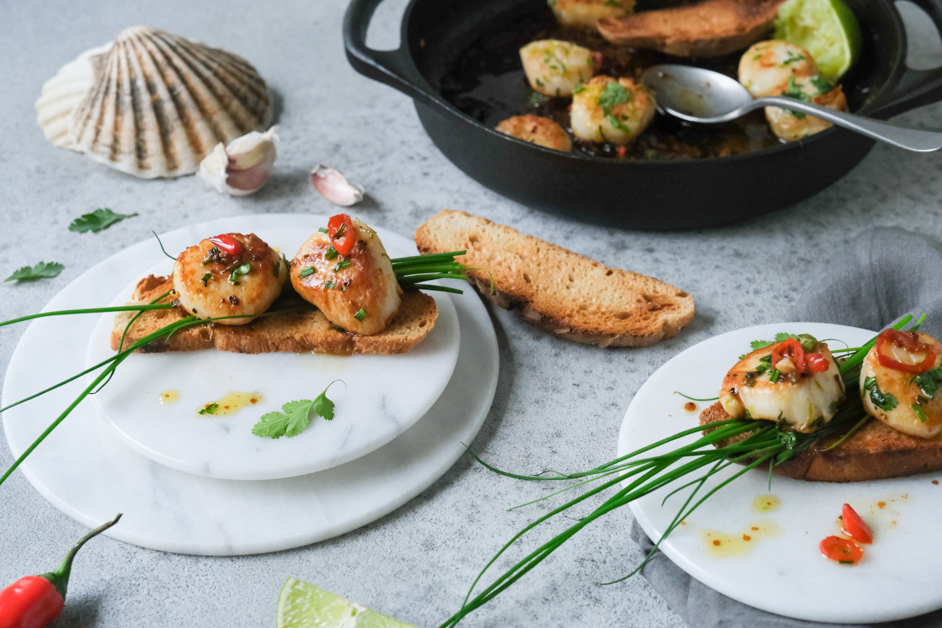 Naturally, shellfish and summer go hand in hand; it's simply impossible to have one without the other. Light and refreshing dishes (with many options for raw recipes too) that instantly make you dream of tiny Greek tavernas by the sea, a summer ritual everyone looks forward to every year. And although I know this all sounds like a science fiction scenario at the moment, I'll keep this image in my mind as a guide, dreaming of the better days ahead of us – that will hopefully come soon.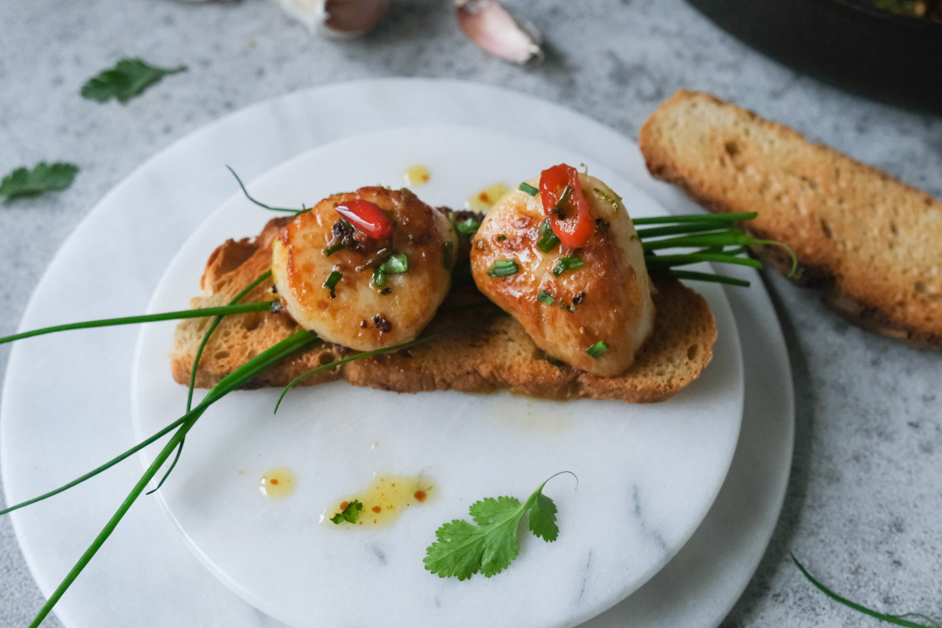 Scallops are a seasonal specialty and not widely available during winter. The annual scallop fishing season starts now and tends to peak in the summer months but, lucky for me, the wait is over, since I found some fresh ones and thought of this recipe straight away. Spicy scallops with garlic, lime, coriander and chives (a personal favourite) make for an absolutely delicious bruschetta topping. Trust me when I say this is one of the most loved, impressive-looking and tasty starters I've ever made!
12-18 scallops (place 2 or 3 scallops on each bruschetta depending on the size)
6 toasted thin slices of ciabatta bread
4 garlic cloves, chopped
1 or ½ chili pepper (depending on how spicy you want it to be)
Juice from 1 lime
Zest from 1 lime
½ glass white wine
½ bunch coriander
½ bunch chives
½ cup olive oil
Fleur de sel, pepper
Method
1. Cut the bread to thin, even slices and toast until golden. Set aside.
2. Dry the scallops well with kitchen paper and season with fleur de sel and pepper. Heat olive oil in a pan, add chopped garlic and cook over very low heat for approx. 5 minutes until the garlic releases its scent without overcooking. Add the chili pepper and scallops and continue cooking over high heat until golden brown. Simmer in wine and lime juice. Make sure there's enough sauce left in the pan. Add chopped coriander, chives and lime zest.
3. Start with a few chives as a base layer on each bruschetta and top with 2 or 3 scallops, depending on the size. Pour the scallop sauce that's left in the pan over the scallops as well as some extra olive oil and garnish with some fresh coriander and some extra lime zest.