Fresh green bean and grated tomato sauce salad
April 19th 2021
As I was walking around at the organic market today – as usual, I stumbled upon some wonderful fresh, thin green beans.
As we've talked about before, we love how Mondays have their way of showing us how naughty we were during the weekend and how we can do better in the days to come. They point the finger at us in a manner that only Mondays know how to excel at! Just like that, you wake up on a Monday and everything around you screams "Go Green"!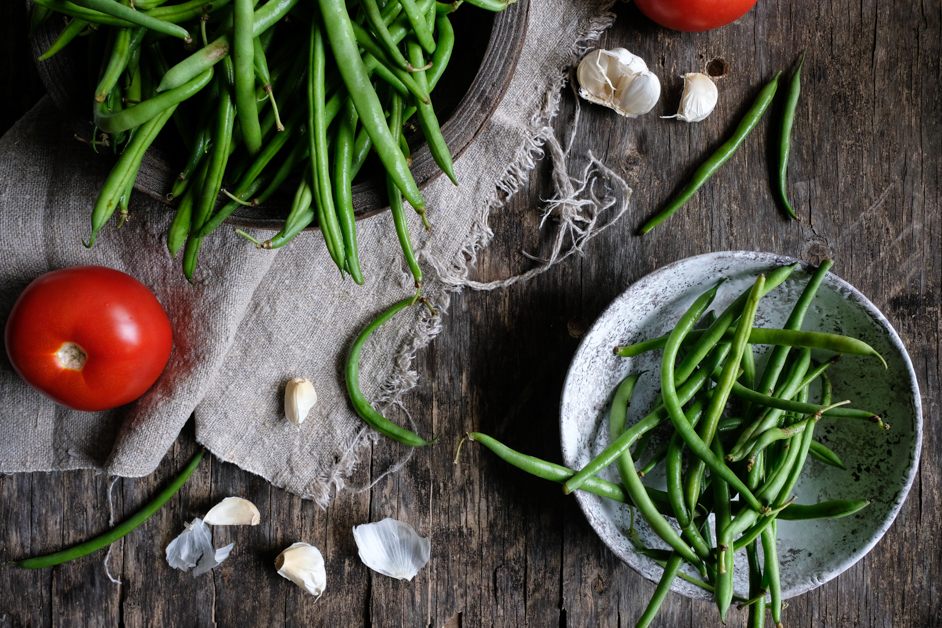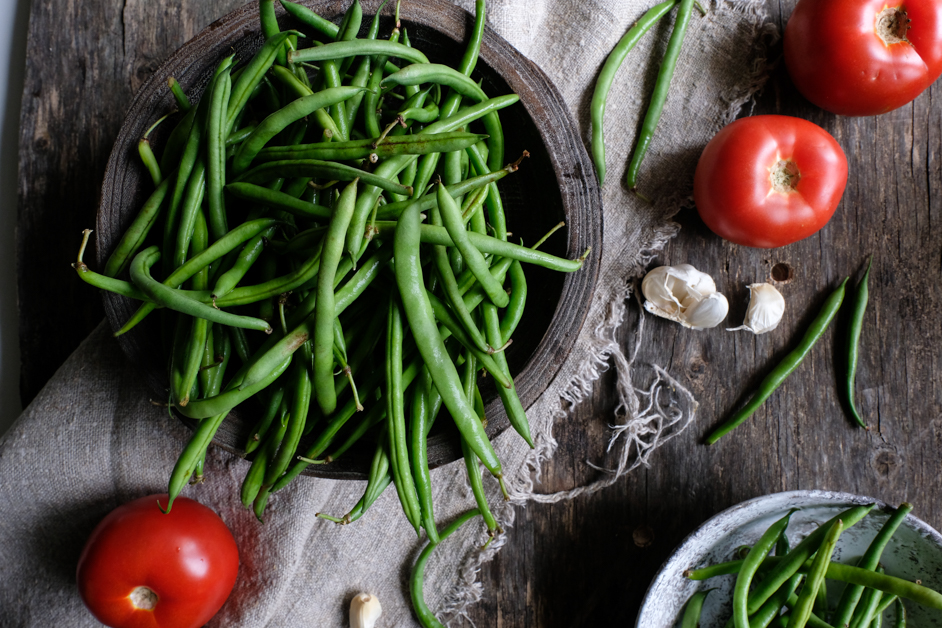 Fortunately, there's no better season for us to paint it green. Vegetables are so fresh and tender and make it really easy to follow a diet that relies almost entirely on them.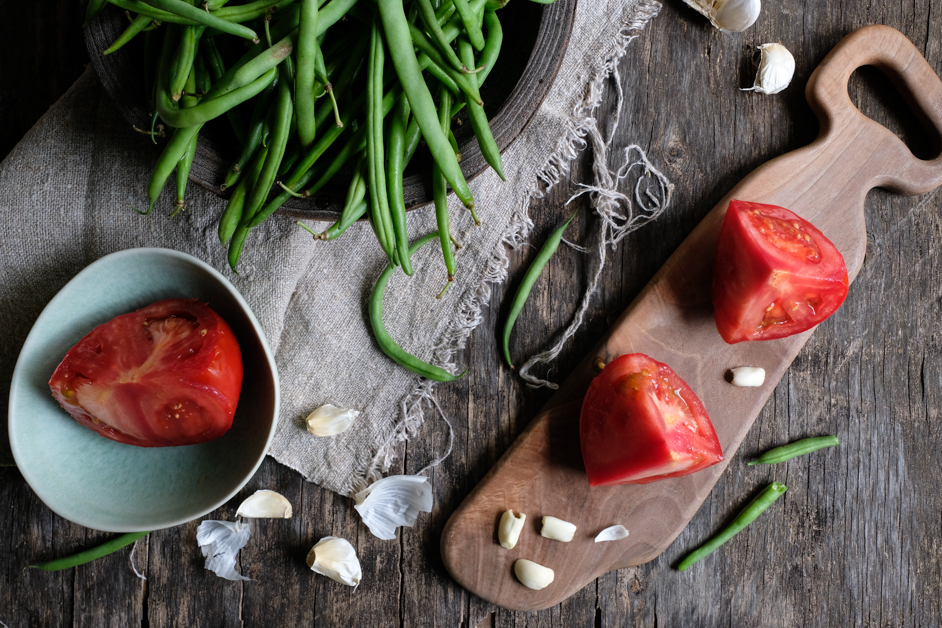 This healthy, green restart at the beginning of the week is extremely useful and much needed for all of us. It's the break we need in order to eliminate toxins and rejuvenate our bodies. And it's not just our diet that exposes our bodies to toxins but a great number of other things too; from the air that we breathe –that feels like a mixture of H2O and antibacterial gel lately- to almost any product and food we consume. Washing powders, water, beauty products.. And the list goes on. Every prepacked food is loaded with preservatives. Just imagine how many of these we consume on the daily, therefore it's an absolute necessity to balance out the consumption of such products with fresh, raw vegetables and pure foods.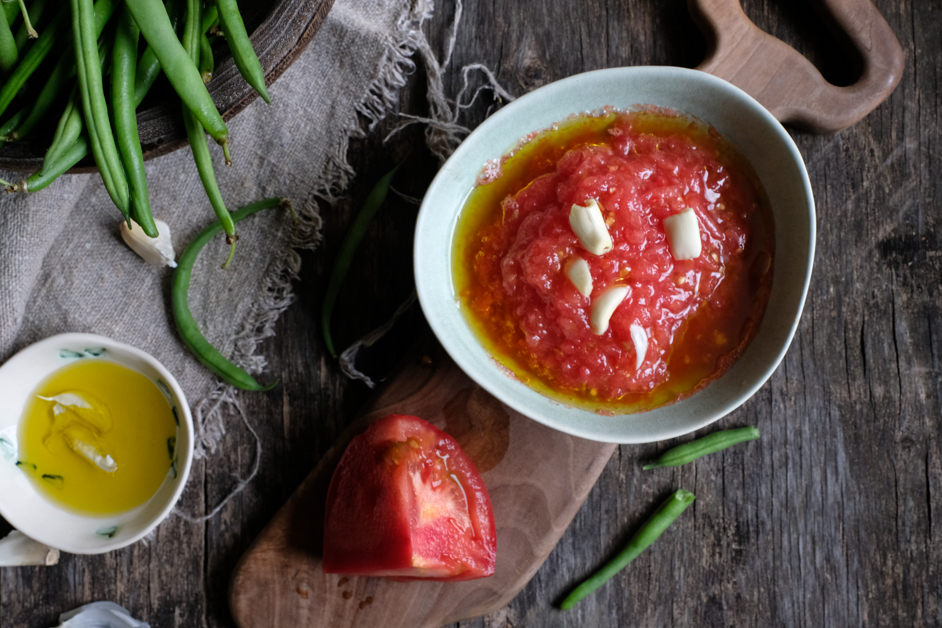 The cleaner the food and the more nutrients and clear air we provide our bodies with, the more years of life we gain! Both medical and naturopathic doctors can't stress this enough!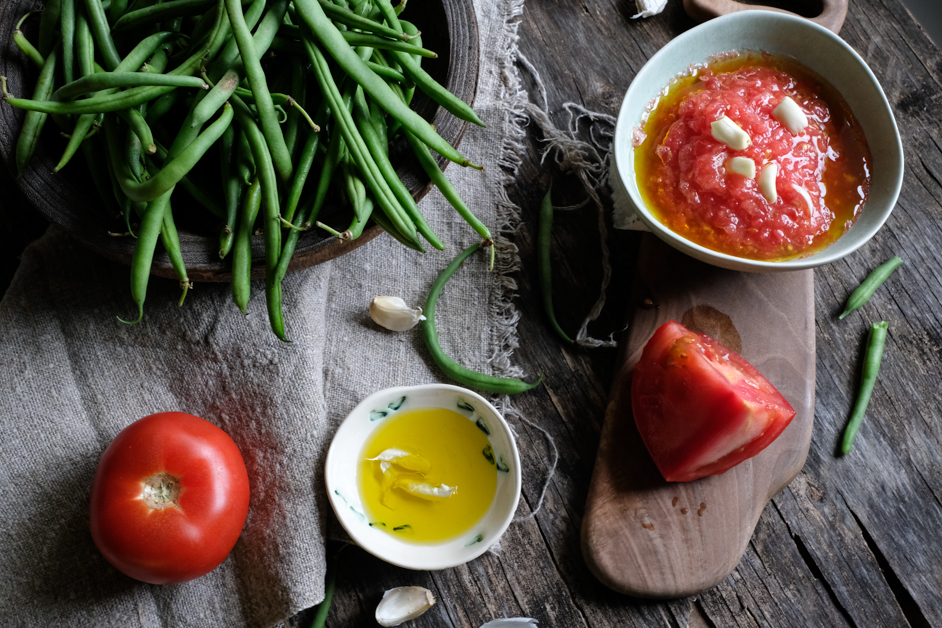 Throughout the years I came to realise that I don't need to plan all my weekly meals in advance. Since I love seasonal food so much, I prefer to make last minute decisions after I see what fresh, in season vegetables I can find at the organic market. And that, of course, only goes for the vegetables we don't have in our veggie garden.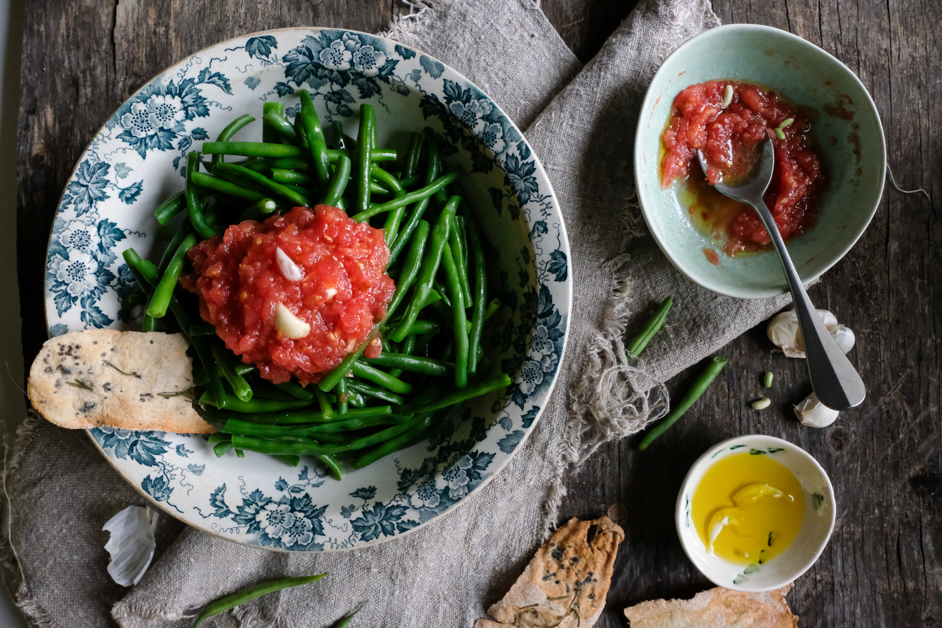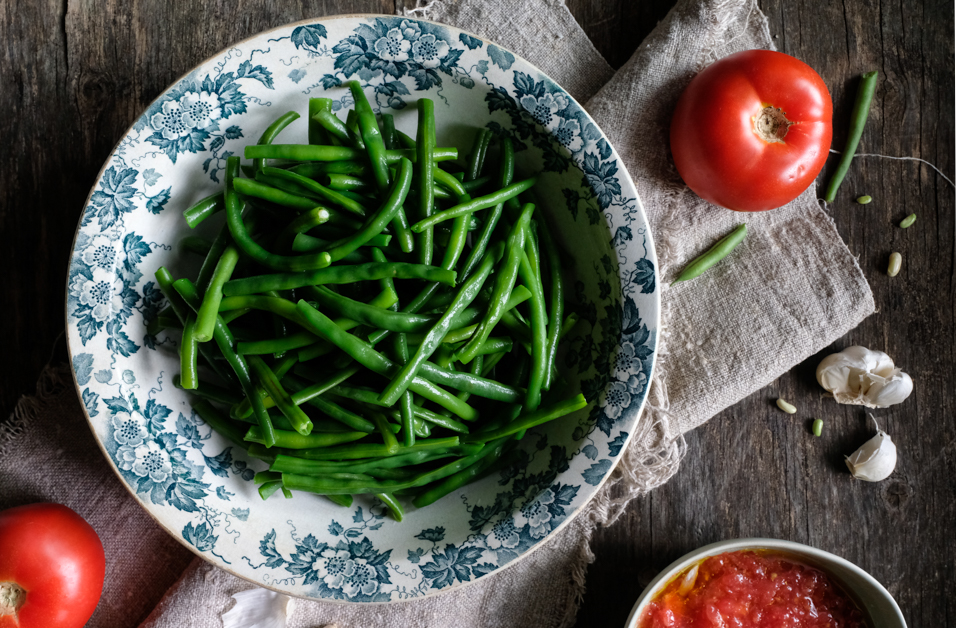 As I was walking around at the organic market today – as usual, I stumbled upon some wonderful fresh, thin green beans. They were so tender and crispy that they made the most satisfying crunchy sound ever when you cut them. They also need only a few minutes of boiling.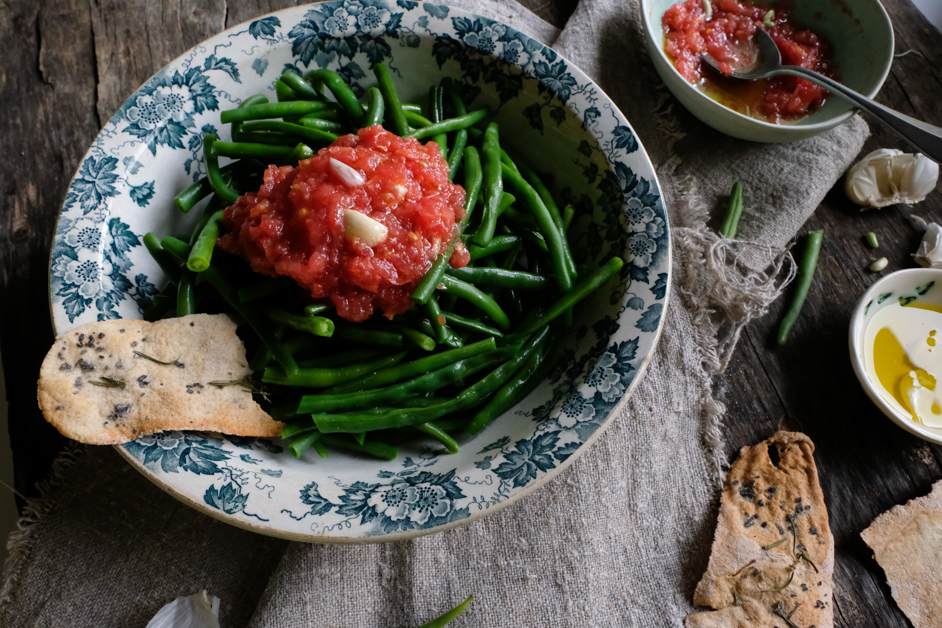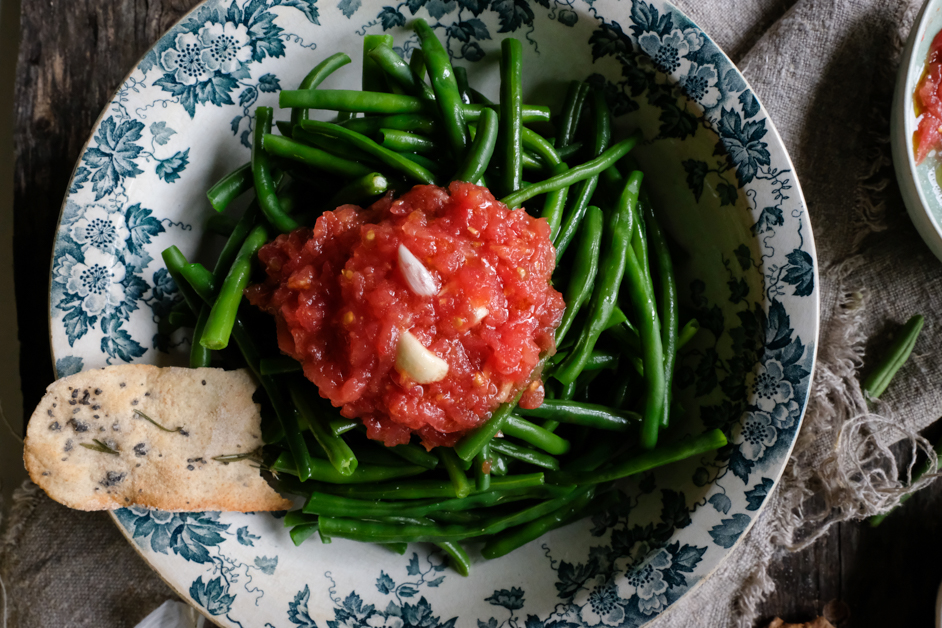 Time for the perfect healthy, nutrient-rich green bean salad served with a fresh grated tomato sauce. This sauce is actually an alteration of the famous gazpacho soup which, besides decorating my dish, pairs beautifully with my green beans. This salad is great on its own or equally as good teamed with some soft cheese and bruschetta.
1kg thin and tender green beans
3 medium, ripe grated tomatoes
2-3 garlic cloves
6tbsp extra virgin olive oil
Sea salt, pepper
Toasted bruschetta bread
Method
1. Wash and peel the tomatoes, then grate them. Remove the excess of liquids. Peel the garlic and cut the cloves in half. Add them to the tomato sauce and leave them in for about 1 hour to release their scent.
2. Wash and top and tail the beans. Do not cut them to smaller pieces, if they're very fresh and tender. Add water to a pot and boil the beans for a few minutes. Remove from heat while they're still crispy. Strain them and leave them inside a bowl with ice cold water to stop the boiling process and keep their vivid green colour. Strain again and set aside.
3. When the beans are ready, prepare the tomato sauce. Remove the garlic cloves from the sauce and add olive oil, salt and pepper. Mix the ingredients well and pour over the salad.