"First we Eat" Food Photography, Food Styling & Story Telling Workshop, Gradara, Italy
January 25th 2019
Every time I want to recall my memories and write a story about the workshops I have visited, I realise that I become very emotional
Every time I want to recall my memories and write a story about the workshops I have visited, I realize that I become very emotional. And this time the feelings are just overwhelming. I am traveling back to Gradara, Italy, revisioning the whole picture, the place, the people, the satisfied faces and I find myself overflowed with emotions of love, gratitude, satisfaction and great sense of fulfillment. "Food Photography, Food Styling, and Story Telling Workshop"! It was truly " the" experience, organized by two remarkable ladies that I admire so much! Eva Cosmas Flores from Portland, USA, of Greek descent, food photographer, food stylist and food blogger (Adventure in Cooking) and Valentina Solfrini, our exquisite host, from Gradara, Italy, also photographer, food stylist and food blogger (Hortus).These two young ladies made our stay in Gradara such an amazing experience. They made us fall in love with the place, the nature, the food and bring back with us luggage full of knowledge and experience!! Thank you so much girls!!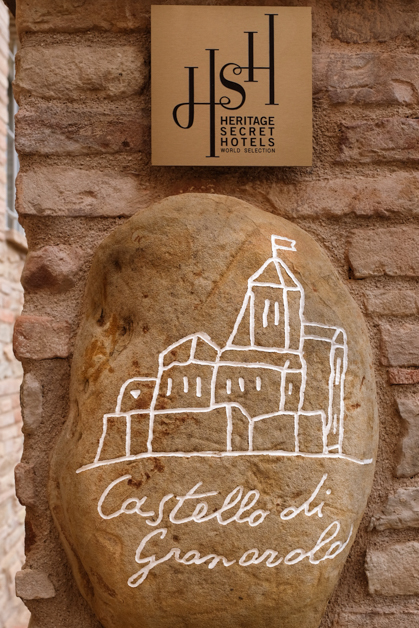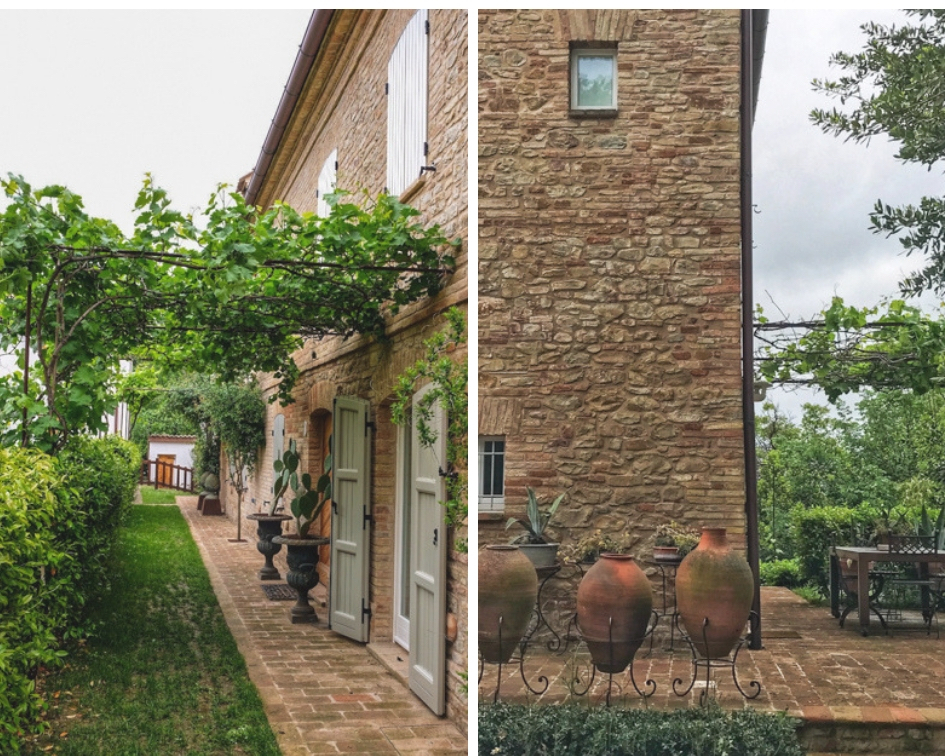 This journey was extra special to me because I enjoyed and shared this wonderful experience with my daughter. We both share the same love and passion for food, the preparation, the presentation, the best bite, the amazing sound of mmmm.. From a very young age, she was playing the role of "sou chef" with great responsibility and inspiration, in our kitchen. Together we would cook and decorate our feast tables. The moments we have spent together cooking are the most wonderful and warm, full of flavors, dough, mess in the kitchen and a lot of laughter. Until today we still continue sharing our daily inspirations in cooking, new recipes, ingredients and of course exchanging beautiful pictures of our daily meals. I couldn't have wished for a better partner for this new food adventure!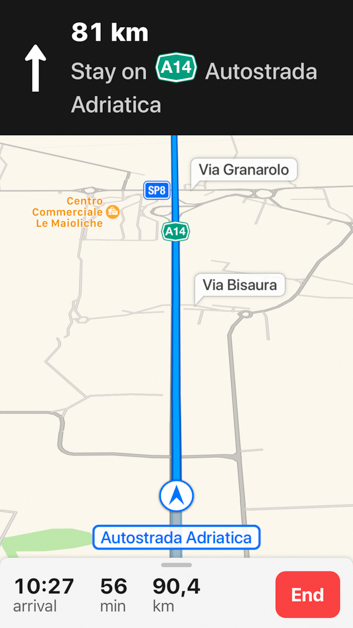 Even though it was a very tiring day with almost no sleep, with a very early flight, we were so excited that we both didn't realize how quickly we found ourselves in Auto Strada Bologna – Gradara. Our drive felt like a piece of cake and we were not at all disappointed even when we accidentally took the wrong exit! We continued in a crazy mood, laughing, listening and singing Italian tunes. We were crossing Emilia Romagna driving to Gradara and to Castello di Granarola!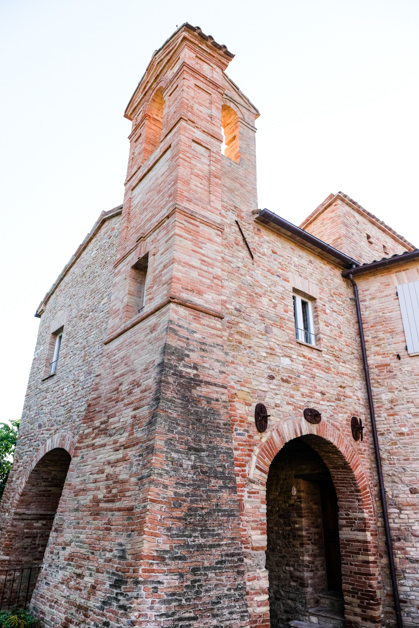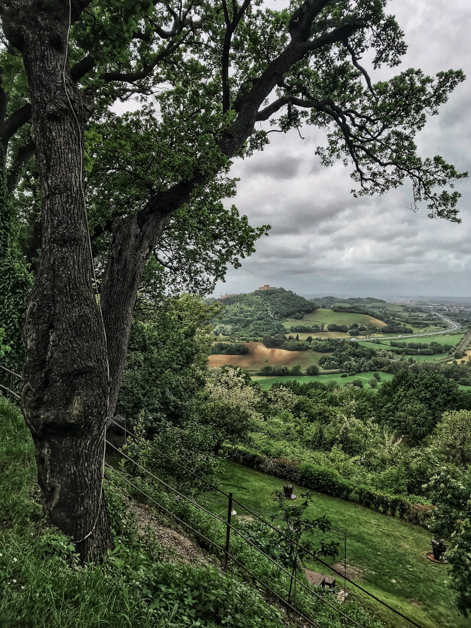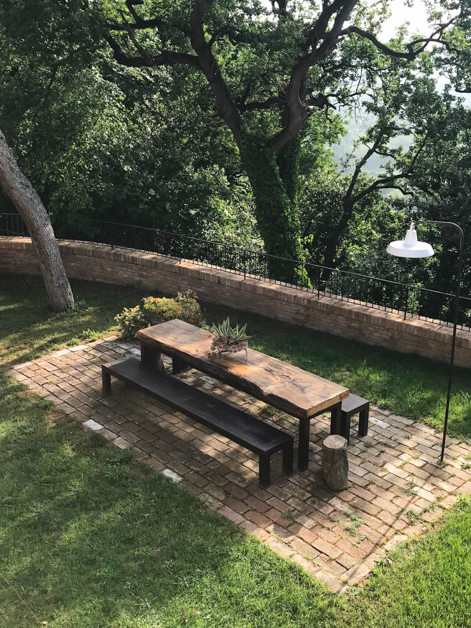 As we were approaching our destination we were fascinated by the beauty of the landscape and the nature around! A narrow uphill road led us through a vast, thick, green forest with exquisite mansions on the side. And there it was, Castello di Granarola was nestled on the top of the hill. A 12th century building was remodeled remarkably and transformed into a magnificent hotel with all the modern comforts. The atmosphere of the old together with all the comforts of the new in an incredible nature, a breathtaking view… Just magical!
"My midnight delirium" at the end of our first day...
It was a long day, huge I would say. It was one of those days that you feel three full days fit in one!! So many hours with no sleep. Under different circumstances I would, with no doubt, take an afternoon nap to recharge my batteries, but there were so many challenges out there that I felt the need not to miss anything. I felt overwhelmed by trying to keep everything in my mind. As many "great expectations" as I had from the beginning, reality was just incomparable. It does not happen often, I would say, rarely. Usually, our imagination is richer than reality, but no, Gradara does not belong in this category. Gradara was "the experience"!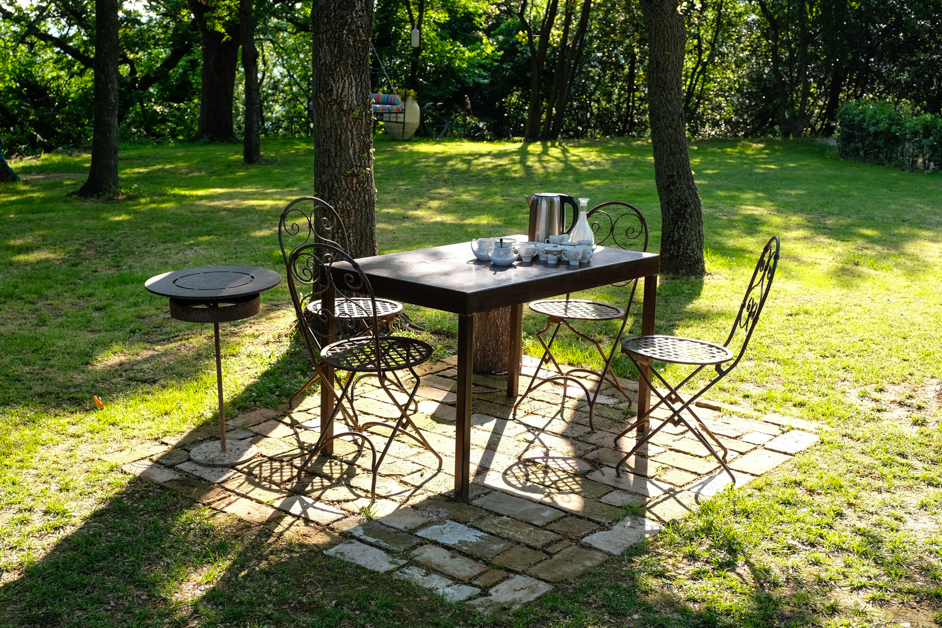 I'm trying to find words that will describe my feelings from this "huge" day and I'm left speechless. As I am writing these lines it is 11:00 pm and we just entered our rooms. I can hardly keep my eyes open, sitting on my bed, with a notebook in my hands trying to keep my thoughts in order, even though they are scattered all over uncontrollably. I can't sleep without putting them down because tomorrow they might be replaced by new ones, new images, new experiences, and they may be stronger!
Our meeting was set early in the afternoon. With a magical synchronization, the participants were arriving one after the other. We introduced each other quickly over a glass of wine with happy faces and the excitement of meeting new friends and the adventure that was waiting for us. Food Photography and Food Styling! Before we realized we had become a team with the presence of Eva and Valentina constantly around us. The afternoon lunch was ready!! It was prepared by Valentina's mother, as most of our meals.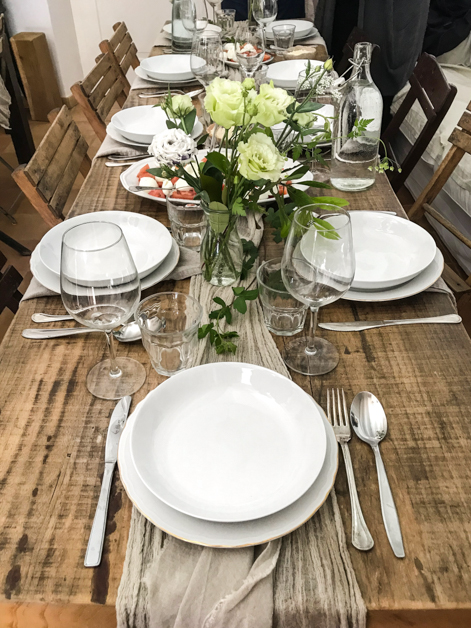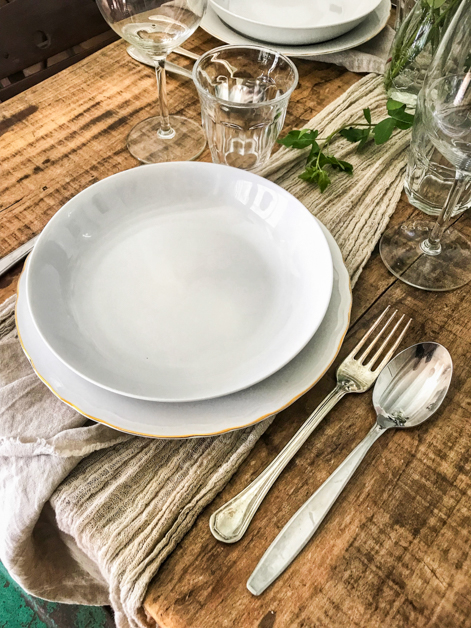 The recipes were simple, local everyday family meals in Emilia Romagna even though we felt we were tasting recipes from a gourmet restaurant! We adored this amazing lady and her delicious cooking. Luckily I found all these recipes (that I thought were top secrets) in Valentina's latest book "Naturally Vegetarian" which includes recipes and stories from her Italian family farm. A short break after lunch, enough to take our cameras, and our journey was about to begin. According to all the meteorology reports we were expecting rains and storms and Emilia Romagna would drown in floods of water! Instead, we were blessed with the brightest sunshine that "made our day"! Giving us an incredible day as if it was meant to happen, just for us. So we took the advantage and didn't miss a moment. An incredible scenery setting with great props, homemade cakes, fruits, flowers, fabric while the afternoon "golden light" was just the icing on the cake! Tireless and patient, Eva and Valentina were by our side, ready to share with us as much as they could. We only stopped when the light was gone and dinner was about to begin. That's when I saw an old friend, Saghar. Saghar Setareh is an Iranian astonishing photographer, food stylist and food blogger (labnoon). I had previously met her in Athens, during The Athens Gathering. She had come to help with the workshop. It was a pleasure seeing her again!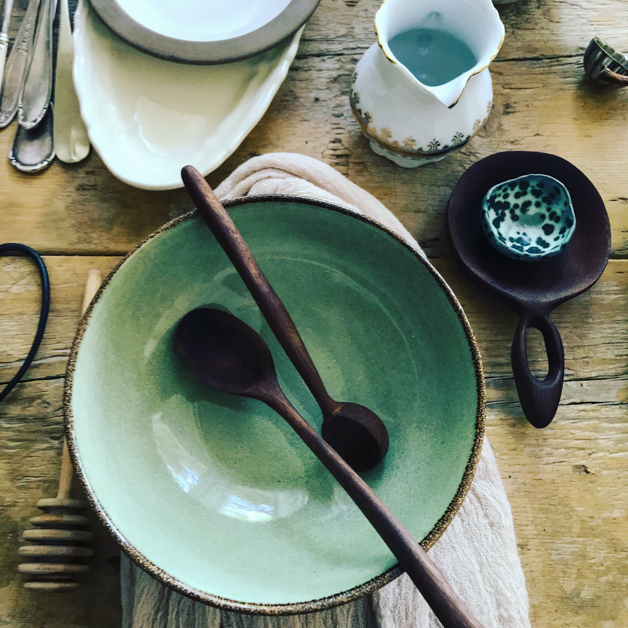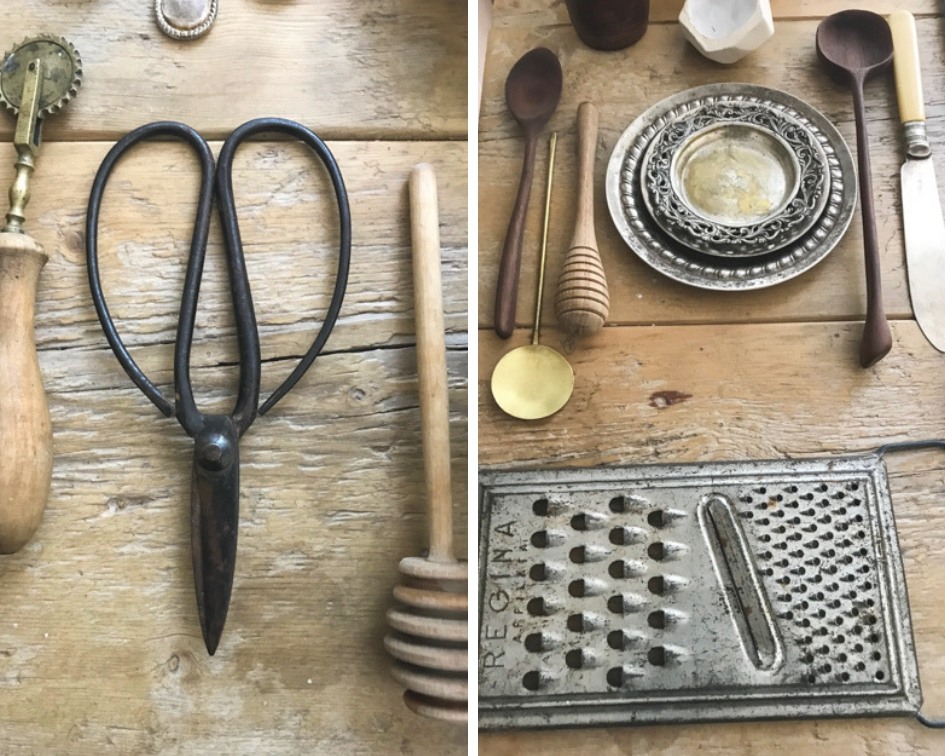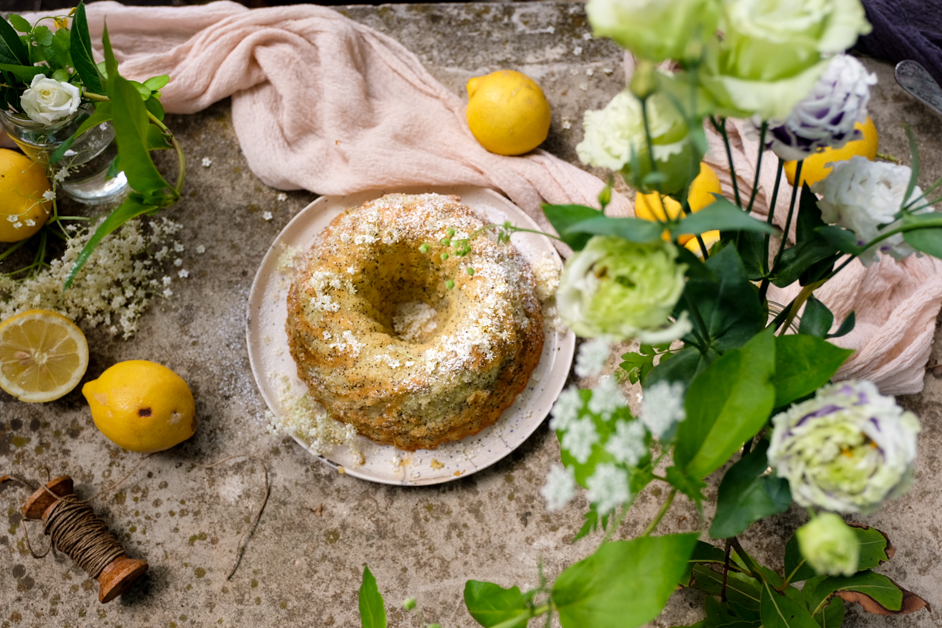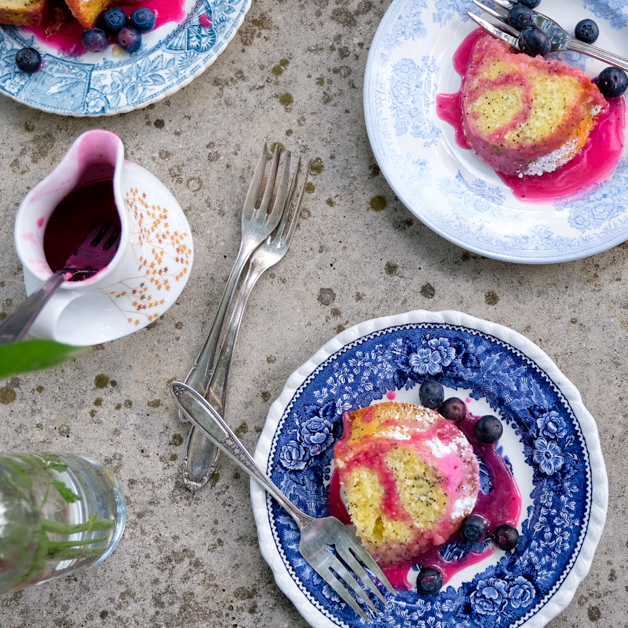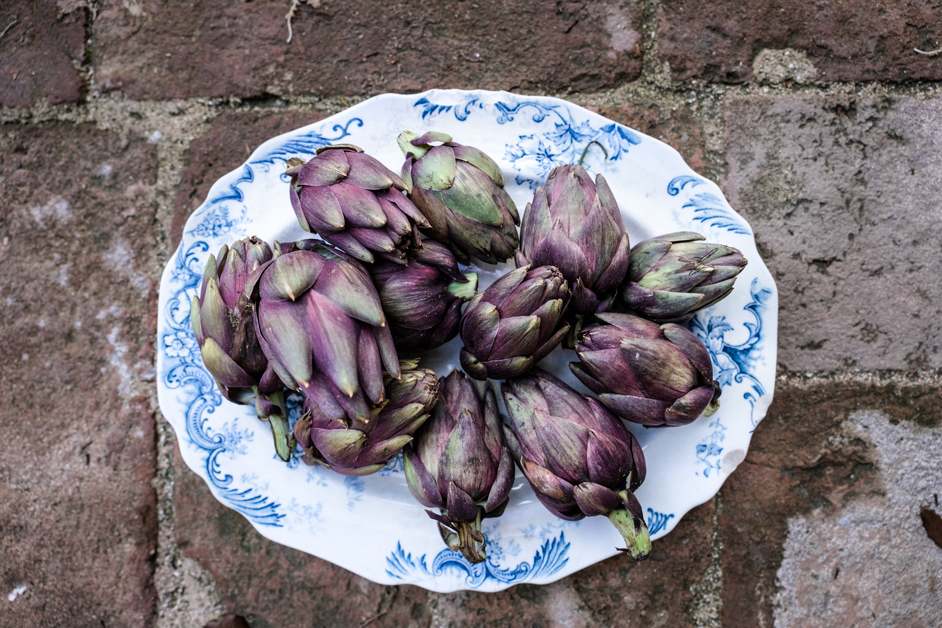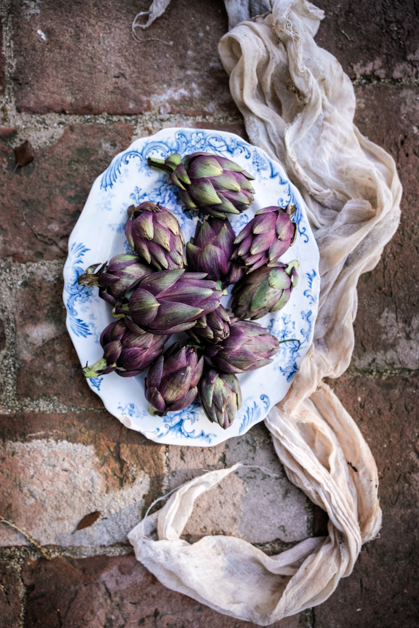 After a very short break, we were back in the garden looking for our dinner table. As we couldn't see anything we asked and were told to follow a hidden path through the forest, something that we hadn't noticed before. And there it was, a "new secret garden" in front of us with the most beautiful table setting!! Further away there was a wood burning stove for pizza with an professional chef making "pizza dough"! Our "pizza night" was about to begin! All this with an incredible sunset, in the middle of the forest and the most beautiful view of the Adriatic Sea! A fairy tale scenery! Drinking a wonderful, local Trebiano, I think that I tasted the best pizza of my life and it wasn't only one slice!" Somehow, as if I was confessing my biggest truth, I must have fallen asleep, at last!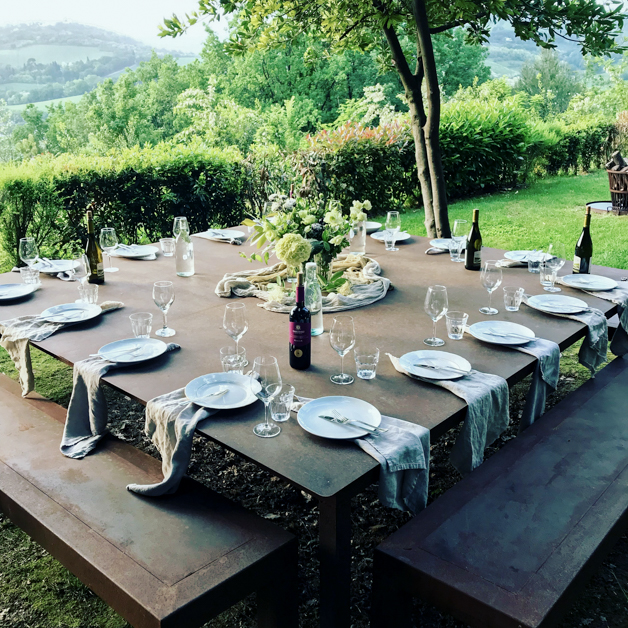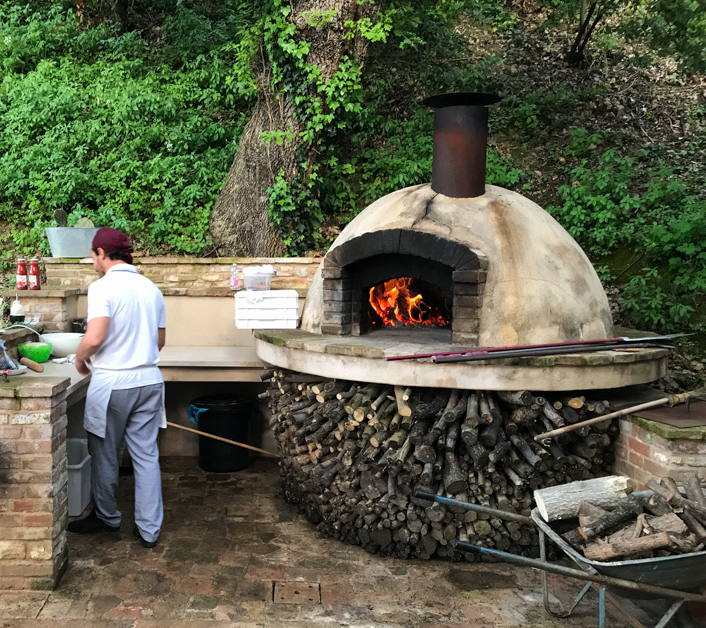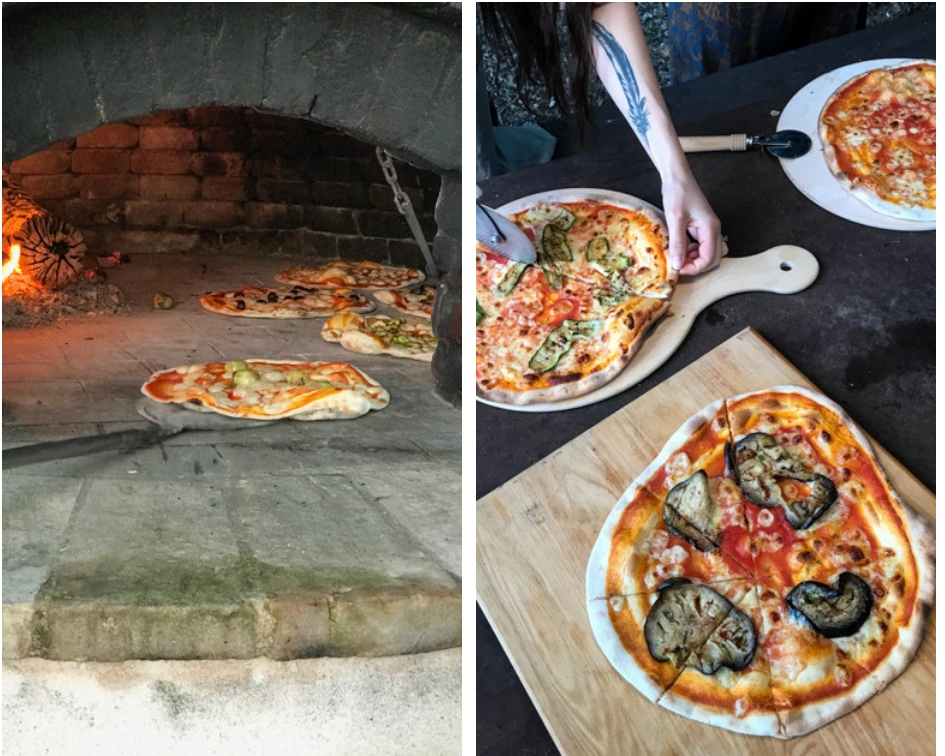 New born today! That is how I feel after a good night's sleep. Opening the shutters of my room eager to see the weather, I was thrilled. Nature was shining in front of my eyes with the most beautiful morning sunlight. I felt so blessed!! I was admiring the architecture of the glorious "Castello di Granarola" nestled on the top of the hill. Restored with absolute respect to the history, the environment and the aesthetic of the local traditional architecture. The area is well known for its medieval castles. This one was hidden below a huge umbrella of plane and scented laurel trees. The castle was located there in order to have the best view of the Adriatic Sea and to be bathed in the magnificent sunlight of Emilia Romagna. Everywhere around the garden, heavy metal tables were placed in the color of rust, as if they were there since ever. Totally harmonized, as if they were sprouted on their own without any human interference. A scenery absolutely relaxing and serene. I catch myself thinking that I would definitely want to come back here one day! My daydreaming suddenly stops as I realize that it's breakfast time according to the indicates of my stomach. We encounter a beautiful breakfast table laid out in the garden, next to the pool. Full of local goodies, cheese, homemade tarts, cakes and delicious cold cuts! Of course first we capture… and then we eat! "First we eat " is the title of Eva's wonderful, new cook book!!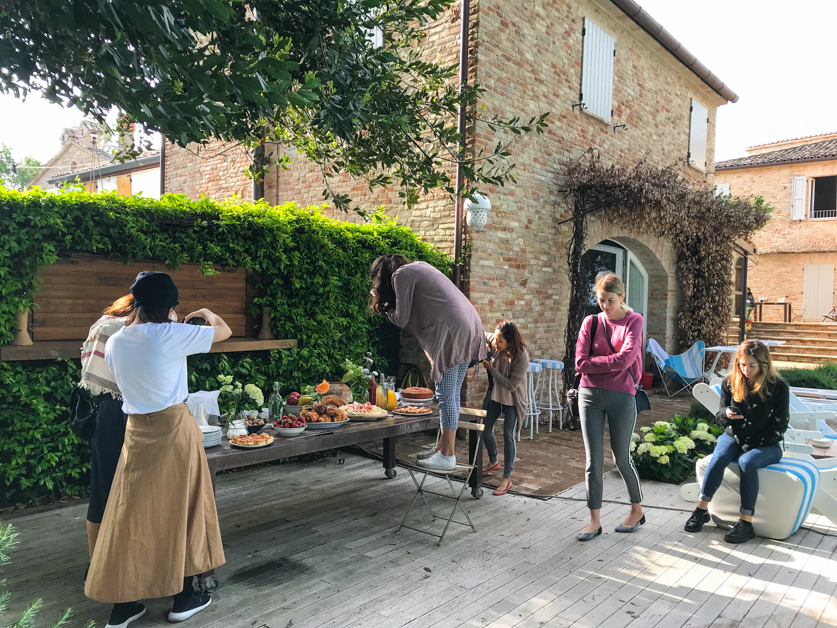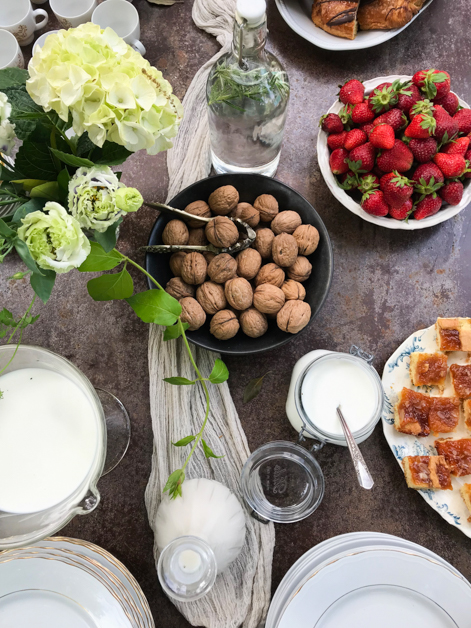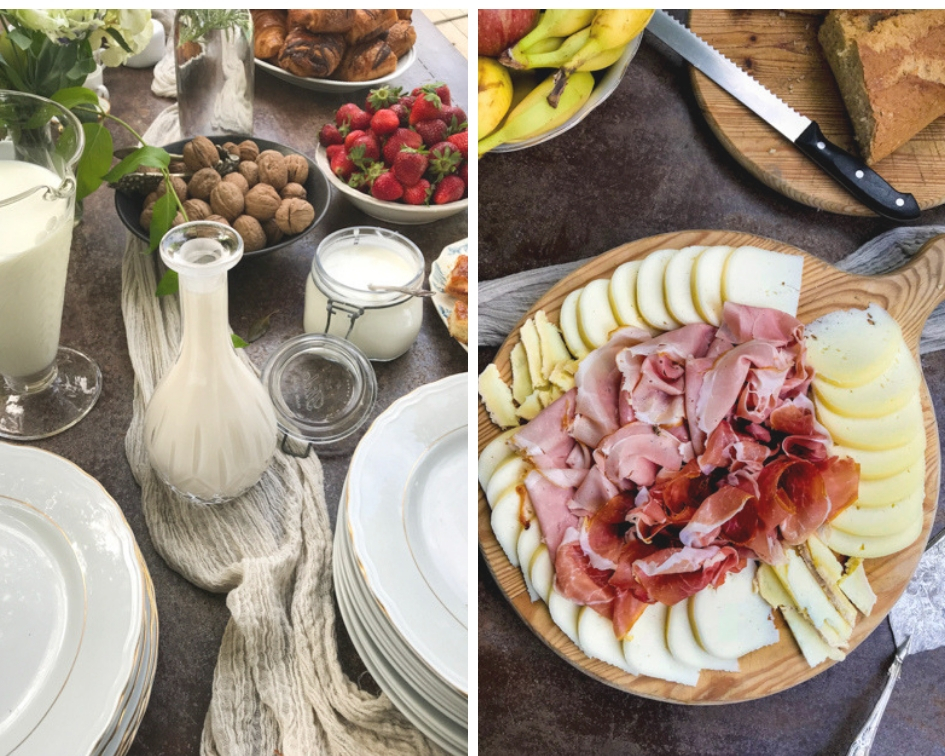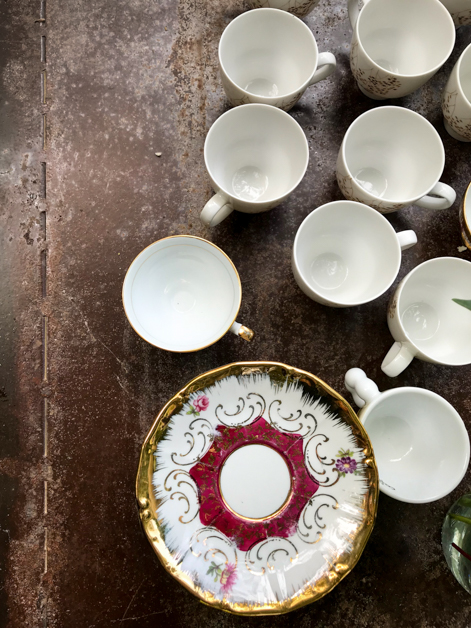 According to our schedule, the time for our class was approaching. The scenery was set in the library. Shooting, capturing and styling. We gathered around an old rusty table for our class, to continue taking pictures of the amazing settings that Eva and Valentina had prepared for us. Cakes, fruits, flowers, textiles, greens and great props were laid on the old beautiful table. I couldn't believe how fast the time was going by.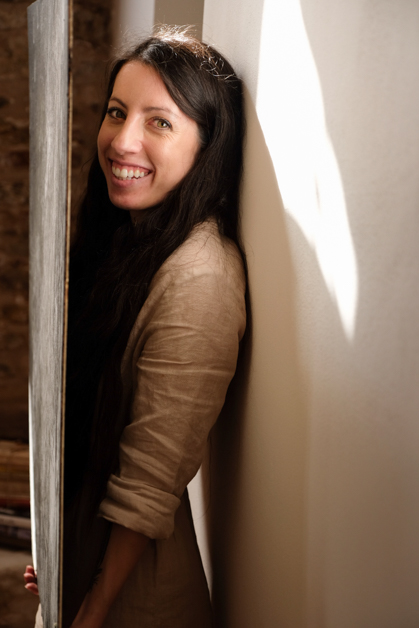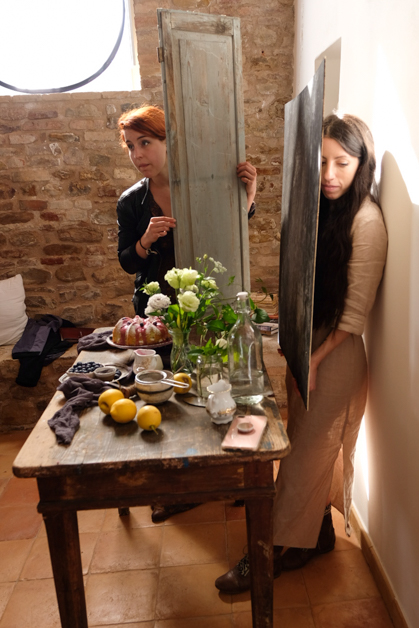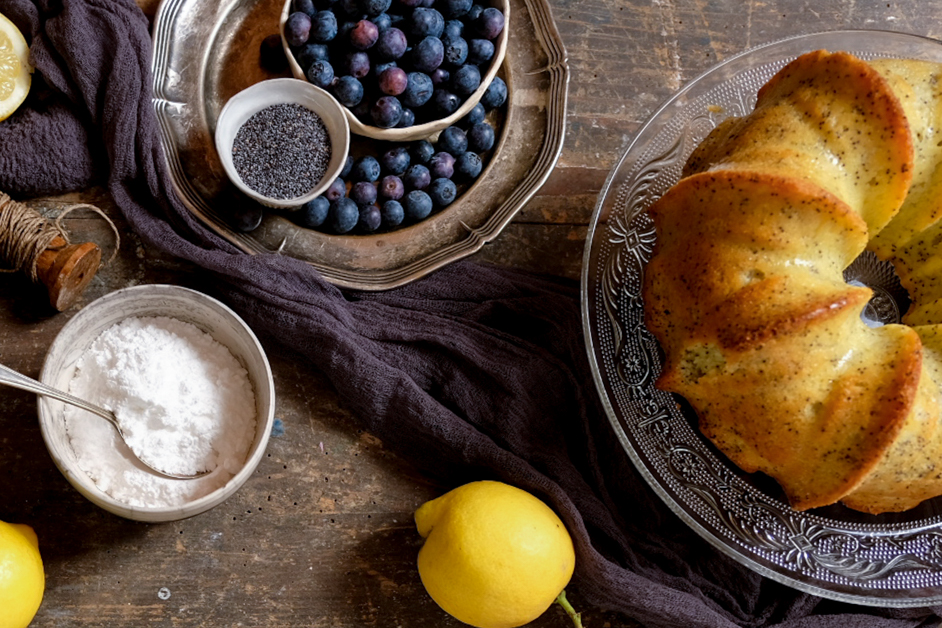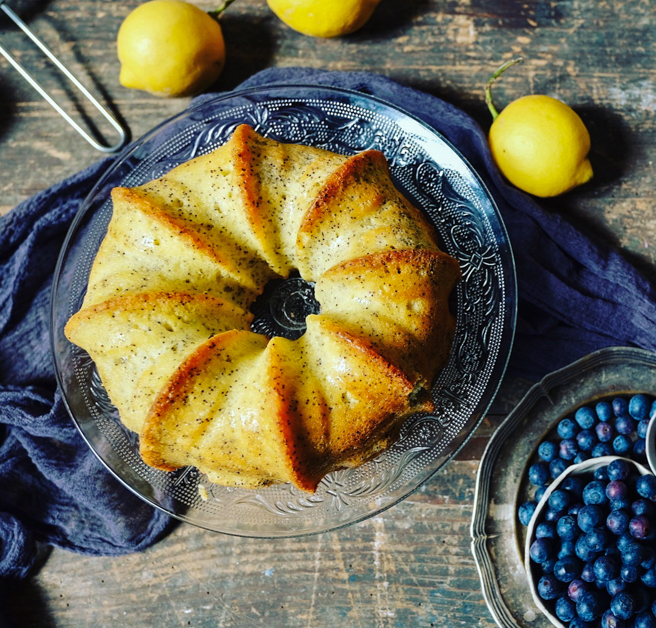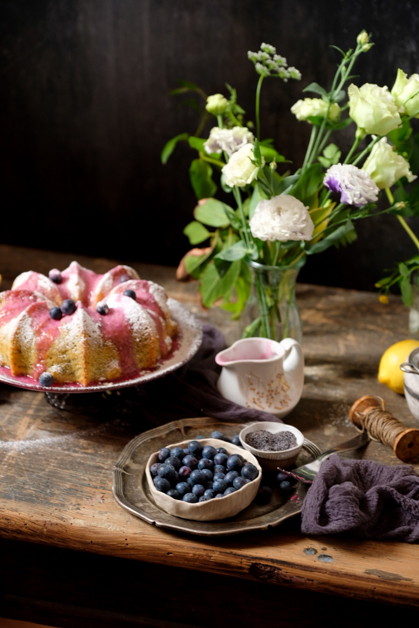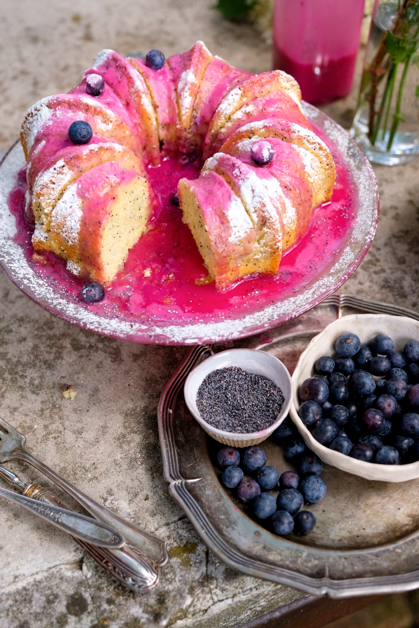 Soon after, we were led to the garden again. Another concept in another corner. "Tiramisu Styling" this time. Bowls and glasses filled with the famous dessert were offered and it was up to us to make the styling and the compositions ourselves, using different props and corners.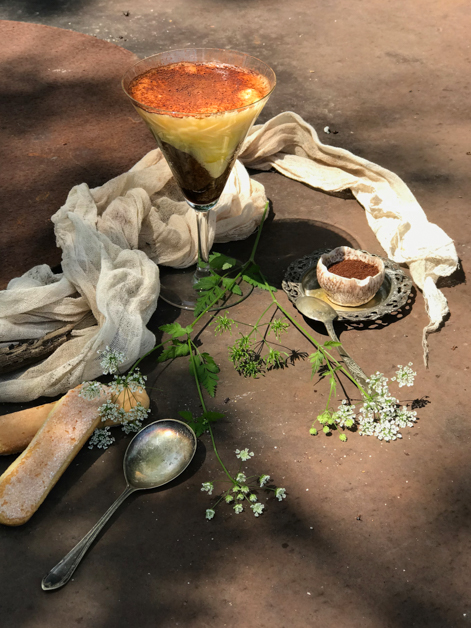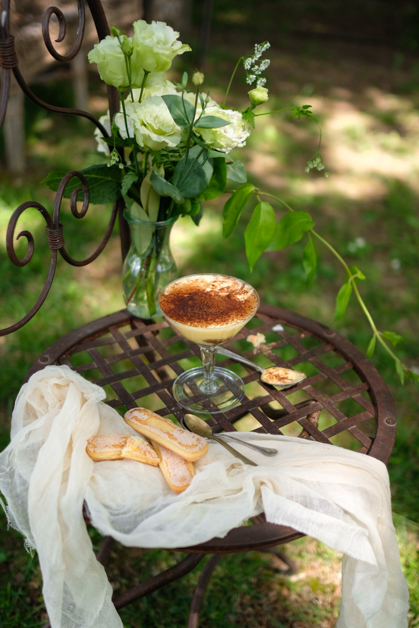 My decision to skip lunch was an absolute failure. The most delicious plate appeared in front of me and overturned it all. Lasagna with artichokes and asparagus!! OMG! It became one of my favorite dishes and I realized it wasn't only mine, judging by the sounds of mmmmm around the table. To my relief, the recipe is included in Valentina's book, "Naturally Vegetarian".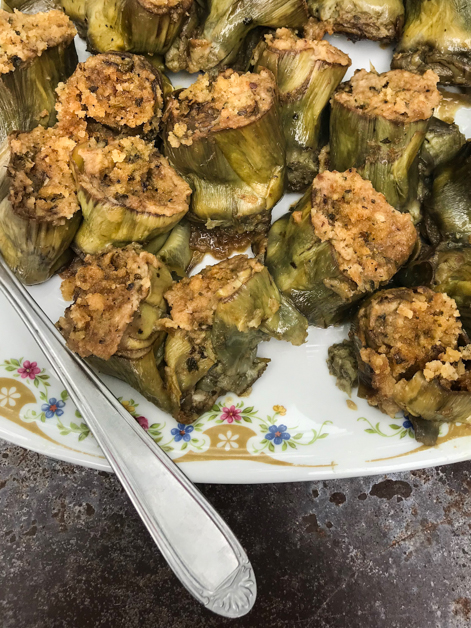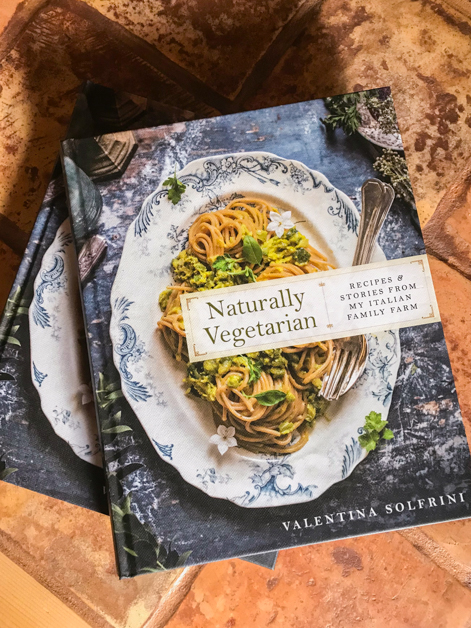 We only had time for a short visit to our rooms. I am trying to organize my photos and notes since they are plenty. Soon we are off again on an afternoon session and wine tasting for a label that is making its first appearance in a few days. A foamy prosecco, from the local Trebiano variety, hoping to become the prosecco of Emilia Romagna!! "Noeve Bole", meaning nine bubbles! The idea belongs to the local producers, who had seen their crop from their famous variety being constantly exported. We are one of the first to savor this beautiful wine, we felt so privileged. Good luck Noeve Bole!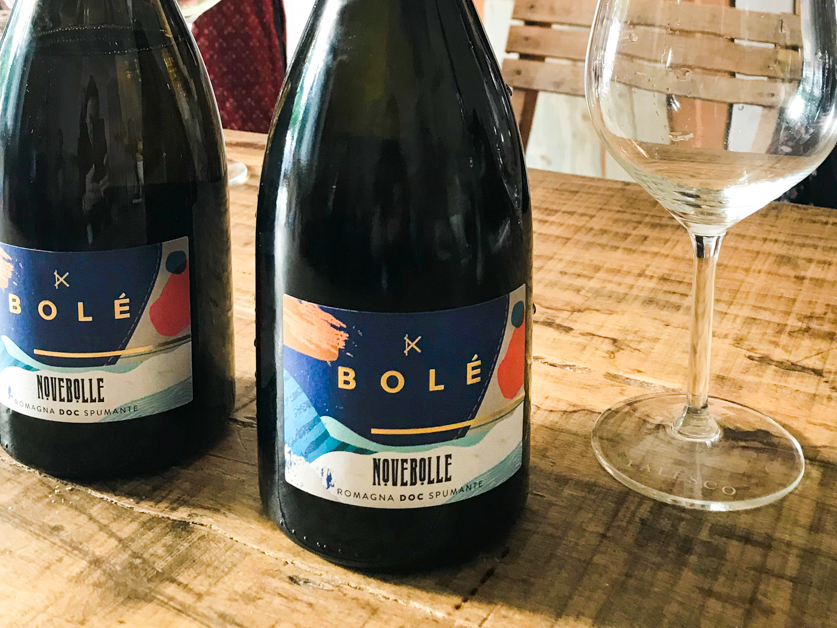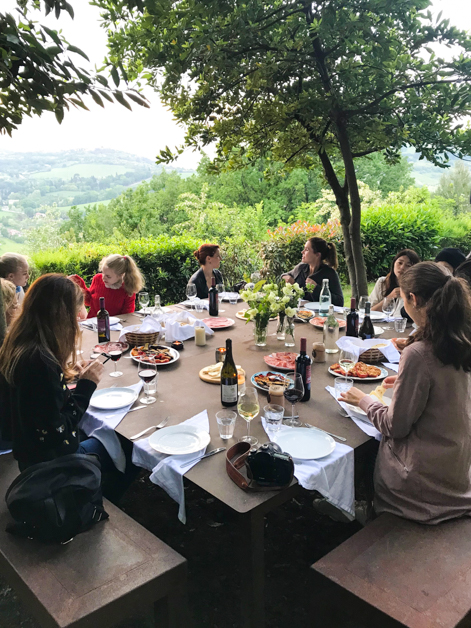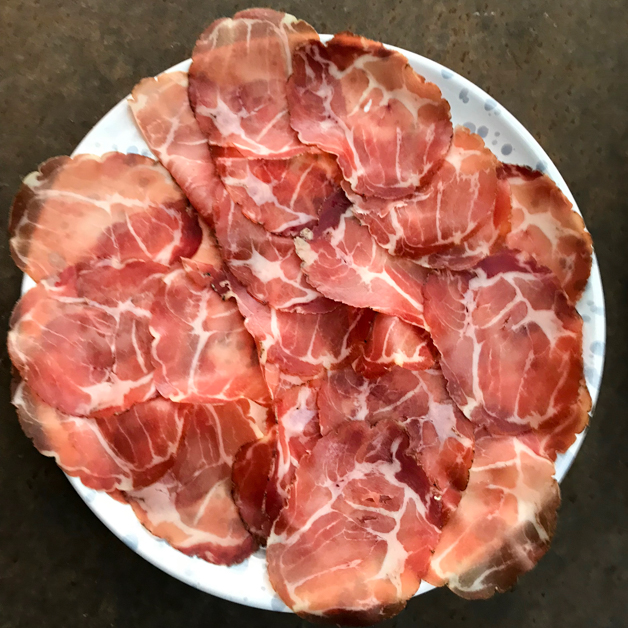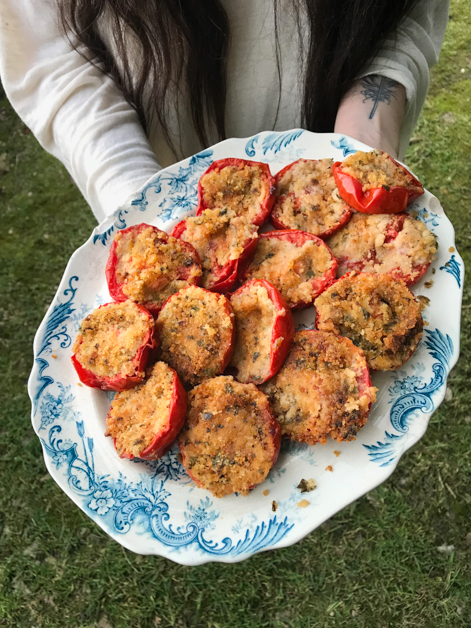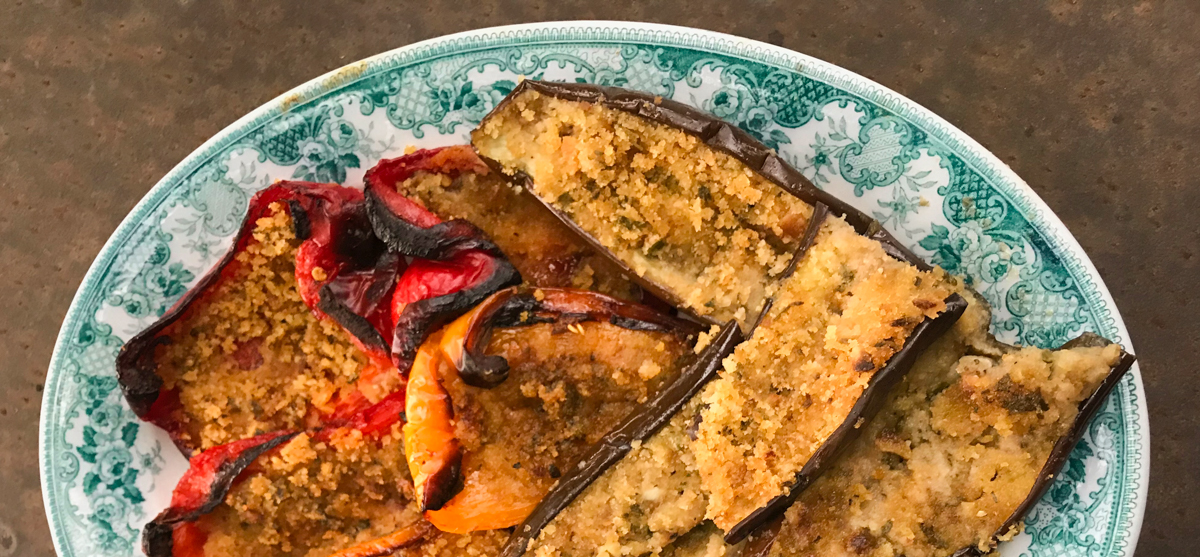 And that is how our second evening started, with Noeve Bole, a beautifully decorated table in the secret garden, with local goodies, this time. Deliciously cooked vegetables, cheese, cold cuts….piadino (small sizes pitas, which I adore) but also with great company that started bonding more and more between posts, Instagram and shootings. And all this while listening to a live band playing the most beautiful Italian songs and while the sun was setting into the Adriatic!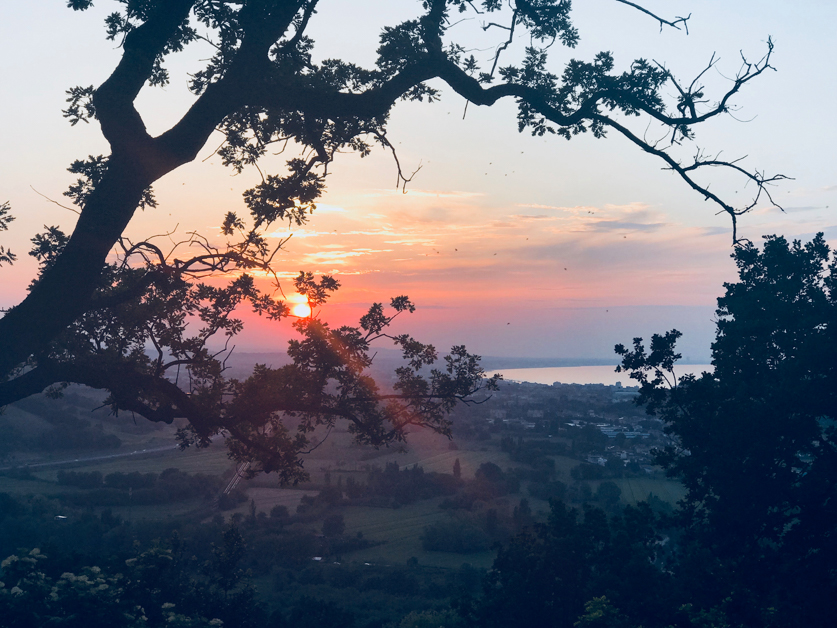 Our third and last day is Sunday. Time flies. Somehow I feel that we live in our own little green food world. After another delicious breakfast our class begins. For more than three hours we sat around the large table in the library and discussed all our questions concerning media. The experience and knowledge that Eva and Valentina shared with us was definitely useful.
Lunch time already. Whatever was served at this beautifully set table, was something I couldn't resist to. I think I could stay there and eat forever! It was probably wise that the workshop lasted only 3 days… Another generous Mediterranean meal came from Master Chef Mom Solfrini!! Homemade pasta with asparagus sauce and salciccia sausage, tomato bruschetes and buratta… The flavors were irresistible!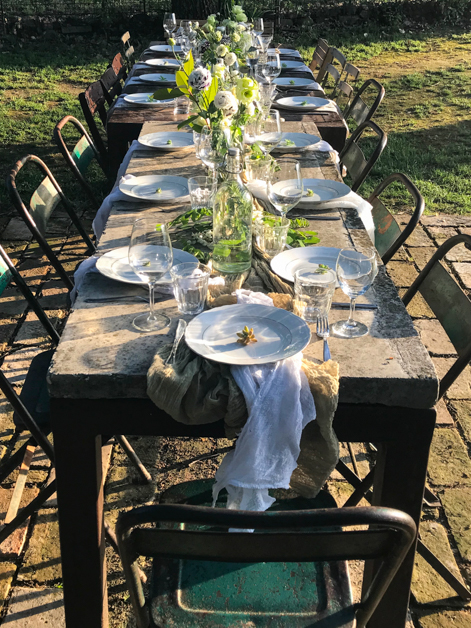 Finally the time has come, we were ready for our first outing since our arrival. We had planned to visit Roco di Gradara, the famous castle of the area. The impressive medieval castle hides a classic tragedy!! As always, two families, two enemies. Two young people being sacrificed, a crazy love, both dead!! Does it sound familiar? Of course it does. Only the names change. One of the finest, biggest and the best restored castles I have visited, with such a great history.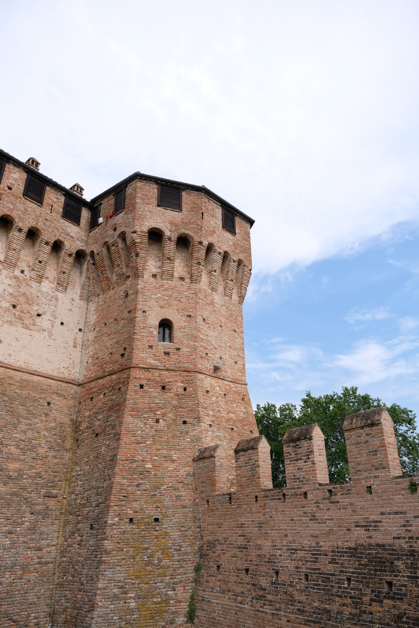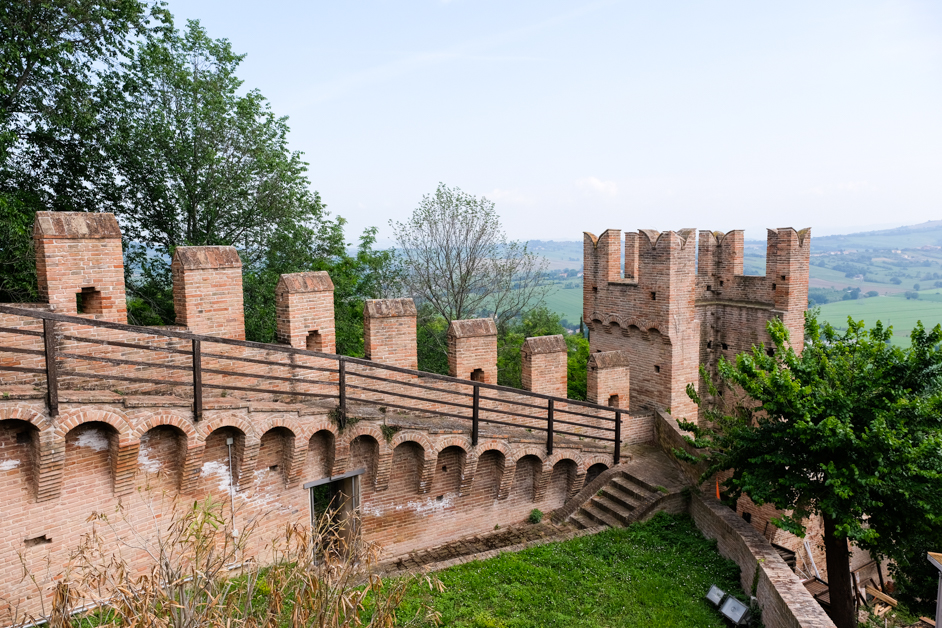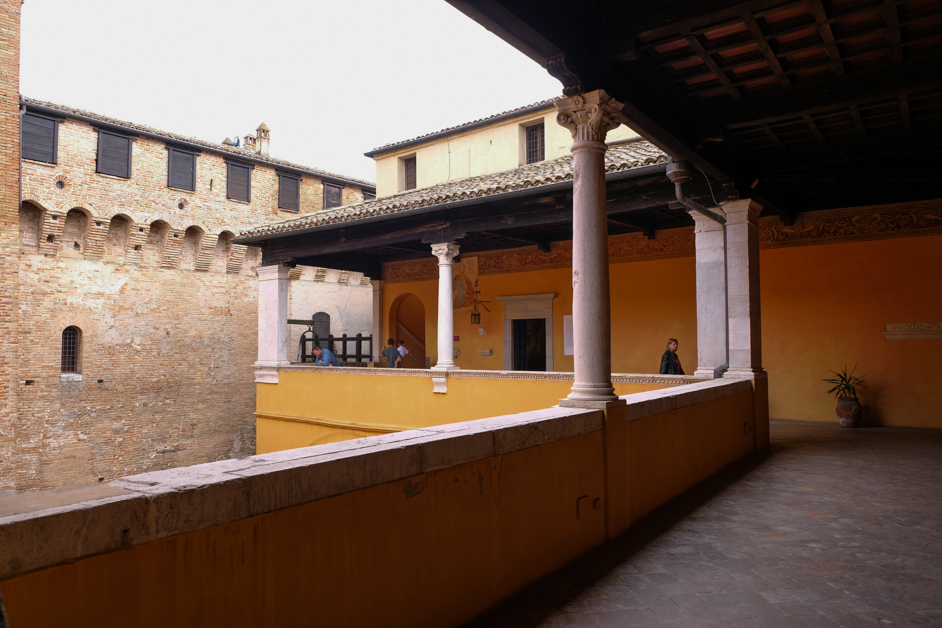 Surrounded by magnificent small shops with local products, trattorias nestled inside the impressive walls. It was so picturesque and full of life. And of course, we ended up in a small local restaurant for the traditional wine tasting. We barely made it back with just enough time to change; our big and last gala dinner was about to begin.
While I'm trying to take advantage of the gorgeous golden hour and picture as much as I can with my camera, preparations for our big night are going strong! The decoration was so impressive with flowers everywhere, linen and gauze fabrics, candles and beautiful porcelains… Let's not forget that food styling is one of the main themes of this workshop.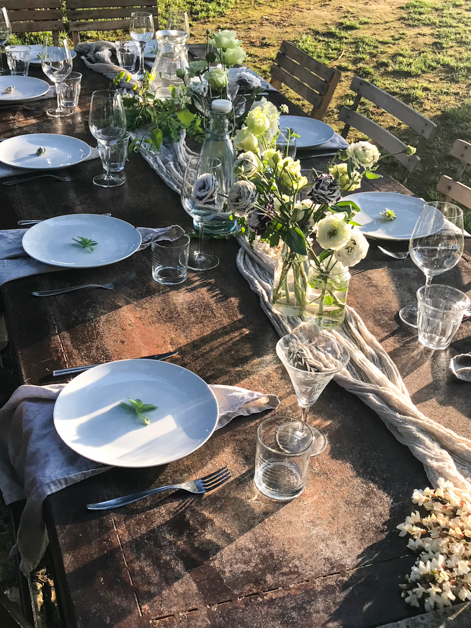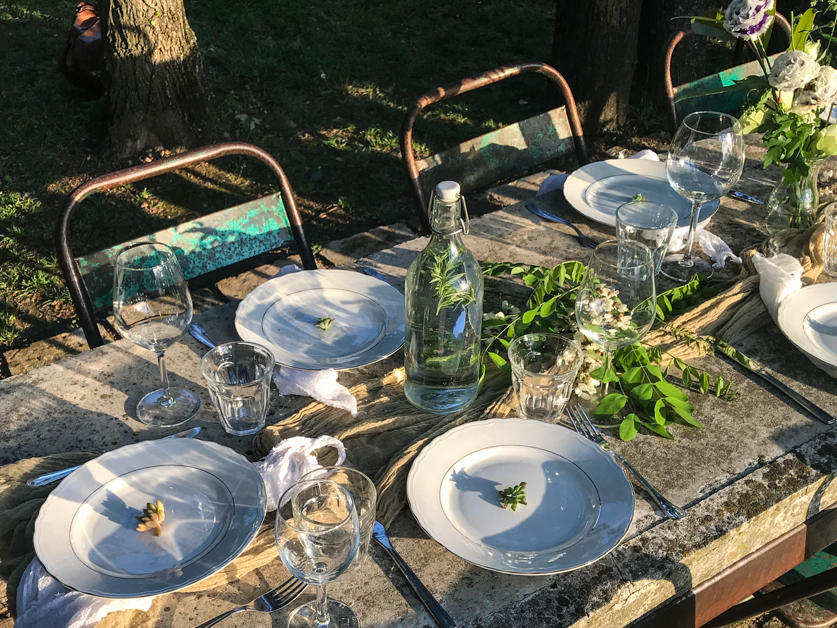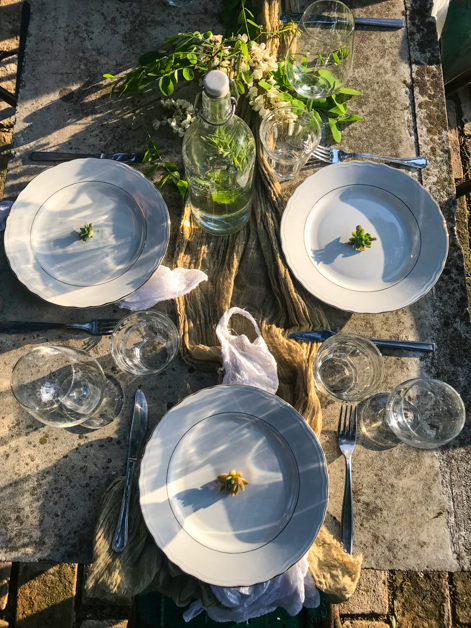 We all run to help. In the meantime platters with the most amazing food started coming. Endless, incredible dishes… Flavors that I will never forget. I must confess I adore Italian cuisine, I dare to say it's my favorite and I think that after this trip I will be even more inspired to create Italian meals.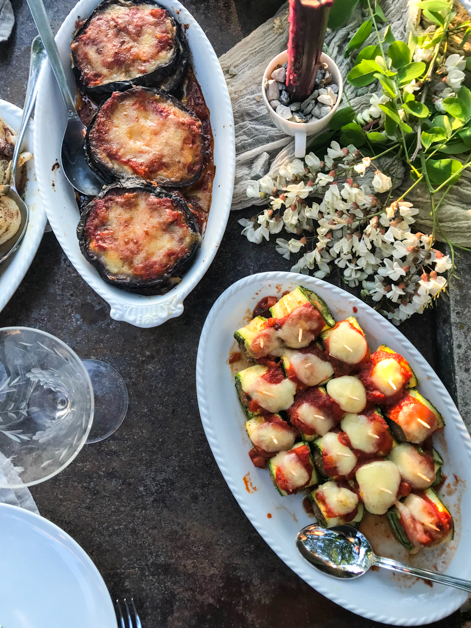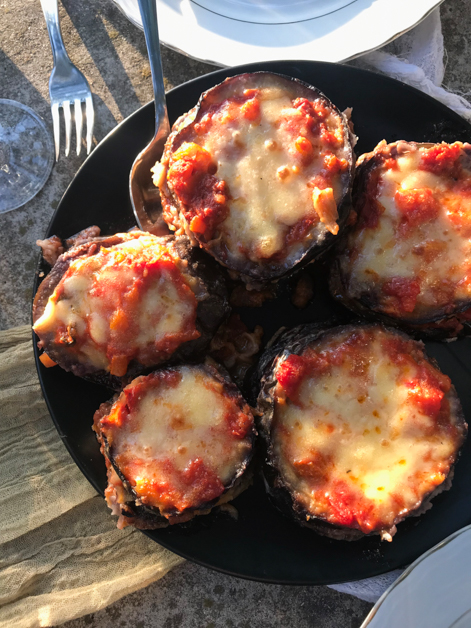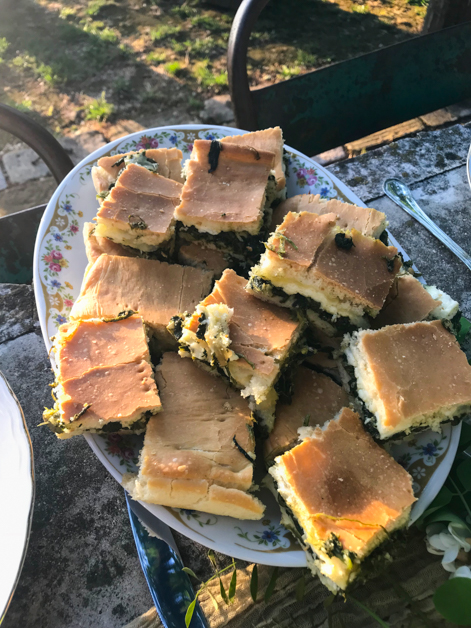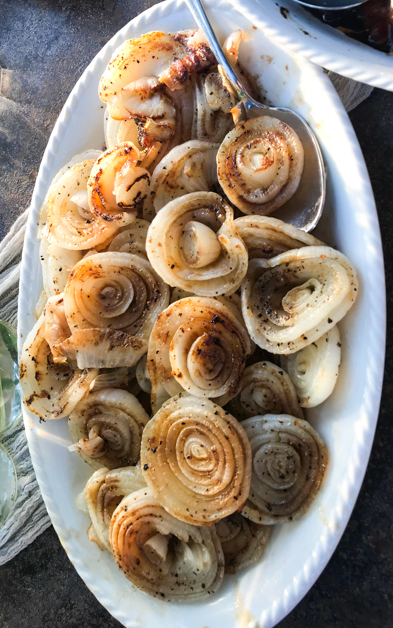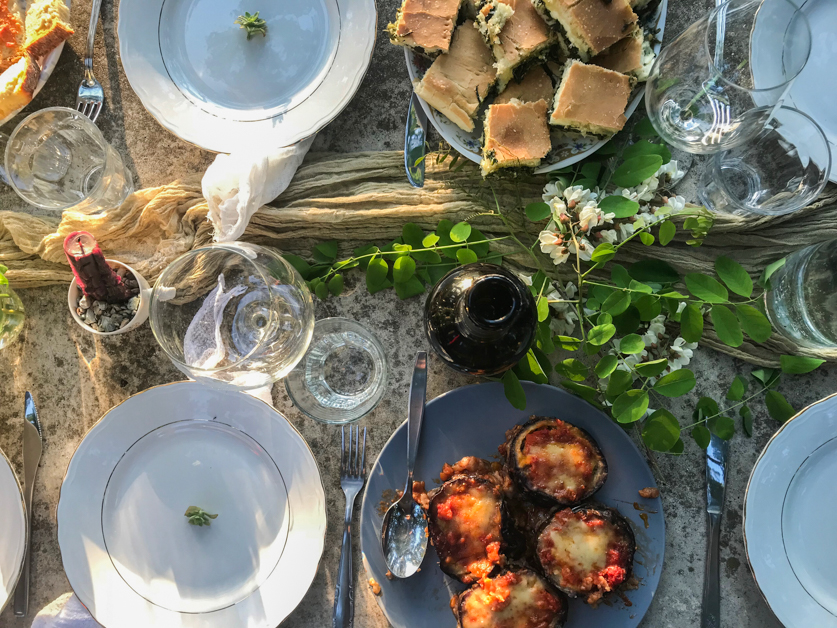 The people around the table made this evening even more special. After three beautiful days we came a lot closer to each other, we became a great company. Sitting around the table, sharing our stories, our plans and our addresses. Relaxed chats, laughs, and cheering with glasses full of wine. Such a warm and cozy atmosphere. Something between happiness and a bitter feeling for something so beautiful that is coming to an end.
I cherish the unique moments that I shared with my new friends, the knowledge that I gained, the magical scenery in Gradara, the unforgettable plates from Mama Solfrini. As for Eva and Valentina, a tremendous thank you girls for the warmest and the most wonderful hospitality!!! I hold on to these beautiful memories with a wish that I will see you both soon on a new food adventure!