Grilled aubergine with garlic and thyme
November 13th 2020
Aubergines love a bit of garlic, extra virgin olive oil and a good herb seasoning.
I usually find it really easy to write a post for the blog. Ever since I was a kid, I loved writing, so it always felt so natural to write down my thoughts and feelings, all that's happening around me, all the things that cheer me up or bring me down. It was never forced, on the contrary, it was my favourite and most liberating habit, just a piece of paper and the most honest, raw version of myself.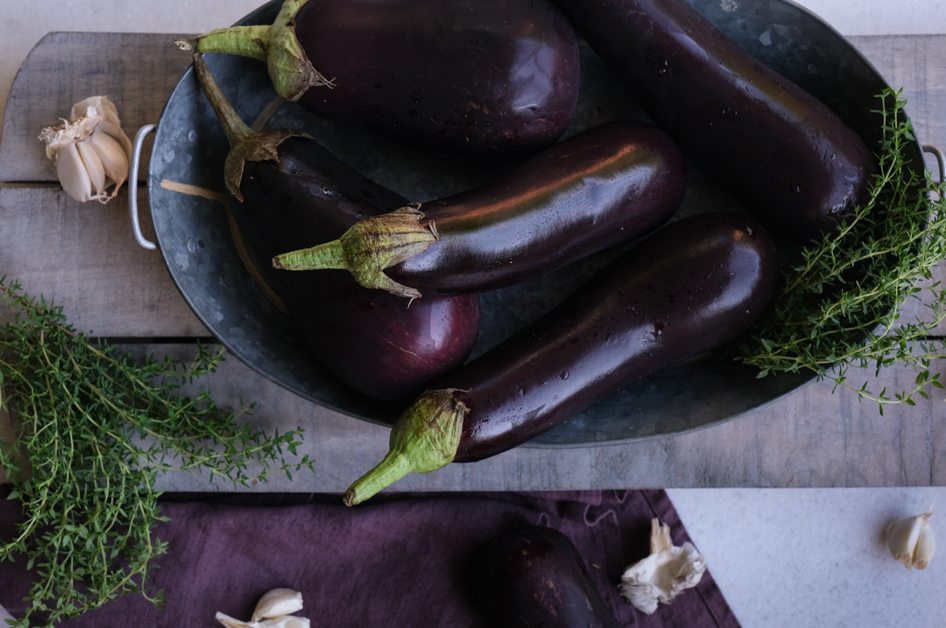 As the years went by and my life started changing and becoming more and more hectic, this habit of mine had to be paused for a while. Perhaps I didn't need it that much at the time or maybe other things had to be prioritized. Our fast-paced lives sometimes leave no room for certain needs that are suddenly seen as a luxury. Circumstances changed yet again and this old habit of mine came back, this time more imperative than ever. So here I am, with my notebook and pencil in hand, in an effort to release and decompress. Perhaps seeing my thoughts on paper could help me look at things from a distance, from a different perspective.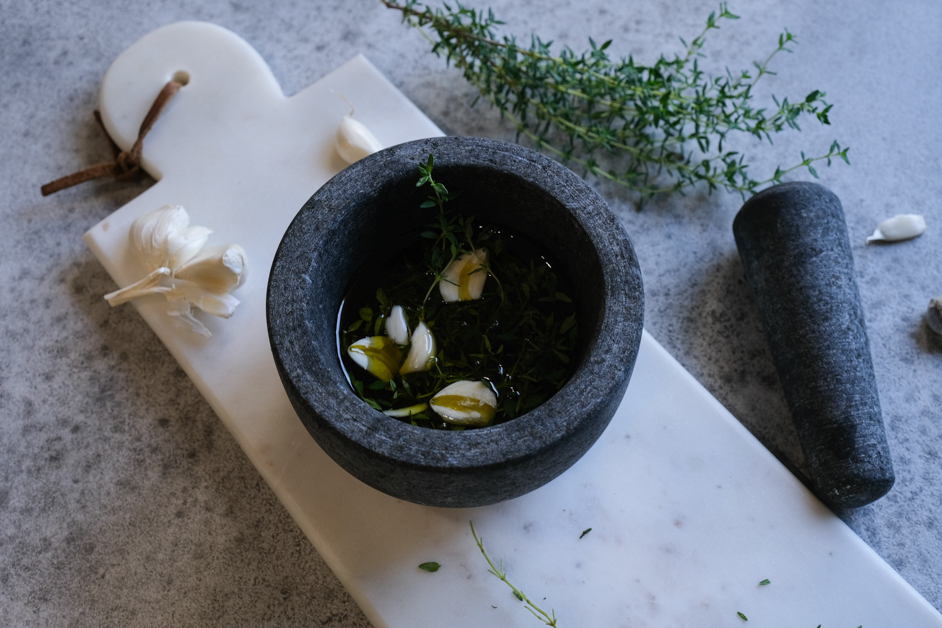 These are definitely strange times we're living in –it's the first week of second lockdown- and it certainly feels like being on an emotional roller coaster. I know I'm not alone in this. Everyone around me, my friends and family, they all feel numb. I guess we were used to being aware and in control of every little detail in our lives, so feeling uncertain and not knowing what to expect, how long this will last or how it will end, is absolutely terrifying. Half of humanity is now on lockdown. Only 6 approved reasons to leave home and only after sending the required text message to obtain permission. This is a horror film, and definitely not the kind I enjoy watching.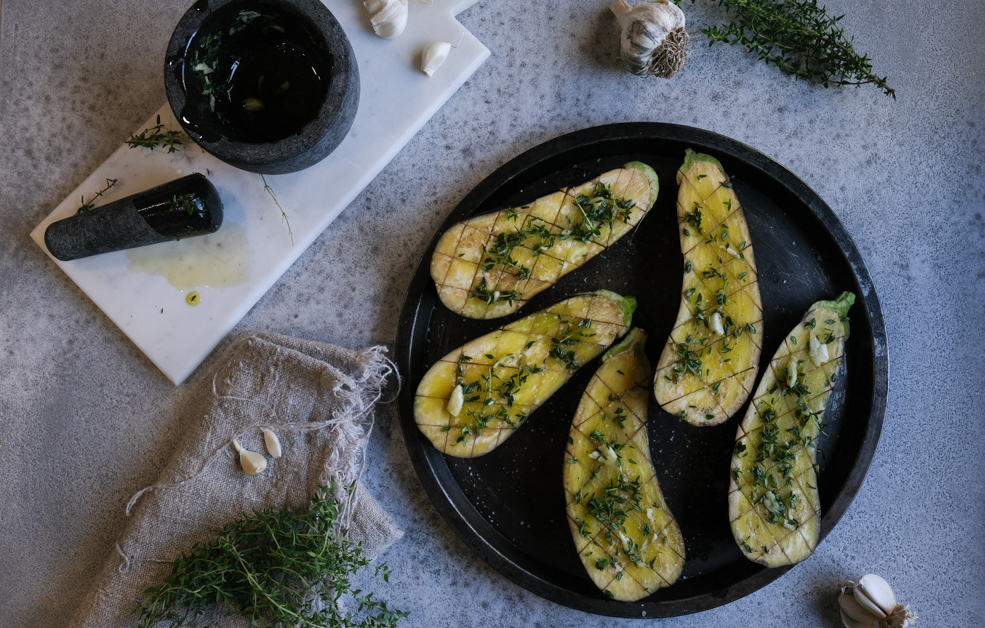 On days like this, when I'm having a hard time coping with this uncertainty and stress, there's only one thing that can help compose myself and unwind; and that's always cooking. Being in the kitchen, cooking, taking pictures of beautifully decorated dishes is all I need to breathe easy again.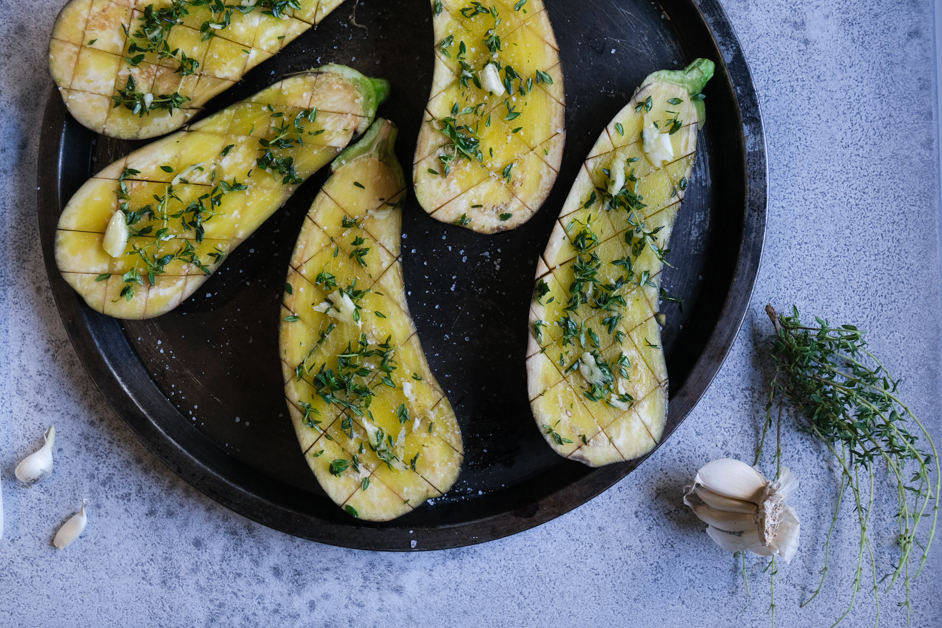 This time, my kitchen therapy session is all about aubergines and the recipe is as simple as it gets. Aubergines are among the most adored and used vegetables in my kitchen and although we're deep into autumn now, some of them are still going well and are incredibly tasty, like the ones in my refrigerator.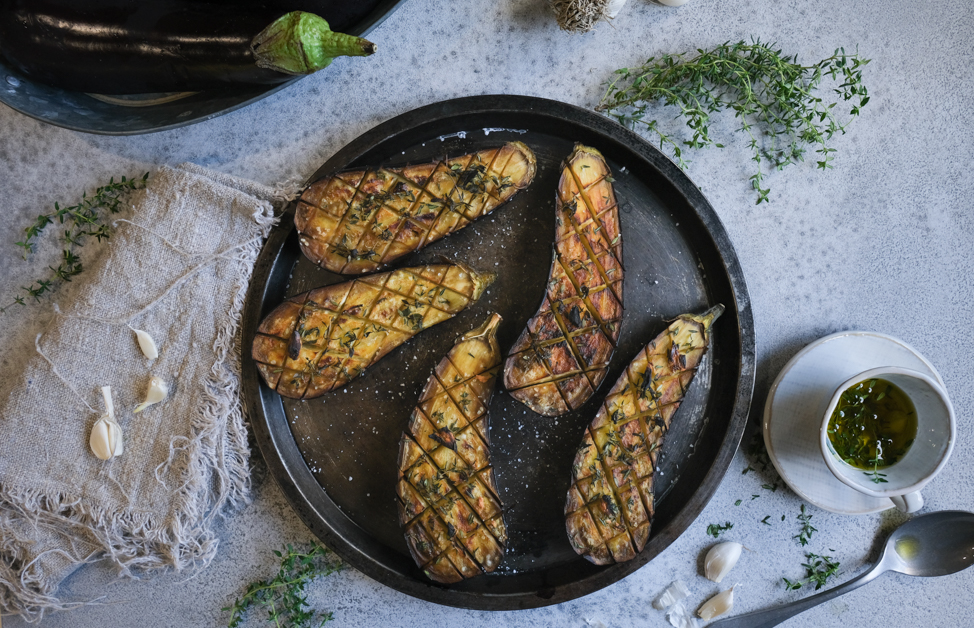 What I love the most about aubergines is how easily they can be used in so many different ways and recipes. They can elevate a humble but delicious dish or be the ultimate star of a more gourmet-like recipe. From a simple but incredibly flavourful aubergine spread to aubergine and mozzarella lasagna, the list goes on and on..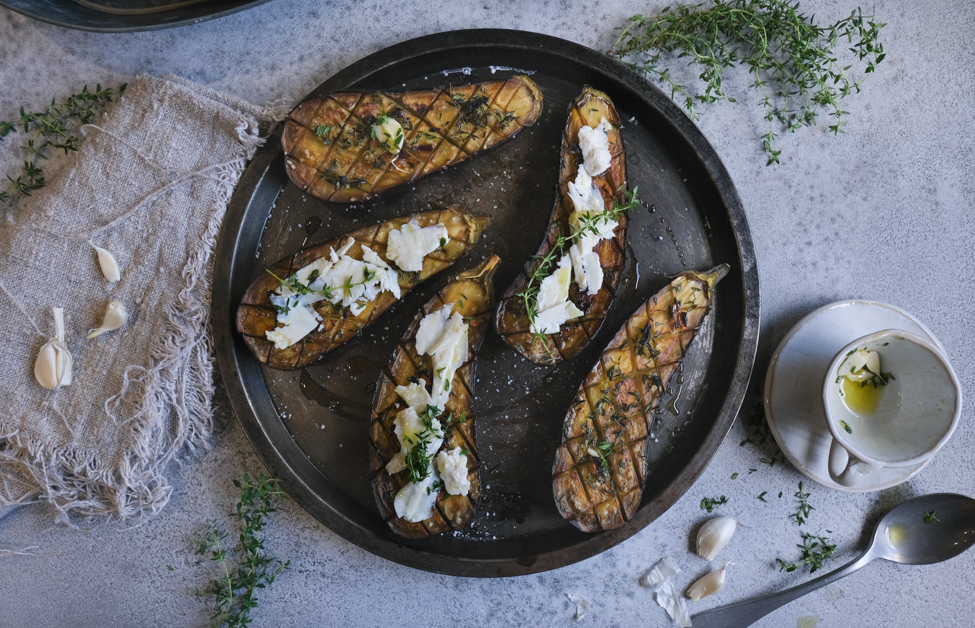 There are so many aubergine recipes I absolutely love but I also really enjoy experimenting and finding new ways of incorporating this lovely veggie into our diet –after all, keeping it interesting is key. And I think I'm doing a pretty good job.
Aubergines love a bit of garlic, extra virgin olive oil and a good herb seasoning. The simplest, yet extremely satisfying aubergine recipe is, of course, grilled aubergines. Score the flesh evenly and brush with olive oil, season with salt and grill both sides. A bit of thyme, some ksinotiri cheese (a Greek sharp and sour cheese from fermented buttermilk) and your dish is ready.
4 aubergines cut in half
4 garlic cloves, chopped
½ bunch fresh thyme
1 cup olive oil
Salt, pepper
100g grated cheese, dry Anthotyro cheese, Xynomyzithra or any type of cheese you prefer (Parmesan for example)
Method
1. The recipe is super easy and could be considered unnecessary but for those of you who might need it, here it is; preheat the oven for grilling or prepare your barbeque grill. 1 hour before grilling, mix the olive oil, chopped garlic and thyme in a jar. Set aside for 1 hour until the garlic and thyme release their aroma.
2. Cut the aubergines in half lengthways. Use a sharp knife to score the flesh diagonally and around 0,5cm deep. Season with salt and brush with the olive oil-garlic-thyme mixture you've prepared. Be generous with the oil so that it goes inside the cuts on the aubergines' flesh.
3. Line a baking tray with parchment paper and scatter the aubergines flesh-side down. Grill for about 10-15 minutes and then turn the aubergines over, add a layer of grated cheese and continue grilling for another 15 minutes. Serve hot while the cheese is still melted.