Savoury Panettone
March 26th 2021
This time, my pie is shaped into a beautiful, fluffy, savoury panettone which I've tried quite a few times in the past and the result is always impressive.
Some flavours instantly take you back to your childhood and bring back such strong memories of certain moments and emotions. Life is a chain of interconnected events, and flavours are always linked to defining moments in life, to certain people or feelings.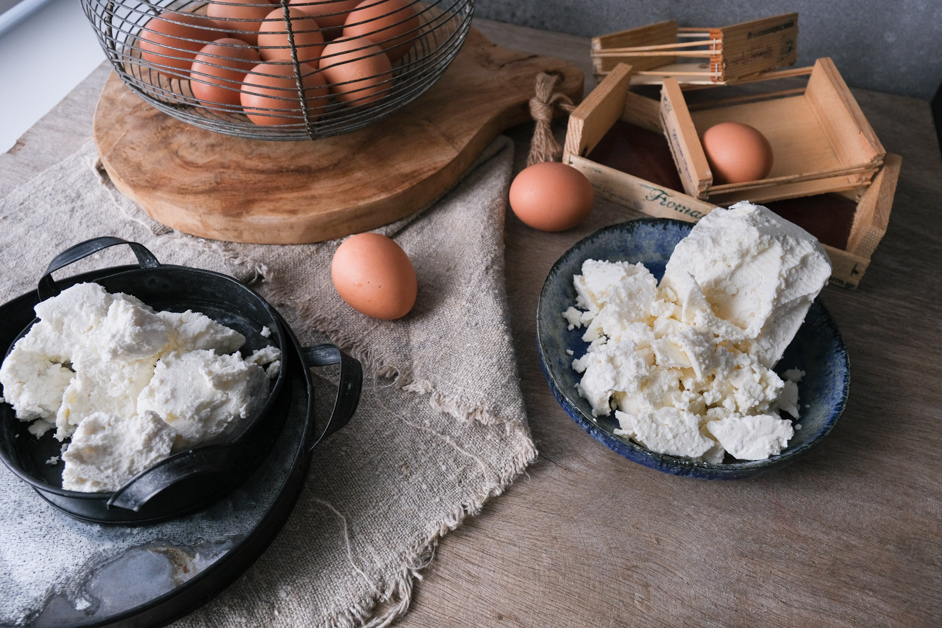 Although we honour our Serbian heritage with recipes from the Serbian cuisine quite often, I can't help but try as many traditional dishes as possible whenever I'm there, again and again, as if I've never tasted them before! Some of these dishes stand out in my heart and mind a bit more and gibanica, a classic Serbian pie, is definitely among my favourites. I must confess I have a soft spot for all kinds of pies and pretty much anything made with pastry and trust me, that's not an overstatement!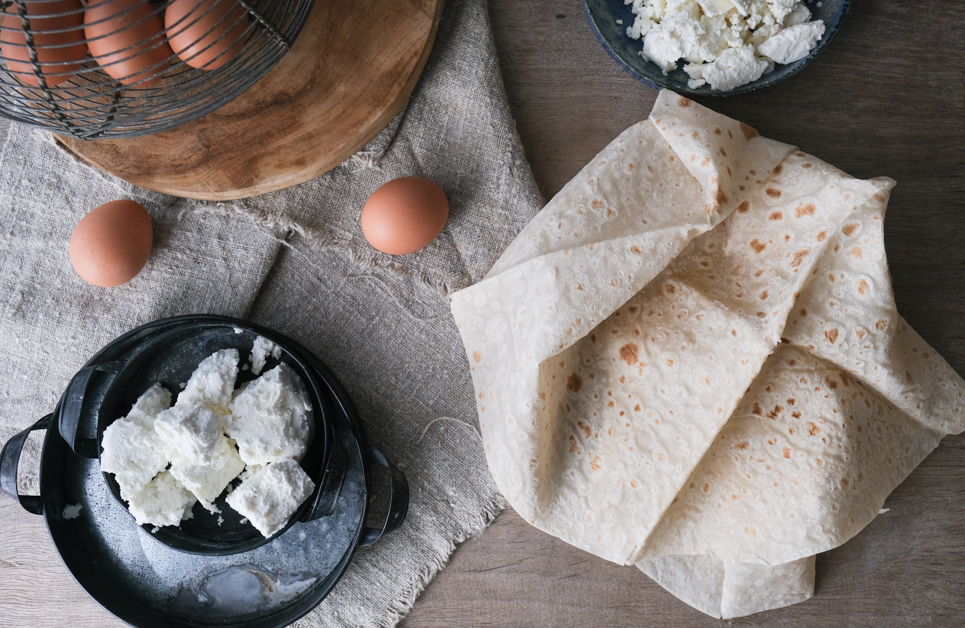 Gibanica is a traditional Serbian pastry dish served from day to night with any meal –you can imagine how happy that makes me- but can also be found in upscale restaurants served in even square pieces and presented in a more gourmet-like way. I can almost see it steaming on a beautiful wooden platter where it's usually served along with kefir or buttermilk although, to be honest, it's just as delicious when cold.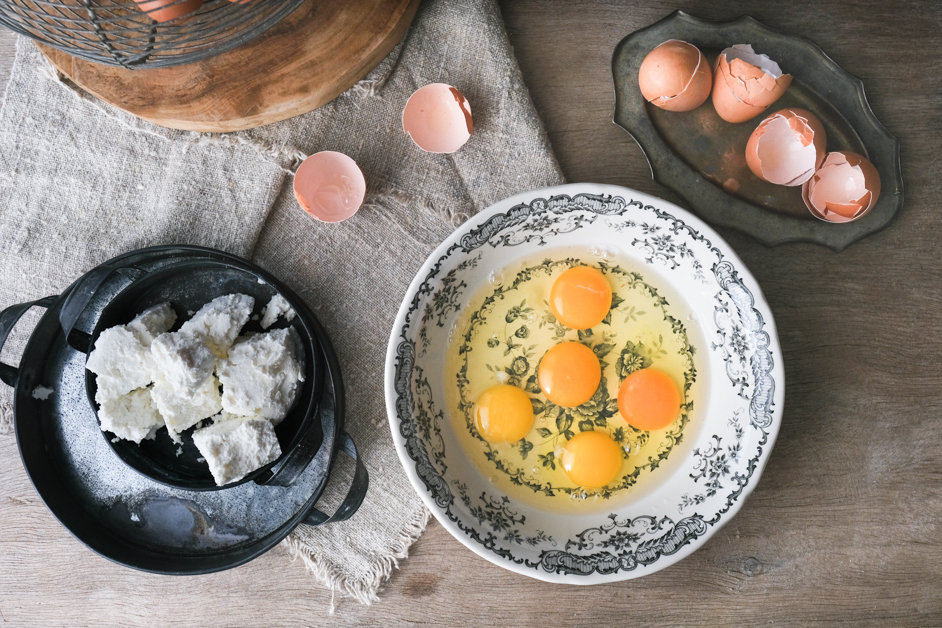 The Greek "pie for the lazy cook" is quite similar to gibanica; made with store-bought pastry sheets, it's a very quick and easy recipe with simple, basic ingredients, so it's literally impossible to fail.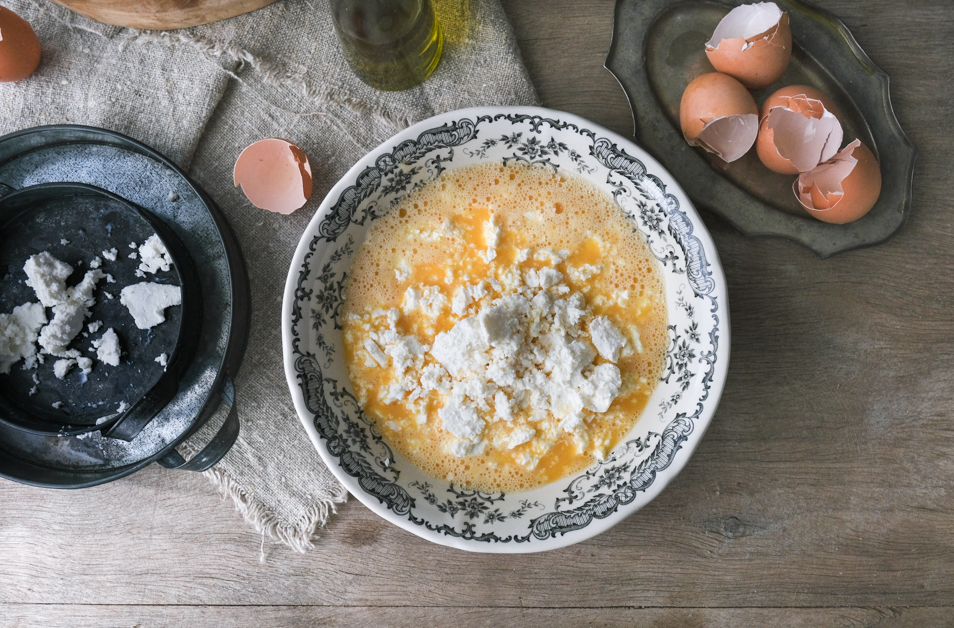 Naturally, this recipe brings back so many beautiful memories. As I've said before, writing for the blog feels like keeping a diary where I can open my heart and share some of my thoughts with the world, and that can be deeply therapeutic and liberating to me. So, let's go back in time.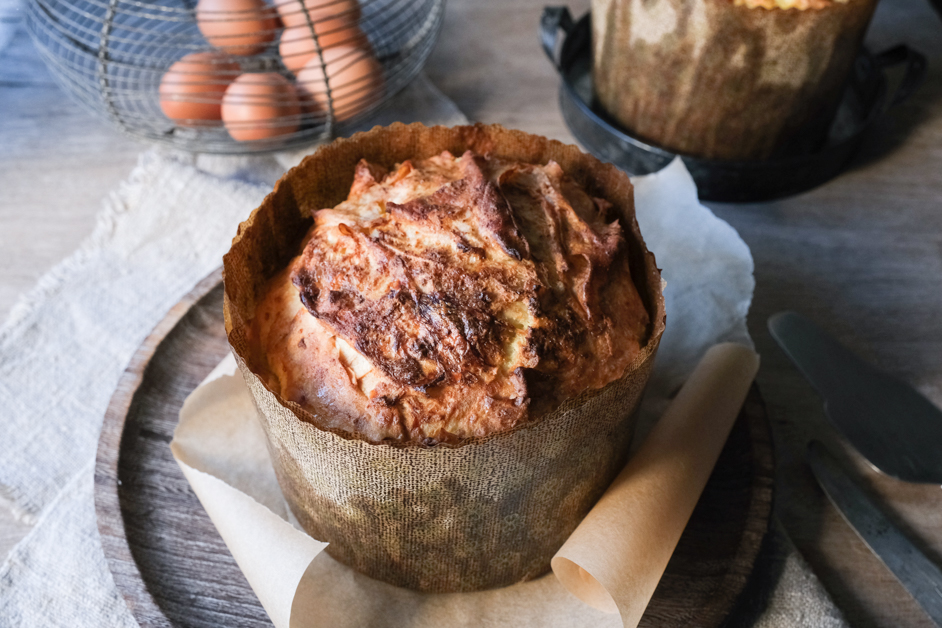 Today, this pie is made with store-bought pastry sheets that can easily be found in supermarkets and convenience stores everywhere. When I was little, my grandmother used to make it at least once a week, usually on Sundays, with her own homemade pastry sheets that she baked in an old cast iron stove and then used to make her pie. I can still remember the scent of freshly baked pastry and myself, always at my grandma's feet, helping as much as I could.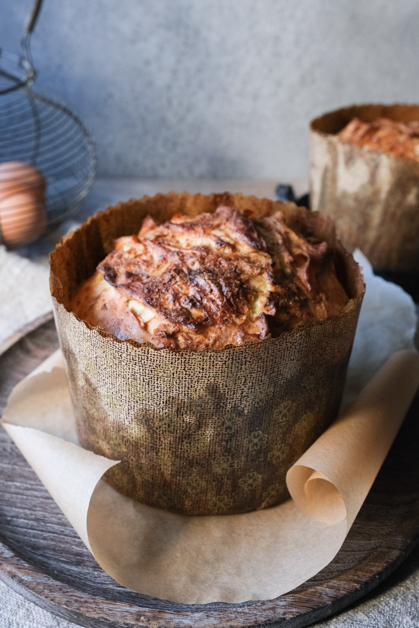 I always waited patiently for her to finish her pastry sheets and make me a cheese roll with kaymak cheese wrapped in one of her pastry sheets that were still hot from the stove. She knew how much I loved it and always offered me one in exchange for my "invaluable" help. The kaymak would start to melt and I'd quickly become the messiest, yet happiest child on earth!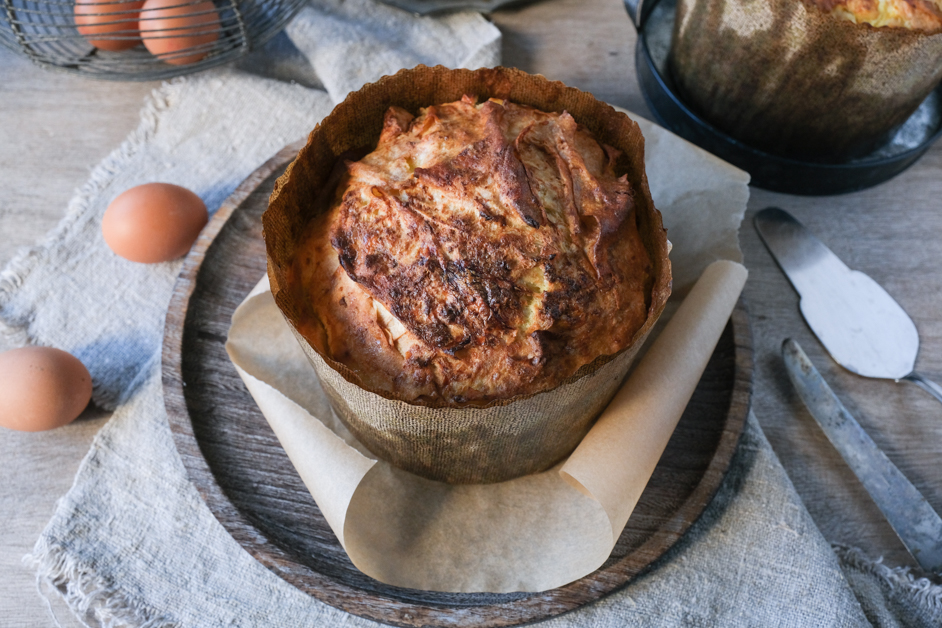 The filling in this pie has plenty of eggs and sparkling water, hence the rich and voluminous look that is basically the main difference between gibanica and the Greek cheese pie for the lazy cook. This time, my pie is shaped into a beautiful, fluffy, savoury panettone which I've tried quite a few times in the past and the result is always impressive. And why not, you can even serve this pie as a starter at a dinner party.
For two panettone moulds:
800g yufka or phyllo pastry sheets
8 eggs
Salt (with caution)
800g grated feta cheese (you can also use half feta cheese and half fresh whey cheese -anthotyro)
120ml olive oil
50g butter
200ml kefir or buttermilk
500ml sparkling water
Method
1. Preheat the oven to 185C. In a big bowl, whisk the eggs with salt until frothy and add the feta cheese, olive oil, buttermilk and sparkling water. Mix with your hands until all ingredients are blended well. Put the panettone moulds onto a baking tray. Start making the pie. Cut the pastry sheets into pieces (usually one sheet is divided to 3 or 4 pieces depending on the size). Dip each piece into the mixture, take a bit of cheese, crumple each sheet lightly and fill the moulds. The egg and cheese mixture should be enough for two panettone moulds. Fill the moulds up to a few inches below the rim to prevent overflowing once the pie rises. Cube the butter and scatter the pieces on top of the pies. Bake for approx. 45 minutes depending on your oven. Once baked, set aside at room temperature for 10 minutes and then remove from the moulds. Serve with yogurt or kefir.