Roasted chicken with truffle butter and garlic pureé
December 6th 2019
I couldn't wait until I'd finally make this delicious dish that is no other than roasted chicken with truffle butter, a recipe by our lovely chef Giuseppina Mabilia.
Continuing from last week's post where we talked about "Forage Feast Photography", this week we're making a recipe from that amazing trip in Provence. And it's not just any recipe! We've set the bar high this time and since holiday season is around the corner, I really wanted to make something special and gourmetlike, something that managed to stand out in my mind despite the varied menu we enjoyed in Provence. I couldn't wait until I'd finally make this delicious dish that is no other than roasted chicken with truffle butter, a recipe by our lovely chef Giuseppina Mabilia.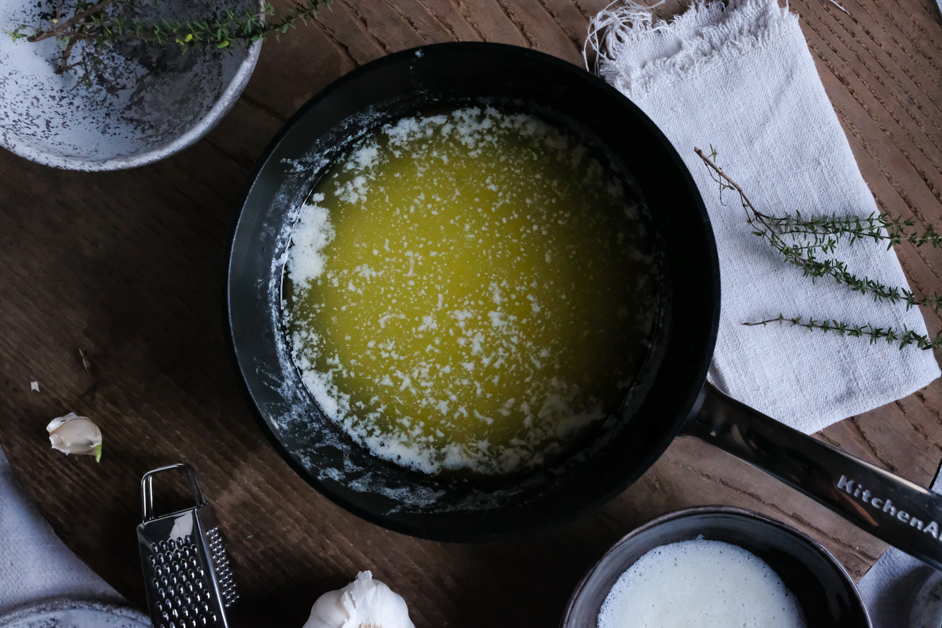 After a full day of truffle hunting, we went back to our base where our chef, Giuseppina Mabilia, had been waiting for us to begin our truffle themed cooking class. We'd make truffle butter and continue with the most amazing chicken and truffle butter recipe ever! Honestly, I believe that regardless of how well you think you cook, being next to a chef is an experience that can teach you so many valuable secrets!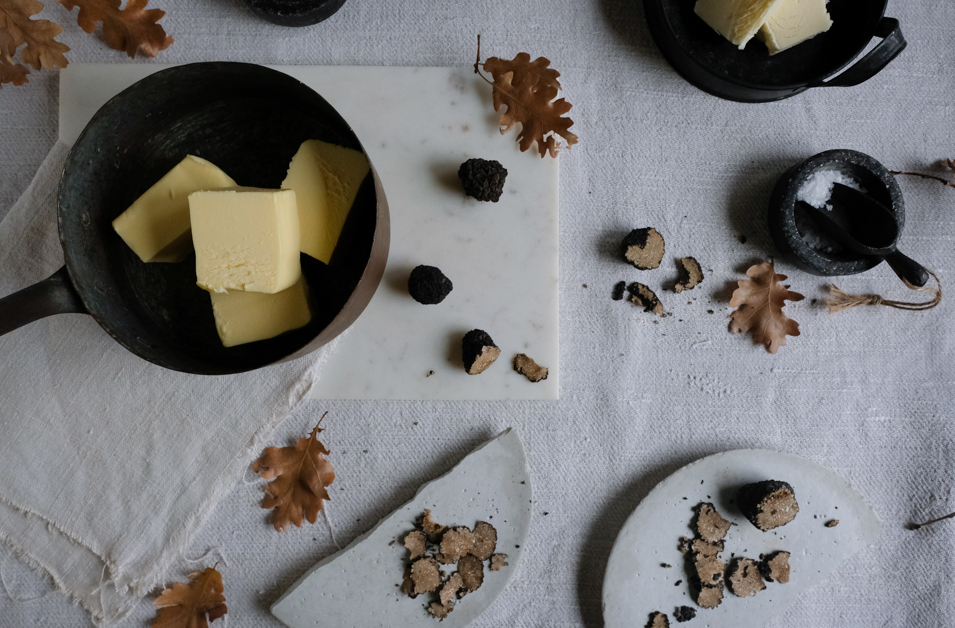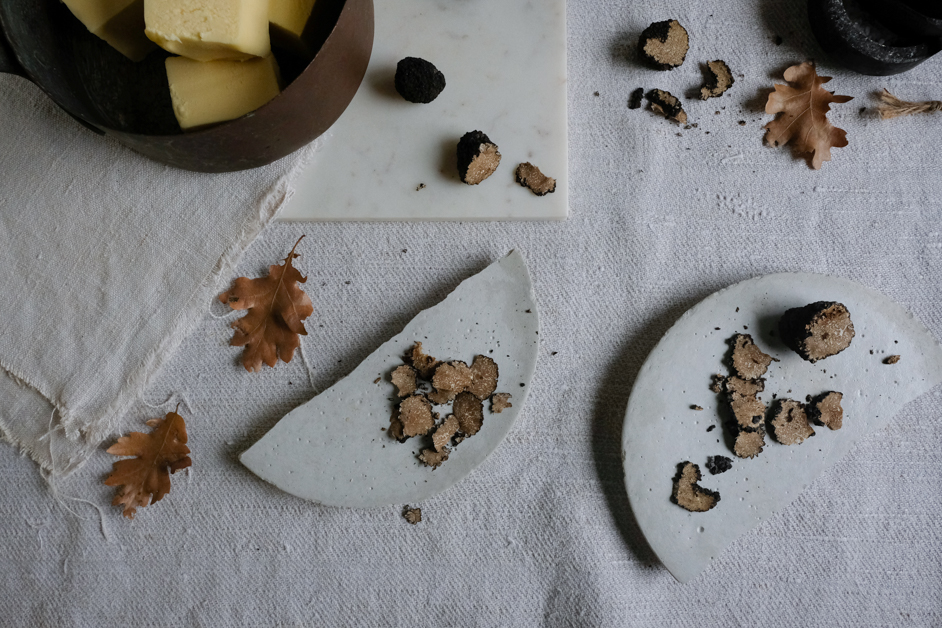 Giuseppina was clear and precise! Cooking with truffle, an expensive and refined ingredient, means that it can only be combined with high-quality products. High-quality olive oil, meat or anything else really! And when it comes to butter, it always has to be clarified butter of exquisite quality.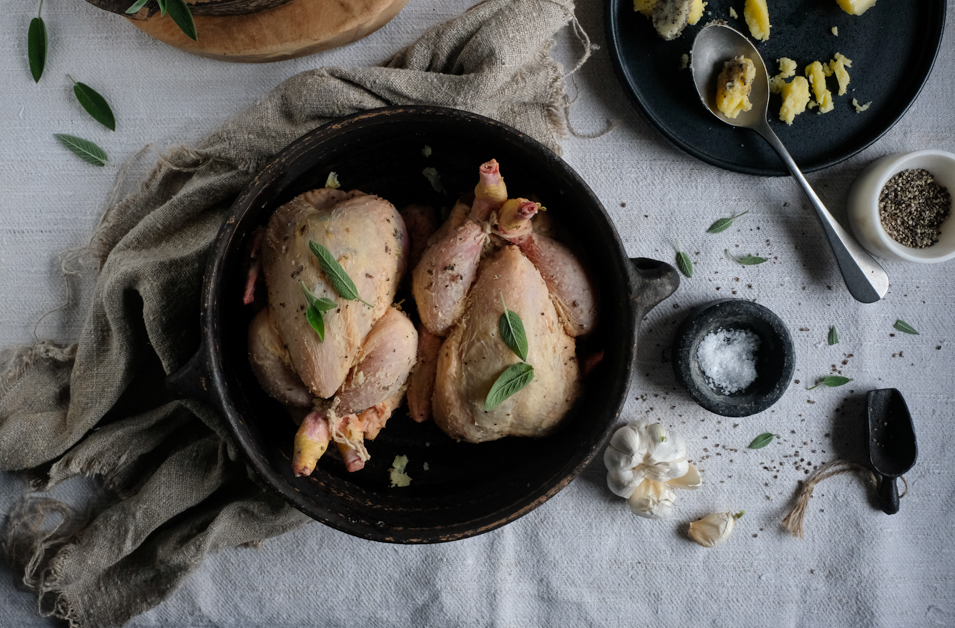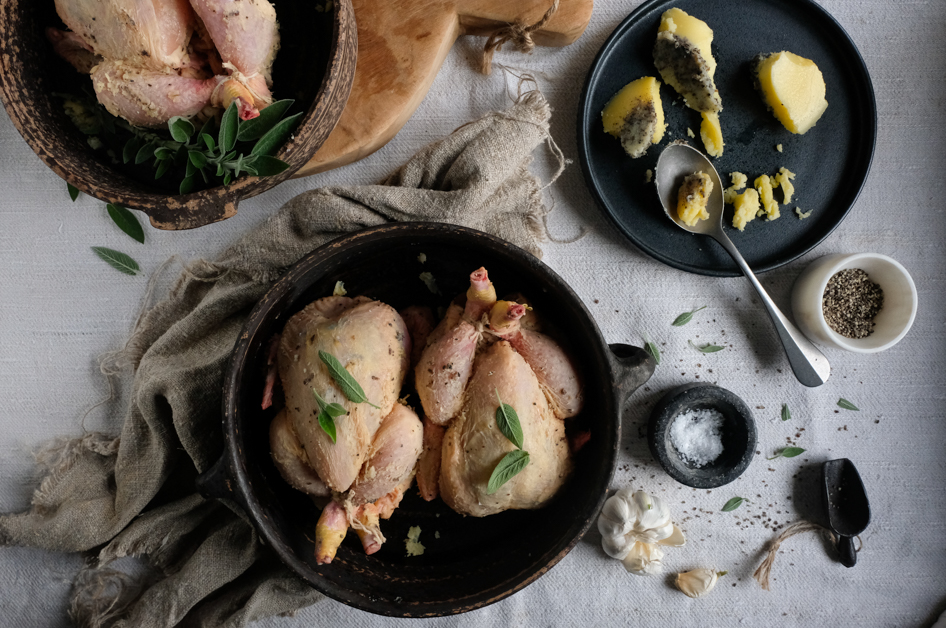 To be honest, I personally tend to avoid cooking with butter and I've almost completely replaced it with olive oil for years. I think it's a quite misunderstood ingredient and we seem to have a guilt-ridden relationship with it. Of course, I am aware of the fact that butter, besides adding a bit of extra flavour to our lives (it should be listed as an antidepressant food next to chocolate), is also very nutritious. And that day, Giuseppina made sure she'd put the record straight. We say yes to butter even in generous amounts but only if it's clarified butter or ghee. And that's when I started having questions!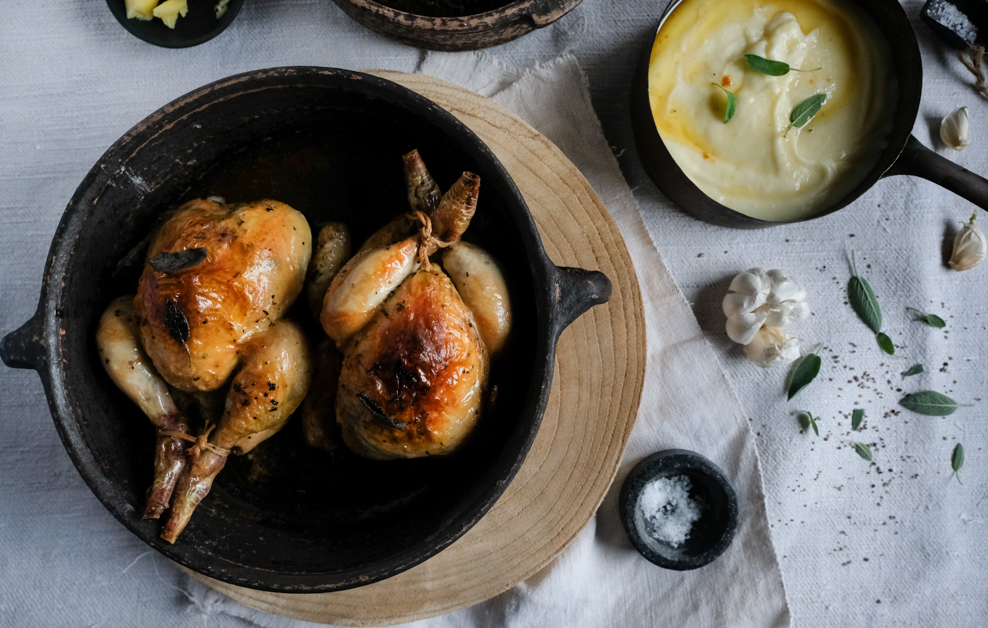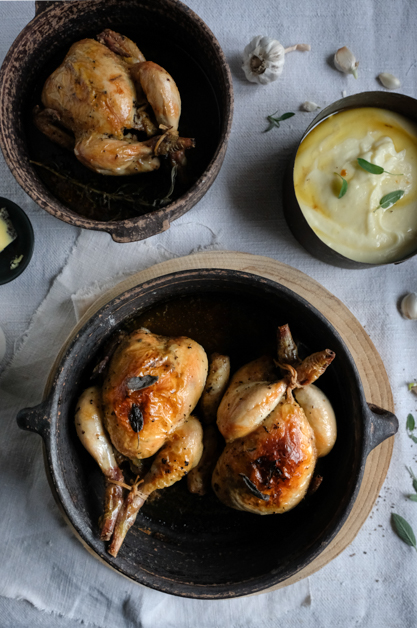 What is ghee? Ghee is pure butterfat that is unsalted and doesn't have the milk proteins found in normal butter. This means it can withstand higher temperatures without burning, so it's perfect for cooking. It also has an intense flavour and scent and is a safe option for anyone who's lactose intolerant. Ghee, "the liquid gold", is very commonly used in Indian food and when it's produced from high-quality butter, it becomes a source of truly beneficial nutrients for the human body.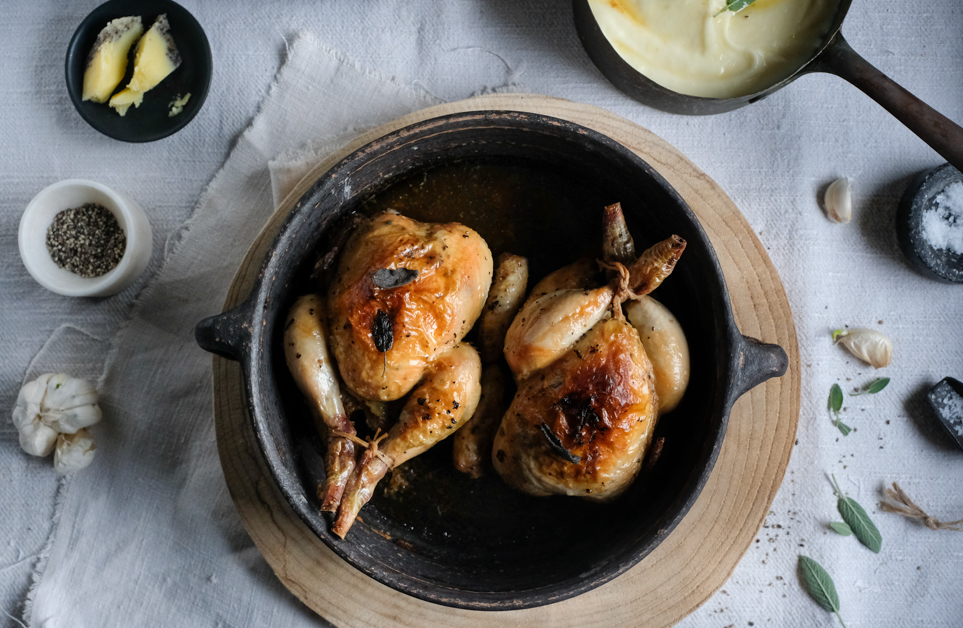 It can be quite expensive but also super easy and simple to make at home. All you need is good quality butter and a bit of time! I'm going to start off our recipe with the preparation of clarified butter with truffle, following all the steps that Giuseppina was generous enough to share with me. When the butter is ready, I'll let it cool off completely. Then I'll spread it underneath the chicken's skin and give it some time to absorb the truffle scent and flavour. When I first tried this dish, I couldn't believe how easily a common ingredient such as chicken can be elevated to a unique gourmet dish!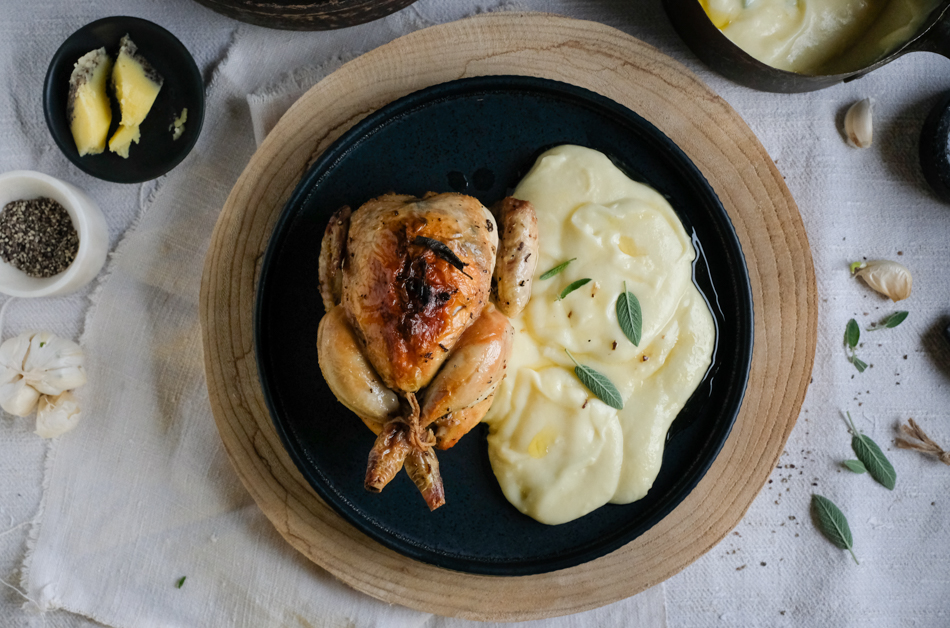 I was lucky enough to find fresh Greek truffle! Truffle, as we all know by now, is one of the most refined and luxurious ingredients used in gastronomy. Luckily, you won't need much of it to make proper truffle butter. Experts say that store-bought truffle oil and butter are nothing like the ones made with fresh truffle. Products made with fresh truffle have a much more refined and subtle taste and scent. On the contrary, the majority of truffle products on the market have a very strong scent that is a result of artificial additives. And I think I kind of felt that; the fresh truffle butter I tried had such a delicate and sophisticated taste. You could just keep on eating without feeling fed up.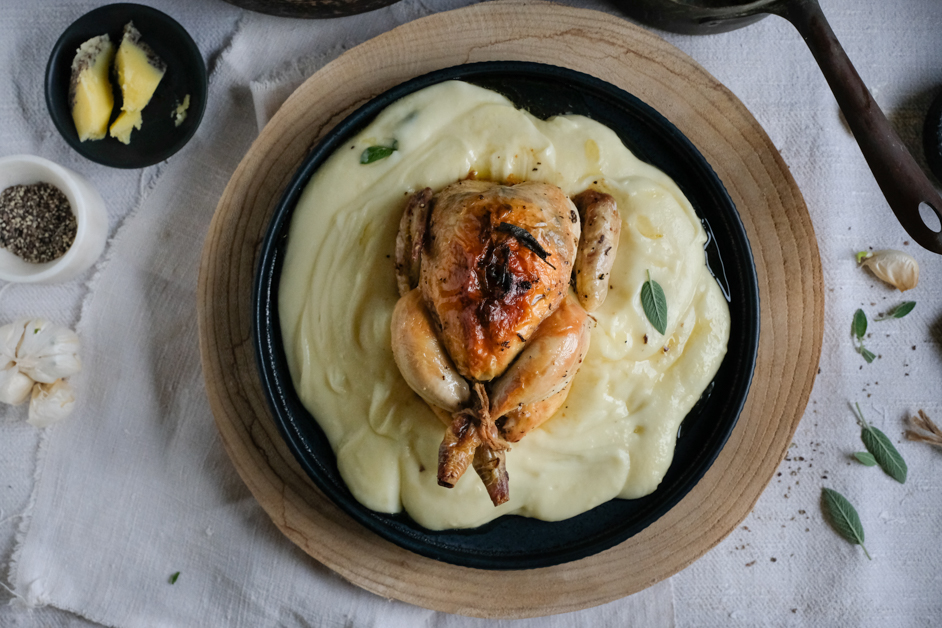 If you end up making a larger quantity of truffle butter than you need, you can always store it in the freezer in small jars or small rolls wrapped in parchment paper and just cut a piece each time you need it. A small piece of this wonderful butter can really perk some dishes up, like pasta, grilled potatoes, risottos, tagliata and so many more. You can even make popcorn with truffle oil.. It's fantastic!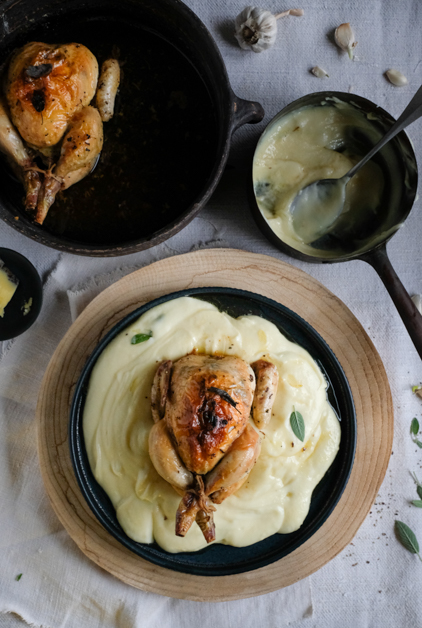 This time I opted for organic baby chickens to make Giuseppina's recipe. Their meat is juicy and tender and doesn't take too long to cook. I also thought it'd be a great idea to combine the chicken with a garlic pureé and some truffle butter. This could be considered a very simple, ordinary dish, just like the ones we're used to making every day, yet it isn't. A tiny little mushroom makes all the difference. Just the tiniest bit of it is enough to transform a simple meal to a divine dining experience. Give it a try to spice up your daily menu or add a little twist to your upcoming festive recipes. If you can't find fresh truffle, a jarred version of truffle oil or butter (and there's plenty of them on the market) will do the trick. I'm sure you'll be amazed and your guests will be too!
Clarified truffle butter:
250g good quality butter
5 truffle mushrooms, white or black
Sea salt
Truffle chicken:
3 baby chickens or 1 normal sized chicken (organic)
220g clarified butter
Salt, pepper
Garlic pureé:
4 medium potatoes, peeled
4 garlic cloves
80g butter
½ cup warm milk
½ cup light cream
Salt, pepper
Method
1. Clarified butter. In a small pot melt the butter and bring to a boil. Let it boil on low heat. As it's boiling, you'll see foam gathering on the surface. Remove all of it gradually. This will take around 10 minutes. Your ghee is almost ready. Let it stand and cool off. You'll see milk solids on the bottom of the pot. Strain the butter with a cheesecloth and your ghee is ready. You'll now have a clear, golden butter.
2. Truffle butter. Use a small pot to warm the clarified butter. Clean the mushrooms externally with a mushroom brush. You can find many mushroom slicers and graters on the market but a common grater is just as good. Slice up the mushrooms and spread them into the pot. Season with salt. Be careful with the heat as truffle shouldn't be exposed to high temperatures. Keep the pot on low heat, stirring the truffles often so that they release theirs scents, for about 15 minutes. Let the butter cool off. When the butter sets, you can use as much as you need and store the rest of it.
3. Preheat the oven to 195C. Wash and dry the chickens very well. Wearing gloves, use a bit of butter (this will help your fingers slide more easily) to slowly separate the skin from the meat, especially around the breast, ribs and thighs area. Be careful so that you won't ruin the skin. Add salt and pepper on these areas and then gently spread some truffle butter with your fingers. Continue with spreading a generous amount of butter externally as well. Repeat with the rest of the chickens. Move the chickens to a casserole and close the casserole lid firmly. Put it in the oven and after 20 minutes, lower the heat to 180C. Cook for about 1.30 hour. Once they're cooked, you can use the mixture of butter and meat juices released in the casserole as a sauce for your pureé.
4. Garlic pureé. Warm the butter in a small pot. Add the garlic and let them boil over low heat for about 10 minutes, until garlic has released its scent. Let it stand for about 10 minutes and remove the garlic cloves. Boil the potatoes for about 30 minutes in salted water. Drain them and use a pureé blender to create a lovely pureé. Transfer the pureé to a bowl, add salt, pepper, butter, milk and light cream and beat it with a hand mixer until all ingredients are blended nicely.
5. Serve your chicken with some of the pureé adding a bit of the truffle sauce that's left in your casserole.