Autumn Forage Feast
November 20th 2020
Decorating a table with treasures found in nature always makes a difference.
We only managed to spend one weekend in the mountains and enjoy our home there before lockdown Season 2. This is what we've come to, our lives sound like a Netflix series. You see, our home there is technically in a different region and traveling through different regions is not allowed during lockdown.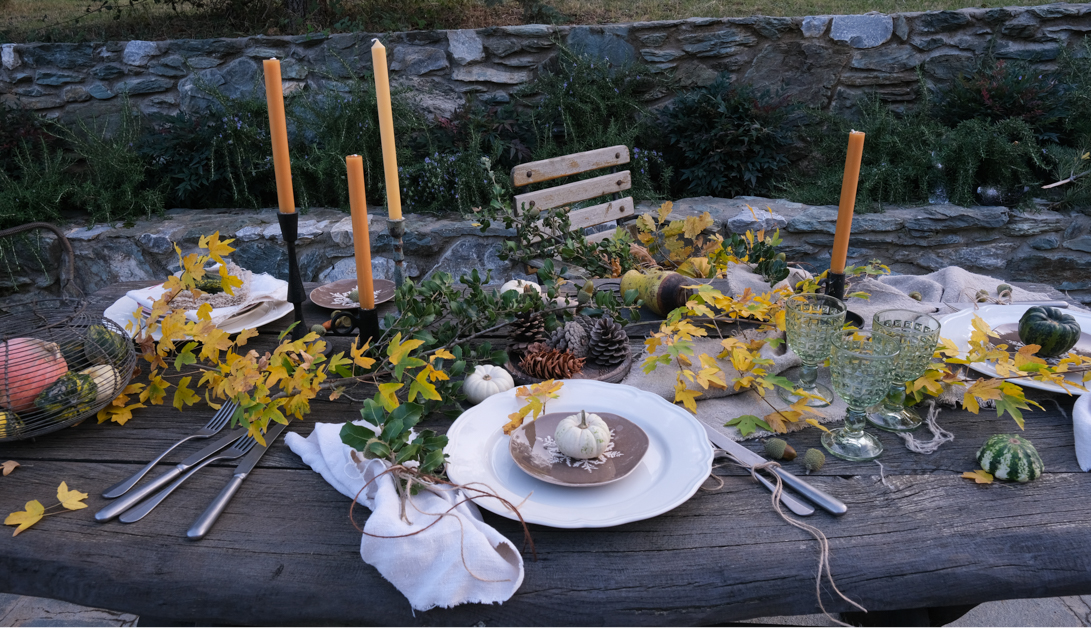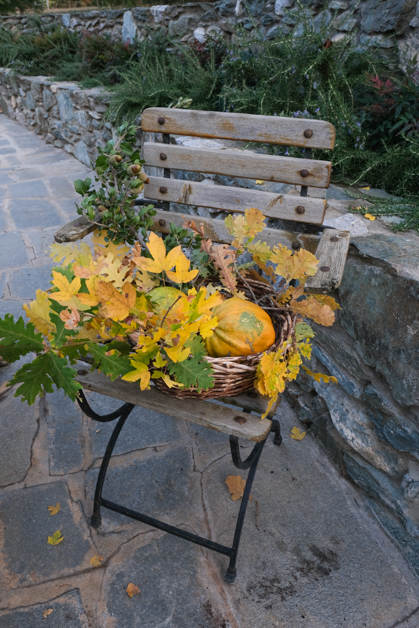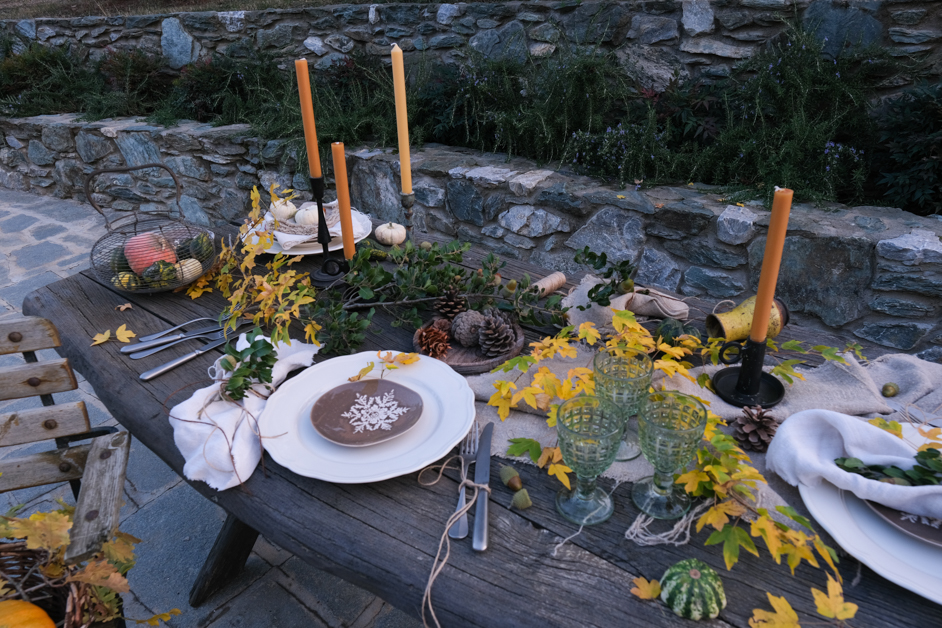 Autumn has to be the most perfect season to be in the mountains. The beauty of nature is astonishing. The weather is still warm enough –it literally feels like summer- for endless walks and a bit of work at the farm. That's until the sun goes down, when the temperature drops significantly and being inside becomes crucial! Near the fireplace, always.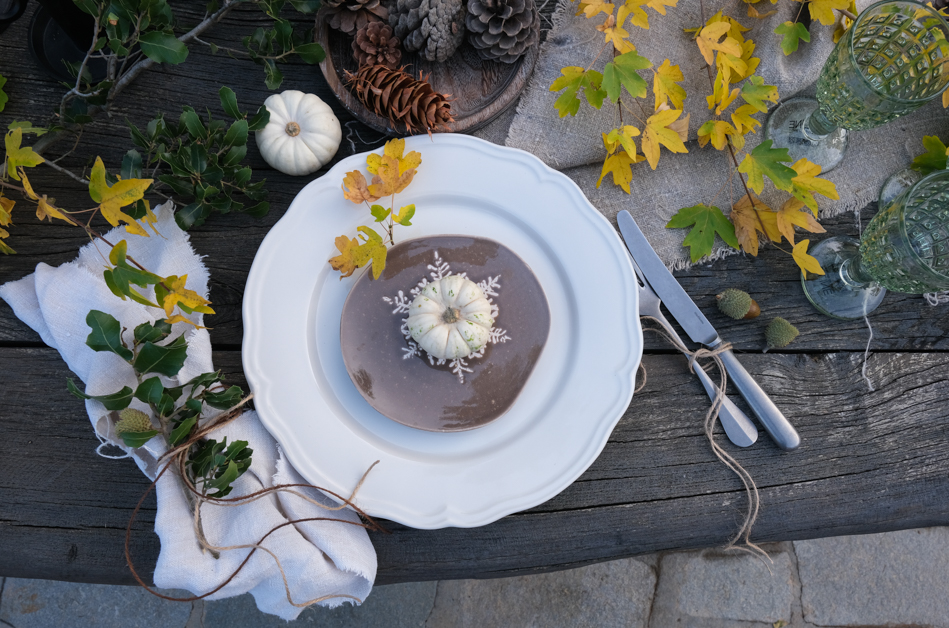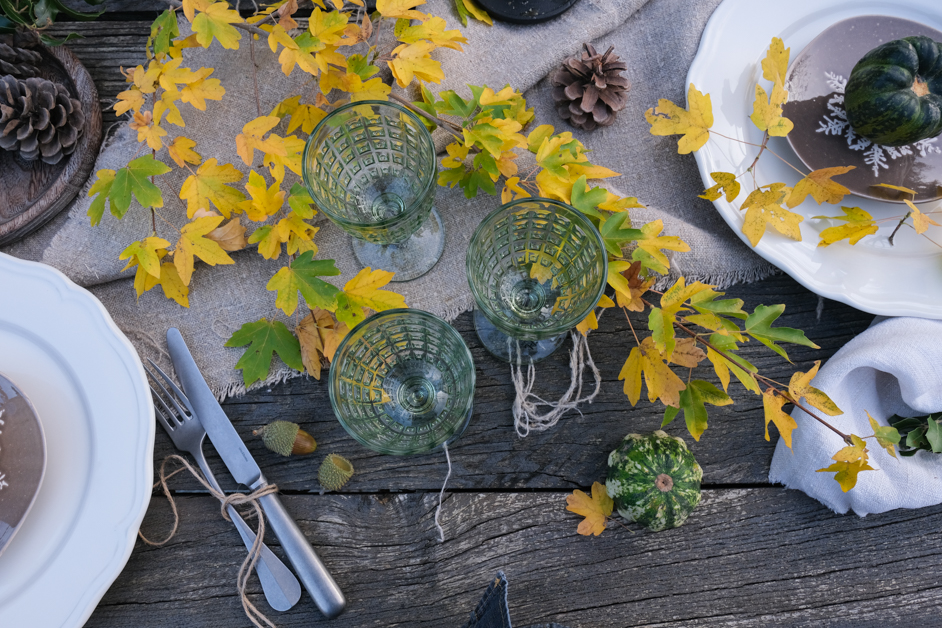 The colours of nature are so captivating and enthralling as they gradually change throughout the day. You can see water drops falling off the moist tree leaves in the morning or how crisp and bright they are under the strong sunlight and then fiery and warm at sunset.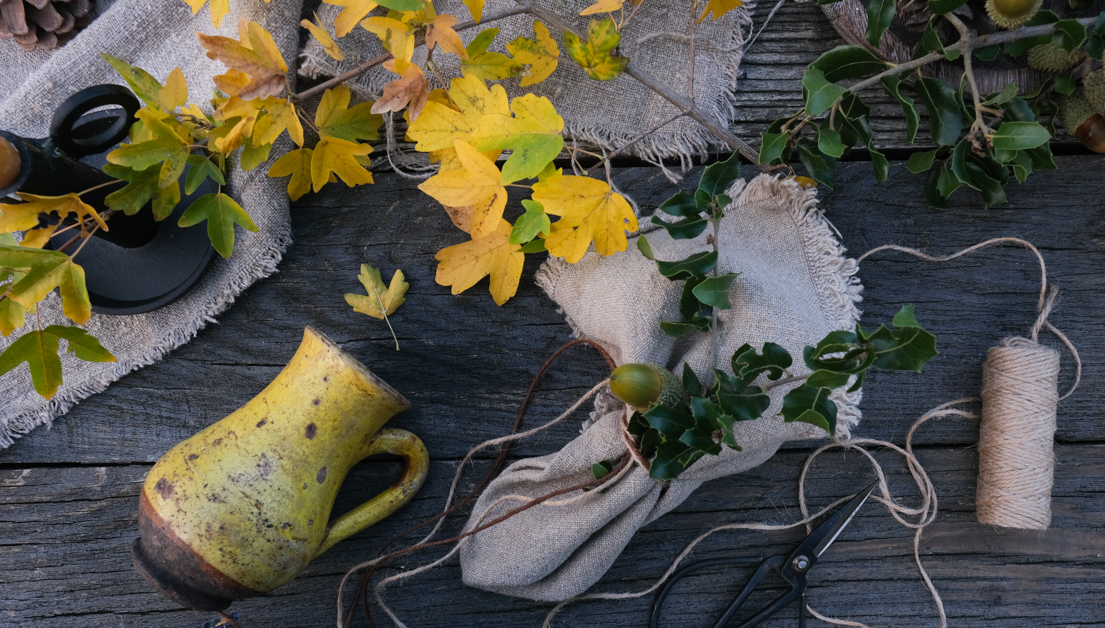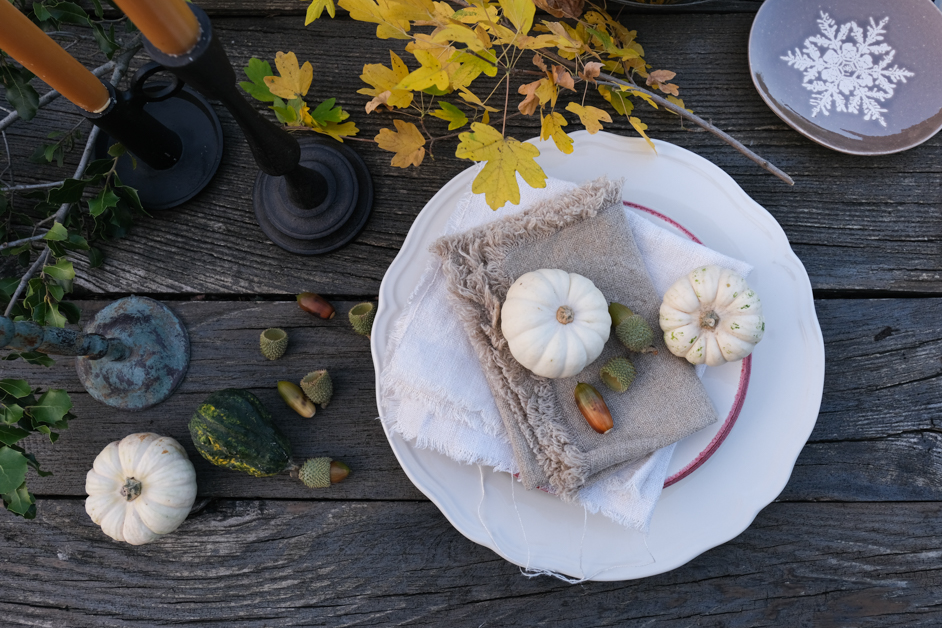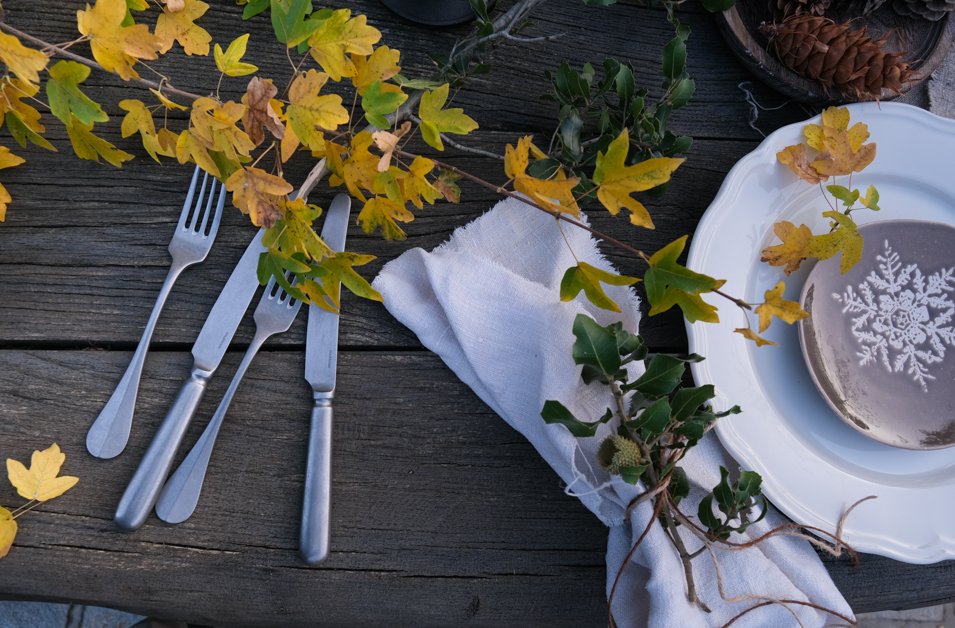 I love walking through secret, narrow trails in the woods and hearing nothing but the sound of dry autumn leaves crunching under my feet. This soothing sound feels like music to my ears and calms my soul. The bright sunbeams coming through the trees complete this dreamy picture.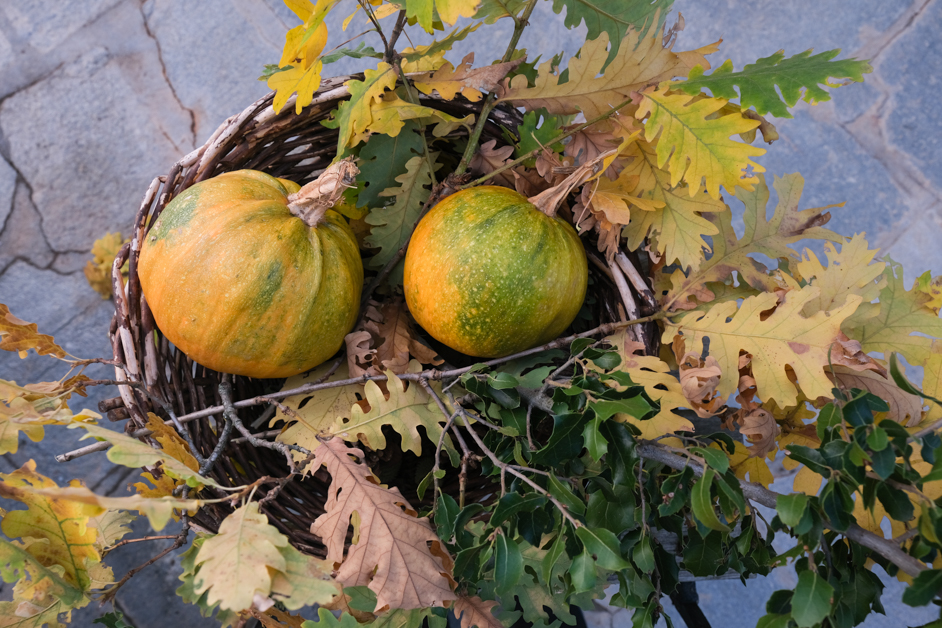 A walk in the woods isn't just deeply relaxing and appeasing, but can prove to be very useful too. I like to bring a little basket with me instead of a handbag where I collect anything that might catch my attention and can be used in a photo shoot or decorate a cozy corner in our home, a window or a table..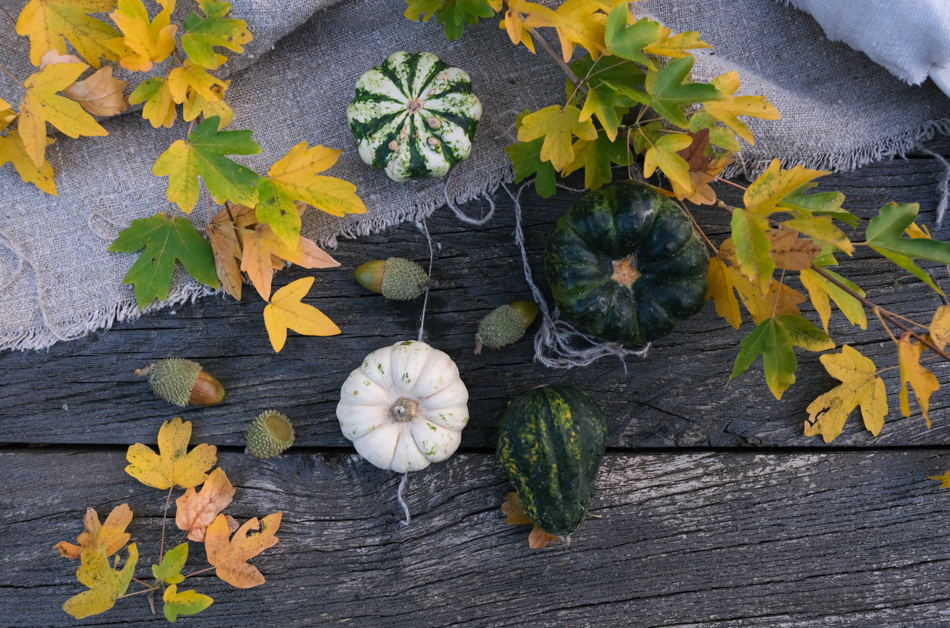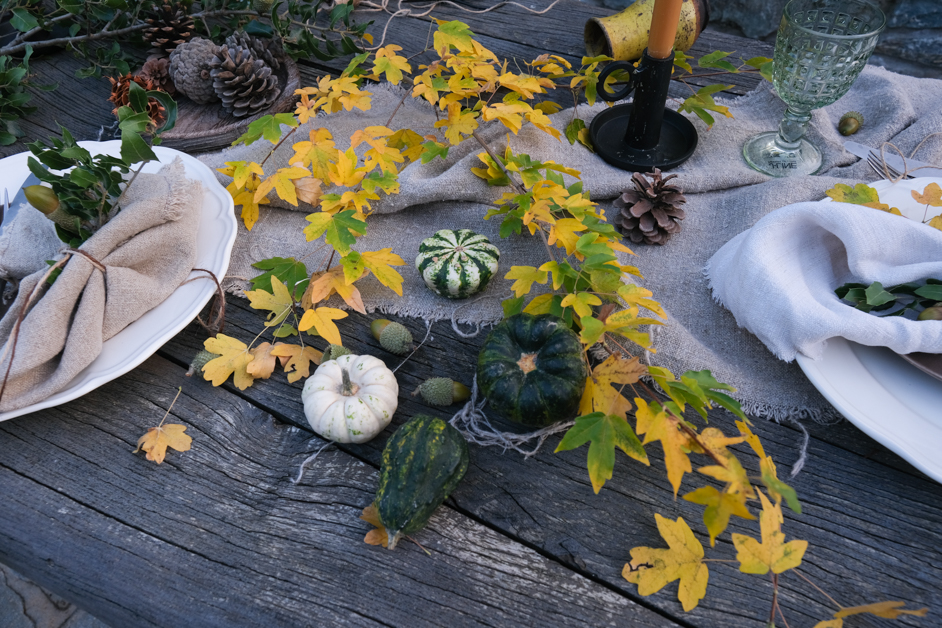 Acorns, pine cones of all kinds, dry leaves in different colours and shapes, tree branches for my vases, beautiful deep red dog roses, wild pears and other wild fruits.. These are definitely the greatest props I could ever ask for. A true autumn forage feast.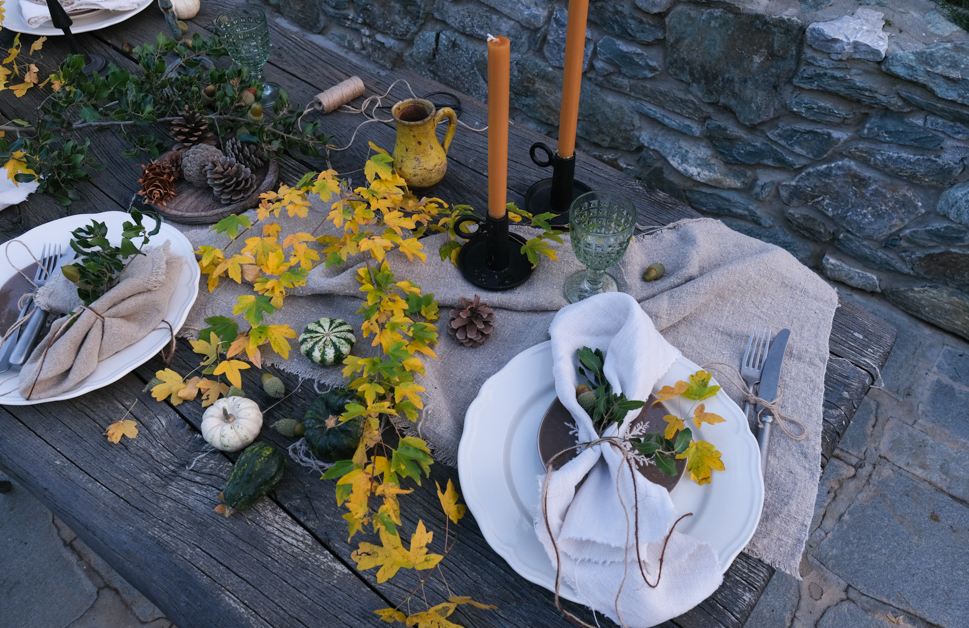 There's an old wooden table outside our house, all weatherworn and discoloured. Once I laid my basket on it, I realized how incredible this table would look decorated with all these beautiful autumn props I had just found.Decorating a table with treasures found in nature always makes a difference. No store-bought item or ornament could ever replace the gifts that nature has to offer.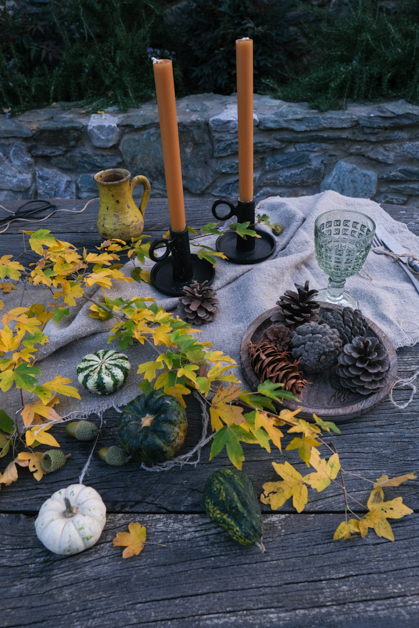 A while ago at a flea market in Provence (I miss those trips so much), I had bought some old, thick linen tablecloths in all different sizes (thanks to Ruth Ribeaucourt). Clearly one of the best buys I've ever made, and today is another proof of that, since they match perfectly with the concept of this shoot.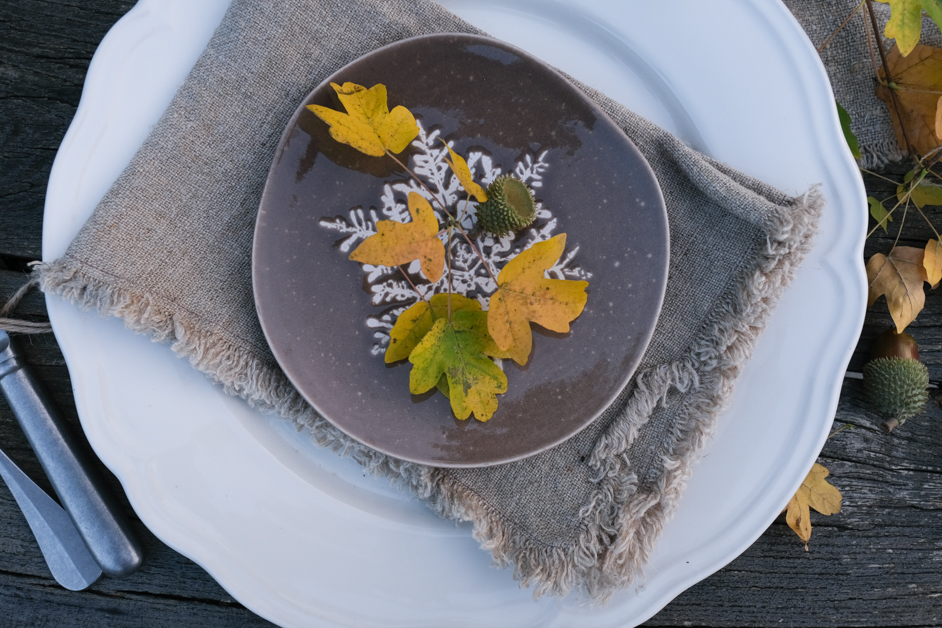 If you get the chance to be in nature, despite the hard times we're all going through, don't laze about. Walk around, explore and forage for beautiful natural items. And by all means, do it as a fun activity with your children. Allow them to discover and learn new things about nature, plants, seasons and colours! Don't be surprised if you also learn one thing or two from them and their endless curiosity and inquisitive minds. Get together, decorate a table or a cozy corner in your home, be creative and have fun with it. Try it and I bet you won't regret it.