Black tagliatelle with shrimp & coriander pesto
April 23rd 2021
Fresh coriander, sautéed shrimps, garlic and lime.. Talk about the perfect blend of flavours!
When I tried coriander for the first time on a trip many many years ago, I almost instantly disliked it. I couldn't really describe its taste and although I couldn't figure out exactly what it was I found so unappealing, it definitely felt completely unfamiliar and had to be a hard pass from me.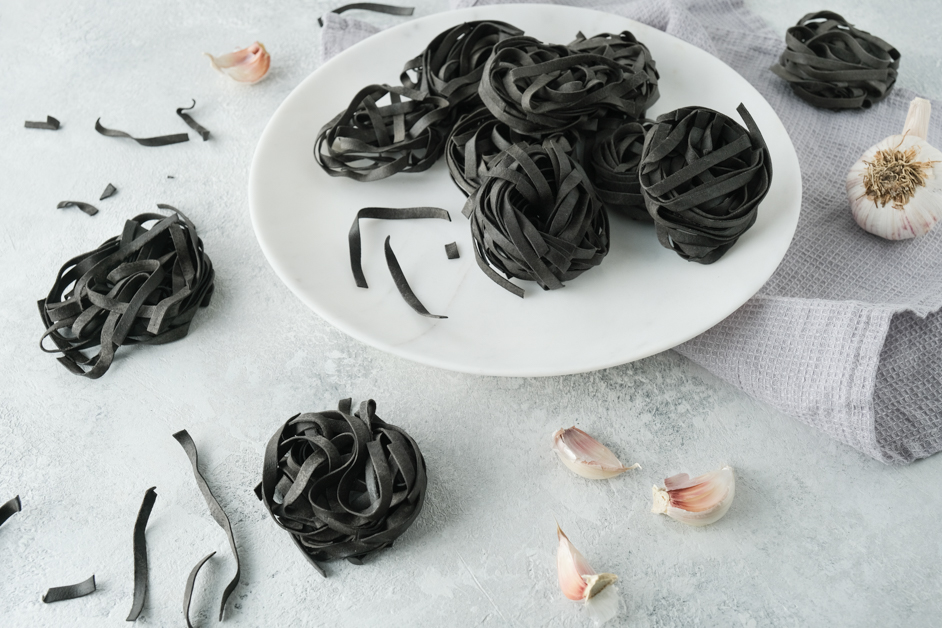 For years, I managed to keep my distance from this herb and made sure to avoid anything related to it altogether. And it wasn't hard to do that, since coriander wasn't commonly used in most recipes at the time, especially in Greece.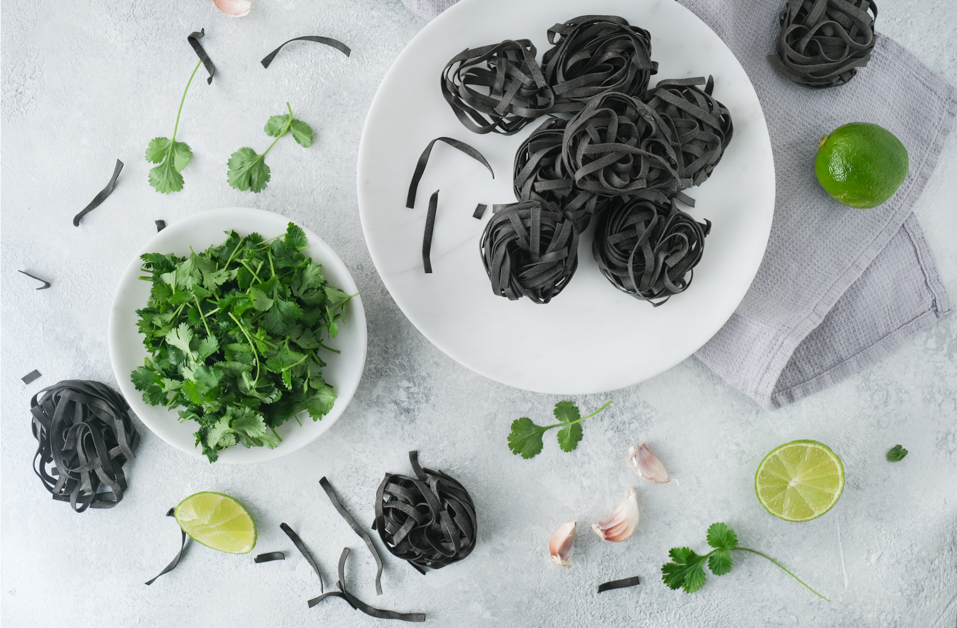 The moment we reject something, we often tend to get a bit curious and start wondering why we made that choice and what it could mean. By taking a closer look, we might even discover patterns in our behavior we had never noticed before. Do you also get that sense?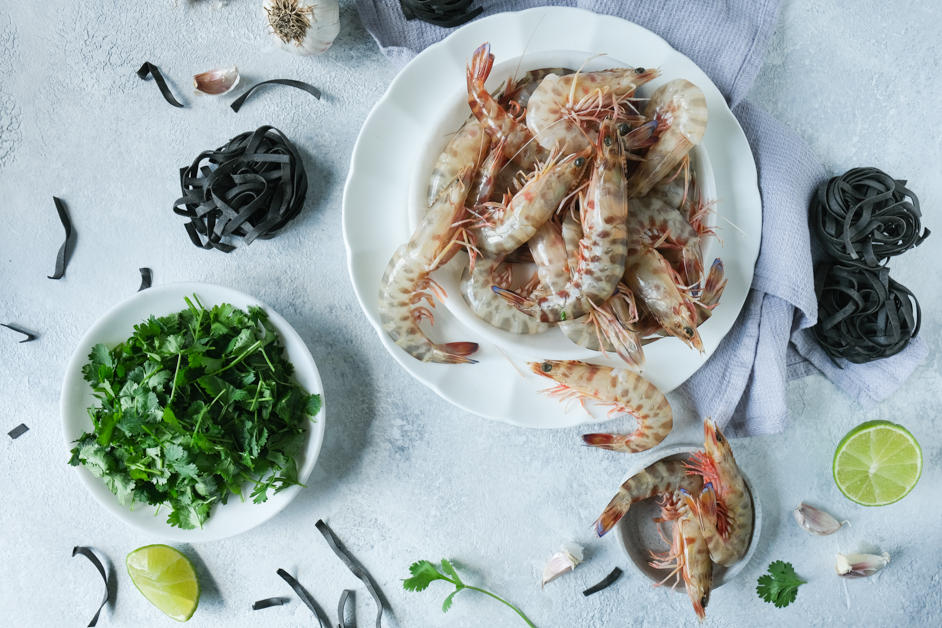 And just like that, completely unexpectedly, at some point a long time ago, I tried a recipe with coriander (surprise!) and was utterly blown away! It was the perfect dish to make me reconsider anything negative I had ever said about this beautiful herb I used to wrongfully treat as an enemy for so long. For the record, the dish that made me change my mind that day was a delicious guacamole!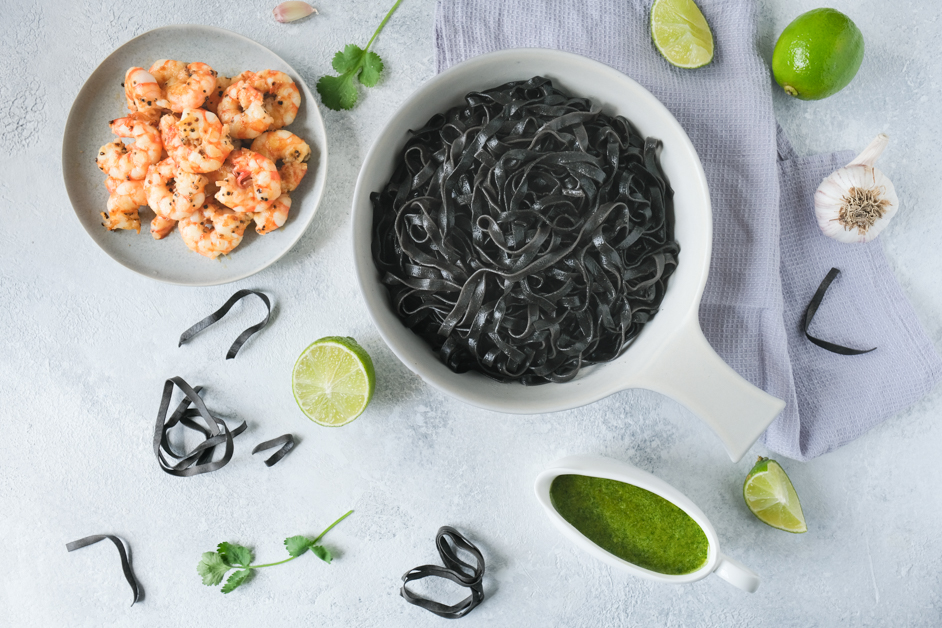 Ever since, coriander started to gradually become part of my life and my cooking. Shortly after, I got used to its somewhat strange taste and as soon as I felt comfortable with using it more and more in different recipes, we started to get along really well.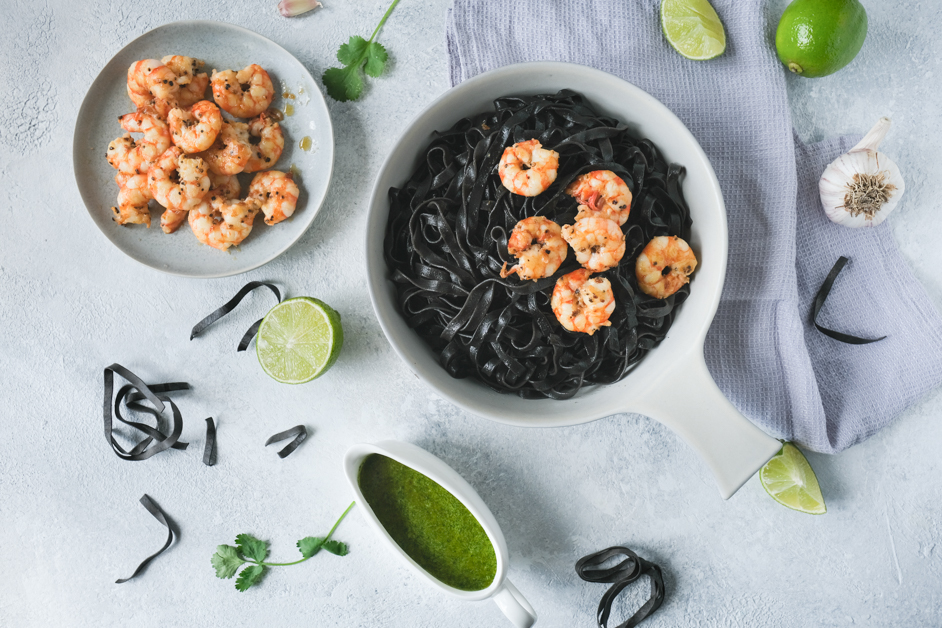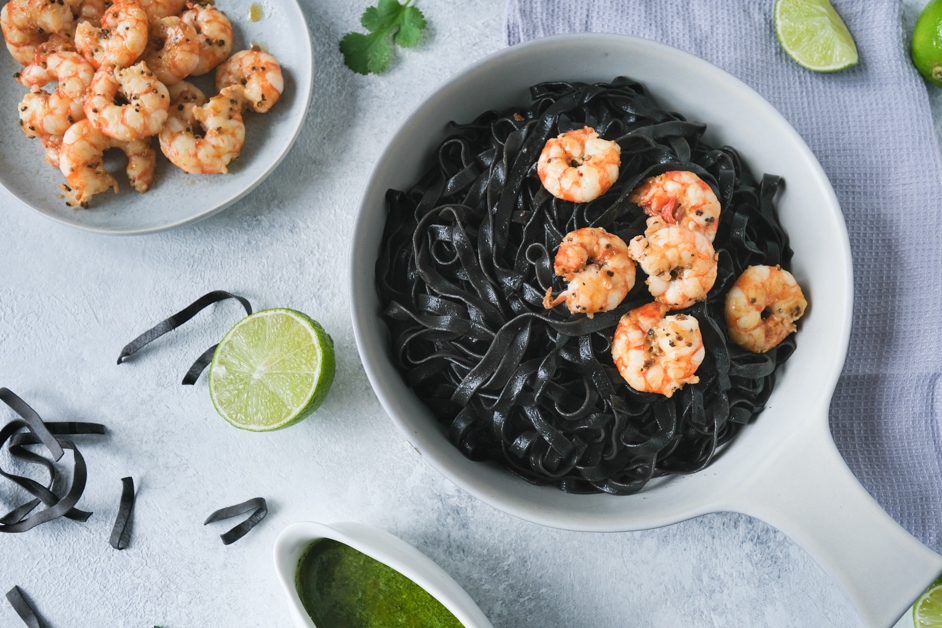 After a bit of research, I found that the health benefits of consuming coriander are surprisingly many. Besides being a great source of antioxidants, it's also one of the few herbs that remove heavy metals from the body, especially mercury and lead. No wonder I think so highly of coriander these days! And another crazy fact; studies have shown that some people's aversion to the taste of coriander is simply genetic! Well, if it's a genetic issue, I certainly got over mine!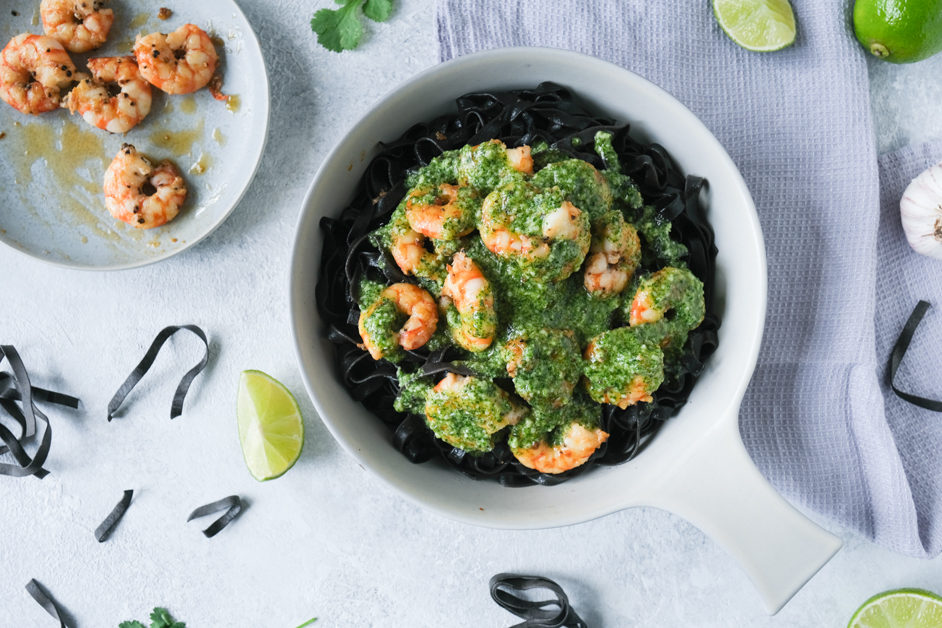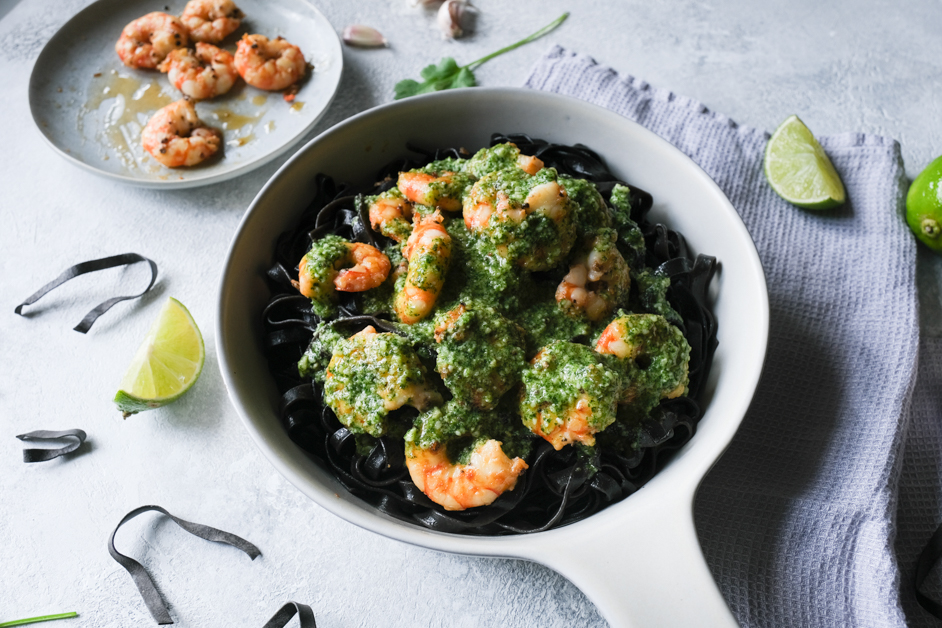 This recipe is definitely one that has come to stay! It was my first attempt to use so much coriander in a recipe that is basically a coriander pesto. Once I tried it, I knew coriander would quickly become an essential part of my cooking!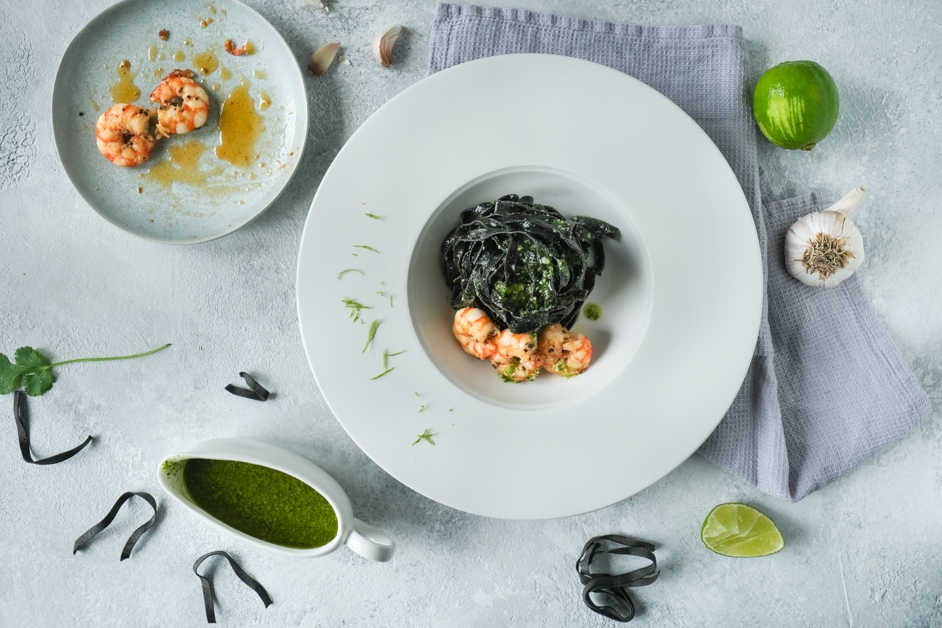 It's been one of my most loved recipes ever since. Fresh coriander, sautéed shrimps, garlic and lime.. Talk about the perfect blend of flavours! And honestly, the more I get to use this herb in all sorts of different recipes, the more I realise that, when used properly, it can add a unique refreshing aroma and an exotic note to a dish.
coriander pesto
1 bunch fresh coriander
170ml olive oil
70g crumbled Parmesan cheese
4-5 garlic cloves
2tbsp pine nuts
Juice from 1 lime
Zest from 1 lime
Salt, pepper
½ kg shrimps
3tbsp olive oil
Salt, pepper
500g squid ink tagliatelle
Method
1. To make coriander pesto, use a blender to mix all the ingredients until the sauce is smooth and creamy.
2. Heat olive oil in a pan. Season with salt and pepper and sauté the shrimps until golden. They don't need much time, just 2-3 minutes on each side on high heat.
3. Cook the squid ink tagliatelle according to the package instructions. Once your pasta is ready, pour coriander pesto over, add the shrimps and stir well until all ingredients are combined.