Vegetarian Mushroom Ragù With Truffle
April 5th 2019
The veggies I'm using today are not from our garden but they'll soon prove to be equally delicious. I'm trying to avoid meat (which is indeed very mountainy) and I'm thinking of making pasta; Vegetarian ragù with Portobello mushrooms and truffle.
Weekends in the mountains during winter are always magical! Even now that it's almost springtime, you can still feel the remnants of winter. We're in the middle of this transitional season when nature starts to awaken and liven up. We even saw the first snakes basking in the sun; not a very pleasant sight, to be honest! But as soon as the sun sinks in the horizon, it's suddenly winter again and the need to stay warm near the fireplace grows.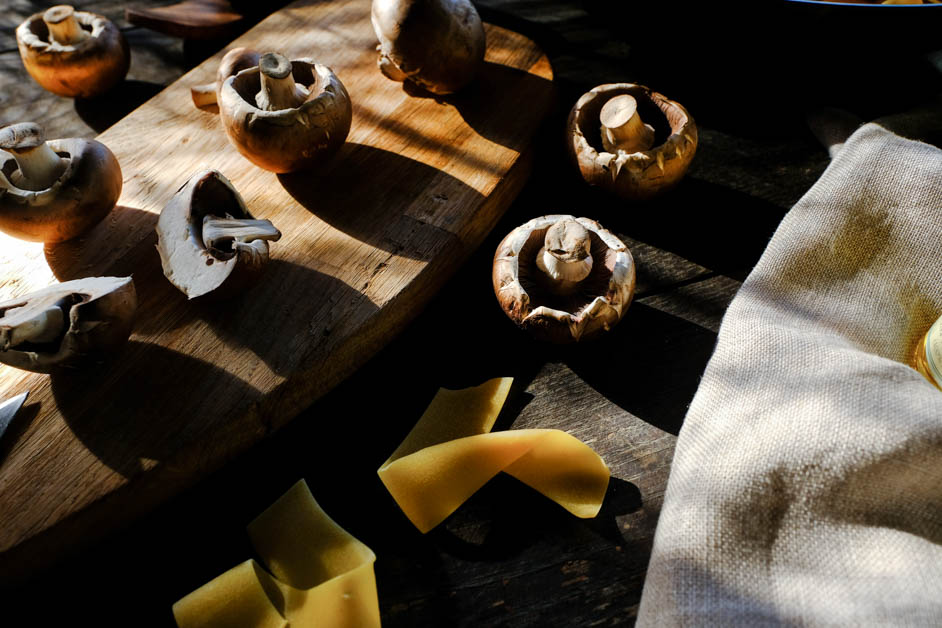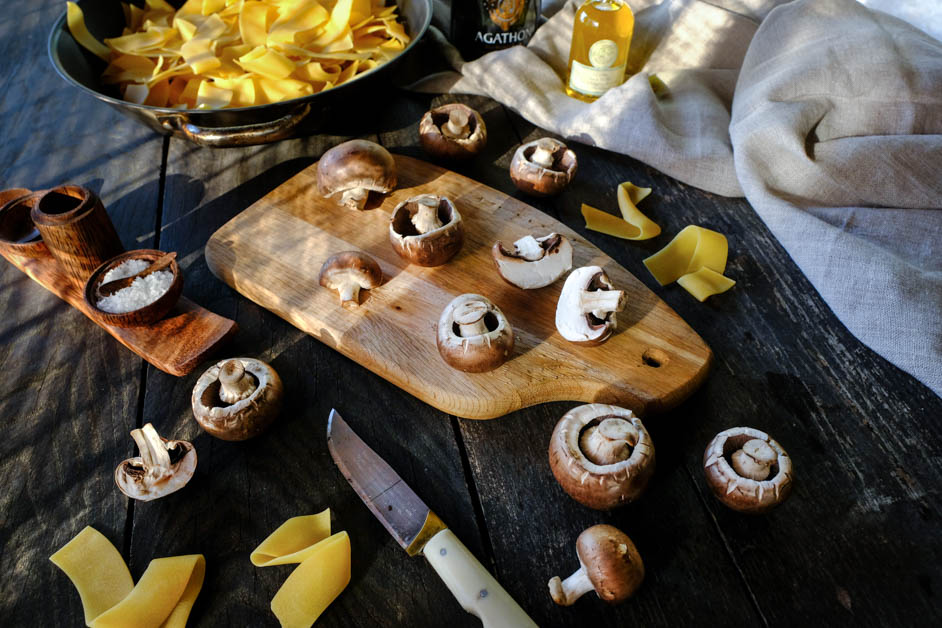 It's so warm and sunny during daytime though. Everything seems so full of life and we get to enjoy our walks in the forest under this shiny, bright sky! Looking up, you only see the green crowns of cypress trees and the bright blue sky!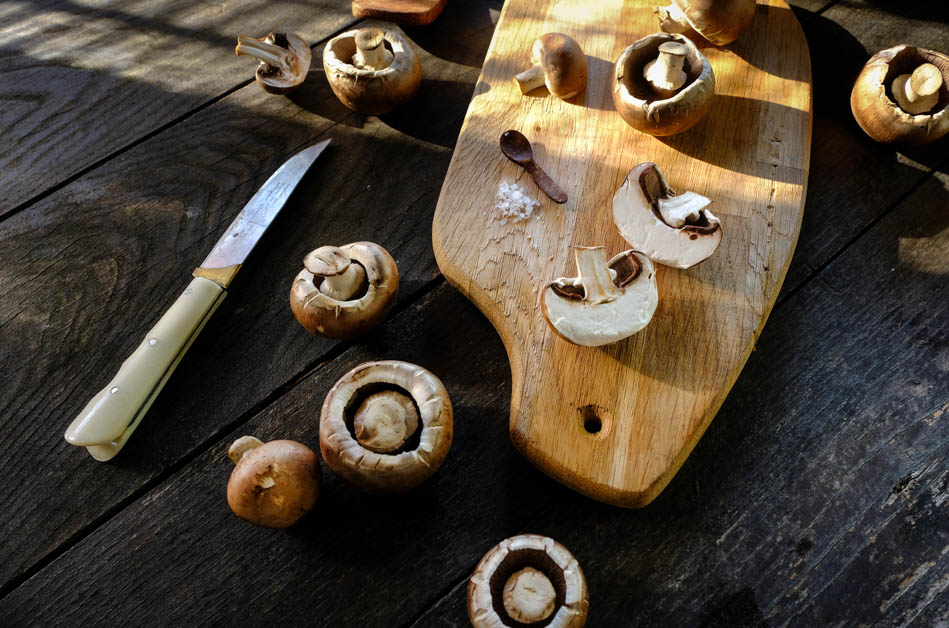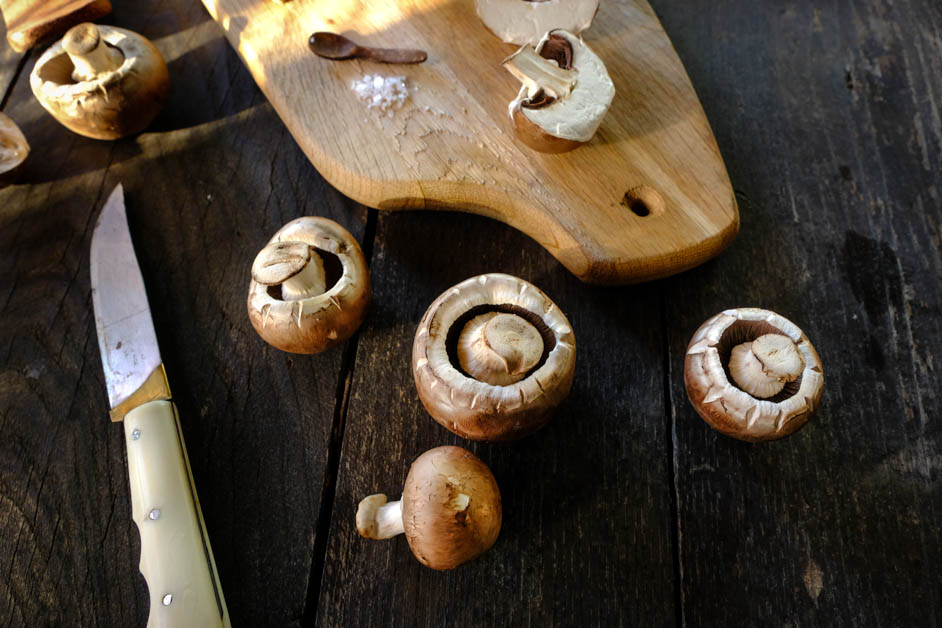 We've got so many things to do in our hothouse during this season. It needs a brand new design and a lot of work! We're still picking the last vegetables from our winter crop, cabbage, beetroots, broccoli (a bit more rarely).. But enough is enough! I'm still enjoying the remaining vegetables but I'm also super excited that they'll be gone soon! Can't wait for spring to come and bring new greens, strawberries, apricots and all kinds of spring veggies and fruits! Tomatoes, fresh green beans, cucumbers, herbs! And when all types of basil are planted, I will know that summer is loading! My love for fresh basil is indescribable!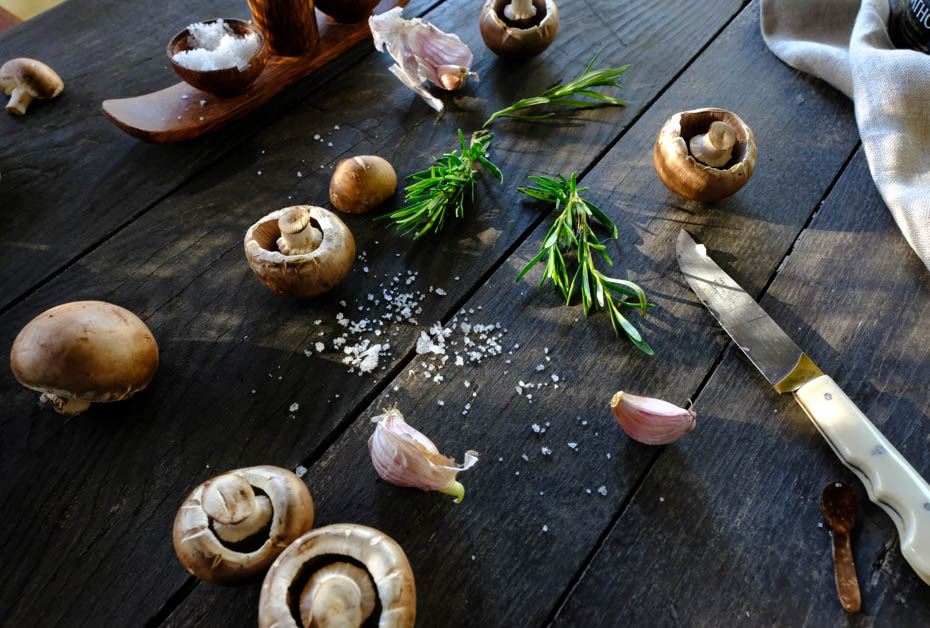 The feeling of planting and seeing your plants grow is wonderful and unique. It's a feeling of great satisfaction and fulfilment but it's also a conscious choice that helps you understand what seasonal food means. That's not so easy to comprehend by just seeing all those fresh products lying on supermarket rack shelves. I truly enjoy the process of producing fresh organic fruits and vegetables even if they don't always have the greatest shape and appearance. They're still delicious and feel "clean".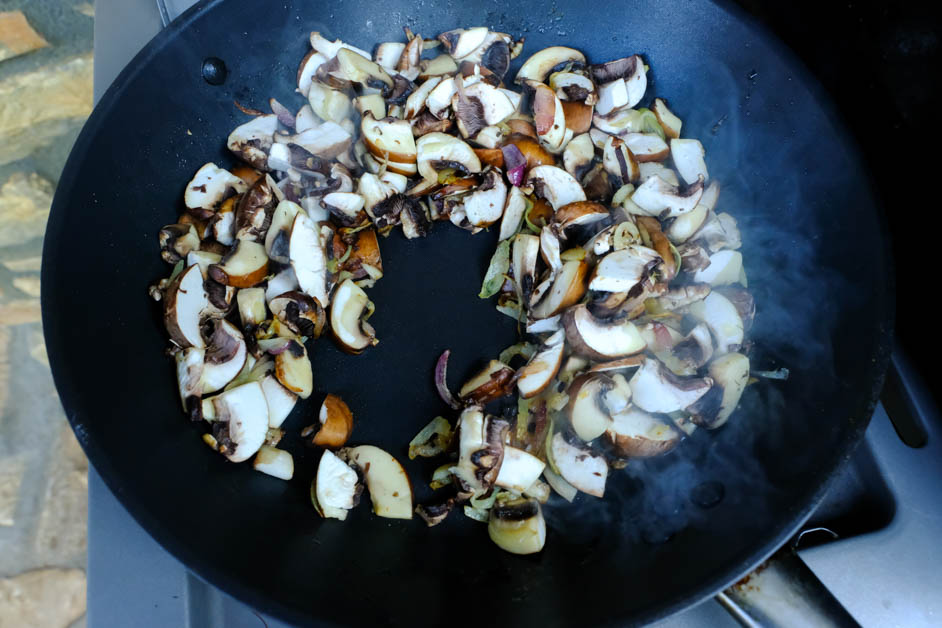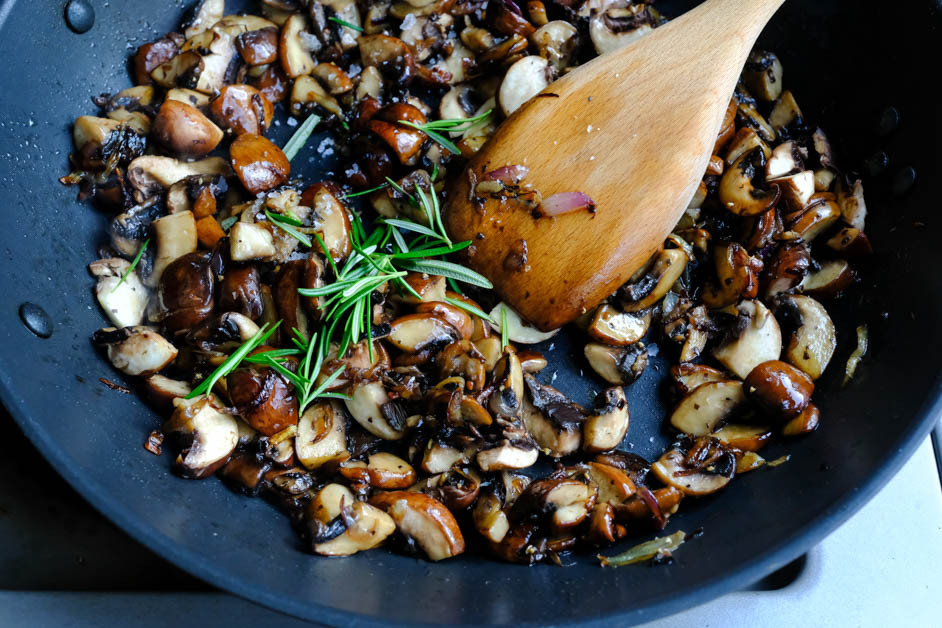 Once the sun goes down, the atmosphere changes dramatically and the need to be near the fireplace gets bigger and bigger. And that's when the second fun part of being in the mountains begins! We're picking vegetables from our baskets, washing them off and we're already preparing dinner in our minds! What a delightful process! We also need to find the right wine for the occasion! We're opening bottles, bringing wine decanters.. And time flies! Wine and food is a match made in heaven and we're the lucky ones to enjoy this heavenly combination.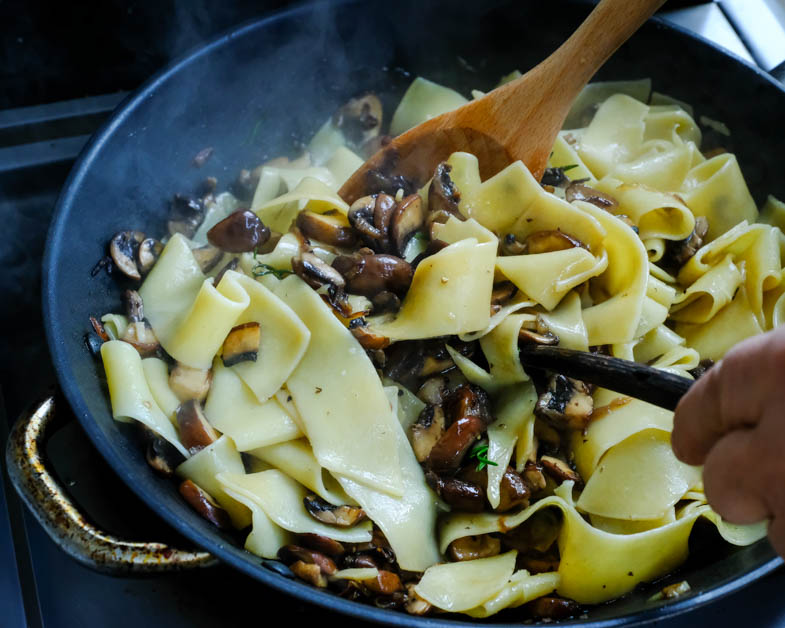 The veggies I'm using today are not from our garden but they'll soon prove to be equally delicious. I'm trying to avoid meat (which is indeed very mountainy) and I'm thinking of making pasta; Vegetarian ragù with Portobello mushrooms and truffle. Mushrooms' flavour can replace meat, in my mind at least! When I thought of today's recipe, I couldn't even begin to imagine how delicious it would turn out! Truly amazing!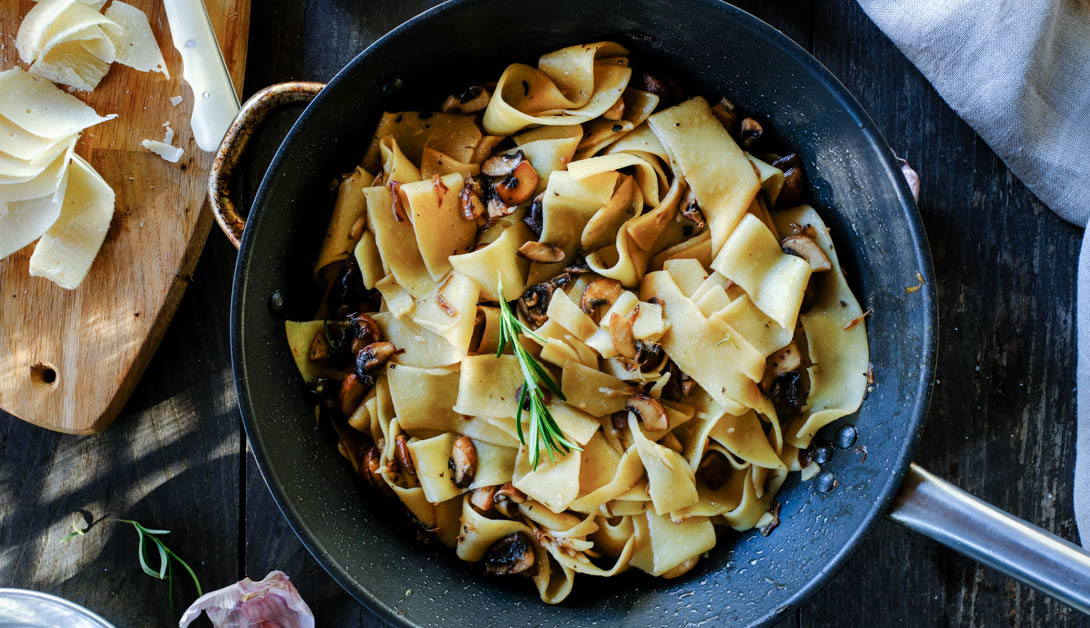 I chose the widest tagliatelle I could find (produced in Greece) and I was really impressed. The cooking time that was given in the package instructions was completely accurate! Al dente! That doesn't happen very often!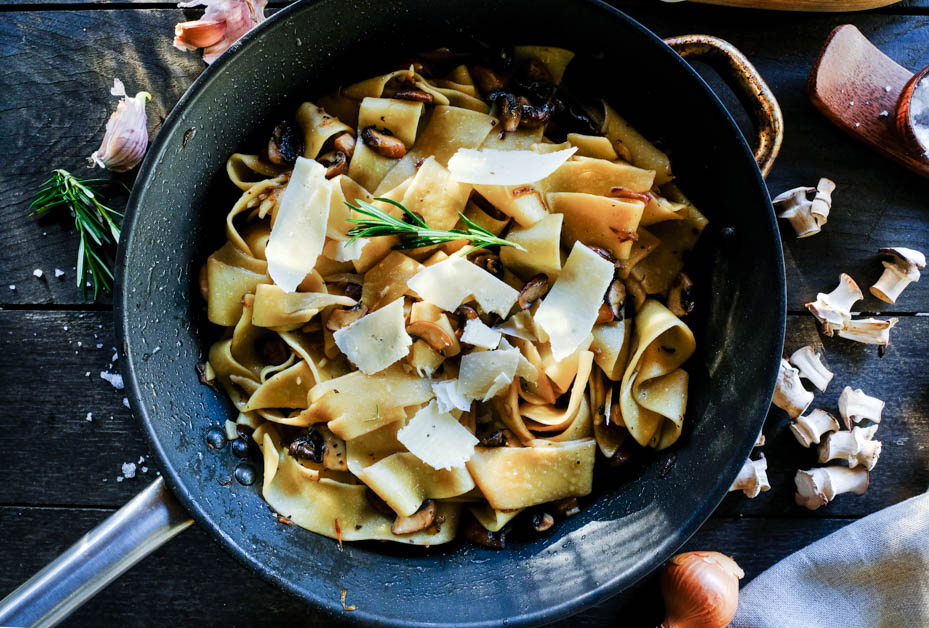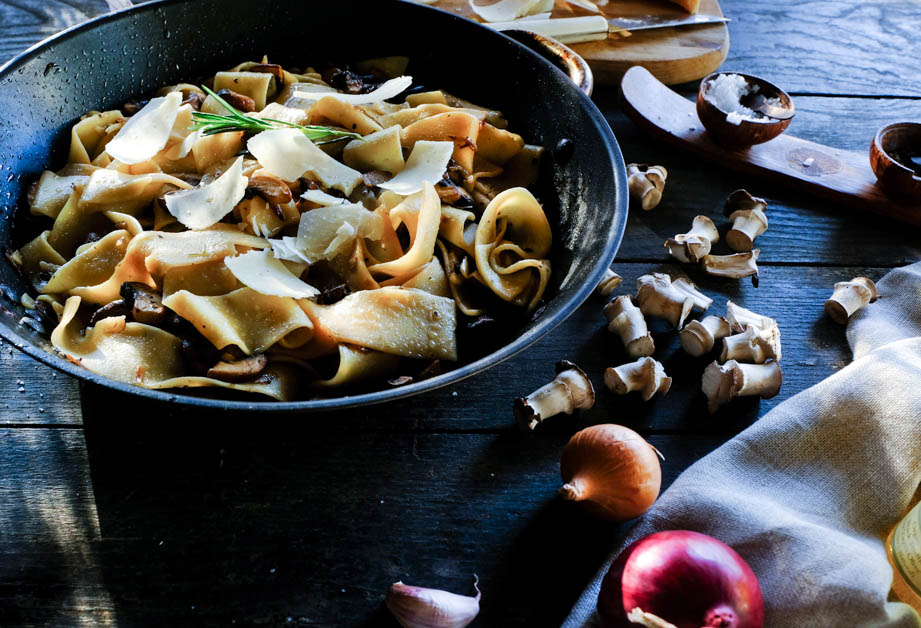 I don't know whether it was the fact that I was cooking in the mountains, the fact that I didn't have the comforts of my kitchen in the city or the fact that we were extremely hungry after a whole day of working in the garden but our pasta tasted unbelievably delicious! The ingredients were perfectly blended and their scent only was enough to convince you; we'd have the perfect dinner!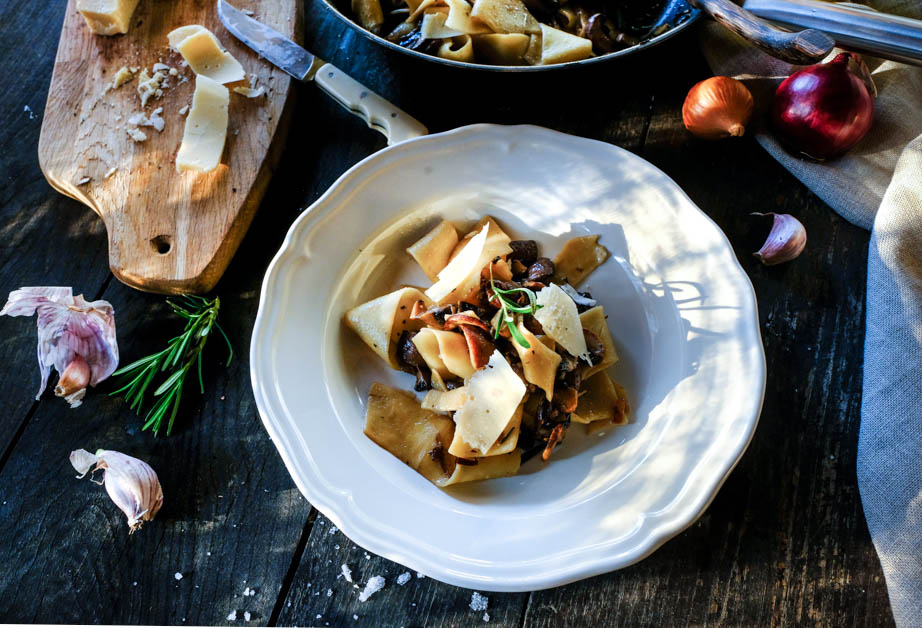 The gorgeous, natural light of sunset creates the perfect setting for me today. You can see the light poking through the wooden blinds, giving this warm, golden colour to my pictures! Cameras just love this time of the day!
1 packet of wide tagliatelle
500g Portobello mushrooms, chopped
2 garlic cloves
2-3 rosemary branches
½ glass of white wine
1-2 tsp truffle paste
Parmesan flakes
Salt, pepper
6tbsp olive oil
Method
1. Rub the mushrooms gently with the mushroom brush. Cut them to pieces and set them aside for a while.
2. Heat olive oil in a pan and caramelize the onions and the garlic lightly. Add the mushrooms and rosemary, salt and pepper, reduce the heat and sauté until they've released their liquids and they're blended well with the caramelized onions. Add wine and let the ingredients boil for a while. Add the truffle paste. Stir well.
3. Boil the tagliatelle in a pot with salted water and according to the package instructions. I almost always remove the pasta just a tiny bit before the end of the cooking time to make sure I'll have an "al dente" result. I always keep a cup of the pasta water. Drain your pasta and add it to the mushrooms sauce. Add the pasta water for a more liquidy ragù sauce. Stir well plenty of times until all ingredients are blended well. Have a bite and determine whether it needs more salt or pepper.
4. Serve your pasta, add some parmesan flakes and sprinkle some truffle oil.