Grilled porcini mushrooms with potato purée and truffle oil
January 22nd 2021
Found some fresh, beautiful porcini mushrooms that I'll grill with rosemary and serve with potato purée and black truffle butter.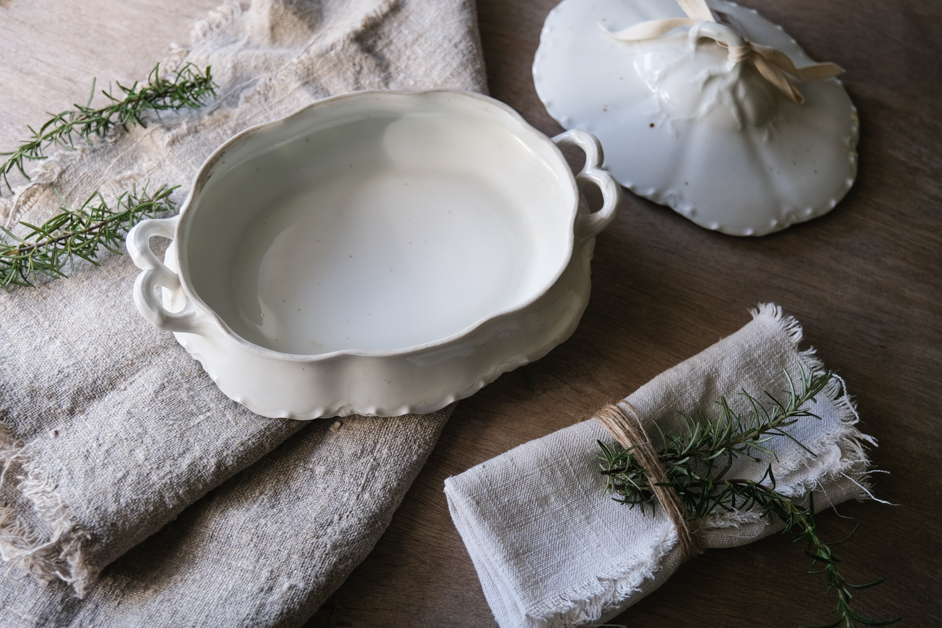 A while ago, during one of my food trips (that I've missed terribly by the way), I bought a wonderful antique porcelain serving dish from an antique shop. It was love at first sight! This was the most elegant, refined, fairytale-like serving dish I had ever seen. As much as I tried to find more pieces from the same set, all my efforts were in vain; this was a unique piece. I kept it as a precious memorabilia and never used it to this day. In all honesty, no recipe felt worthy enough to be served in such a dainty dish.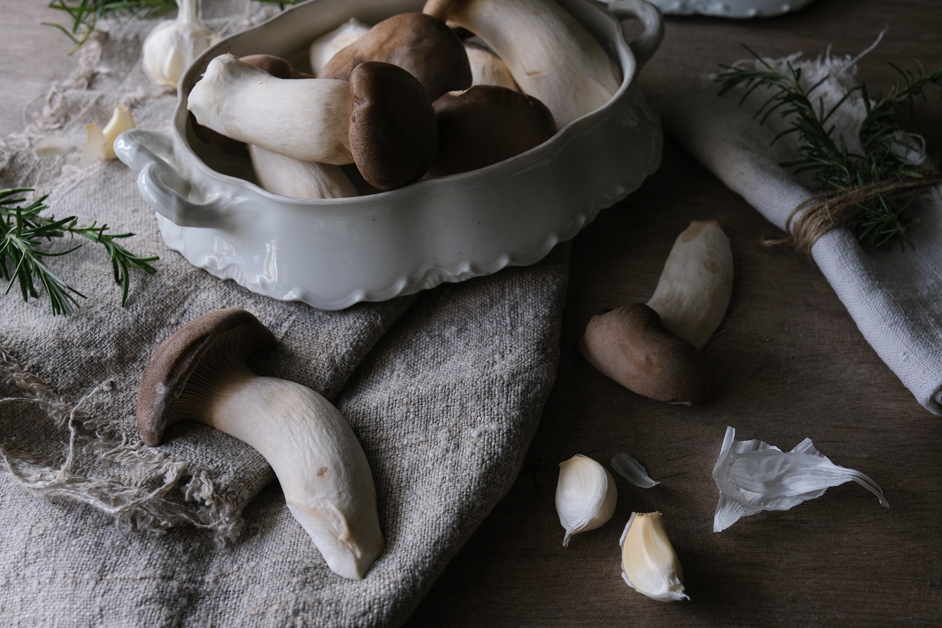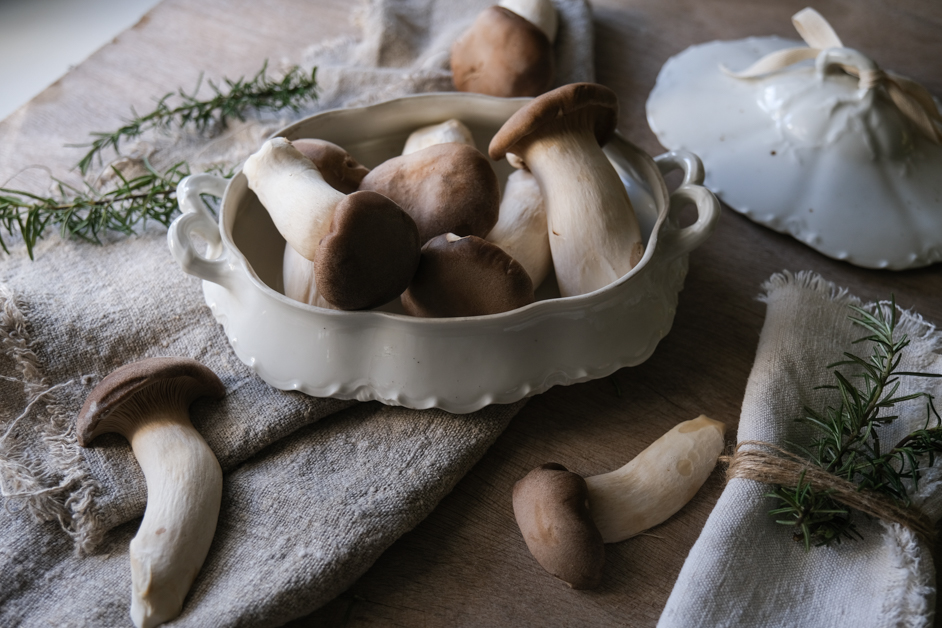 One of my favourite things to do when I travel is visiting antique shops or flea markets and walking around for hours. That's where one can find the most beautiful, one of a kind, rare objects. It can be an old knife, an old, thick linen tablecloth, a wire egg basket, antique scissors, wooden trays, dishes, old cake stands and so much more. For someone like me, these are real treasures!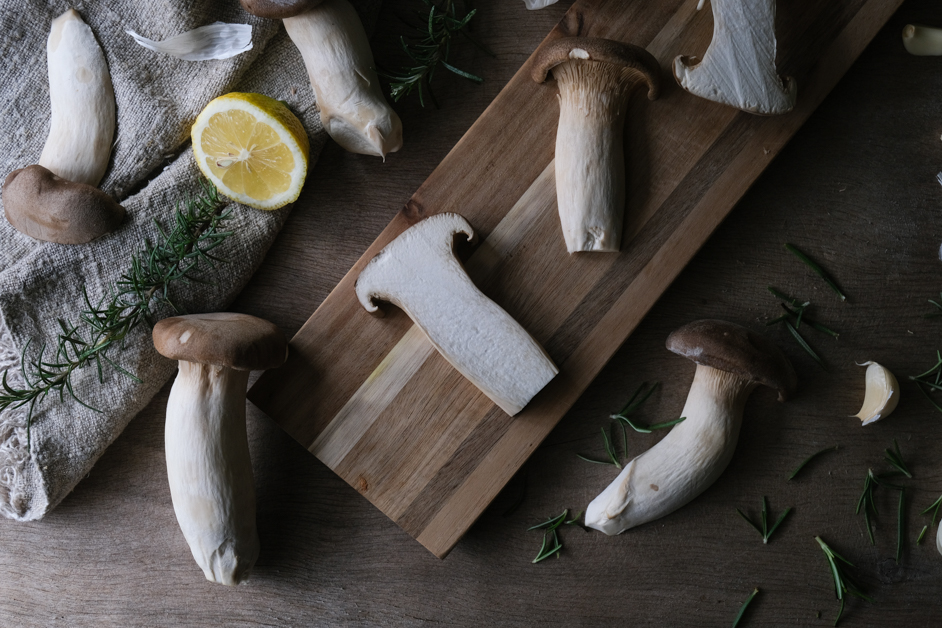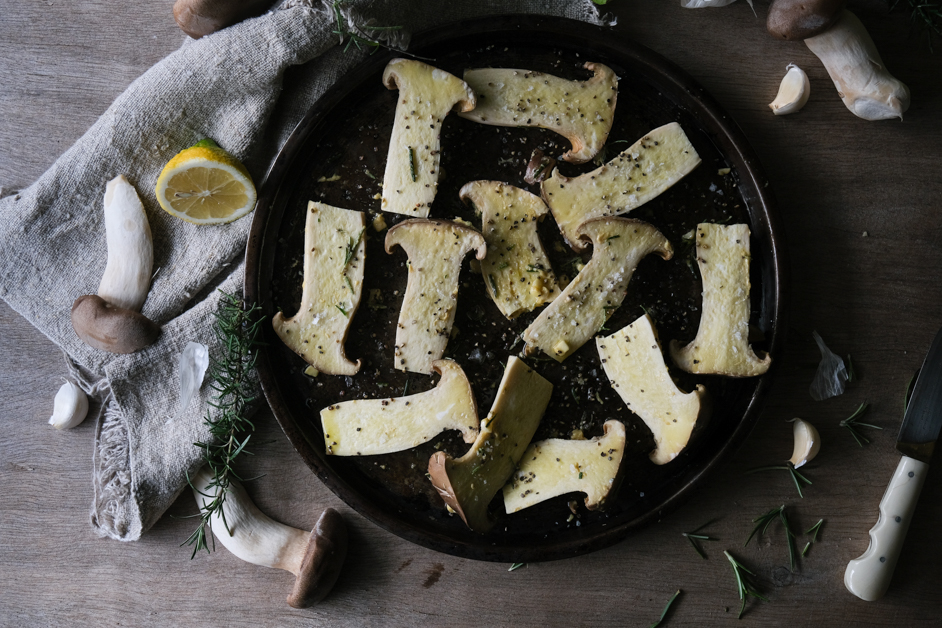 I've collected a great number of such beautiful and unique props throughout the years and they've proved to be some of my most valuable tools, as they work as great styling props for my food photography. A lot of you have asked where I found them and honestly, it's an ongoing process and not just something that happens in a day or two. You collect them piece by piece, if and when you see one that excites you as much as the unbelievably beautiful porcelain serving dish I'm using today. It's time to find its way out of the cupboard, since I finally found a recipe worthy enough to be served in it.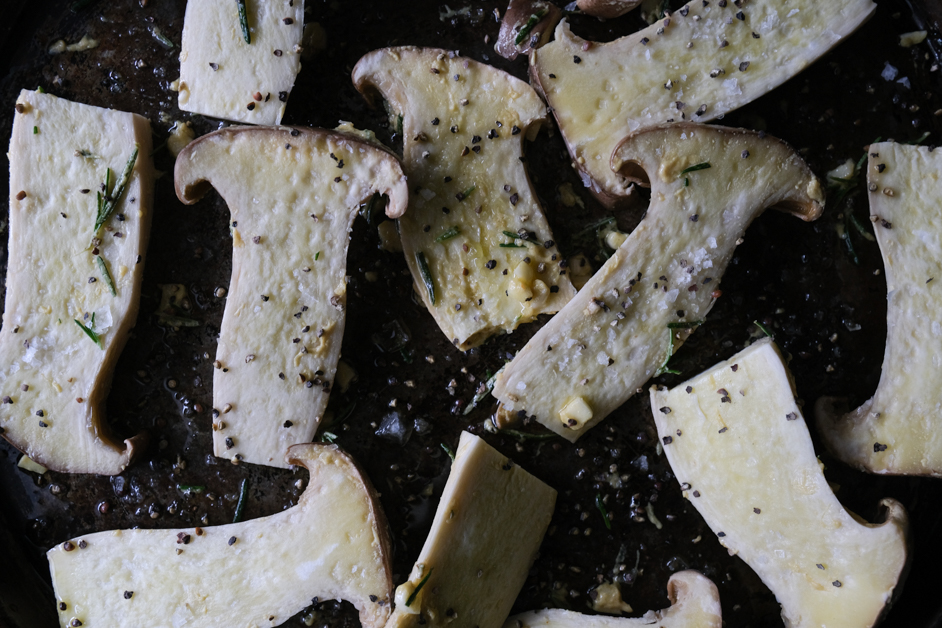 I've always had a special relationship with mushrooms, ever since I was a child. Although I can't say they were in abundance in our home, nor did we cook them very often, I can vividly remember the few times (maybe once or twice every year) my grandfather would take us mushroom hunting in the woods. After a good rain was the right time to go, as he used to say. We'd find mushrooms that initially looked a bit like an egg but you could see a red mushroom cap emerging from the inside. That was the treasure we were looking for. I completely trusted my grandfather's expertise on mushrooms and haven't really trusted anyone else ever since when it comes to mushroom hunting.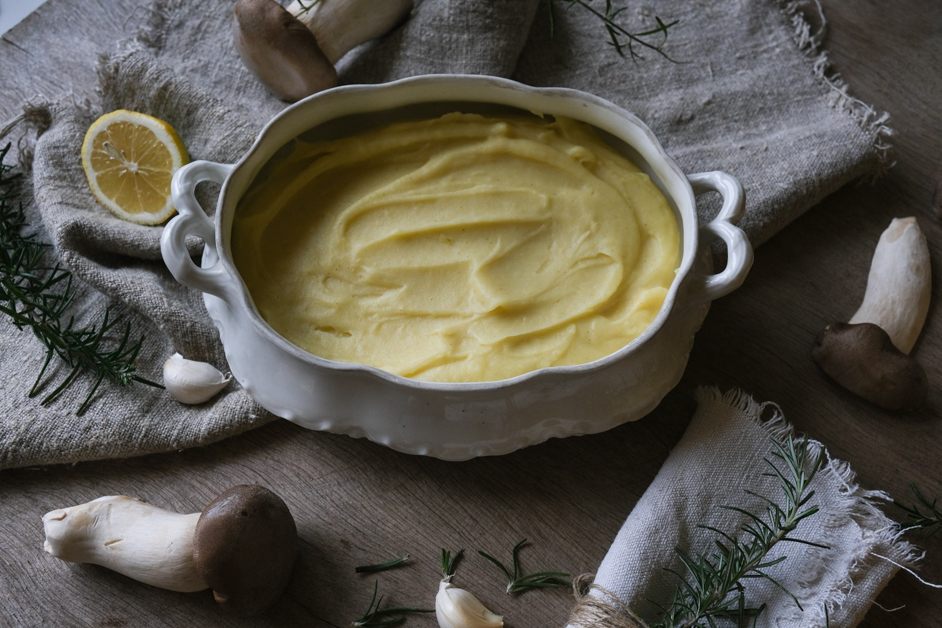 Once we had collected enough of those red mushrooms, my grandfather would light a fire to grill them on hot stone and would only add one simple ingredient. He'd take a bag of salt from his pocket and add just a tiny bit on the mushrooms' caps. Simple as that.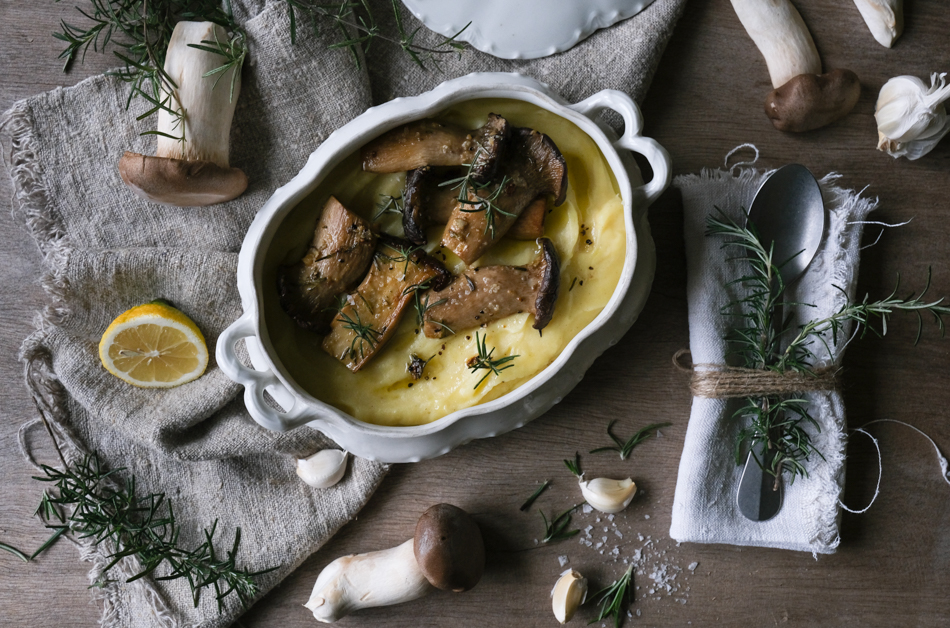 Food is memories, we all know that. I will never forget the impeccable taste of those mushrooms, all juicy and grilled to perfection. I can't think of anything more delicious, delicate and simple at the same time. Even after all those years, the memory of that flavour and aroma is still strong and vivid.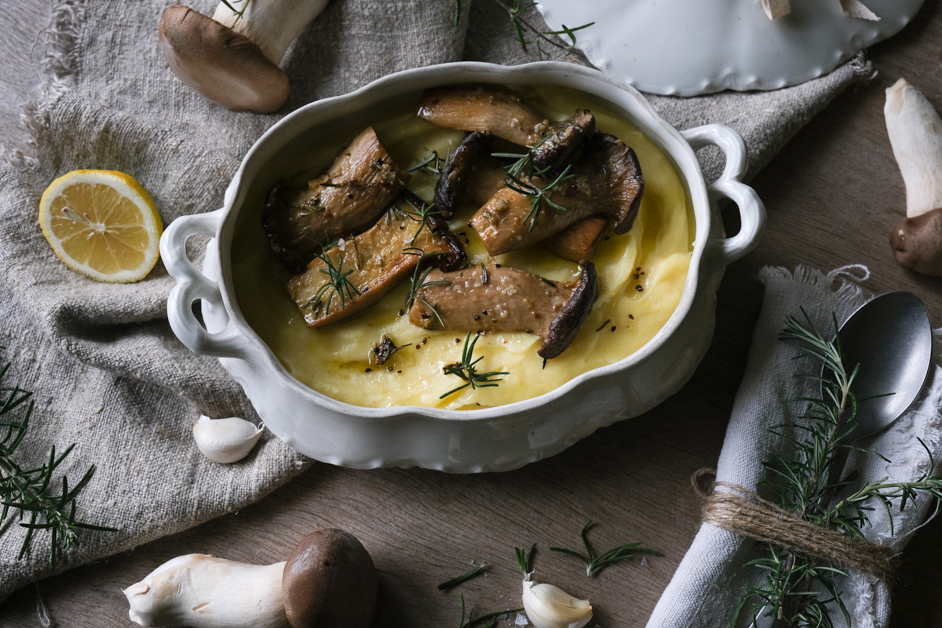 I looked everywhere but never managed to find these mushrooms again or any other type of mushroom as unique as they were. But even if I did manage to find them somewhere, I can fairly assume that it just wouldn't be the same. The memory of that flavour is inextricably intertwined with precious moments spent with my grandfather and the joy of childhood. I've kept it in my heart as a unique culinary experience and as a wonderful memory of my beloved grandfather.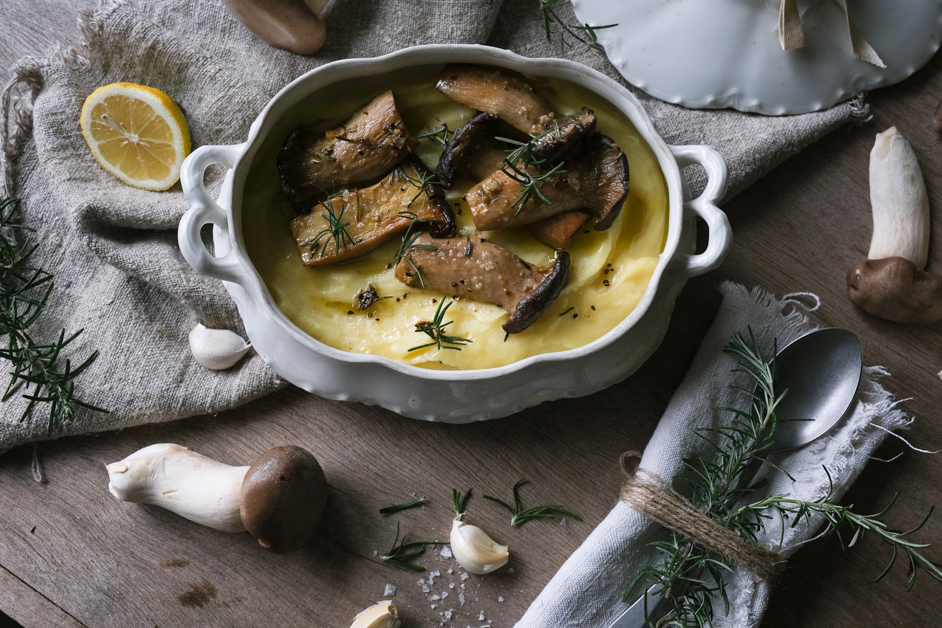 A type of mushroom I absolutely love for its rich flavour but also for being so unbelievably photogenic is porcini, and especially porcini foraged in the forests of Greece. From a culinary perspective, it has to be my favourite type of mushroom, well-deserving of the title, the king of all mushrooms. I never miss the chance to use porcini mushrooms in my cooking every time I find them at the grocery store which, sadly, doesn't happen very often. They are seasonal and cannot be cultivated, so they're usually hard to find. Known for their nutritional value, porcini mushrooms are loved by many and mostly by vegetarians and vegans, as they work perfectly as a meat substitute. But more importantly, they have such a heavenly, rich and meaty, umami flavour and an earthy aroma of chestnuts and hazelnuts..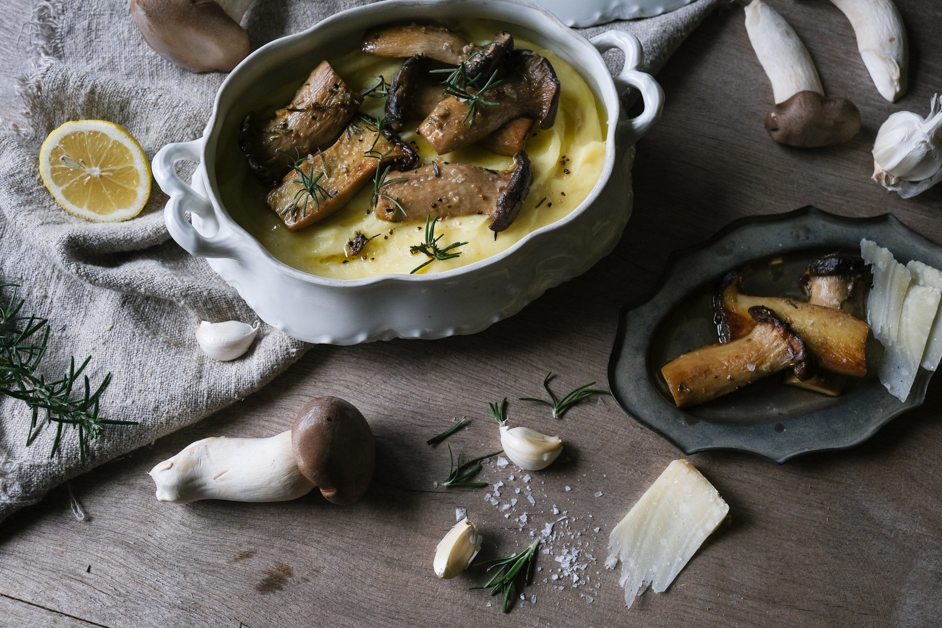 Found some fresh, beautiful porcini mushrooms that I'll grill with rosemary and serve with potato purée and black truffle butter. I have to say I'm beyond excited to have finally found a recipe that not only tastes delicious, but also looks fantastic in my dreamy porcelain serving dish!
4 porcini mushrooms
2 garlic cloves
1tsp Dijon mustard
2-3 fresh rosemary sprigs
Salt, pepper
½ lemon juice
For the purée
4 medium potatoes, cubed
6-8tbsp milk
1tbsp truffle butter
Salt, pepper
Method
1. Prepare the mushroom sauce. In a bowl, mix olive oil, chopped garlic, mustard, salt, pepper and chopped rosemary. Set aside and allow them to stand and release their aromas for 1 hour.
2. Make the purée. Boil the potatoes in salted water until tender. Strain and transfer them into a bowl. While still warm, add truffle butter, milk, salt and pepper. Purée the potatoes using a hand mixer until smooth and creamy.
3. Set the oven to grill. Cut the porcini mushrooms vertically and scatter them onto a baking tray. Brush both sides with the sauce you've made. Grill both sides lightly until golden.
4. Place the potato purée on a dish, spread the mushrooms on top and pour the remaining oil that's left in the baking tray over. Decorate the dish with a few fresh rosemary sprigs.